For affiliate links and as an Amazon Associate I earn from qualifying purchases.
I believe that one good recipe leads to another and that's certainly the case with this gluten-free Apple Cinnamon Volcano Pancake. I made this pancake for our Sunday brunch. Son deemed it "delightful"! His girlfriend said it was "so delicious." And they're not wrong!
It's a simple but totally wonderful variation on my original Volcano Pancake. If you're new to Volcano Pancakes—which others may call Dutch babies, German pancakes, puff pancakes, or even Yorkshire pudding—you're in for a real treat!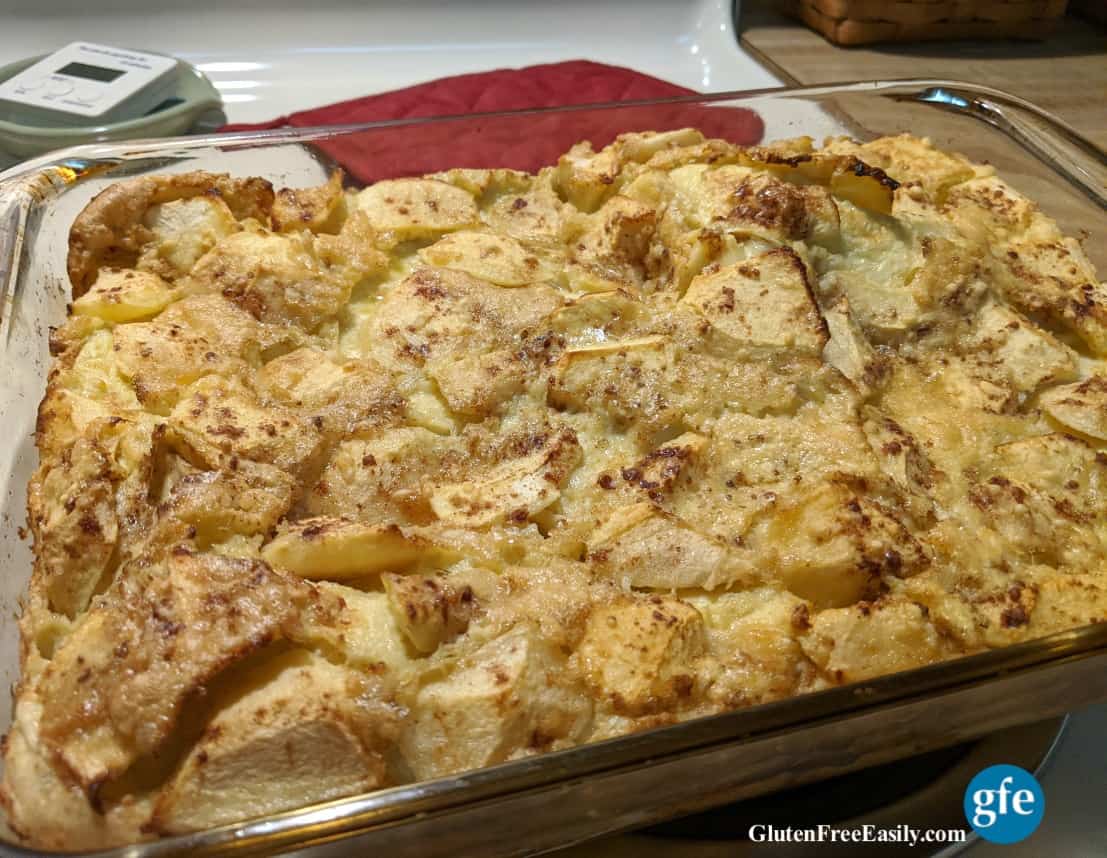 A volcano pancake is a "single," oven pancake that is baked in a 9 x 13 glass baking dish and then cut into individual portions for serving. So easy and such a smart way to serve pancakes! No standing at the stove flipping pancakes and futilely trying to serve everyone hot pancakes at the same time. Everyone gets their serving of a hot and delicious pancake at the same time with a Volcano Pancake.
The volcano part of the name comes from the fact that the resulting pancake has peaks and craters like a volcano. Admittedly, this apple cinnamon version has less of a volcanic look because of the weight of the apples in regard to the batter when it rises. Still, it has the traditional curled edges and even some peaks. Especially when first pulled out of the oven.
Incidentally, one of my loyal and favorite gfe readers has even made a "3/4 version" of volcano pancake using three-fourths of the ingredients and baking her volcano pancake in a 9 x 9 square pan. That concept is a great solution for anyone who has fewer mouths to feed and/or has or wants to use fewer eggs. It's also a great solution for today's recipe if you only have a couple of apples on hand.
The really fantastic thing about the Volcano Pancake recipe—either the original recipe or the apple cinnamon variation—is that it tastes very much like French toast! But you do not have to deal with dipping bread into an egg mixture, which also means you don't have to have bread on hand to enjoy that French toast flavor. And perhaps most importantly during our current times, it also means that you don't have to use a whole loaf of bread in a single recipe. So that's a win-win-win in my book.
Readers have been asking for an apple cinnamon version of this recipe for a while. As I had an abundance of apples from the produce boxes we've been receiving, I figured it was time. Now you can not only enjoy your pancake for breakfast but you can also get in one of your daily fruit servings while you're at it!
A quick word about the produce boxes before we go on. While we've stuck at home, we've been getting produce boxes delivered from two sources, Farmbox Direct and Misfits Market. Thus far, we've been very pleased with both companies and it's truly been a relief to not have to go to the grocery store to shop for produce.
Both companies offer different sized boxes; you can get boxes of fruit, boxes of vegetables, or boxes that include both; and you can tailor the delivery schedule to your and your family's needs.
Check out Farmbox Direct to get $10 credit off your first order. Check out Misfits Market but be sure to use code COOKWME-XD6MDE to get 25% off your first box if you decide to place an order.
Despite the name of the latter produce company, we've found no actual "misfits"—aka ugly produce—among our produce. All the items have been great!
Back to this delicious gluten-free Apple Cinnamon Volcano Pancake. A good while ago, a gfe reader actually told me she that she had created an apple cinnamon version but I couldn't find the info that she had shared.
So, yesterday, in true gfe fashion, I winged it, simply modifying the original recipes by adding apple slices to the bottom of the baking dish and sprinkling small amounts of cinnamon and brown sugar over them before adding the batter. I also increased the baking temperature to ensure that the apple slices would be cooked sufficiently at the end of the baking time.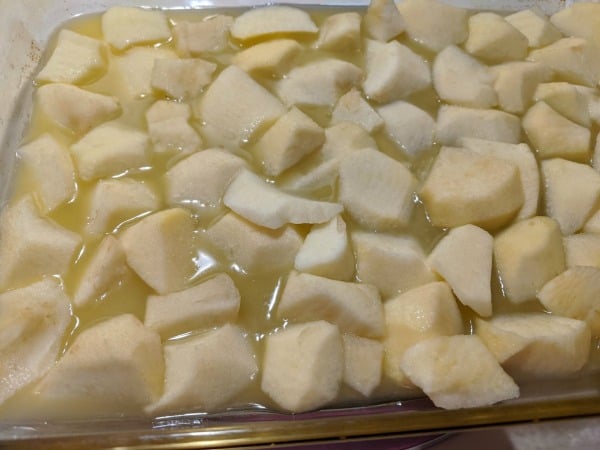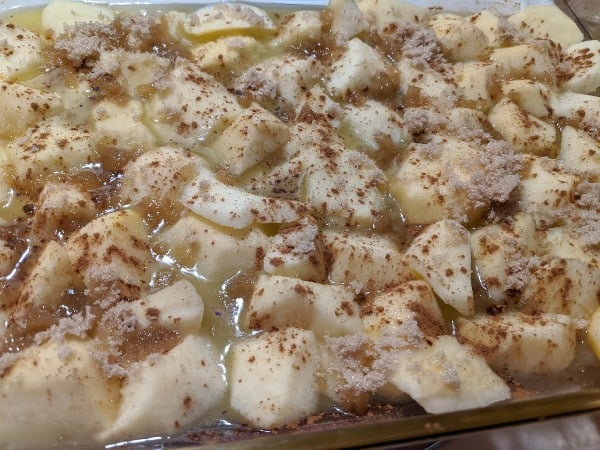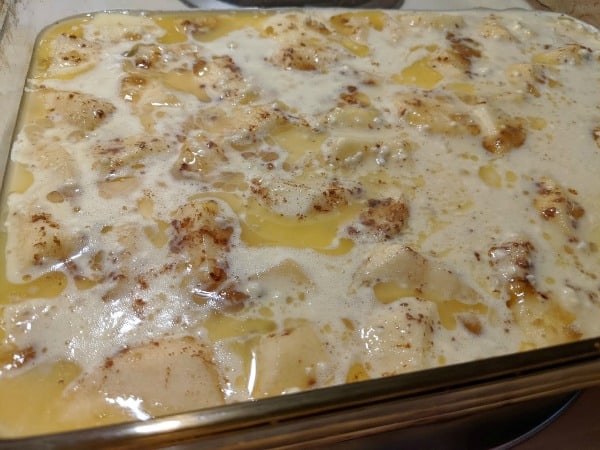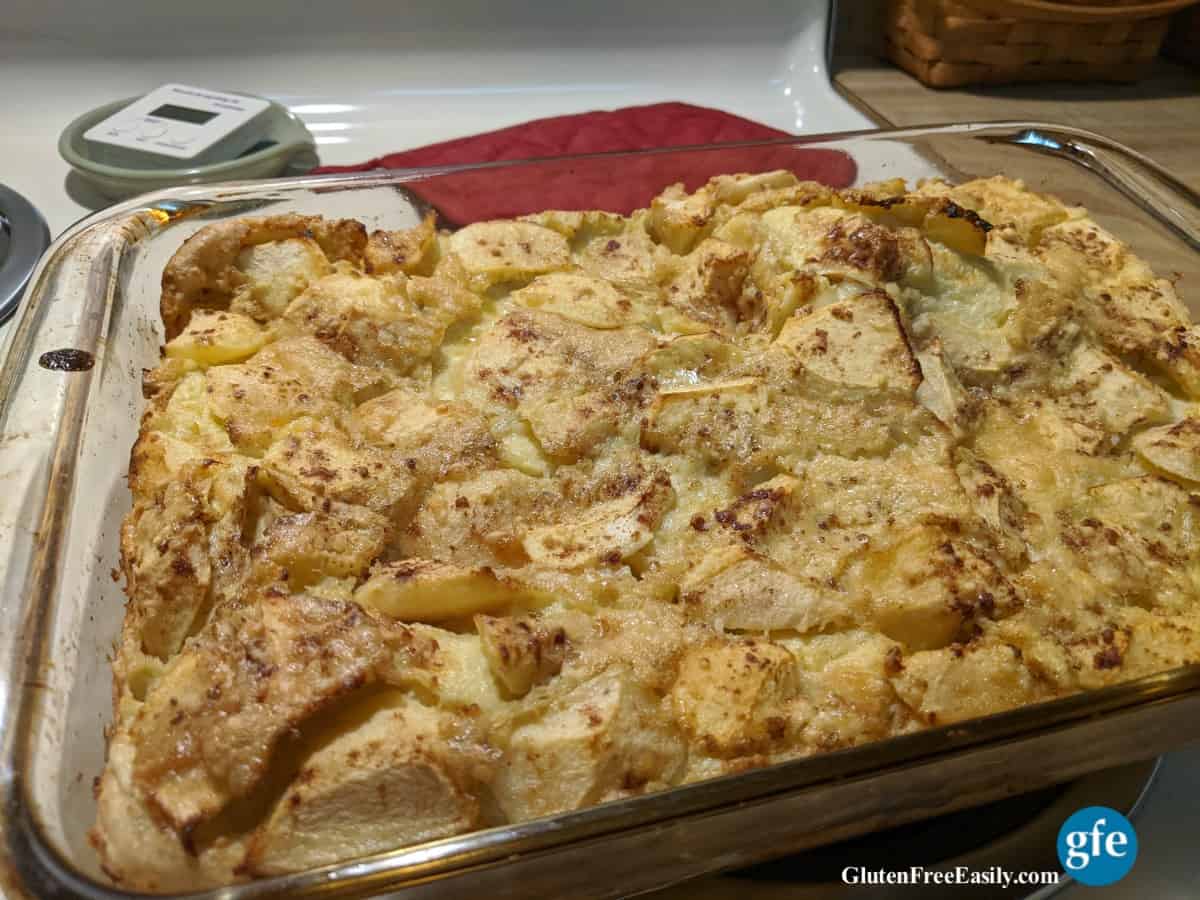 Nothing complicated at all but outstanding results, folks. I hope you'll enjoy this recipe and express as much enthusiasm after trying it as you did on Facebook when I posted the photo and asked if you wanted the recipe!
Note that readers have already tweaked this recipe to their own needs. In some cases, that's by choice, and in others, it's by need.
One reader, Richard, was short on fresh apples and used apple pie filling. He also added the brown sugar and cinnamon as a final topping (instead of sprinkling it over the sliced apples before pouring the batter over them).
Some have halved the recipe for their smaller families and baked it in an 8 x 8 (or 9 x 9) baking dish.
Gluten-Free Apple Cinnamon Volcano Pancake Recipe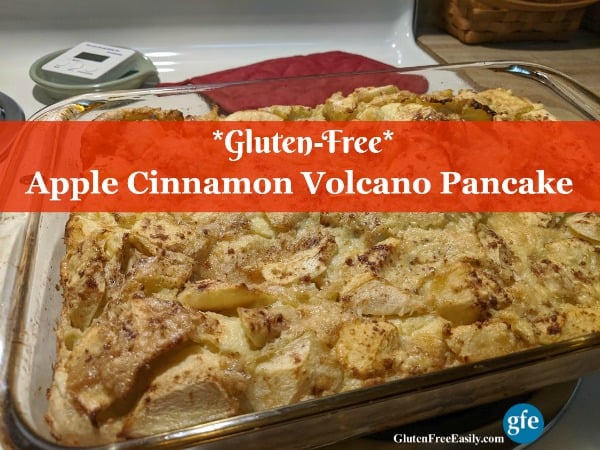 Yield: 8 servings
Gluten-Free Apple Cinnamon Volcano Pancake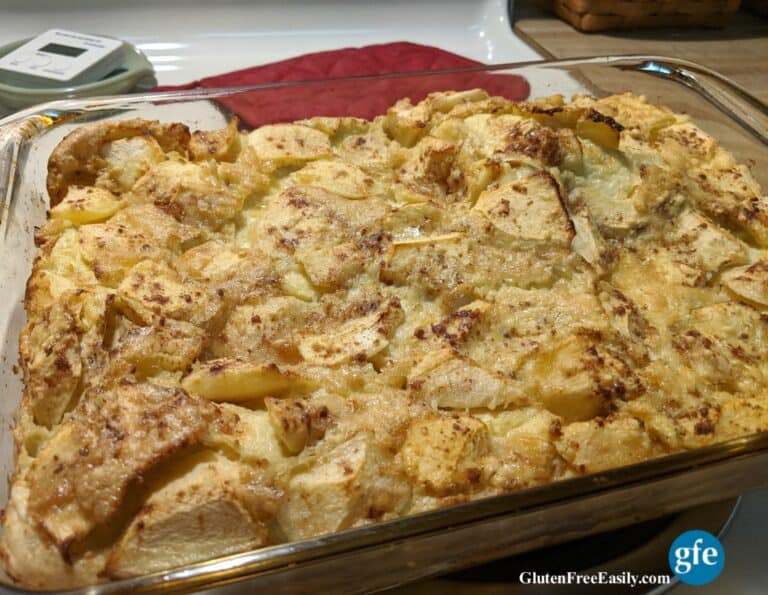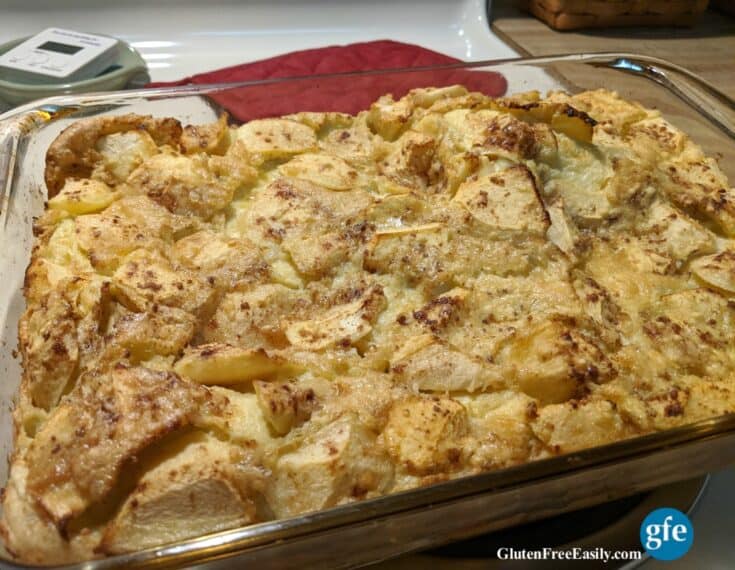 The apple cinnamon version of volcano pancake--an easy-to-make oven pancake that tastes like French toast!

Prep Time 10 minutes

Cook Time 30 minutes

Additional Time 5 minutes

Total Time 45 minutes
Ingredients
½ cup butter (or dairy-free equivalent like Earth Balance), melted
about 5 medium-sized apples, peeled and sliced (not too thick)
1 tsp cinnamon, more or less to taste
¼ cup light brown sugar, packed
6 eggs
1 cup milk (dairy-free works fine)
1 cup gluten-free flour mix, sifted (I use my Two-Ingredient Gluten-Free Flour Mix)
½ tsp xanthan gum, optional (omit if already included in your gf flour mix)
½ tsp salt
Instructions
Preheat oven to 425F.
Pour melted butter into a well-greased 9 x 13 glass baking
dish.
Add sliced apples to the baking dish, completely covering the
bottom.
Sprinkle cinnamon over apples.
Sprinkle light brown sugar over apples and cinnamon.
In a large mixing bowl, beat eggs.
Add milk, gluten-free flour mix, xanthan gum, and salt. Stir
until smooth.
Pour batter evenly over apple mixture in baking dish.
Bake pancake for 25 to 30 minutes until the pancake is puffed up and the edges are browned and/or until a knife inserted near the center comes out clean.
Let sit for 5 minutes before cutting.
Serve with powdered sugar, maple syrup, and/or honey as desired.
Notes
One of my gfe readers, Richard, was short on fresh apples so he used apple pie filling for part of the apple measurement. Brilliant! He added: "I used margarine and almond milk. I put the brown sugar and cinnamon on top. We didn't use any syrup."

Originally published May 18, 2020; updated September 10, 2023.