For affiliate links and as an Amazon Associate I earn from qualifying purchases.
Today I'm sharing gluten-free Coconut Mug Pie. Yes! Coconut Pie in a Mug, Individual Coconut Pie, My Favorite New Dessert. Whatever you want to call it, I think you will really enjoy this recipe.
Many gfe readers know and love my Crustless Coconut Pie. I had shared that recipe again on Facebook recently and realized at that moment that I sure could have gone for a slice!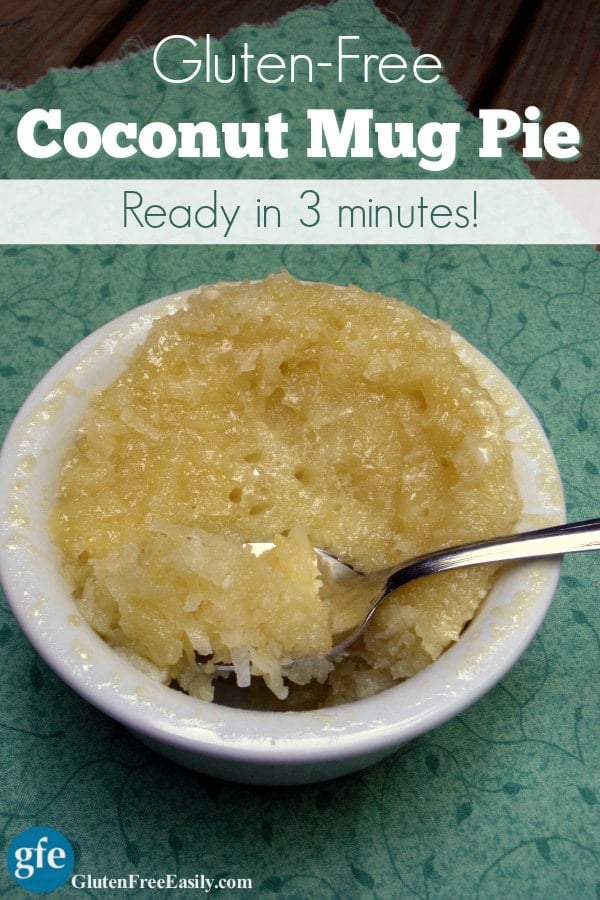 The thought—also known as a craving—would not go away. I wasn't going to make a whole pie that evening and didn't have anyone to share a whole pie with, so the idea of this Coconut Pie in a Mug came to me.
Thinking back to the proportions in the Crustless Coconut Pie recipe and also thinking of my 3-Minute Chocolate Cake (a mug cake) and its required ingredients—fat, flour, sweetener, milk, and egg–I immediately whipped up a version and it was wonderful. It really hit the spot!
However, it wasn't exactly like my Crustless Coconut Pie, so I played around with the ingredients a bit more and came up with a version that I feel is actually very close to that pie in taste and texture. That version is shown below.
For the record, I did also test versions using coconut oil instead of butter, unsweetened shredded coconut instead of sweetened flaked coconut, coconut flour instead of gluten-free flour mix or sweet rice flour, coconut sugar instead of granulated sugar, and all of those were good, but the recipe shown below is the one I like best.
Feel free to play with this recipe to work with your own dietary restrictions and preferences, of course, and please let us know what other versions work for you. I want to point out that one of the nice things about mug recipes is that you can play around with the ingredients and actually "fail" without wasting a lot of ingredients. Few of us like to fail but sometimes it can take some trial and error to accommodate additional food restrictions.
I also want to point out that making a mug pie also keeps the heat out of the kitchen. Saving on air conditioning and the electric bill is one's civic duty, right? I thought you'd agree!
Last, despite being a mug pie, which we typically think of as a single serving, this recipe can easily serve two. I shared it with Mr. GFE each time I made it, but I'm sure there would be some occasions when I could eat this gluten-free Coconut Pie in a Mug all by myself! Especially with whipped cream on top. Just sayin'.
More Gluten-Free Mug Recipes
~ 3-Minute Chocolate Cake (Several Variations)
~ Chocolate Chip Mug Cookie (Vegan)
~ Sweet Potato Chocolate Chip Mug Pudding
Gluten-Free Coconut Mug Pie Recipe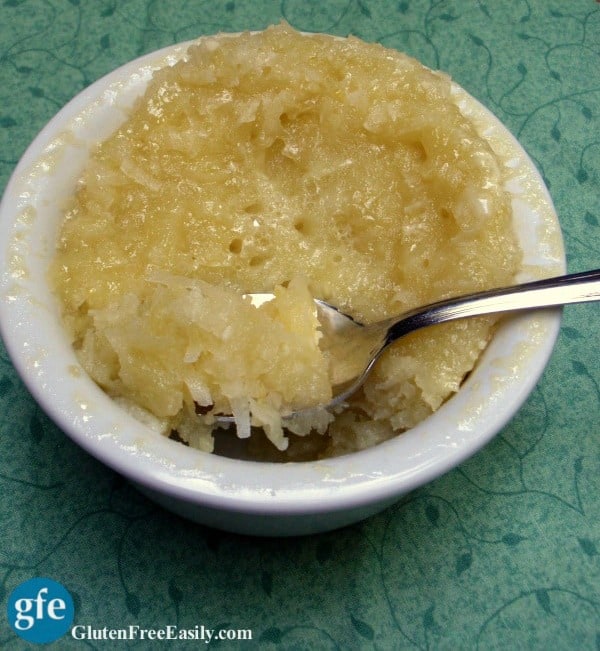 Yield: 1 mug pie
Gluten-Free Coconut Mug Pie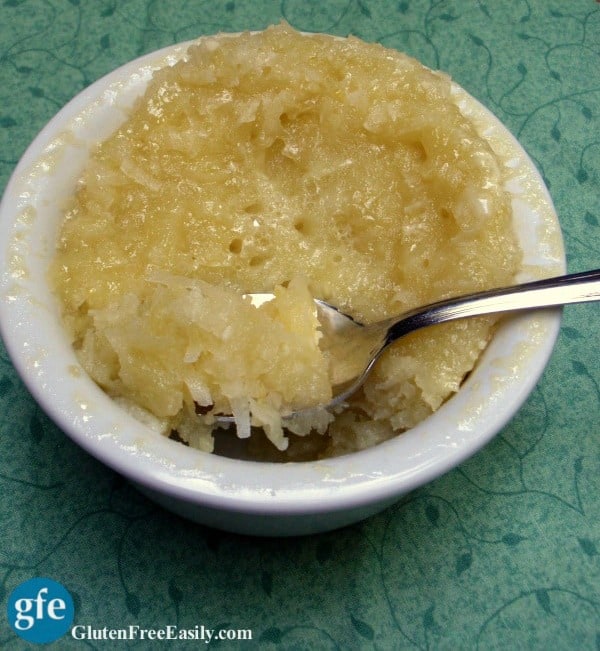 Get your coconut pie fix with this gluten-free coconut mug pie that's ready in just 3 minutes. All the goodness of my Crustless Coconut Pie but portioned just for you (or you and your loved one)!

Prep Time 1 minute

Cook Time 3 minutes

Inactive Time 2 minutes

Total Time 6 minutes
Instructions
Melt butter in mug or ramekin in microwave.
Stir in the remaining ingredients except the egg. Add the egg last to ensure that other ingredients are not hot enough to cook the egg when it's mixed in. If you discover that's a problem, in the future, you can cool melted butter slightly before adding other ingredients or always beat the egg before stirring it in with the other ingredients.
Microwave on HIGH for 3 minutes. Let pie cool in the microwave just a bit. It will continue to cook and set up a little.
Eat warm or cool completely if you wish. Top with whipped cream if you like.
Notes
The wattage in microwaves varies so be aware that your cooking time may be slightly different.

Originally published June 29, 2016; updated December 4, 2021.