For affiliate links and as an Amazon Associate I earn from qualifying purchases.
Do you know Cara of Fork and Beans? Chances are you do if you're gluten free and dairy free, gluten free and egg free, or gluten free and vegan, because Cara is truly a recipe magician in these areas. And, thankfully, the word on talented gluten-free bloggers who can help you create fantastic recipes that meet your special needs tends to spread fast! You'll know I'm right when you take a look at Cara's gluten-free Key Lime Cheesecake Bars!
Although I've been checking out Cara's brilliant recipes for a while from afar, we only connected several months ago. It turns out that she and I had sort of a mutual fan club thing going on and we didn't even know it, so it was really fun to finally connect via a Facebook comment. I have hardly missed a post or recipe of Cara's since and that's a good thing because, again, her recipes are amazing!
Well, I have some very exciting news for you today! Cara's first cookbook Decadent Gluten-Free Vegan Baking:  Delicious Gluten-, Egg-, and Dairy-Free Treats and Sweets has been released this very day! How honored I am to be sharing my review with you, one of the luscious recipes from her cookbook, and hosting a giveaway as well.
I was lucky enough to get an early copy of Cara's book. Right before I headed out for a pedicure recently, our mail lady showed up with my copy. Delighted at its arrival and the timing, I happily took it along with me.
While I was getting my feet pampered, I indulged in reading Cara's beautiful cookbook. What an absolute treat that was! Reading beautiful cookbooks is one of my favorite things in the world and Cara's cookbook pleases and entertains throughout.
Sometimes cookbook authors "phone home" their cookbooks or they're too impersonal. Not Cara. You can "hear her" in all the words in this cookbook, especially in her introductions to her recipes.
Celine Steen does a lovely job with the photos of all the recipes. The styling is simpler than Cara's own photo styling but similar to what she uses on her blog.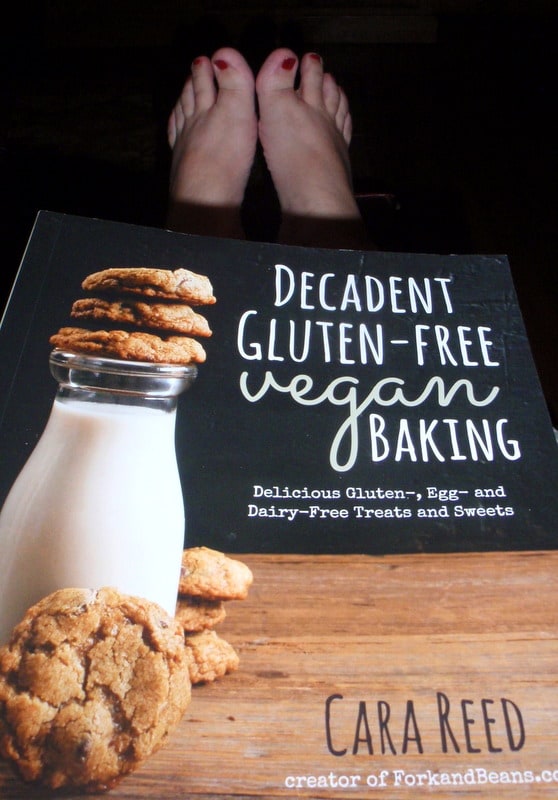 I have the privilege of sharing Cara's Key Lime Cheesecake Bars with you today.  Yes, gluten-free, dairy-free, egg-free, and vegan Key Lime Cheesecake Bars. I did make a few simple changes to her recipe so that it would work better for me personally. To make it grain free, I used my friend Elana's Paleo Graham Crackers. Instead of vegan butter, I used slightly less coconut oil (liquefied). My changes worked just fine and Cara's Key Lime Cheesecake Bars were just wonderful.
A bit of history … the first raw dessert I ever sampled was a Raw Key Lime Cheesecake that one of my support group members made. When I tasted Cara's Key Lime Cheesecake Bars, I was instantly taken back to the moment when I took my first bite of that cheesecake. The flavors and textures in both recipes were simply awesome.
If you've never used soaked cashews in a recipe before, you're in for a surprise and a treat! When combined with water, soaked, drained, and processed in a blender, the cashews becomes the creamiest dairy-free, egg-free, vegan base you could imagine. They're amazing really.
However, the soaked cashews are just one key component of Cara's fantastic bars. Hello … Key Lime! If you're a Key Lime dessert lover, this recipe is for you. (Be sure to check out more luscious gluten-free Key Lime dessert recipes.)
As leaving these bars in the refrigerator overnight is recommended, I suggest making the recipe early in the morning so at the end of the day you'll have a delightful treat to enjoy, or making them in the evening so they'll be ready when you wake up in the morning. (Scroll to the bottom of the page for the recipe.)
I've shared two photos of Cara's Key Lime Cheesecake Bars in today's post. One is my snapshot of the photo from the cookbook. Without the whipped cream topping, I think it has more of a rustic appeal.
So I asked my friend Kristina of Spabettie who also reviewed Cara's book  and shared the Key Lime Cheesecake Bars recipe if I could share her gorgeous photo. Because Kristina is a real sweetheart, she graciously agreed.
Her photo is the one that leads off this post. I think you'll agree that her version of Cara's bars, which are topped with Coconut Whipped Cream and twisted lime slices, have that classic, universal Key Lime Cheesecake appeal!
There are so many other recipes in this cookbook that I want to make once I'm back in full baking mode. (Summer heat tends to hinder my baking.) Snickerdoodles are one of my very favorite cookies, so the Hot Cocoa Snickerdoodles (shown above) are on my list. Plus, there are Maple-Nut Scones, Cinnamon Coffee Cake Muffins, Gingerbread Men, "Oreos," and even Cara's version of Pop-Tarts. I'm not going to give away the whole cookbook contents because I really want you to check it out yourself here.
UPDATE:  This giveaway is now closed.
Gluten-Free Key Lime Cheesecake Bars Recipe
Yield:
Gluten-Free Key Lime Cheesecake Bars (Vegan)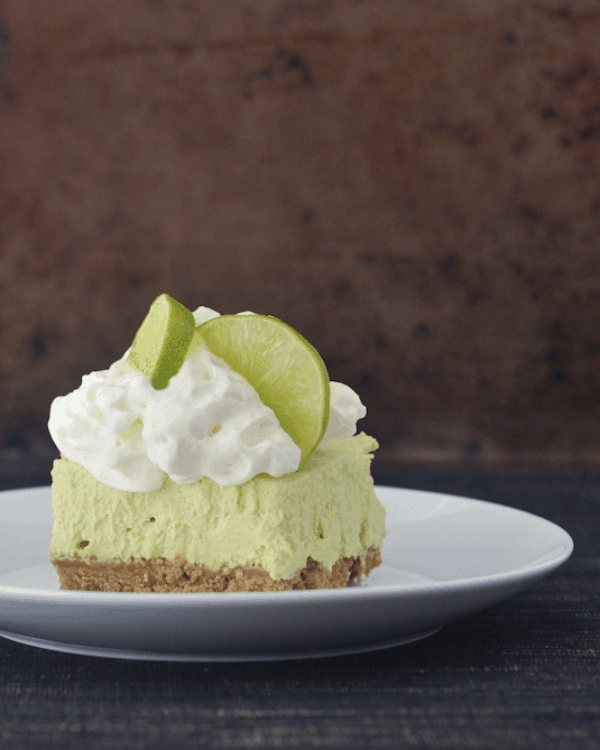 From Cara Reed: "This is an homage to my dear friend Rose---someone I have known since we were 11 years old. This key lime flavor is totally her jam. Tart, sweet, creamy with a crunchy crust, these cheesecake bars are so packed with nutrients from the cashews, you would have no idea that you were eating something healthy."
Ingredients
FOR THE CRUST
1½ cups / 390 g gluten-free graham crackers (see notes), crushed 
⅓ cup / 75 g vegan butter, melted
¼ cup / 50 g granulated sugar
2 Tbsp / 28 g brown sugar, packed
FOR THE LIME FILLING
2½ cups / 640 g cashews, soaked for 1 to 2 hours
½ cup / 120 ml lime juice
¼ cup / 60 ml nondairy milk
¼ cup / 60 ml agave nectar or maple syrup
2 tsp / 7.5 ml vanilla extract
Zest of 2 large limes
2 tsp / 7.5 ml homemade green food coloring for more of a green hue (optional, page 161)
⅓ cup / 80 ml unrefined coconut oil, melted
Instructions
Preheat oven to 350°F (180°C) . Grease an 8 x 8-inch (20 x 20 cm) pan.
Combine all of the ingredients for the crust until well mixed. Press into the pan and bake for 10 to 12 minutes. Allow to cool.
To make the filling, combine all the ingredients except for the coconut oil in a blender until completely smooth. If it is difficult to blend, add 1 tablespoon / 15 ml of water at a time until the mix is able to blend properly. Try not to add too much, though—you want a thick filling.
Add the oil and blend until combined.
Pour over crust, cover with foil and chill in the fridge for several hours until firm. If you can allow it to set overnight, that is ideal.
Top with homemade Coconut Whipped Cream for a decadent treat.
Notes
Makes 12 bars.
Kara's recipe for gluten-free graham crackers is on page 49 of her cookbook.
Key Lime Cheesecake Bars recipe reprinted with permission from Decadent Gluten-Free Vegan Baking by Cara Reed, Page Street Publishing (published August 5, 2014)
Photo graciously provided and reprinted with permission by Kristina Sloggett of Spabettie.
Originally published August 5, 2014; updated June 9, 2018.