For affiliate links and as an Amazon Associate I earn from qualifying purchases.
Today I'm sharing some amazing gluten-free Black Magic Bars, aka gluten-free Black Walnut Chocolate Chip Oat Bars, with you. When my friend Alta (Tasty Eats At Home) made her beautiful and tantalizing Chocolate Black Walnut Cake a while back, I started craving black walnuts. I realized that I hadn't made any baked goods with black walnuts in a long time. These Black Magic Bars—Black Walnut Chocolate Chip Oat Bars–are the results of that craving.
UPDATE: On April 4, 2023, Gluten-Free Watchdog issued a new statement, Gluten-Free Watchdog Cannot Recommend Any Brand of Gluten-Free Oats. Read the full statement here. This statement was followed by details on recent testing results of gluten-free products that contain oats., which showed 30% of the labeled gluten-free oat products tested contained quantifiable gluten.

This statement was followed by details on recent testing results of gluten-free products that contain oats, which showed 30% of the labeled gluten-free oat products tested contained quantifiable gluten. I'm not eating any oats and I urge all of my readers who eat gluten free for medical reasons to also abstain.
The last time I really remember eating black walnuts on a regular basis was when we lived in the farmhouse on 100 acres when Mr. GFE and I were first married. We had a few black walnut trees in the yard.
Walnut trees are like many other trees that produce a fruit or nut. Some years are years of abundance and others years there's not enough produced to even fool with.
We have a black walnut tree on our mountain property, and some years the black walnuts rain down hitting the pavilion roof and pelting our tent. Other years, we almost forget we have a black walnut tree.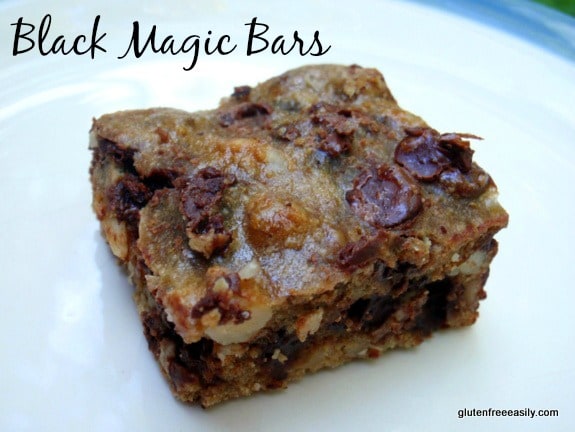 When we lived in the farmhouse, we'd gather all the walnuts and run them through my in-laws' hand-cranked corn sheller. It did a fairly good job of removing that very messy black, outer hull (which is reminiscent of creosote and tar). Once we'd removed all the shells that the corn sheller would take off, we'd lay an old sheet in our yard and spread the walnuts out to dry for a good while before processing them any further.
Surprisingly, we had no squirrel issues there. The property had a huge open yard and farm fields with just a few trees. But maybe the lack of squirrels had as much to do with the number of cats we had at the time as it did with the lack of trees!
Later on, we moved the walnuts to our large, sunny screened porch before we eventually cracked them to remove the prized kernels/meat. After we cracked the nuts–wearing gloves so that our hands would not be stained black—we dried them out a bit more on paper towels on the counter and then I froze the black walnut pieces in glass jars.
All in all, "processing" black walnuts is no small task, but can definitely be worth the effort. Plus, it's a point of pride to have one's own black walnuts.
Read more about black walnuts including their history and nutritional benefits, and see three very appealing black walnut recipes (not gluten free, but could easily be adapted) here.
I remember adding black walnuts to a simple muffin recipe during our time in the farmhouse. We were heading out on a Sunday drive with Mom and Dad and my muffins had just come out of the oven. I lined a basket with a kitchen towel and hastily tucked the hot muffins in all nice and cozy. As we drove "down country," we all had our turn sampling those Sweet Black Walnut Muffins.
I swear I still remember exactly what those muffins looked and tasted like. The slightly crusty edge, the steam that came out as I broke one open, and the contrast of the pungent black walnut pieces to the sweet tender crumb revealed on the inside of the muffin.
I remember my Dad saying, "Hey, these aren't bad!" and proceeding to eat at least two. Sometimes my Dad offers "faint praise," but the proof is in his eating!
This morning was a little bit cooler and I suddenly wanted to bake. Specifically, I wanted to bake some type of bar that would serve as my breakfast. I also knew I wanted to use oat flour and chocolate chips. I spied the black walnuts in the pantry, grabbed those, and then mixed in a few other ingredients.
In pretty short order, I was burning my fingers trying to remove a gluten-free Black Walnut Chocolate Chip Oat Bar, a Black Magic bar if you will, from one corner of the baking dish. It was totally worth the tender fingers afterward though!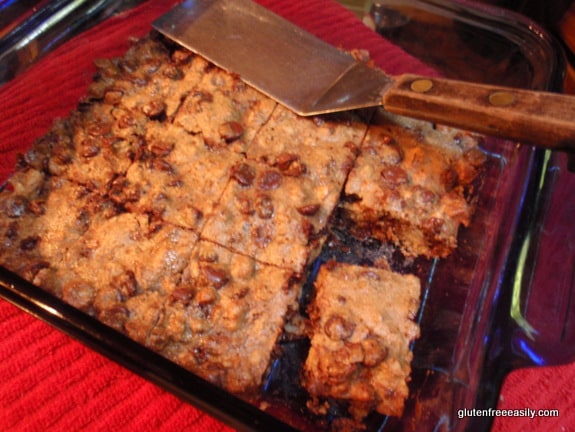 I took these bars to work and they disappeared quickly. Note that most people either love or hate black walnuts. They have a strong, distinctive flavor and, likewise, folks have a strong, distinctive reaction to them.
Luckily, I and my family love them and, obviously, so do my co-workers. These gluten-free Black Magic Bars made a great breakfast and one bar topped with a little peanut butter also worked nicely as my mid-afternoon snack!
Yield: 16 bars
Gluten-Free Black Magic Bars (Black Walnut Chocolate Chip Oat Bars)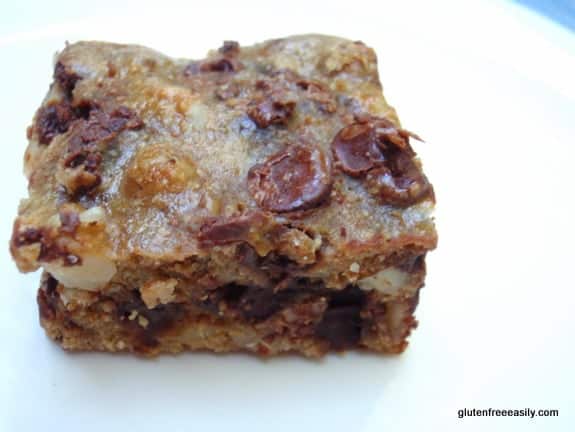 These high-protein Black Magic Bars are ooey gooey enough to feel like a decadent treat but they're still healthy enough to pack in lunches or even eat as an on-the-run breakfast.

Prep Time 5 minutes

Cook Time 20 minutes

Inactive Time 10 minutes

Total Time 10 minutes
Instructions
Preheat oven to 350 degrees Fahrenheit. Grease an 8 x 8 baking dish.
In a large mixing bowl, beat eggs slightly.
Stir in coconut sugar.
Add oat flour, black walnuts, chocolate chips, coconut oil, and sea salt. Mix until blended with wooden spoon.
Spread batter into baking dish.
Bake about 20 to 25 minutes. Test with toothpick for doneness.
Cool slightly before cutting into squares.
Notes
You may be able to use slightly less coconut oil if you use jumbo eggs. You may also use another vegetable oil if you prefer.

I feel certain that egg substitutes such as flax eggs or chia eggs would work wonderfully in this recipe, but I haven't personally tried them yet.

I didn't need to chop the black walnuts as the pieces were small enough right out of the package.

I'm sure this recipe would work with other nuts, like English walnuts or pecans, as well.

Those who cannot tolerate even certified gluten-free purity protocol oats might want to try quinoa flakes. You can run them through your food processor to create a flour that's the same consistency as oat flour.

Originally published June 1, 2012; updated September 15, 2023.