For affiliate links and as an Amazon Associate I earn from qualifying purchases.
This post is linked to Allergy-Free Wednesdays and Gluten-Free Wednesdays.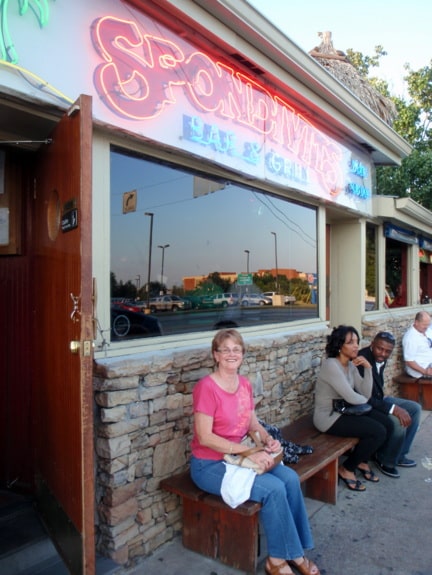 I just wrapped up a week-long Southern vacation with my friend, Judy. We drove to Fairhope, Alabama to attend a mutual friend's wedding (and the many events before hand). Fairhope is just north of Mobile. It was quite the drive, but so worth it to be a guest at my friend's wedding. The first day we drove much more than half way, making it to Atlanta. When we checked into our room and inquired on nearby eateries, the hotel desk clerk recommended Spondivits. Spon what? Spondivits! She described this restaurant as a seafood and steak place where there's always a line to get in. She added that we should not be intimidated by the line and that the food was definitely worth the wait. Spondivits was only a few blocks away. It's located on Virginia Avenue less than 3 miles away from the airport. The menu cites Spondivits as your "perfect airport pre-flight party location!" I remembered passing by it on the way to the hotel. I'd noticed it because of its unusual name and its appearance as quite the happening place.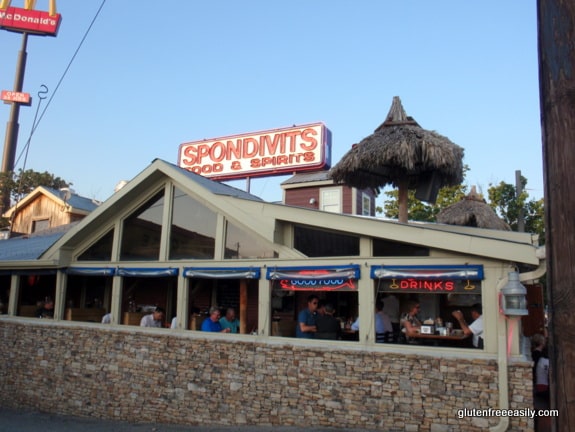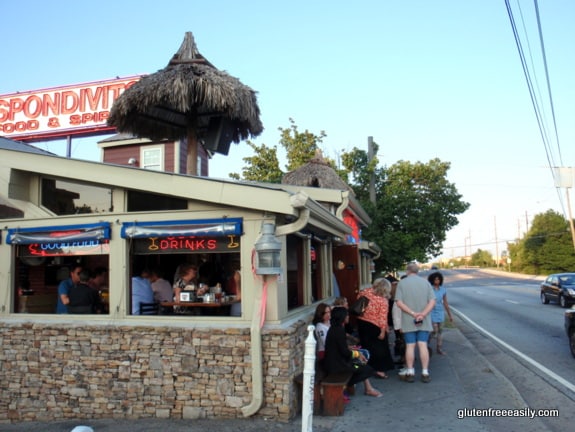 Clearly, Spondivits does not attract your attention because of a grand, traditional appearance. The following info from Spondivits' website also gives you an indication that it truly is not your typical restaurant:
"At the present, Spondivits in Atlanta opens at 11 a.m. and closes at 4 a.m. They stop serving food at 2:45 a.m." It was noted that it's the only place in Atlanta where you can get a full-course seafood dinner at 2:45 am. We didn't verify that info was correct, as that's way past my bedtime, but I do have to wonder if there's a line at that time. At 8:00 pm, there certainly was. And one nice lady I met waiting in line for the restroom told me that there's always a line. We had a 45-minute wait for our table, but the time went by quickly thanks to lots of interesting conversations with other waiting patrons (and one local who could certainly, uh, "spin a yarn"). Having servers promptly fill your drink order while you wait doesn't hurt either. Server "Sunshine" certainly added some sunshine to my day!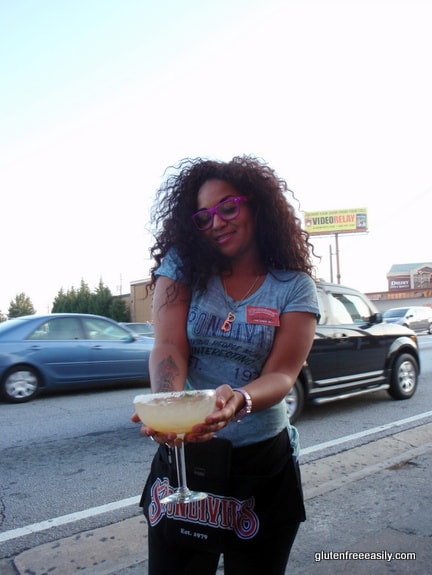 So what is a Spondivits? I asked several folks, even employees, and not one had an answer. "Nobody knows really," says the owner on their website. "We've even had contests to tell us what our customers think Spondivits is, but we have yet to define it." Hmmm. I guess if you open a restaurant, you can call it anything you want. Nonsensical or not, Spondivits does sound like fun, doesn't it? It definitely was!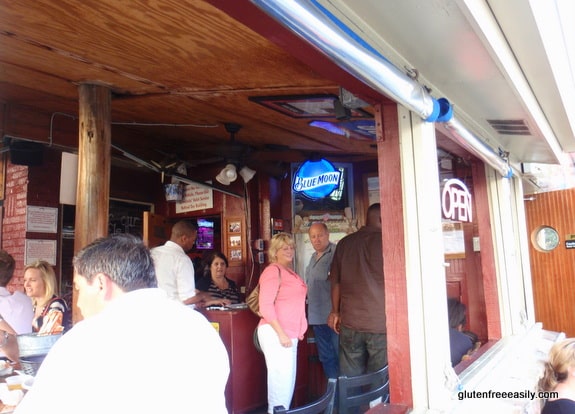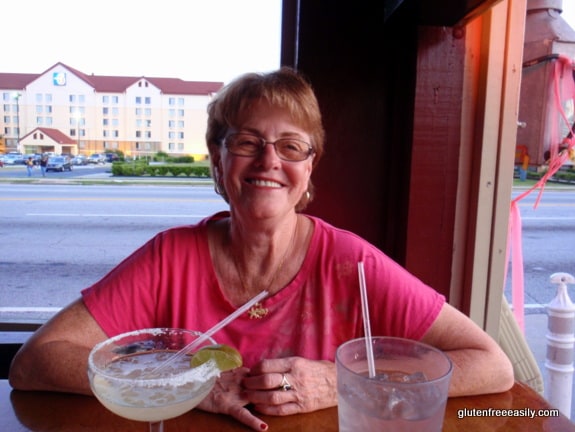 But back to the important part … the food! Once we were seated and ordered, our food came fairly quickly. Other than some type of sandwich, I absolutely do not remember what my friend ordered. I was really focused on my own order. Hers was not gluten free. First, I ensured that the restaurant's seafood is not steamed in beer. One must always ask this question when steamed seafood is involved. Second, the menu says the most of the seafood is served with beer butter or garlic butter. I wanted to make sure that I received garlic butter with my order. It turned out that despite what the menu says, one just gets plain old butter. Our server, Stephanie, said it had been that way as long as she's been there. I have no idea how long that's been, but I was happy that beer butter was not going to trip me up. Finally, I ordered snow crab legs thinking I was getting a pound, but a short while later I was surprised to be served a bucket of crab legs. Wow, this was a snow crab leg extravaganza! The seafood buckets seem to be their signature selections. The snow crab legs were absolutely delicious. They were cooked to perfection and the crab meat had just the right hint of sweetness.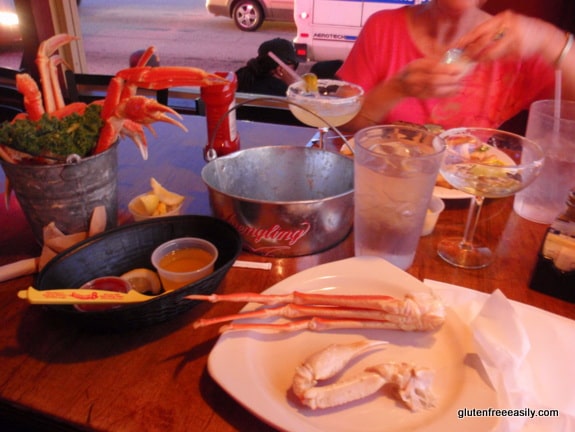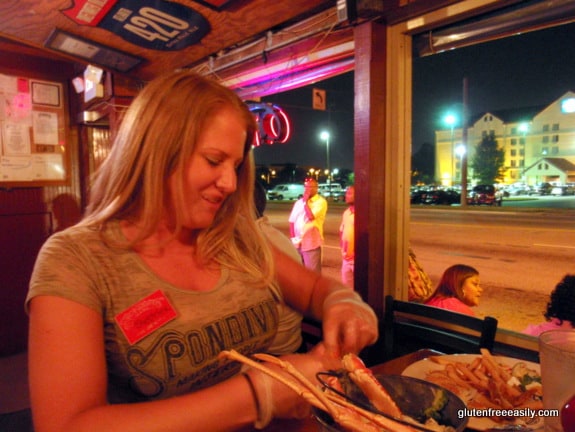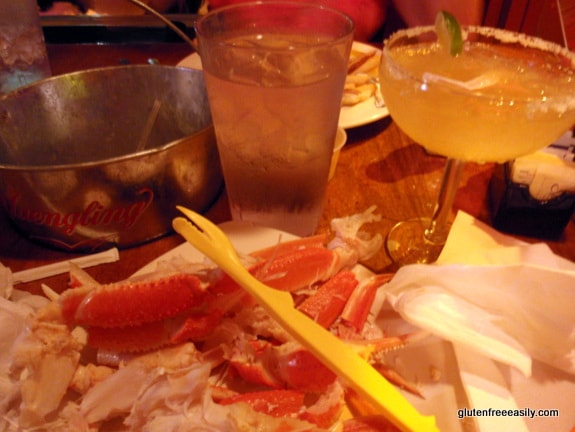 My pet peeve with the snow crab legs was that they didn't come with a worthy stainless steel cracker. Instead they were served with a hard plastic Spondivits crab tool. Our server showed me how to crack the legs and the heavy claws using their tool, but I would have much preferred a much heavier tool that did the job more quickly. Stephanie admitted that they'd originally had stainless steel crab claws, but too many had walked out the door. My friend helped me eat a few of the legs, so eventually we made our way through them all. As a result, I was stuffed, but happy and even ate a pretty light breakfast the next morning.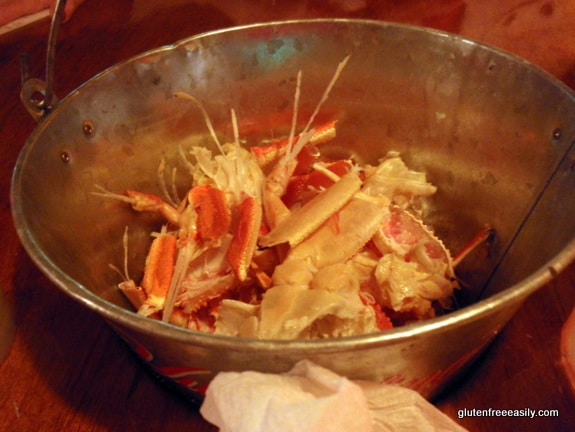 Gluten-free options at Spondivits are going to be the raw or steamed seafood like peel-n-eat shrimp, king crab, snow crab, and oysters; steaks; burgers (sans bun); and salads; but be sure to always do your "due diligence" and inquire about preparation and ingredients. For example, I'd make sure my steaks weren't marinated in any gluten-full ingredients like soy sauce and ensure my burgers didn't have added bread crumbs or gluten-full sauce. Plus, I'd ask for either steaks or burgers to be cooked on a clean grill area (aluminum foil can be your best friend in this situation) or in a clean pan (my preference). For salads, I'd inquire about croutons and if the salads did normally contain croutons, I'd be sure to ask for my salad to be made fresh in its own bowl. (Note: It's pretty common for restaurant staff to make one huge salad in a massive bowl and just "pull" from that all night. You do not want your salad to come from that gluten-full bowl.)  I'd also ensure any toppings like grilled chicken were also gluten free and free of cross contamination.
Spondivits is the kind of place that I'd be unlikely to visit if it were in my hometown. It's funky, loud, is somewhat overpriced, and you can't get in a hurry when dining there, but when visiting from out of town and looking for local flavor (with both meanings), it works just fine for me! There's an open air section with a fair number of tables and an inside main section that houses a bar area, some seating areas that are offset and/or enclosed, and also aquariums. Whether you're seated outside or inside, this is not the kind of place where you can have a quiet intimate dinner, unless you include your neighbor in that intimacy.  The website states that Spondivits is a place that has created a legendary following in Atlanta based on good food—with a specialty on seafood—two-ounce drinks and a personality. Based on my experience, that sure seems accurate!
Another note … at first, it's hard to figure out where you are supposed to park. Passing by the restaurant at least once before you figure that out is pretty common for those who are not regulars. You actually enter the small parking lot between the Spondivits building and McDonald's. The parking is valet parking, with no charge for the parking itself, but tips are expected by the valets. (They tell you that up front.)
If I'm ever in the nearby vicinity again, I'll go back. I'm certain that Mr. GFE would love Spondivitz for a vacation dining spot!