For affiliate links and as an Amazon Associate I earn from qualifying purchases.
Today I'm sharing a Super Easy Homemade Orange Sherbet recipe. This recipe is truly a sherbet that always makes the party.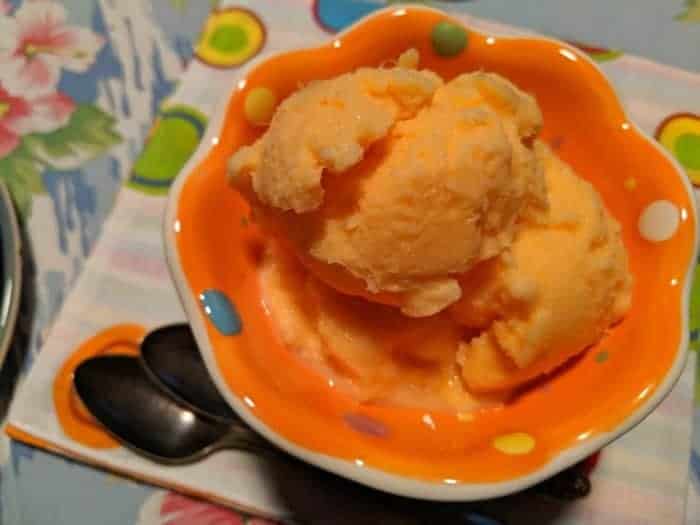 If I had a video recording from our family birthday party this summer when I served this sherbet, I wouldn't even need to write this post. I could simply include that recording—with everyone raving over this orange sherbet—and the recipe for it.
But alas I don't. So, you'll have to take my words and photos instead (nighttime photos taken on our screened porch no less). Still, I think you'll see that this is a winning recipe!
My birthday, my sister's birthday, and my niece's (my sister's daughter's) birthday all fall within 6 days in July. Every other day during that period, one of us is celebrating a birthday.
When my sister and I were growing up, we'd celebrate our birthdays on the day in the middle if the timing worked out. Having a double celebration made everything more fun!
Our triple celebrations since my niece came along have been even more enjoyable. Enjoying delicious food together—the mains, sides, and of course, birthday desserts—and having the joy of giving gifts to each other is all so much fun! This year's celebration was no different in that regard.
In fact, it was even more special because a new member of our family was present. Meet Dozer, our new rescue collie. We drove to Winston-Salem North Carolina to adopt Dozer on the eve of my birthday.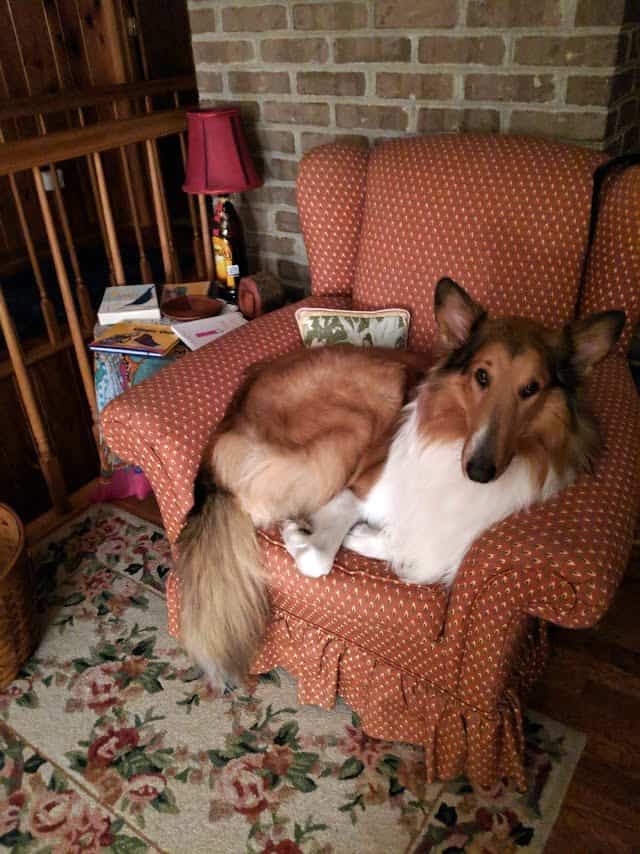 Dozer is a sable and white rough coat collie boy and is now the brother to Sandy. Sandy is a sable and white rough coat collie girl that we adopted last year on our anniversary. Clearly, we think rescuing collies is the best ways to celebrate special occasions. That makes sense, right?
Mr. GFE says that we might have twice the dog hair in our house now and need double the amount of dog food and money for vet costs, but the amount of love we receive is far, far more than double the amount of what we give with these two dear pups!
Some of you may be thinking, "what happened to Sonny?" Sonny was a longtime star on gfe and a dear, dear member of our family. Sadly, he passed away last year right before we adopted Sandy. He will never be forgotten, of course.
Sandy is a sweet and special girl who has undergone quite the transformation since becoming part of our family.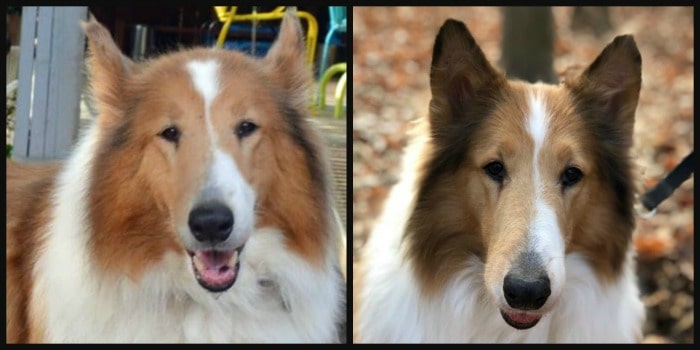 Dozer is a lively, well-behaved boy who always wants to be where the people and the food are!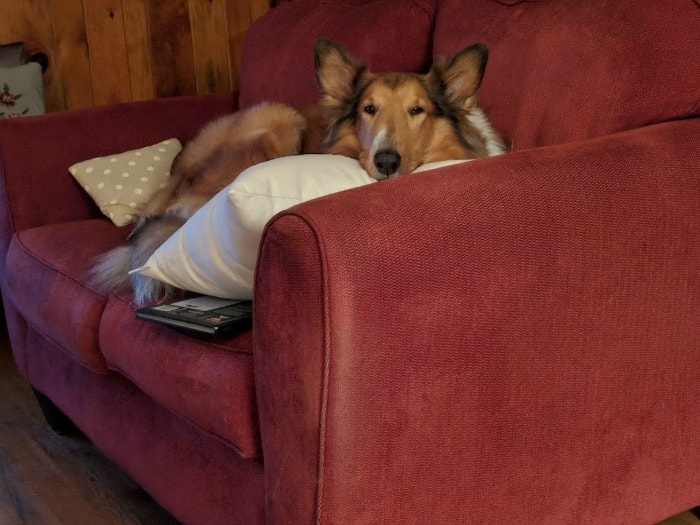 Here you can see him checking out the main course for our party—steamed Maryland Blue Crabs—the day after we brought him home.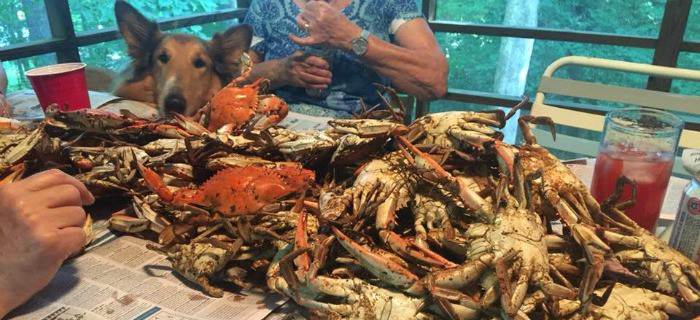 Dozer and Sandy have quickly become best buds. Dozer has been with us for a little over two months but it seems like he's been with us for years because he's so quickly become an adored member of our family and he and Sandy act like they've been together forever.
These two usually lie no more than a foot apart (and sometimes back to back, as you can see) and when taking walks they are often side by side most of the time! They're always checking on each other and love playing with each other like puppies.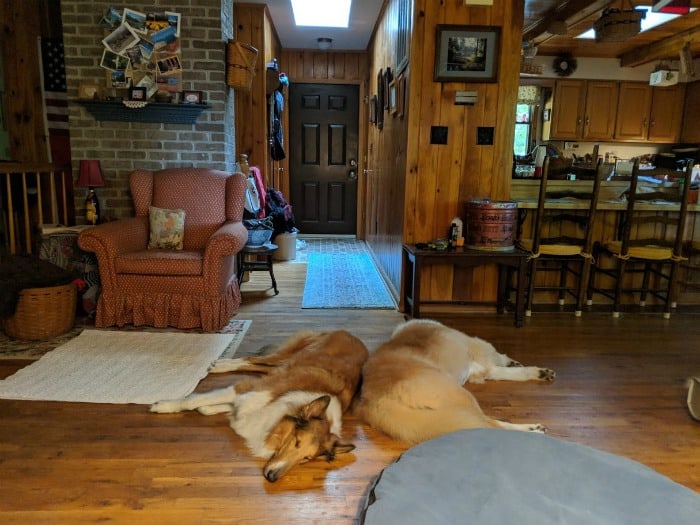 In fact, my friend Ricki told me that with two dogs you see parts of their personalities that you'd never see otherwise, and she was so right!
It's great to see Sandy, the sometimes fussy and stubborn princess that she can be, yipping and running in circles while playing with her new, younger "brother." Watching their puppy-like play is better than tv for sure!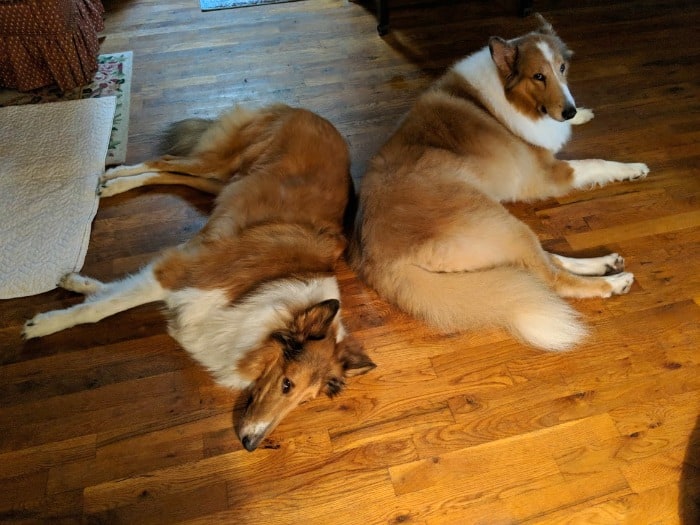 Back to this Super Easy Orange Sherbet That Makes the Party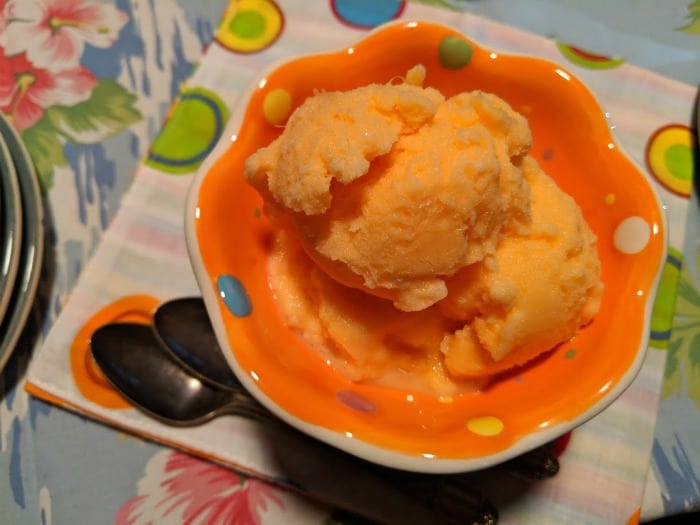 This recipe is a slightly adapted version of one my late mother-in-law made many years ago. She made hers in an old-fashioned ice cream maker.
Are you familiar with those? The original kind that required ice and rock salt where everyone took their turn turning the crank.
With that kind of ice cream maker, you had to earn your bowl of ice cream. If you didn't crank, there was no ice cream to be had!
With modern ice cream makers, you just plug in your machine and go off to do other tasks while it works its magic. I love that!
This Super Easy Orange Sherbet is sort of an odd recipe when you consider what you'd expect orange sherbet to be made from because it's made with orange soda, sweetened condensed milk, and crushed pineapple. But the results are absolutely wonderful!
My family went crazy over this recipe. They couldn't believe it contained pineapple because they didn't taste any pineapple flavor or discern the texture of pineapple in the sherbet.
And they absolutely loved the outstanding orange flavor and creamy texture in this sherbet.
We also enjoyed gluten-free cheesecake. Our local Food Lion carries a gluten-free cheesecake sampler platter that's quite nice.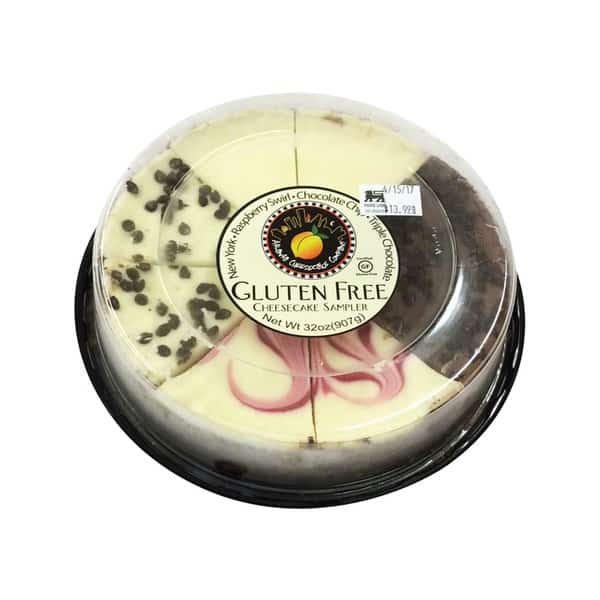 I also served my Mediterranean Chocolate Cake. This is one of my go-to cakes for family birthdays. (Another go-to cake recipe for family birthdays is this gluten-free Texas Sheet Cake.)
But it was this orange sherbet that made our birthday celebration.
I've made dairy-free Orange Almond Sherbet before to use in my version of a beloved local restaurants Frozen Orange Kiss dessert. And I've made Peach Sorbet, Pomegranate Sherbet, Honeydew Melon Sorbet, and Watermelon Sherbet. (and various flavors of ice cream) before.
They're all delicious but I'll admit that this Super Easy Homemade Orange Sherbet is really something special. And what party couldn't benefit from the addition of delicious orange sherbet?
Super Easy Homemade Orange Sherbet Recipe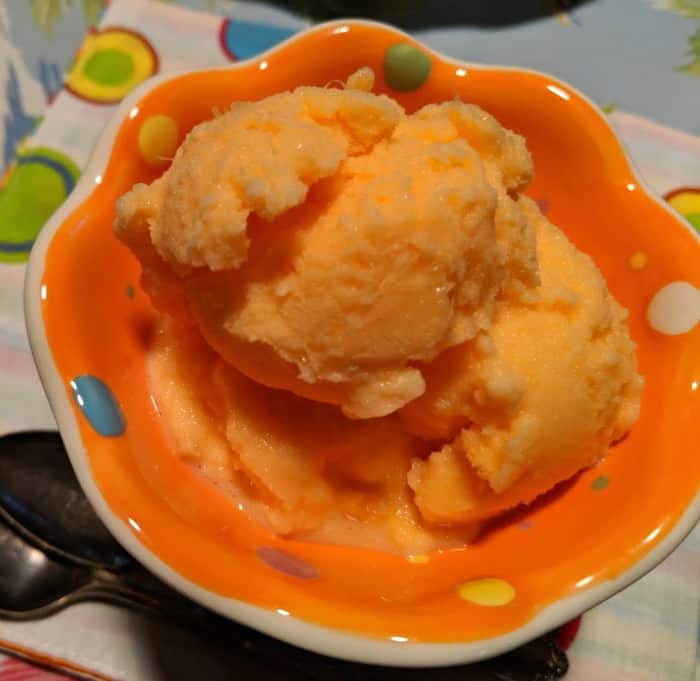 Yield: 10 servings
Super Easy Homemade Orange Sherbet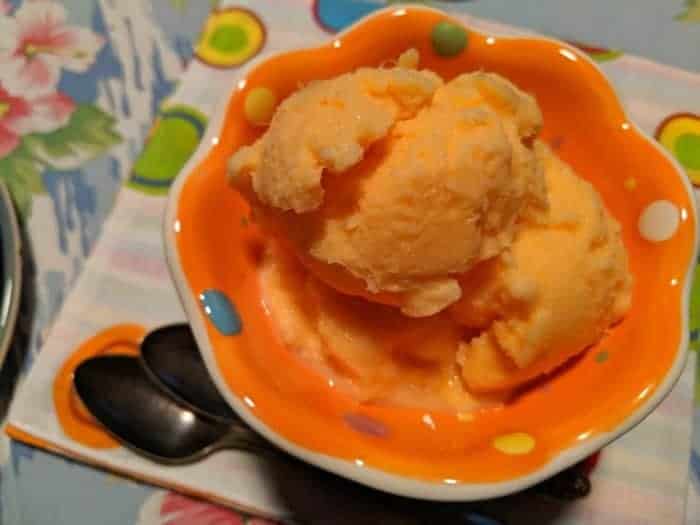 This three-ingredient Super Easy Homemade Orange Sherbet is really special. And what party couldn't benefit from the addition of delicious orange sherbet?

Prep Time 5 minutes

Cook Time 20 minutes

Inactive Time 1 hour

Total Time 1 hour 25 minutes
Ingredients
3 ½ cups orange soda (any brand; even homemade if you like)
1 ¼ cup (10 ounces, not the whole can) sweetened condensed milk] (for dairy free, use [this product—which you can find in stores now---or one of the recipes shared in Notes)
6 ounces crushed pineapple, undrained
1 tsp vanilla extract (made using alcohol) (optional but preferred; see notes)
Instructions
In large bowl, mix all ingredients until well blended. (I use a hand mixer.)
Chill mixture in bowl in refrigerator until cold. (If you start with already chilled ingredients, that could be an hour or two. If you start with ingredients that are warm or at room temperature, you may wish to chill your mixture overnight.)
When chilled, mix ingredients one more time. Pour into the frozen canister of your ice cream maker.
Churn about 20 to 25 minutes until ice cream consistency.
If not serving immediately, transfer sherbet to freezer container and freeze until ready to serve.
Originally published October 5, 2018; updated December 8, 2021.