For affiliate links and as an Amazon Associate I earn from qualifying purchases.
Today I'm going to briefly talk about feeding dogs gluten free and the newest member of our family. Look at this fellow! Isn't he a beauty? We rescued him from the shelter early this morning. Well, that's the short version of his story anyway.
It's been a few years since we lost our last collie, so having this fellow come into our lives now is a complete joy. He's been hanging out in the same general area as the day has progressed. Such heartwarming photos with our new guy and the Christmas tree as his background! He particularly likes to lie so he can place one or two paws on a certain gift bag. It's very cute.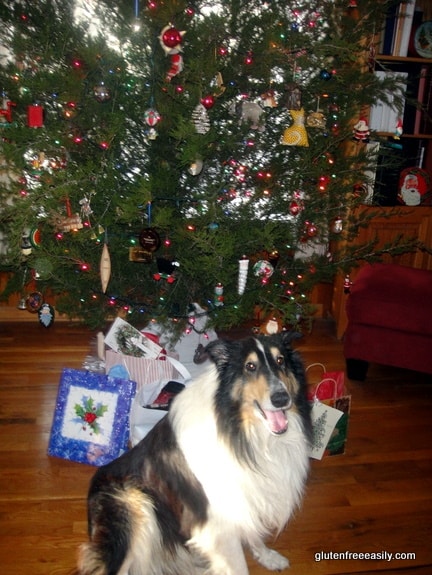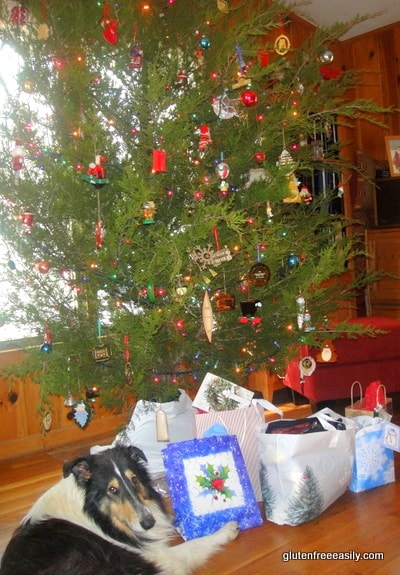 What does this all have to do with living gluten free? Well, mostly, I'm just sharing a gfe family event, but I do plan on feeding our dog gluten-free food. Do the research. There's a lot of data that supports feeding dogs gluten free. I'll be consulting one of my friends who feeds her dogs gluten free before I purchase new food for him online. (Right now, we have the best food we could find for him at our local grocery store.) I welcome any suggestions from all of you as well. I also know I want to make these gluten-free pumpkin dog biscuits. I mean the dog is now a Braden … he's gotta like pumpkin, right?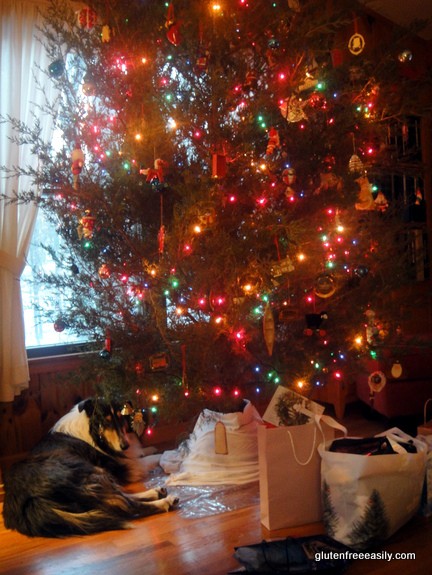 If you have a cat and would like to know about a great gluten-free cat food, Sea (Book of Yum) shared one in her very moving tribute post to her beloved Neko here.
If you're a pet lover, I hope you have some furry (or feathered perhaps) friends hanging out around your Christmas tree … or even in it. We used to raise finches and Mr. GFE innocently let them out of the cage for a little house flight after we put the Christmas tree up. One of the females found a bird's nest already in the tree (unbeknownst to us until that moment) and she was not really interested in getting back into her flight cage, even though it was a very spacious one and all her buddies and treats were there.
I sure hope our new guy will still love being here after our tree comes down! Happy Holidays all! More posts are coming for 25 Days of Christmas, but just wanted to be sure to say that now as we get closer to the big day. Suddenly, I'm feeling the Christmas spirit!
You can see all the 25 Days of Christmas posts below.
Day 1 – Gluten-Free Holiday Giveaway Galore x 10—Giveaway of the new book, Mommy, What is Celiac Disease?, plus gluten-free treats and fun stuff. (Although giveaway has ended; you can still order Katie's new book here. )
Day 2 — Guest Post from Debi Smith (Hunter's Lyonesse)—My Journey Back to Healthy Living
Day 3 — Corn and Butter Bean (or Lima Bean) Casserole for A Gluten-Free Holiday 
Day 4 — Little Cayman Beach Resort Review
Day 5 — 20 (Plus) Thoughts on International Food Bloggers Conference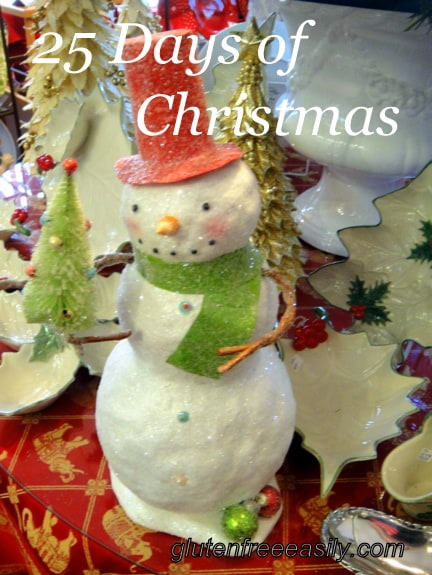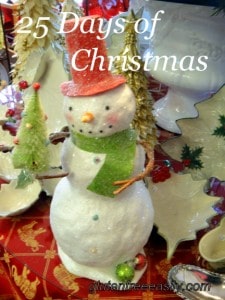 Day 6 — Nutiva Products (Coconut, Hemp x 2, & Chia) Review and Giveaway 
Day 7 — Reindeer Antlers Punch for Share Our Holiday Table 
Day 8 – Flourless Pecan Sandies (Gluten Free, Grain Free, Dairy Free)
Day 9 — Volcano Pancake and Other Breakfast Fare Plus Allegro Marinade
Day 10 – The Palate Peacemaker's Pecan Butter & Pumpkin … Uh Oh … Cake!
Day 11 — Kitchen Table Bakers Crisps Review and Giveaway 
Day 12 — Guest Post: Linda Etherton (Gluten-Free Homemaker)
Day 13 — The Spunky Coconut Grain-Free Baked Goods & Desserts Cookbook Review and Giveaway 
Day 14 — Sweet and Crunchy Snack Mix and Classic Spicy Snack Mix (Make Great Gifts … Even Last Minute)
Day 15 — Winners, Gluten-Free Holiday, and Super Short Roundup  
Day 16 — Review: Bakery on Main Granola and Granola Bars
Day 17 — Review and Giveaway of Ricki Heller's Desserts Without Compromise