For affiliate links and as an Amazon Associate I earn from qualifying purchases.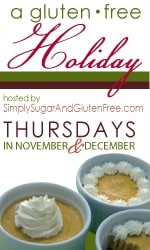 It's Week 5 of A Gluten-Free Holiday (and also Day 9 of 25 Days of Christmas here at gfe). Next week is the last week of our Gluten-Free Holiday event … how can that be? Time is flying faster than Santa's reindeer! This week's theme is Breakfast and Brunch Recipes. Carrie (Ginger Lemon Girl) is our hostess and she's sharing a particularly scrumptious recipe—Christmas Morning Bacon Quiche. It's gluten free and casein free, too! Of course, since Carrie's post is part of our Gluten-Free Holiday event, that means there's a giveaway of more incredible gluten-free cookbooks—multiple copies of each; see photos below. Plus, there are some very cool eco-friendly totes from Elana's Pantry this time. We want you to enter the giveaway and share your favorite breakfast/brunch recipe via the linky here. The cookbooks being given away are shown below. Head over to Carrie's to check it all out post haste, but then come back to gfe to check out my breakfast/brunch recipes and the "snapshot" product review below!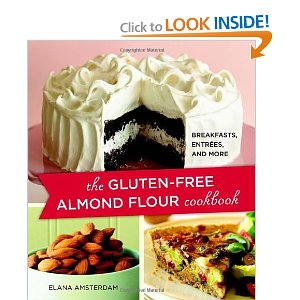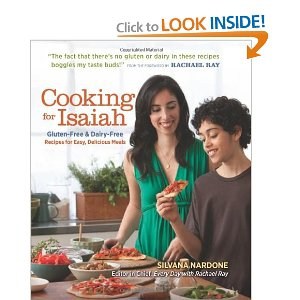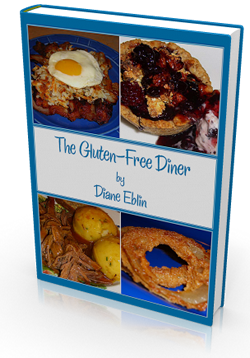 Mr. GFE and I don't often indulge in big breakfasts. He's typically a cereal man and I'm the one who's either slurping on a green smoothie or eating leftovers from dinner. Sometimes Mr. GFE whips up what he calls an omelet (but it's really more of a frittata) for dinner. Occasionally, he will acquiesce to waffles or pancakes (which I love!), but breakfast fare is usually not his top choice. He's much more of a standard meat and potatoes type guy. But, if we have overnight guests, beautiful and substantial breakfasts are an absolute must. For example, we always have such breakfasts the morning after our Valentine's Day parties.
We recently visited some friends, Dowell and Mary Ann, who had been present at our last party. With us and our other guests, they had enjoyed both Volcano Pancake and Hash Brown Casserole. But, it was the Volcano Pancake they fell  in love with and Mary Ann went home with the recipe. She confessed to me when we just visited that she'll make a Volcano Pancake in a heartbeat. Dowell says, "Hey baby, make that thing you make." He never remembers the name of the recipe, but it doesn't matter because they know what "that thing" means! Mary Ann whips one up and they're in heaven when it comes out of the oven. She said they don't even top the pancake wiht syrup most of the time. They'll just tear off little pieces and "graze" on the pancake as a snack as they come and go through their kitchen. Mary Ann also said she'd shared the recipe with another friend whose family is now equally hooked on Volcano Pancakes. In case you're wondering, this pancake has a popover effect, hence, the name, Volcano Pancake. So it makes for not only a delicious meal, but also a great presentation. Have an oven with a window? The kids will enjoy watching it puff up as it bakes! And, as the saying goes, no two are exactly alike. You'll find the recipe for both Volcano Pancake and Hash Brown Casserole here.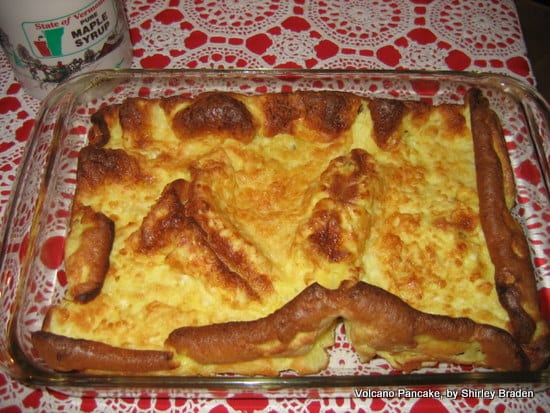 A few other gfe breakfast recipes that are Santa worthy and will also make your holiday morning very special are: Cinnamon-Sugar Crusted Almond Popovers, Banana Maple-Nut Muffins, ABC Muffins, and "Bran" New Muffins.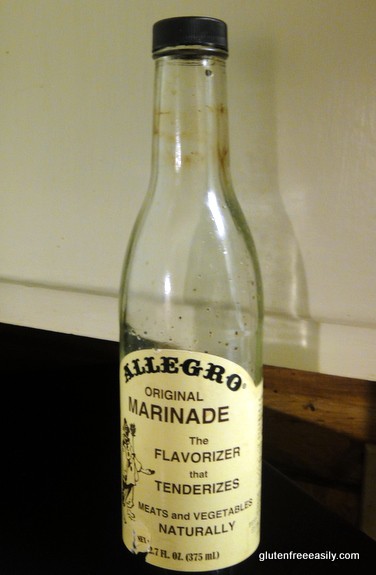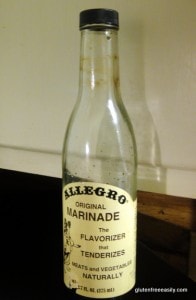 Incidentally, Dowell made us a terrific dinner during our stay. He served us London Broil, steamed baby lima beans, and boiled red potatoes. Mr. GFE helped Dowell shop shortly before dinner, so he picked up some artichokes as well. I took care of those as we all chatted and caught up with each other. Our meal and time together was wonderful, but you may be wondering about the marinade for the London Broil. You already know it was gluten free because I ate it, but what was the marinade? Well, it was a prepared marinade called Allegro. Billed as the original version, The Marinate Everything Marinade, it contained soy. Soy sauces and marinades that contain soy often contain wheat, so I was very eager to read the label, but before my eyes could scroll through the ingredients, Dowell told me that the marinade stated it was gluten free. I looked on the label and sure enough, GLUTEN FREE, was right there for me. Still … I read through the ingredients just to be sure. Seeing nothing of concern, I gave Dowell the green light to use it on the London Broil. There were some ingredients included (like the soy and, also, corn syrup) that I wouldn't care to use often, but I'm willing to eat them on such occasions in small amounts. You'll want to take a look at Allegro's site … most of their marinades and sauces are shown as gluten free. Others contain no gluten per the ingredients per the label. However, use your own judgment on all of these products, as there was no indication of any gluten-free certification. The site locator shows the product widely available in the U.S. and you can also order Allegro marinades from Amazon as well as read reviews of the Allegro products. (Note: Where our friends live, the Allegro Original Marinade costs about $4 a bottle.) I found the London Broil to be very nicely flavored after just a short marinating period. Our friends say that Allegro's Original Marinade is the one they use all the time because they like it so much. The taste is there and the price is not outrageous, but when at home, I'll probably stick with my own recipe for London Broil.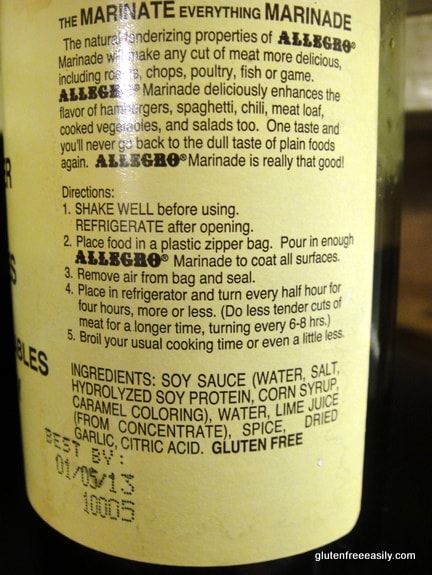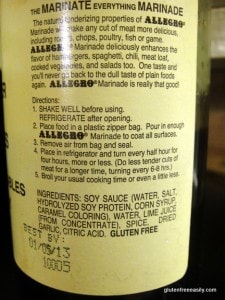 Finally, you can see previous posts for my 25 Days of Christmas holiday/blog anniversary event via links below:
Day 1 – Gluten-Free Holiday Giveaway Galore x 10—Giveaway of the new book, Mommy, What is Celiac Disease?, plus gluten-free treats and fun stuff. Open through Wednesday, December 15.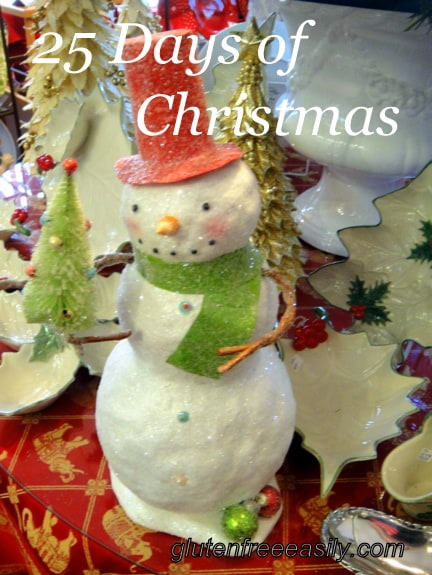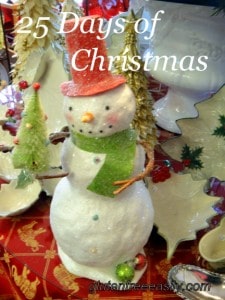 Day 2 — Guest Post from Debi Smith (Hunter's Lyonesse)—My Journey Back to Healthy Living
Day 3 — Corn and Butter Bean (or Lima Bean) Casserole for A Gluten-Free Holiday (Cookbook and book giveaway ends Wednesday, December 8.)
Day 4 — Little Cayman Beach Resort Review
Day 5 — 20 (Plus) Thoughts on International Food Bloggers Conference
Day 6 — Nutiva Products (Coconut, Hemp x 2, & Chia) Review and Giveaway (Giveaway ends Saturday, December 11.)
Day 7 — Reindeer Antlers Punch for Share Our Holiday Table
Day 8 – Flourless Pecan Sandies (Gluten Free, Grain Free, Dairy Free)