For affiliate links and as an Amazon Associate I earn from qualifying purchases.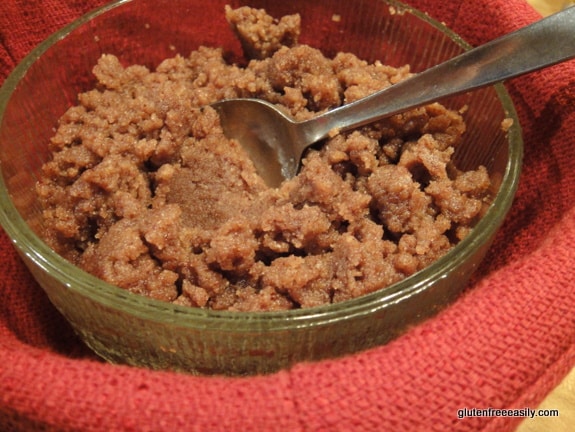 I was lucky enough to find Desi Domo's blog, The Palate Peacemaker, right after she started blogging back in April. As soon as I saw her joyous face and read one of her equally joyous posts—which are also always entertaining and captivating— I was hooked! First of all, don't you just love her name? I think Desi Domo sounds like a movie star's name.  Or maybe the female lead in a super hero movie? In fact, that's how Desi explains her blog name here. (Warning: You may be reminded of my Crustless Fudge Pie.) And, you know how some people's names fit them perfectly … look at Desi's photo on her blog and you'll say, yep, Desi Domo!
Desi is gluten free, dairy free, egg free, soy free, and mostly refined sugarfree. The first recipe I made of Desi's is obvious because I've talked about it several times here at gfe—her Pecan Butter. First, I made it exactly per her recipe, Spiced Pecan Butter. Pecans, salt, pumpkin pie spice, and maple syrup—simple enough … and delicious. I spread it on my pumpkin bread as soon as I took it out of oven–yum! Because the recipe made about a cup of pecan butter, I was able to enjoy it over a few days. A few very fine days, I might add!
Then as I shared earlier this week, I took Desi's pecan butter and elevated it to the next level. A slight variation of Desi's pecan butter became the basis for lovely Flourless Pecan Sandies.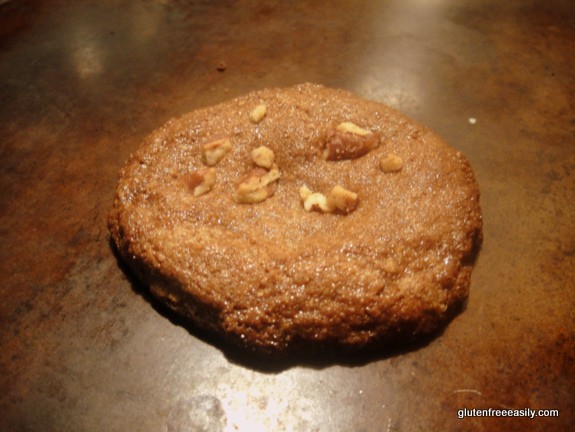 When I decided to adopt Desi for Adopt A Gluten-Free Blogger—the wonderful, monthly, get-to-know-your-neighborhood-blogger event initiated by Sea (Book of Yum)—I went back to the recipe that the pecan butter was originally made for, Desi's Pumpkin Pecan HoHos. The pecan butter is intended to be the HoHo filling for a pumpkin muffin, which then becomes a Pumpkin Pecan HoHo. Genius, right? First, because I was having a problem with my food processor, I decided to skip the pecan butter hoho filling and just make Desi's gluten-free, dairy-free pumpkin muffins. All was going fine until I added the coconut milk (substituted for almond milk, which is what Desi's recipe required). About the time I thought "that's a lot of milk!", I realized that I had added double the amount. Rats. I weighed my options. I could pour off some of the coconut milk, but who knew how much of the baking powder and xanthan gum would go with it. I finally decided adding both pecans, some almond flour, and using Nutiva's Coconut Coconut Manna™ (instead of coconut oil) would thicken up the batter enough to make a cake. A Bundt cake. So my mishap version went into the oven with fingers crossed.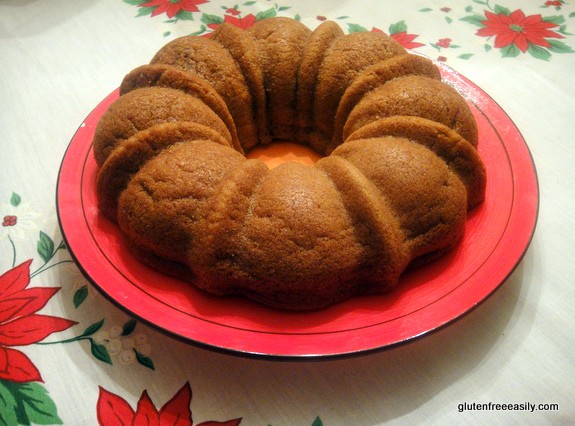 I think both Desi and her blog, The Palate Peacemaker, are great. Check them out. Read her musings on flexibility, procrastination, magic, and much more, while you enjoy her recipes, too.  But here's another warning: You might develop a love of pecan butter, and you might want to mess up on her Pumpkin Pecan HoHo recipe, completely leaving out the Pecans and the HoHo factor, because the Bundt cake version turned out fabulous. It actually had a consistency more like bread pudding, but that was perfect for me as I love Bread Pudding, and this Pumpkin Bread Pudding, oh my! What a stroke of good fortune to have created this recipe. Now the only question is … can I recreate it? Stay tuned, and be sure to check out Desi's blog and look for Sea's roundup of all the other adoptions in a few days. (I'll add the link here, too, when it's up.)
Finally, you can see previous posts for my 25 Days of Christmas holiday/blog anniversary event via links below: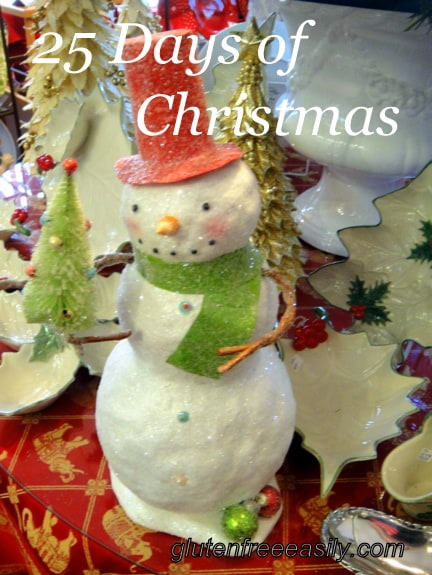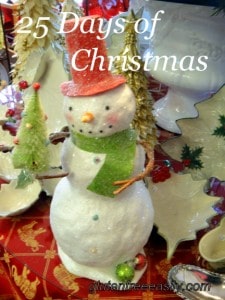 Day 1 – Gluten-Free Holiday Giveaway Galore x 10—Giveaway of the new book, Mommy, What is Celiac Disease?, plus gluten-free treats and fun stuff. Open through Wednesday, December 15.
Day 2 — Guest Post from Debi Smith (Hunter's Lyonesse)—My Journey Back to Healthy Living
Day 3 — Corn and Butter Bean (or Lima Bean) Casserole for A Gluten-Free Holiday (Cookbook and book giveaway ends Wednesday, December 8.)
Day 4 — Little Cayman Beach Resort Review
Day 5 — 20 (Plus) Thoughts on International Food Bloggers Conference
Day 6 — Nutiva Products (Coconut, Hemp x 2, & Chia) Review and Giveaway (Giveaway ends Saturday, December 11.)
Day 7 — Reindeer Antlers Punch for Share Our Holiday Table
Day 8 – Flourless Pecan Sandies (Gluten Free, Grain Free, Dairy Free)
Day 9 — Volcano Pancake and Other Breakfast Fare Plus Allegro Marinade