For affiliate links and as an Amazon Associate I earn from qualifying purchases.
Full disclosure: Kitchen Table Bakers provided the crisps reviewed here free of charge to the celiac/gluten intolerance support group that I lead. The giveaway is also being sponsored by Kitchen Table Bakers. However, this post is not a paid review; the opinions expressed here are strictly my own.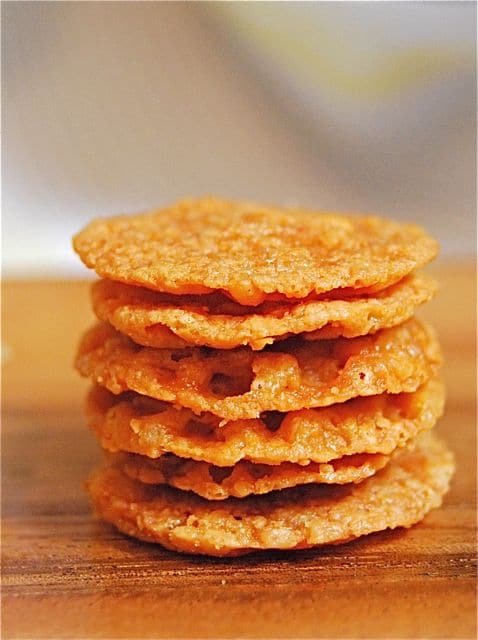 All photos courtesy of KitchenTable Bakers
Update: This giveaway is now closed. Congratulations to Michele! She was selected via random.org, but her comment was: "My daughter would love these!! I'm always trying to find great tasting snacks for her!" Thanks to all those who entered the giveaway. These really are great products. Hope you'll print out this form and submit it to your local  grocery store (or specialty store) so they'll carry them and you can try them out! 
"Only the highest quality Aged Parmesan cheese and seasonings are used to make our gourmet, all natural and one of a kind cheese crisps. These crisps are wheat free, gluten free, sugar free, are rich in calcium and are naturally low in carbs.

Our mother, who was the best kitchen table baker, used to say only the finest ingredients and you will end up with something delicious and nutritious." We took her advice and created the ultimate healthful yet decadent Parmesan Crisps.

Our crisps complement wine and spirits. They can be uses as a chip with dip, as a base for a canapé or just enjoy right out of the package on their own."
Kitchen Table Bakers has provided complimentary crisps to my support group more than once, with the most recent time being last night. We snacked on Aged Parmesan Crisps and Everything Parmesan Crisps as we waited for the rest of our meal to be ready. As the name states, these crackers are crisp and crunchy … pleasantly so. Plus, they're rich with the flavors of the cheese and the other ingredients. The Everything Crisps (reminiscent of an Everything bagel) contain sesame seeds, poppy seeds, garlic, and minced onions in addition to the basic ingredients that also make up the Aged Parmesan Crisp: pasteurized part skim milk, cheese cultures, salt, and non-animal rennet. You can see a complete listing of ingredients for all eight flavors of crisps here. The Aged Parmesan Crisps were the most popular with my group last night, but this was my "non-spicy" crowd. Another night with different attendees could have gone another way.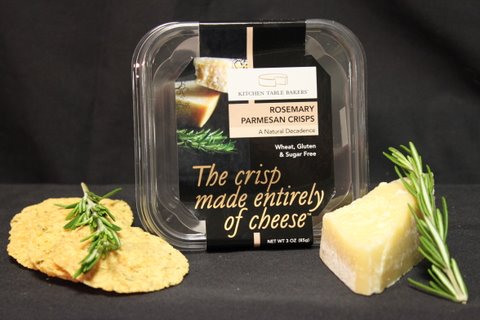 To see which distributors in your area carry Kitchen Table Bakers, check out this listing. If your favorite store isn't shown, be sure to print out this form and give it to your store's customer service department so they'll know how to stock Kitchen Table Bakers' Crisps.
Wouldn't you like some of these Parmesan crisps on your holiday table? Or perhaps you're looking for a gift for the foodie on your gift list? I'm sure these two packages of crisps will be well received either way. To enter this giveaway for two 3-oz containers of Parmesan crisps, simply leave a comment here. To ensure the winner will have these crisps before the holidays, the giveaway will end Wednesday, December 15, at midnight. (I've extended it a day.)
Finally, you can see previous posts for my 25 Days of Christmas holiday/blog anniversary event via links below: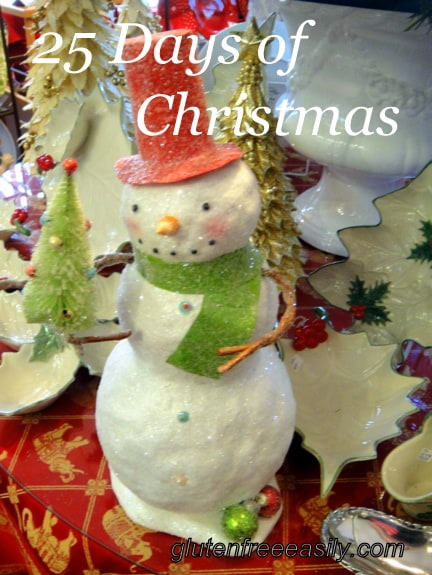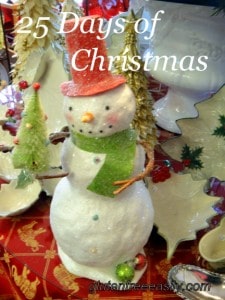 Day 1 – Gluten-Free Holiday Giveaway Galore x 10—Giveaway of the new book, Mommy, What is Celiac Disease?, plus gluten-free treats and fun stuff. Open through Wednesday, December 15.
Day 2 — Guest Post from Debi Smith (Hunter's Lyonesse)—My Journey Back to Healthy Living
Day 3 — Corn and Butter Bean (or Lima Bean) Casserole for A Gluten-Free Holiday 
Day 4 — Little Cayman Beach Resort Review
Day 5 — 20 (Plus) Thoughts on International Food Bloggers Conference
Day 6 — Nutiva Products (Coconut, Hemp x 2, & Chia) Review and Giveaway (Giveaway has ended.)
Day 7 — Reindeer Antlers Punch for Share Our Holiday Table
Day 8 – Flourless Pecan Sandies (Gluten Free, Grain Free, Dairy Free)
Day 9 — Volcano Pancake and Other Breakfast Fare Plus Allegro Marinade
Day 10 — The Palate Peacemaker's Pecan Butter & Pumpkin … Uh Oh … Cake!