For affiliate links and as an Amazon Associate I earn from qualifying purchases.
Today is about my gluten-free Corn and Butter Bean Casserole and much more! It's both week 4 of our Gluten-Free Holiday event and the continuation of my 25 Days of Christmas!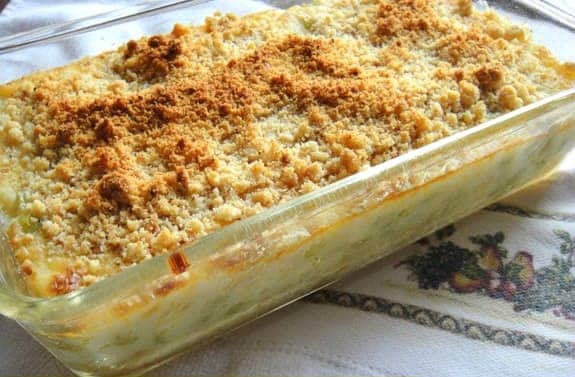 Diane (The WHOLE Gang) is hosting A Gluten-Free Holiday with Christmas and Hanukkah Favorites—entrees and side dishes. She is sharing Chipolatas. Never heard of Chipolatas? I hadn't either, but they're made of one of Diane's very favorite "food groups." (Hint: It's a four-letter word that rhymes with fork.) Be sure to check out Diane's Chipolatas!
Now let's get to the recipe I'm sharing for this week's event. As I stated when I shared my "Candy" Carrot Coins recipe, veggies often get the short end of the stick when it comes to holiday meals. So I do try to make up for that as much as possible by including an irresistible salad (like Kathi's Great Salad) and at least one vegetable dish that does not involve potatoes.
Don't get me wrong; I adore potatoes–in all forms–but potatoes often seem to get the glory for holiday meals while actually there are plenty of other tasty choices.
Many years ago when flipping through a cookbook that belonged to my future mother-in-law, I came across this recipe for Corn and Butter Bean Casserole. It's become a family favorite, even after several adaptations over the years.
Even my picky brother-in-law eats this casserole and enjoys it. After the first time he sampled it, he complimented me on the recipe, admitting that he was surprised by how much he enjoyed it. He said, "I wasn't sure about it but it's really good!"
Yes, it is. It's a dish that's creamy and flavorful without being too heavy or sleep-inducing —an often common factor for holiday casseroles, it seems. Still, this recipe serves many as a small serving is really all that one needs.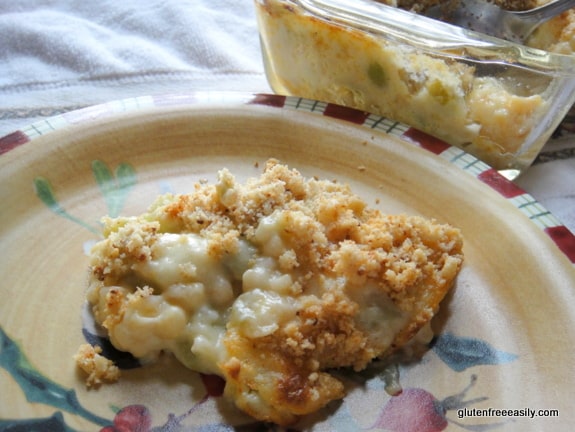 Gluten-Free Corn and Butter Bean (or Lima Bean) Casserole Recipe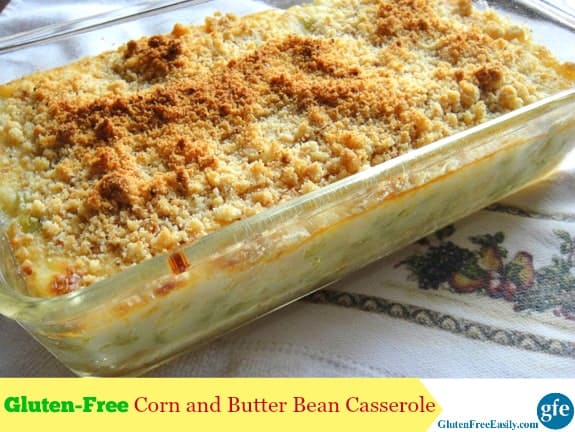 Yield: 10 servings
Corn and Butter Bean (or Lima Bean) Casserole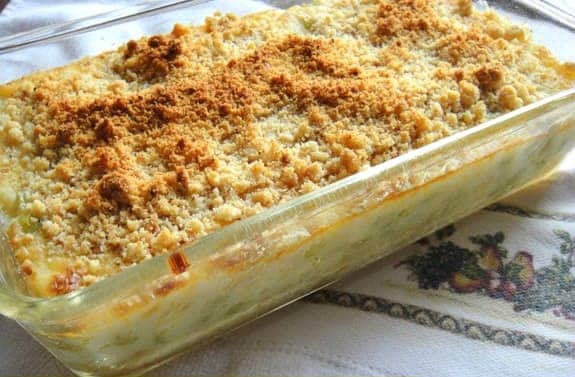 Ready to add something new and delicious to your holiday table? This Corn and Butter Bean Casserole qualifies. It's so creamy and flavorful!

Prep Time 20 minutes

Cook Time 25 minutes

Total Time 45 minutes
Ingredients
¼ cup butter (dairy or non-dairy)
¼ cup gluten-free flour mix (see notes)
1 ½ cup milk (dairy or non-dairy)
½ cup finely chopped onion
½ cup shredded cheddar cheese (optional--see notes; dairy or non-dairy)
1 can white shoepeg corn, drained (or any corn kernels, 11 ounces or more; or equivalent cooked from frozen corn, if available)
about 8 ounces or so of frozen Lima beans or butter beans, cooked
1 cup of crunchy topping (almond flour mixed with olive oil and browned, stuffing, crushed potato chips, or similar; see notes)
Instructions
In a double boiler, make sauce of butter, flour, and milk. Stir fairly often until mixture thickens into a sauce (about 15 minutes).
Add onion and cheese (if used).
Layer a 2-quart casserole dish as follows (I use a Pyrex glass loaf pan), half of shoepeg corn, half of beans, and half of sauce. Repeat. Top with your crunchy topping of choice; see notes.
Bake at 350F degrees for about 20 minutes. Increase oven temperature to 375 degrees for another 5 minutes or so if additional browning of the casserole top is needed.
Notes
Adapted from a recipe from one of my mother-in-law's cookbooks; the exact source is unknown.

Beans: I used 1 1/2 cups of baby lima beans when making the casserole shown in the photo.

Corn: Shoepeg corn is sweet and mild, but if you can't find it you can use any corn. I hate the fact that the canned corn now contains sugar, but since you drain the liquid, I figure for this one recipe, it can't be too bad for you. The original recipe called for a 17-ounce can of corn; the can is now 11 ounces in my store! That's definitely a sign of the times, but 11 ounces still is plenty.

Cheese: If you omit the cheese, you will probably need to reduce your milk amount slightly to ensure that your sauce thickens enough.

Flour: Sweet rice flour is great for thickening (e.g., gravy) and could be probably be used in place of the gluten-free flour mix. I used my Two-Ingredient Gluten-Free Flour Mix. (I make this flour mix in large batches and measure out as I need it.)

Topping: The original recipe called for a topping of Pepperidge Farm stuffing mixed with 1 to 1 ½ sticks of butter. Obviously, that stuffing was not gluten free. Usually, I mix almond flour with a little olive oil or butter, broil about a minute (literally) until brown, and then sprinkle over the top of the casserole. You can skip the broiling step, but I like the browned look it adds. If you make stuffing a day ahead of your meal, you can reserve some for topping this casserole. Other topping possibilities are gluten-free bread crumbs or crushed gluten-free crackers. Crushed potato chips or tortilla chips can also be used. Sometimes choosing one of those latter toppings can make this recipe more appealing to children. Onion: You can omit the onion for those who hate them, but the small amount of onion really makes this recipe in my opinion. And, even non-onion-loving Son enjoys this recipe.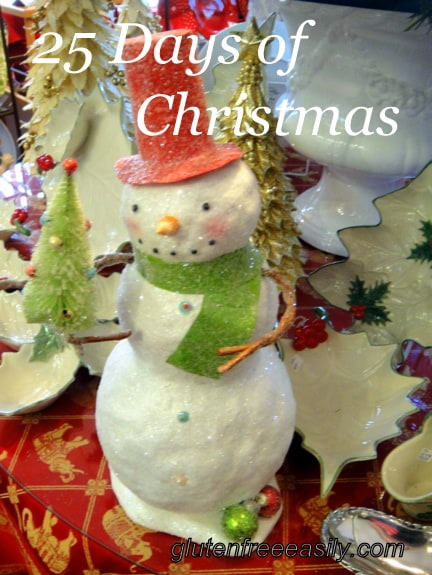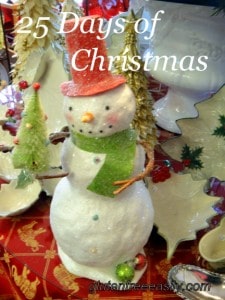 If you are still looking for holiday entrees, side dishes, and appetizers, please consider the following gfe recipes:
Finally, check out the previous 25 Days of Christmas posts:
Day 1 – Gluten-Free Holiday Giveaway Galore x 10—Giveaway of the new book, Mommy, What is Celiac Disease? plus gluten-free treats and fun stuff.
Day 2 — Guest Post from Debi Smith (Hunter's Lyonesse)—My Journey Back to Healthy Living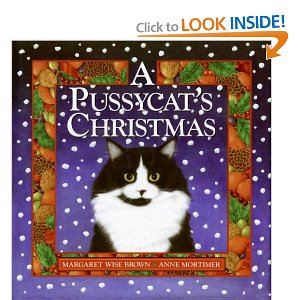 Originally published December 3, 2010; updated November 19, 2023.