This post may contain affiliate links. If you purchase through them, your cost will stay the same, but gfe will receive a few cents for every dollar spent. Thanks for supporting gfe!
It's day four of our Gluten-Free Progressive Easter Dinner Party! I hope you have been enjoying going from home to home—or blog to blog, if you will—for each course of your meal. I shared Mom's Deviled Eggs on Monday and I'm going for another heavily yellow dish today—Classic Corn Pudding. Corn pudding is a dish that is either naturally gluten free or can easily be made gluten free—so, gfe! The main ingredient is, of course, corn. Corn is like all other vegetables; it's gluten free in its natural state. Canned corn, frozen corn, fresh corn are all gluten free. Even creamed corn is gluten free. (But, if you are looking at a package or can of seasoned corn or one that includes more than corn, do read the label to be sure it's gluten free.) Sometimes corn pudding is made with cornstarch, which is gluten free. (If you are avoiding starches, you could probably use arrowroot powder/flour in its place.) Many corn pudding recipes call for all-purpose flour. However, gluten-free flour can easily be substituted. Some recipes require a dusting of bread crumbs. Gluten-free bread crumbs or often even almond flour can work in their place, but I prefer my corn pudding without bread crumbs.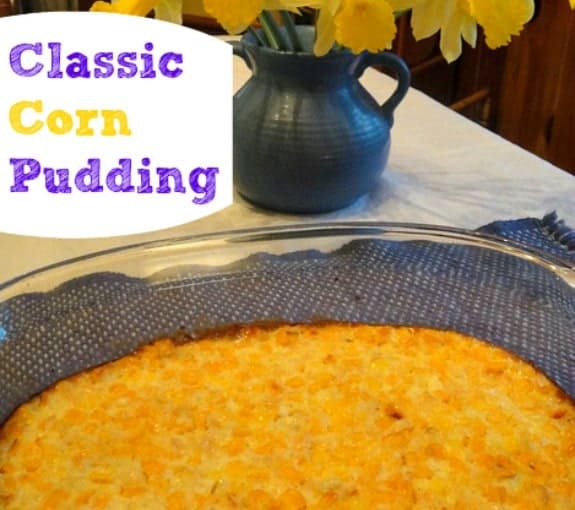 There are four recipes for corn pudding in one of my favorite cookbooks, a spiral-bound collection of recipes from our church members. (Don't you love those types of cookbooks? The ones that contain the tried and true recipes of people you love. You can still use those cookbooks for many recipes. Just go for the gfe ones!) All corn pudding recipes in this cookbook require dairy milk in some form (whole, evaporated, or buttermilk) and added sugar. I was somewhat surprised when I perused these recipes again and found that the one I liked best (as indicated by the smiley face and "Yummy!" handwritten/drawn beside it) contained ½ cup of added sugar, plus milk and butter. No wonder I thought it was good. I'm becoming increasingly aware of how much added sugar and dairy is in a lot of my favorite recipes. It's actually been a long time since I made corn pudding, with the last time being as part of a meal for a sick friend's family. However, my brother-in-law's mom always makes it for family gatherings so I enjoyed it at Thanksgiving. Hers is made with just a few ingredients and contains cornstarch … plus, yes, milk, sugar, and butter.
Sweet corn is inherently sweet, hence the name (yeah, duh … I know), so why would I need to add that much sugar, if any? And, could this corn pudding be made without dairy as well? Well, before you get too excited, I tried a version without added sugar, milk, or butter and the result was definitely not corn pudding. It was tasty and slightly sweet because I baked it at a higher temperature and used super sweet frozen corn, but again it was not corn pudding. I'm actually recycling it tonight in one of Mr. GFE's frittata-type omelets. (Shhh, he doesn't know that he's cooking dinner yet.) But, I did tweak my favorite recipe a bit. I reduced the sugar from ½ cup to 1/3 cup and it's still plenty sweet to me. I also used half the amount of butter called for, so I only used one tablespoon. I'm sure that this pudding could be made dairy-free just by using the non-dairy versions of milk and butter. A refined sugar-free version is probably also doable, by replacing the granulated sugar with honey, agave, or similar. While Mr. GFE loves corn, he has never been a fan of corn pudding. I think it's because of its usual "syrupy" sweetness, so I'm hoping he'll like my new and improved version. And, I hope you will, too! Incidentally, I took more than a taste for breakfast … hence, the missing portion in the photo below.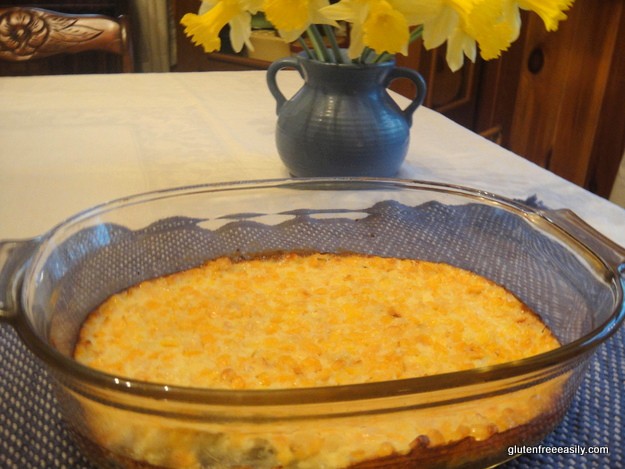 Classic Corn Pudding
Ingredients
one 15 ½-ounce can of white shoe peg corn (or very sweet yellow corn), drained, or equivalent amount of frozen or fresh corn, perhaps cooked at least partially and drained
2 eggs
½ cup milk (dairy or non-dairy)
1 teaspoon of vanilla extract
1/3 to 1/2 cup granulated sugar (see notes)
2 tbsp flour (I used my Two-Ingredient Gluten-Free Flour Mix)
1 to 2 tbsp butter (dairy or non-dairy; see notes)
Instructions
Preheat oven to 400 degrees Fahrenheit.
Beat eggs with milk. Add sugar, flour, and vanilla; mix well. (Use a whisk if necessary to break up any lumps of flour that form.)
Stir in corn.
Pour all into greased baking dish.
Top with butter pieces.
Bake for 10 minutes. Stir. (Note that outer edges will already be firming up, so just stir the melted butter into most of the pudding; do not disturb edges.)
Bake about 20 - 25 minutes longer or until browned on top and the dish is pudding consistency and set.
Notes
Adapted from Oakland Baptist Church cookbookWhile this "improved" recipe works great for eating on the same day, it does break up a bit after refrigeration. So, if you have to refrigerate your corn pudding before serving, you may want to up the sugar to 1/2 cup and increase the butter to 2 tbsp. Also, as far as servings, a little goes a long way. This recipe could easily serve 8 - 10.
Courses Side Dish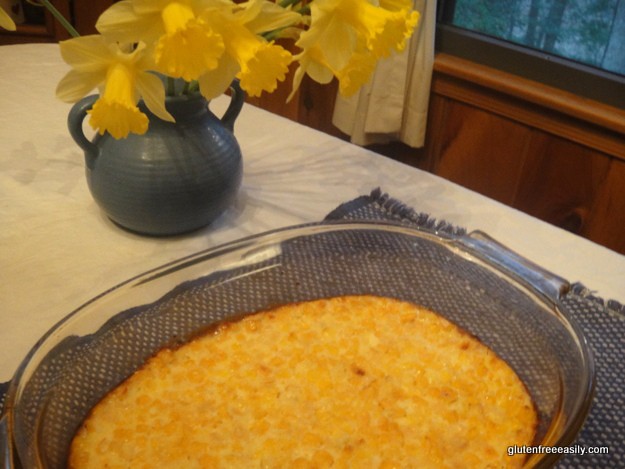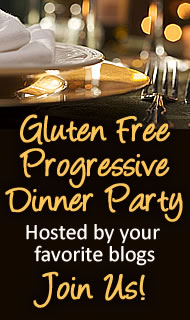 Diane (The WHOLE Gang) presented an amazing salad on Tuesday—Roasted Red and Yellow Beet Salad with Avocado, Oranges, Red Onion, and Toasted Pine Nuts. Say that three times really fast! Better yet, just make the salad and enjoy it!
Katrina (Gluten-Free Gidget) shared a fantastic main dish yesterday—Crockpot Leg of Lamb with a Thai Sweet Plum Sauce.
Be sure to check out their recipes (and their blogs, too) and join me back here at gfe tomorrow for dessert!