For affiliate links and as an Amazon Associate I earn from qualifying purchases.
It's every food blogger's hope—and any good cook's as well—that if they make a variation of one of their standby recipes, they'll end up creating something even better. Happily, that is very much the case with these gluten-free Tender Corny Almond Muffins. These honey and corn kernel-sweetened almond muffins made me want to skip down the lane like a little girl. Really, they made me so happy! Mr. GFE loved them, too. His comment: I don't usually need bread with dinner, but I couldn't resist these.
The Back Story
I wanted to make corn muffins that did not contain cornmeal. I've found that as much as I love corn products, they don't always love me back. In my case, I seem to be mostly fine with whole corn and even cornstarch, but cornmeal, even "gluten-free" cornmeal and processed products like corn tortilla chips often seem to bother me. I get congested, constipated, and often a little fuzzy when eating them. Oh joy!
It turns out that I am not alone in having corn issues. A 2012 study showed that some of us who are gluten free, specifically those with HLA DQ2 or HLA DQ8 genes (I have the HLA DQ2 gene), do react to corn similar to the way we react to gluten. Personally, I don't find my own reaction to corn to be all that much like a gluten reaction because for me those are pretty severe from even a minute amount accidentally ingested and I can eat a good portion of corn products before I have issues, but I definitely do have some type of reaction to corn in some forms. Read more on the 2012 Study that shows Corn Cross Reactivity in Celiac at About.com.
Last, but not least, remember that just because a grain does not actually contain gluten in its natural state does not mean that it is gluten free. Okay, that certainly sounds confusing. Allow me to explain. If you've ever passed by fields of crops, you probably noticed that the farmer does not plant the same crop in the same field, year after year, or even season after season. The field where you see corn growing right now might have winter wheat next season. The following season, millet, sorghum, or soybeans might be planted … and then barley the next season, and so it goes. Crop rotation has long been used for optimum farming, protecting the soil and increasing plant yields.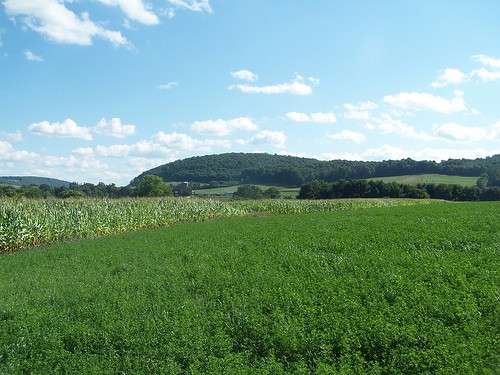 photo credit: flickr andyarthur
Now think about the farmer harvesting one of those crops that's naturally gluten free. Do you think there's any way that he can avoid also harvesting some errant gluten-containing grains from a previous season? And what if he had just harvested wheat in another field? His equipment already contains those gluten-containing grains, so there's no way that he can ensure that the naturally gluten-free grains remain "gluten free" even at that point. Now add in the fact that these grains are taken to processing plants to be milled into meal or flour are typically not plants that are dedicated gluten free. The likeliness of gluten being introduced to these "gluten-free" grains just went up again, right?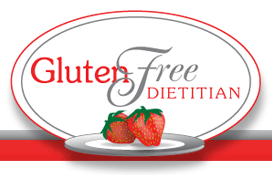 Tricia Thompson, the Gluten-Free Dietitian and founder of Gluten-Free Watchdog (which is constantly testing "gluten-free" products to ensure they really are–well worth the low-cost monthly subscription), did a pilot study (with two others) of naturally gluten-free grains in 2010. The purpose of the study was to get an "initial reading" on what percentage of such grains were actually gluten free. This information is critically important because under the FDA's proposed gluten-free labeling laws (yes, the laws we're still waiting for), Tricia states that "single ingredient foods, such as corn, rice, and millet are considered inherently gluten free. These grains will be considered misbranded if they carry a gluten-free label that does not also state that all foods of that same type are gluten free (e.g. "all millet is gluten free" or "millet, a gluten-free food")." Do you see where this is going?
While the pilot study conducted was small—only 22 samples were taken–a whopping 32% of them contained gluten! How much gluten? They contained anywhere from 8.5 ppm gluten (a white rice flour sample) to a whopping 2925 ppm gluten (a soy flour sample)! You can read specific results here. While, again, this was a small sampling in this pilot study, and no further testing has been done to my knowledge, these results show that "inherently gluten-free" grains can be anything but that. Dr. Vikki Petersen (co-author of The Gluten Effect and co-founder of HealthNOW Medical Center) addresses these results (and offers advice on how to mitigate those risks) in an article here and a video here.
Note that oats were not included in this study because it was already established in an earlier, more comprehensive study (by Tricia Thompson and others) that oats have the same issues and risks as these "gluten-free" grains unless grown in dedicated fields (from Day One), harvested using dedicated equipment, etc. Therefore, oats must show that they are certified gluten free and purity protocol oats to be safe for those of who eat gluten free for medical reasons.
I talked about the importance of using certified gluten-free purity protocol oats—and the fact that some folks can't even tolerate those—in my Flourless Oatmeal Cookies post. TIP: If you're still using McCann's Irish Oats because you've "heard they're safe" or you've eaten them and think you do fine with them, McCann's oats tested up to 725 ppm gluten. I mention those specifically because I hear that a lot of folks in the gluten free community mistakenly think that brand of oats is safe; it is NOT. Remember that lack of a visible reaction DOES NOT mean lack of gluten. And, if you are eating something that contains gluten on a regular basis, you might have a constant level of not feeling your best, but might not be able to pinpoint the cause.
Last, I believe that one of the reasons that many do better so much better on a grain-free diet, going a step beyond gluten free, is because being grain free takes out a huge part of the gluten cross-contamination (also known as cross-contact) risk factor.
UPDATE: On April 4, 2023, Gluten-Free Watchdog issued a new statement, Gluten-Free Watchdog Cannot Recommend Any Brand of Gluten-Free Oats. Read the full statement here. This statement was followed by details on recent testing results of gluten-free products that contain oats., which showed 30% of the labeled gluten-free oat products tested contained quantifiable gluten.

This statement was followed by details on recent testing results of gluten-free products that contain oats, which showed 30% of the labeled gluten-free oat products tested contained quantifiable gluten. I'm not eating any oats and I urge all of my readers who eat gluten free for medical reasons to also abstain.
Back to the Gluten-Free Tender Corny Almond Muffins Recipe … The Starting Point
I used my Honey-Sweetened Corn Muffins recipe as my starting point. I subbed almond flour for cornmeal (the original recipe contained half gluten-free all-purpose flour and half cornmeal), added frozen corn kernels, and reduced the amount of honey I used. I also used an extra large egg from a family member's happy chicken.
The resulting muffins are nothing less than melt-in-your-mouth magic. Each bite amazes. There's the buttery tenderness, the explosion of flavor from the kernels of sweet corn, and the slight crunchiness of the outside of the muffin. Oh, my.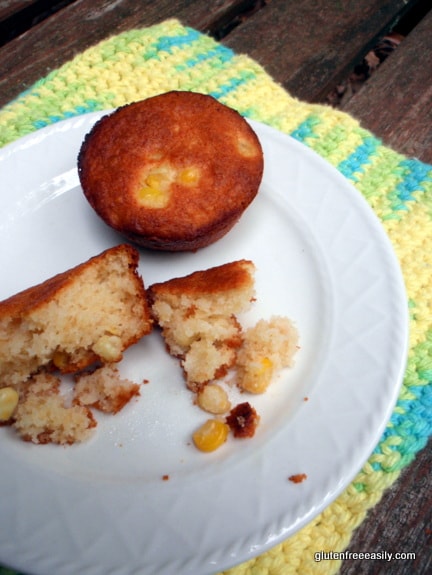 Honestly, I almost forgot about eating my Green Chile Chicken Casserole, which was our entree, after not being able to resist sampling one of these muffins first. These gluten-free Tender Corny Almond Muffins exemplify why some of us love muffins so much. There's nothing else that compares to a good muffin.
And you know how some muffins transition to perfection with an added dollop of butter? Well, these muffins already taste like that dollop has been added. There's no butter or topping needed at all! Remove these muffins from the muffin tin and simply enjoy!
Oh, and yes, they are still great the next day (they're divine for breakfast!), but the true magic happens on Day One. Hot out of the oven? Muffin bliss for sure!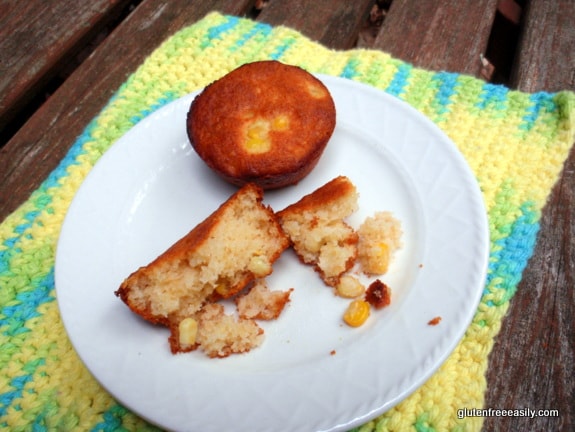 Gluten-Free Tender Corny Almond Muffins Recipe
Yield:
Gluten-Free Tender Corny Almond Muffins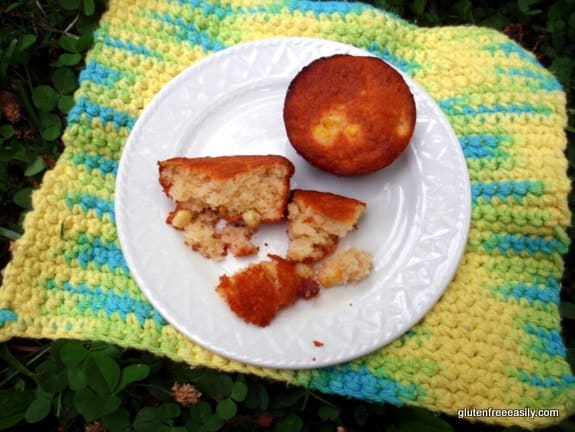 Ingredients
1 cup gluten-free all-purpose flour mix (like my Two-Ingredient Flour Mix)
1 tbsp plus ½ tsp baking powder
½ tsp salt
1 cup blanched almond flour, packed (I use this brand)
½ cup butter (dairy or non-dairy), melted
1 extra large egg
1/3 cup honey (or slightly less agave nectar)
¾ cup canned full-fat coconut milk (or other non-dairy milk or dairy milk, not skim)
1/3 cup frozen corn kernels (yes, frozen), plus a few more corn kernels (about a tablespoon or so) to top the muffins
Instructions
Preheat oven to 375 degrees Fahrenheit. Grease muffin cups.
Mix flour, baking powder, and salt. Stir in almond flour.
Stir butter, egg, honey, milk, and corn into cornmeal mixture. Stir until just moistened and any almond flour chunks are broken up.
Fill greased muffin tins. Top batter with corn kernels (two or three per muffin). Bake for 15 – 20 minutes. Let cool about 10 minutes before removing.
Originally published May 31, 2013; updated April 17, 2023.