For affiliate links and as an Amazon Associate I earn from qualifying purchases.
I've been wanting to make gluten-free oatmeal cookies for a while now. I use a Washington Post recipe for Flourless Gluten-Free Oatmeal Cookies that I found online a few years back. I've adapted the directions to meet my needs for gfe and added a few different ingredients from time to time.
UPDATE: On April 4, 2023, Gluten-Free Watchdog issued a new statement, Gluten-Free Watchdog Cannot Recommend Any Brand of Gluten-Free Oats. Read the full statement here. This statement was followed by details on recent testing results of gluten-free products that contain oats., which showed 30% of the labeled gluten-free oat products tested contained quantifiable gluten.
This statement was followed by details on recent testing results of gluten-free products that contain oats, which showed 30% of the labeled gluten-free oat products tested contained quantifiable gluten. I'm not eating any oats and I urge all of my readers who eat gluten free for medical reasons to also abstain.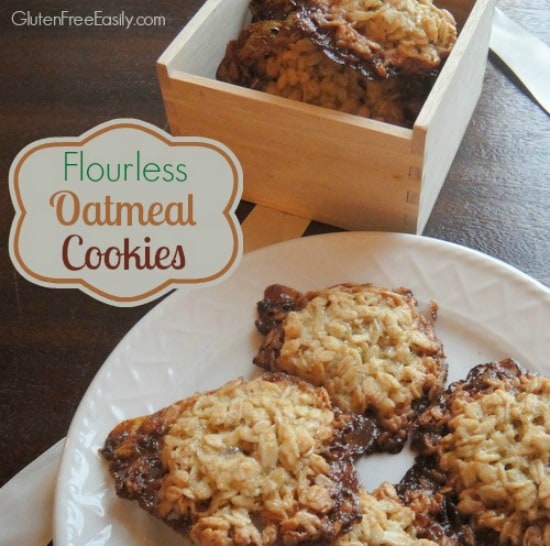 IMPORTANT UPDATE: If you eat strictly gluten free for medical reasons, I urge you to use certified gluten-free purity protocol oats versus mainstream oats that have been mechanically separated—even if those oats are "certified gluten free." Mechanically separated oats entered the marketplace in 2015 and are tested via an "averaging" of test results and then labeled "gluten free" if the average is less than 20 ppm gluten.

The averaging of test results is currently allowed by the FDA, but this averaging "dilutes" results. In addition, accurate testing of oats for the presence of gluten is a challenging process. So while testing results of mechanically separated—"sorted" oats—may indicate that the oats are less than 20 ppm, you can still end up with gluten-full oats in your bowl or your recipe. Therefore, it is no longer sufficient to buy oats that have "gluten free" on the label or even ones that say "certified gluten free." Here's the current listing of companies that use certified gluten-free purity protocol oats.
If you're eating gluten free for medical reasons but have continued to eat mainstream oats like Quaker or McCann's and say "they don't bother me," you need to stop consuming them because they are simply not gluten free.
Tricia Thompson, MS RD (who is also known as The Gluten-Free Dietitian and is the founder/operator of Gluten Free Watchdog), did a study on the amount of gluten in oats in 2004. Not only have the results of Tricia's study been widely reported on numerous sites and in Gluten-Free Living magazine, but she spoke to my support group last year about a safe, healthy gluten-free diet. Therefore, we had an opportunity to hear her speak on her study at length.
Specifically, her study, which was published in The New England Journal of Medicine, showed high amounts of gluten in Quaker, McCann's, and Country Choice oats. Sure, there were some samples that contained less than 20 ppm but, and this is a big BUT, others contained varying levels from 23 ppm to 1807 ppm.
If you continue to eat these mainstream oats, one might say that you are playing the oats version of Russian Roulette with your health. Remember … not all reactions and symptoms of gluten exposure and damage are readily apparent. In fact, there was a Q & A in this month's issue of Gluten-Free Living that applies directly here. The reader inquired about the impact of cheating occasionally. Ivor Hill, MD, responded as follows:
"Continued or repeated cheating on the diet will lead to progressive damage, and we know that in some cases, this can be fairly extensive for some years before clinical signs develop."
Whatever the threshold that you have decided not to surpass in your own gluten-free eating, less than 10 ppm or less than 20 ppm, anything over that amount would be cheating. So, again please consider Tricia Thompson's study and Dr. Hill's warning. You don't want the first sign of a problem with mainstream oats to be the development of a much more serious condition (caused by continued gluten ingestion) a few years down the road.
To further confuse things, not everyone who eats gluten free can tolerate even certified gluten-free purity protocol oats. While studies have shown that purity protocol oats are largely safe for those with celiac disease, a small percentage of those with celiac cannot tolerate even those gluten-free oats. These issues almost certainly extend to those who have non-celiac gluten issues as well, but apparently no studies on the effects of gluten-free oats on these individuals have been conducted.
In our support group, there's a handful of us (myself included) that either cannot eat gluten-free oats at all or can only tolerate small amounts from time to time. For me, that means a few cookies occasionally. I cannot eat oats on a daily basis, even the 1/4- to 3/4-cup that is often considered safe for adults who have been gluten free for some time. Note that most celiac experts recommend abstaining from even certified gluten-free purity protocol oats for the first year of gluten-free living to give the gut time to heal, and then that they be introduced gradually.
Okay, let's get to the fun part—the cookies! After a discussion on Twitter on which version I should make—oatmeal raisin oatmeal cranberry, oatmeal chocolate chip, plain oatmeal—I went with the advice to make "plain" oatmeal cookies, for several reasons.
First, I discovered that I didn't have any mini-chocolate chips on hand after all. Second, Mr. GFE is not particularly fond of cranberries. Third, my package of raisins yielded raisins that were too dried up, even though it had not been opened previously. (The package of raisins from which I give our pet chinchilla his daily treat yielded much juicier raisins. However, too many little "feeding" hands had been in that package of late for me to feel comfortable using any of them for my own consumption. I should have just soaked my "new" raisins a bit, but I didn't think of that until later.)
These cookies are so easy to make and, of course, are gfe worthy because they are also flourless. The middles are delightfully chewy, but the outer edges and bottoms are caramelized and, therefore, crispier. But not too crispy!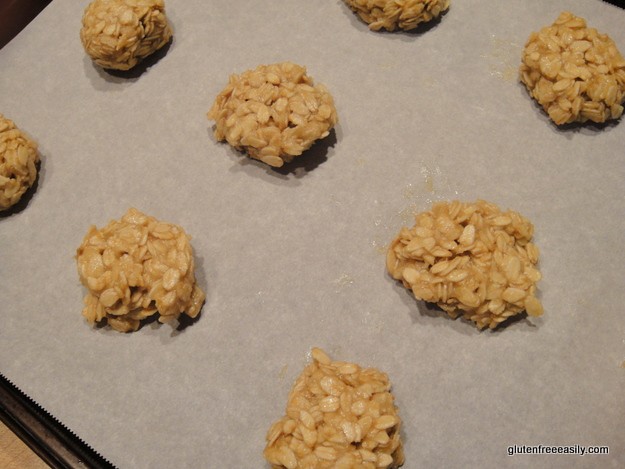 Note that the cookie batter must be chilled for about 30 minutes. That's not a big deal if you know that ahead of time. I took the opportunity to get a fire going in the wood stove and catch up with my good friend Rodney Yee. Okay, Rodney doesn't really know me, but he always promises a "smooth transition from sleep to activity" and he and his A.M. Yoga routine always deliver.
By the way, if you're finding flourless and crustless baking to be your thing, please check out the many flourless recipes here on gfe, like Flourless Peanut Butter Cookies (even a variation with Nutella), Coconut Meringues, flourless chocolate cakes (the classic, 3-minute chocolate mug cakes, chocolate banana honey walnut cake, double-chocolate Clementine cake), and even Flourless Gluten-Free Pizza (which is low carb and keto friendly).
Mr. GFE was so happy to see these Flourless Gluten-Free Oatmeal Cookies in the snowman tin when he got home yesterday! Hope you enjoy them as well!
Flourless Gluten-Free Oatmeal Cookies Recipe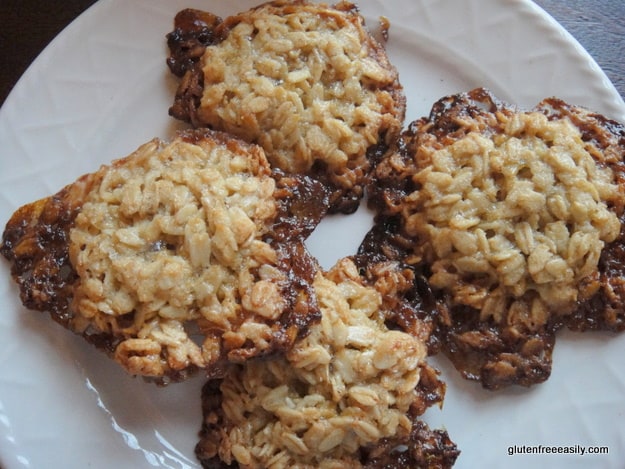 Yield: 18 cookies
Flourless Gluten-Free Oatmeal Cookies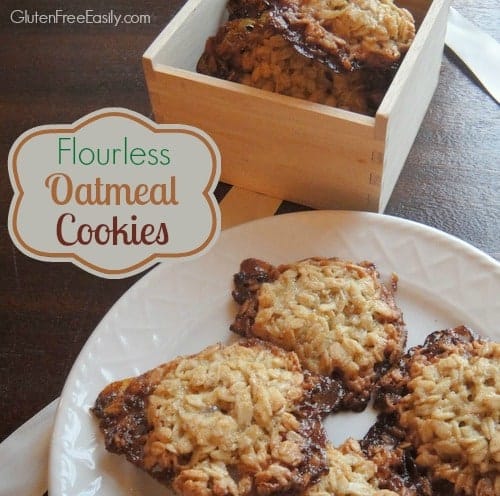 You won't believe how good these Flourless Gluten-Free Oatmeal Cookies are! Without the flour, you get to concentrate fully on the chewy oats and the buttery, sugary caramelization factor.

Prep Time 10 minutes

Cook Time 13 minutes

Inactive Time 30 minutes

Total Time 53 minutes
Instructions
Melt the butter and set aside to cool slightly. Place oats in a medium-sized mixing bowl. Stir in both sugars and the salt and blend to break up any lumps.
In a medium-sized bowl, whisk together the melted butter, vanilla extract, and egg. Stir this egg mixture into the oat mixture and add chocolate chips or raisins (if used), mixing with your hands or a large wooden spoon to work in the ingredients. Form into a large ball of dough.
Chill the dough about 30 minutes.
Preheat oven to 350ºF. Meanwhile, prepare a baking sheet by lining with parchment paper.
Chilled dough will still be somewhat soft. Form the dough into 1-inch balls (or lumps; don't stress) and place on the baking sheet about 2 inches apart. Flatten each ball down very slightly.
Bake for 10 to 13 minutes or until the edges are nicely browned (but not too brown; mine actually are too brown in these photos) and the tops of the cookies are medium golden in color.
Cool well on the baking sheet (about 10 minutes) before attempting to remove, using a spatula. (I placed mine on my cold screened porch for 10 minutes as they were already sufficiently cooked and I didn't want them to bake any further on the cookie sheet.)
Notes
Recipe makes 1 1/2 dozen cookies.

If you add any of the optional ingredients, it's very important that the pieces be finely chopped or already small, like mini chocolate chips (which, of course, also melt and hold things together). These cookies come out pretty flat and the dough is not substantial enough to include whole raisins, whole dried cranberries, etc.

The original recipe states that the dough can also be brought to room temperature and flattened more when placed on the baking sheet to make a large, crisp and lace-like cookie. I haven't tried this method yet, but you will get the lace-cookie look and taste from the edges of the cookies made as shown above. Reader Rida reported: "I made these today in the lace cookie style. Oh my goodness they are delicious. So easy and so yummy! These cookies take me back to my youth before I was gluten free. I thought my days of lace cookies were gone...so I thank you for sharing the recipe and the extra tip on how to make them lace cookie style!" Yay!

Last, if you are not eating gluten free, you can use any brand of rolled oats.

Adapted from The Washington Post

Originally published January 27, 2010; updated April 17, 2023.