For affiliate links and as an Amazon Associate I earn from qualifying purchases.
Okay, so you're laughing and saying "boy, that Shirley really is on a cookie kick." Well, not really … bear with me. This Oatmeal Raisin Cookie Granola that I'm sharing today is a healthier treat that I first made for our camping trip a few weeks ago.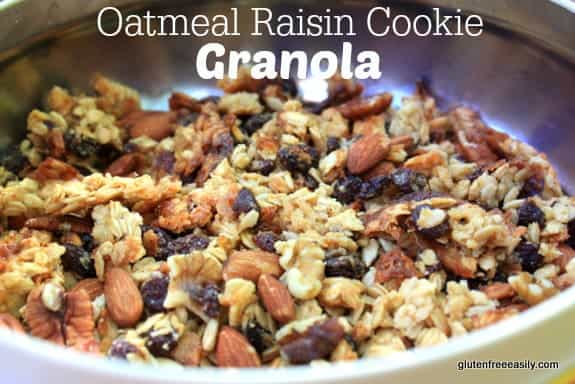 It's actually the result of a somewhat failed recipe, or accident if you will, but a very happy one. The results were so good in fact that I purposely made this recipe this past weekend for our weekend camping, with a few more tweaks to make the recipe healthier. The initial accident has turned into a favorite recipe—"new and improved" granola.
UPDATE: On April 4, 2023, Gluten-Free Watchdog issued a new statement, Gluten-Free Watchdog Cannot Recommend Any Brand of Gluten-Free Oats. Read the full statement here. This statement was followed by details on recent testing results of gluten-free products that contain oats., which showed 30% of the labeled gluten-free oat products tested contained quantifiable gluten.

This statement was followed by details on recent testing results of gluten-free products that contain oats, which showed 30% of the labeled gluten-free oat products tested contained quantifiable gluten. I'm not eating any oats and I urge all of my readers who eat gluten free for medical reasons to also abstain.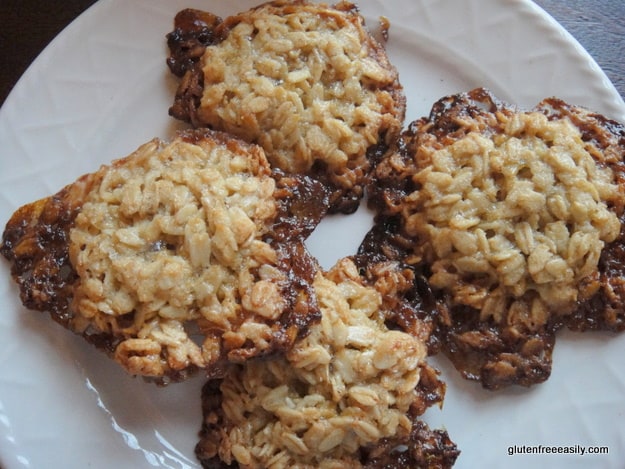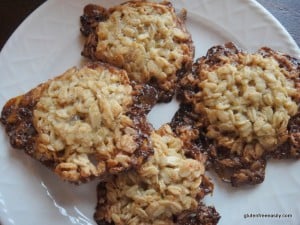 Here's what happened. After I made the Almond Peanut Butter Cookies that delightfully transformed to Cookie S'mores, I made a second batch of cookies—Mr. GFE's favorite cookies, Flourless Oatmeal Raisin Cookies. I had just enough Gifts of Nature Rolled Oats left to make my Flourless Oatmeal Cookies and just added in some finely chopped raisins to the cookie dough. I chilled the dough while the other Almond Peanut Butter Cookies were baking. Then I dropped the cookies onto my parchment-lined cookie sheets as required and set my timer.
As the timer went off and I pulled out the baking sheets, I saw that something was not as it should be. My cookies had spread some, but were not baked. In fact, my oven was barely warm. Ah ha. I realized that out of habit, I had turned off the oven after taking out the first batch of cookies. I was already behind schedule with baking first thing in the morning before we were leaving to go camping. (It was the second of two very hot days, and I preferred to leave a hot house rather than deal with one the previous evening.)
So I took a deep breath, turned the oven back on, and set the timer for 5 more minutes. When the timer went off, the cookies were still not quite done. So I baked them a couple of minutes more. This time when I removed them from the oven, they looked done. However, when I used a spatula to lift them from the cookie sheet, they fell apart a bit as I removed them to cool. A moment of inspiration hit. Or was it desperation? (Admittedly, sometimes there's not much separating the two when you are baking cookies before driving two hours to meet friends who might already be there waiting for you. Just sayin'.)
Anyway, I thought, why not use the cookie pieces to make granola? So I broke all the cookies into small pieces and immediately stirred in several different nuts and seeds. Because the cookie pieces were still very warm and a bit gooey, some of the nuts and seeds clumped together a bit. The naturally caramelized edges of the cookies added a very pleasant element to the granola. In fact, the taste and texture was just right for granola. Mr. GFE was not disappointed at all to be presented with Oatmeal Raisin Cookie Granola versus actual Oatmeal Raisin Cookies.
We munched on this tasty granola on the way to our property, and when I popped open the lid of the tin later when our friends showed up, they couldn't stop eating this granola either. I told them what had happened and they agreed it was the kind of accident that everyone should have. Honestly, I may never make granola another way. One only has to stir the ingredients together at the end of the process versus stirring every few minutes when baking all the granola ingredients in the oven. Plus, the nuts and seeds don't really need baking with the oats.
The sunflower seeds I used were already dry roasted, but even raw ones would probably taste just fine. Other dried fruit would also make a great addition. Now going to the trouble to make individual cookies to later break them up and add to granola does seem a like more trouble than necessary, but it's worth it! I did try an easier, alternative method (see notes), but far prefer this version shown below.
Gluten-Free Oatmeal Raisin Cookie Granola Recipe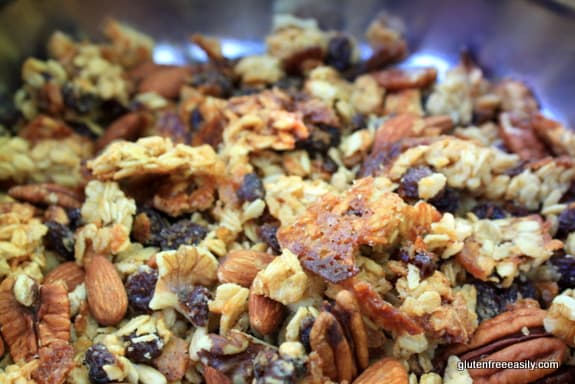 Yield:
Oatmeal Raisin Cookie Granola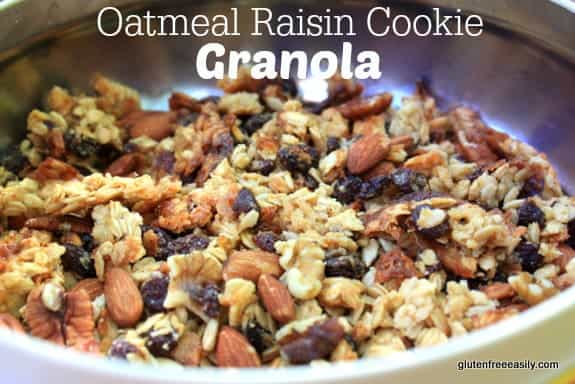 This granola is great for a camping trip, hike, or breakfast or snacking at home—enjoy!
Ingredients
One batch of still hot, slightly underdone Flourless Oatmeal (Raisin) Cookies, broken into smallish pieces
1 cup sunflower or other seeds (e.g., chia seeds, pumpkin seeds)
1 cup walnut halves/pieces
1 cup pecan halves/pieces
1 cup almonds (raw or dry roasted, salted)
Flavorings and spices, if desired or needed, such as cinnamon, nutmeg, vanilla, etc. (I didn't need any when using the Flourless Oatmeal (Raisin) Cookies; see notes.)
Instructions
Make Flourless Oatmeal (Raisin) Cookies recipe as directed, but do not bake the full time. Remove from oven right before baking time is complete. You want the cookies to still be fairly pliable.
Break into pieces.
Immediately stir in seeds and nuts.
Store in airtight container like a cookie tin or very large glass jar with screw-on lid.
Shirley's Notes
I did try making this granola without making individual cookies to speed up the process a bit. Plus, I wanted to use quinoa flakes and make these dairy free by using coconut oil. So this past weekend, I used the Flourless Oatmeal Cookies recipe, substituting quinoa flakes for oats, substituting coconut oil for butter, and spreading the dough onto the parchment-lined baking sheet in a thin layer like one would for cookie bars.
I took the bar cookies out of the oven before the baking time was completed and lifted all out with a spatula. Then I broke up the pieces and mixed in the nuts and seeds as I had with the Flourless Oatmeal (Raisin) Cookies before. This version was still good and more nutritious given the quinoa component, but with the cookie pieces not having been baked as individual cookies, there were very few caramelized edges and the cookies crumbled into fairly small pieces.
So, the results were not quite as appealing to our taste buds. Therefore, I recommend baking the cookies as individual cookies versus cookie bars. I also recommend adding spices and flavorings like cinnamon, nutmeg, vanilla, etc., if needed. The quinoa flakes offered a much stronger flavor and needed something to balance that. I've used both raw and dry roasted/salted nuts with success although I rather prefer some of the nuts/seeds to be slightly salted for a delightful sweet-salty combo.)
Originally published October 19, 2010; updated April 17, 2023.