For affiliate links and as an Amazon Associate I earn from qualifying purchases.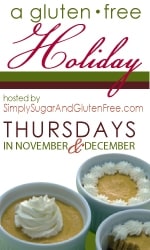 We're going to celebrate this holiday season totally gluten-free.
Why?  Well, we know how important it is to serve safe & delicious food at the holidays.  We want to help as many people as we can do just that this holiday season.    
"We" includes our gracious and lovely hostess, Amy (Simply Sugar & Gluten Free), and five of her long-time gluten-free bloggy friends (read on to see complete listing). I'm so grateful to be on this list and in such great company!
And, the "we" of course also includes you!  If our fabulous readers weren't here reading, commenting, and linking, it just wouldn't be a true holiday celebration.
Here's the scoop …
On Thursdays in November and December, a different gluten-free blogger will host a link-up event where you can share your best gluten-free holiday dishes.  The linky will be open until the following Wednesday at 10:00 pm CST.
Every week we'll have a giveaway, too. You can link up or leave a comment to enter. Giveaways will be revealed soon. (You will love these giveaways! I'm so happy to report that they fit my gfe approach, too. Amy offered a pretty good hint over on her kick-off post here.)
Dates & Themes: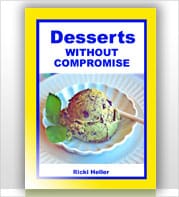 November 4th – Healthier Through The Holidays at Diet, Dessert, & Dogs
Let's all get off to a healthy start this holiday season.  Bring Ricki your favorite healthier dish that won't pack on the pounds.  Of, maybe you can share your top tips for staying slim when there's tempting food everywhere.

November 11th – Thanksgiving Favorites at gfe–gluten free easily
Share your favorite gluten-free Thanksgiving dish from appetizers to desserts right here at gfe. We want to see your stuffing, turkey dishes, pumpkin pie, mashed potatoes, cranberry jelly…anything Thanksgiving goes. (To our Canadian friends – please share your Thanksgiving dishes, too!  We know you have already celebrated your Thanksgiving this year, but we'd still love to have you join in with the special dishes you enjoyed that day.)

November 18th – Gifts of Good Taste at Tasty Eats at Home
Who doesn't love a gift made with love? Share your favorite foodie gift that's gluten-free. Have a fabulous way to pack a yummy treat? We want to see that, too.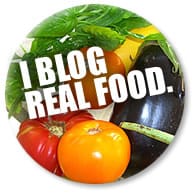 December 2nd – Holiday Entrees & Side Dishes at The W.H.O.L.E. Gang
Bring your family's favorite entrees and sides.  Diane will be ready for them all.  For those who observe Hanukkah, we know that Hanukkah starts on December 2nd this year, but still hope to see some of your favorite dishes in this roundup.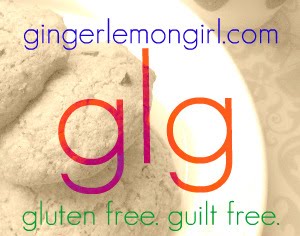 December 9th – Holiday Breakfast & Brunch at Ginger Lemon Girl
A warm, cozy breakfast or brunch is a wonderful way to start off the holiday.  This is a great time to help someone else by whipping up your fabulous gluten-free cinnamon rolls or a crumb-topped coffee cake and sharing your recipe.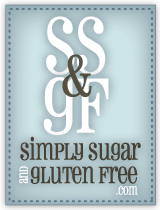 December 16th – Holiday Desserts at Simply Sugar & Gluten-Free
Just like it sounds—bring your favorite gluten-free Christmas desserts for everyone to share.  Cookies, pies, truffles, cakes, and candies … we want to try them all.
So, get your recipe box out and start browsing … then get in the kitchen and start cooking for the best ever gluten-free holiday! 
If you'd like to share this event on your blog, simply right click on our event badge at the top of this post, save it to your desktop, and upload it to your blog.  We'd love for you to share this event with your friends!