This post may contain affiliate links. If you purchase through them, your cost will stay the same, but gfe will receive a few cents for every dollar spent. Thanks for supporting gfe!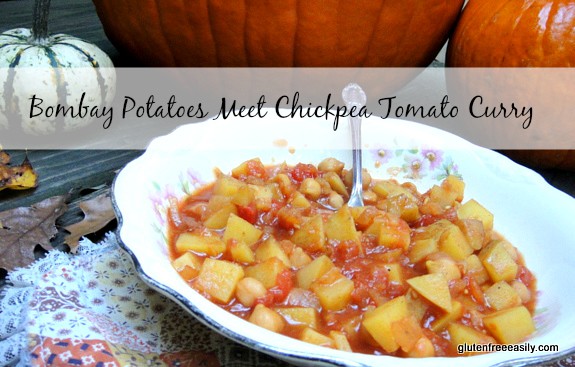 When I saw that Diane's (The W.H.O.L.E. Gang) theme for this month's Go Ahead Honey, It's Gluten Free! event was Scared Silly—foods you've been afraid of, but have learned to like—I had a very long list of ideas. But first, a few words about the Go Ahead Honey blog carnival. It was initiated several years ago by our delightful gluten-free friend across the pond, Naomi, of Straight Into Bed Cakefree and Dried. Each month of Go Ahead Honey features a different host and the host chooses the theme for that month's roundup. Themes really run the gamut for this carnival and it's always such a great time with so many wonderful recipes. Last month, there were actually two hostesses—Ali (The Whole Life Nutrition Kitchen) and Chouchipen (C'est Sans Gluten). Ali selected Packing a Healthy School Lunch, which got a great turnout. Chouchipen ended up with two amazing bread entries—Naomi's pita bread and Carrie's (Ginger Lemon Girl) vegan French bread. Then she added an impressive display of her own bread recipes, namely, lemonade scones, baps (which I need to investigate–they look like yummy rolls), a "real" bun, bagels, and mock sourdough bread. However, she'll gladly accept more bread entries for her roundup. So if you have a great bread recipe, please head over to her roundup post so you can leave a comment to connect with Chouchipen or just leave a link with your entry. If you'd like to plan ahead for future Go Ahead Honey roundups, take a look at the hosts and themes through June 2011 here.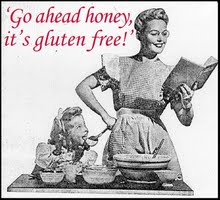 Now back to Diane's theme, Scared Silly … Many foods and dishes have scared me silly throughout my life, so I had a lot to choose from. Going gluten free has been a godsend in that area as I truly started looking at all the real food options I had when I decided I didn't want to eat the majority of the gluten-free processed foods. The real food possibilities were almost endless and so encouraging!  I've mentioned my "dislike" of curry and Indian dishes previously so I decided to combine two such recipes into one for this challenge. Part of my fear of curry has been the spiciness factor, and while I have many friends who love Indian, that spiciness thing just kept coming into play too much. However, I've been trying to expand my horizons and have actually enjoyed including curry in dishes recently. I started out with a tiny amount in my Slow Cooker Potato Zucchini Soup. It was amazing how much flavor that little bit of curry added. Then I tried a Bombay Potatoes dish recently that included chickpeas and fell in love.  Okay, you know I'm weak for chickpeas, but combined with potatoes in a slightly spicy tomato sauce … talk about comfort food! When a recipe for Chickpea and Tomato Curry appeared in our local newspaper soon after, I knew I just had to "marry" the two dishes for my Go Ahead Honey entry.
The curry dish created by Susan Nicholson is easily made vegan (by opting out on the yogurt topping or subbing non-dairy yogurt) and comes together very easily and quickly. (If you're a curry fan, it's definitely worth making on its own.) For the Bombay Potatoes part of the recipe, I added Yukon Gold potatoes and additional spices and seasonings—chili, cayenne, cumin, and coriander. (As you can see, that makes the recipe gluten free, dairy free, sugar free, soy free, egg free, and vegan.) Then I slow cooked this dish while I was at work. The smells coming from the kitchen as I walked through the door were the best welcome a girl could have! A lift of the lid revealed a nice stew-like concoction just as intended. The taste test proved  worthy as well. This was a good dish. Mr. GFE and I both enjoyed it. However, it's not top notch though. Those of you who enjoy Indian food could probably make some simple seasoning/spice changes that would make this dish phenomenal. And, for those who don't like much spice, you would probably like this dish just fine. I was surprised that I felt it needed a little more oomph, but I do. I'm no longer scared silly of curry or Indian food, but I do need to learn more about this type of cooking! Oh, and what would go perfectly with this recipe? How about some gluten-free Naan (flatbread)? Now that would have been great! We have so many talented gluten-free cooks in our community. Here are some Naan recipes that would have gone well with my Bombay Potatoes and Chickpeas Tomato Curry dish:
Sea (Book of Yum)—Gluten-Free Indian Wholegrain Naan Flatbread Recipe
Ellen (I Am Gluten Free)—Gluten-Free Naan
Brian (Fire and Salt)—Gluten-Free Naan Bread
Jayne (AuntJayne's Blog)–Gluten Free Naan
Be sure to check out the complete roundup over at Diane's. She did an amazing job on her post and you'll enjoy the read for sure!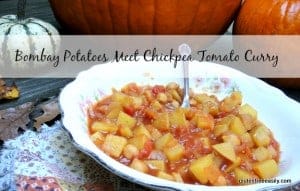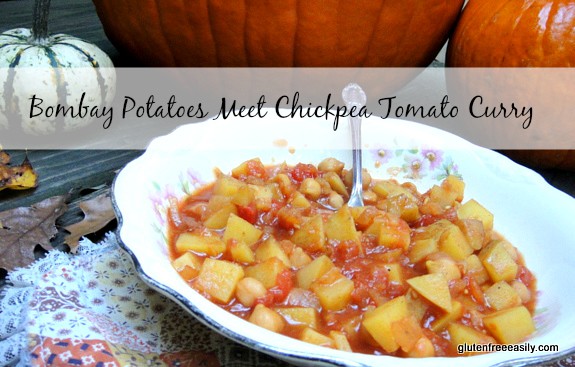 Print
Bombay Potatoes Meet Chickpeas (Garbanzo Beans) Tomato Curry
Ingredients
2 (15-ounce) cans chickpeas (garbanzo beans), rinsed and drained
5 large Yukon Gold potatoes, skins on, well scrubbed, diced (about 7 ½ cups; see notes)
1 (28-ounce) can petite-cut diced tomatoes, undrained
1 1/2 cups tomato juice
1 tbsp olive oil
1 ½ cup onions, chopped (I used two medium-sized onions)
4 cloves minced garlic
1 tsp fresh ginger (or 1 tbsp ground ginger)
¼ tsp ground ginger
1 tbsp curry powder, or more to taste
1 tbsp chili powder
¼ tsp cayenne pepper
½ tsp ground cumin
¼ tsp coriander
1 tsp sea salt
Instructions
In 5- to 6-quart slow cooker, add chickpeas, potatoes, tomatoes, tomato juice, olive oil, onions, garlic, ginger, curry powder, chili powder, cayenne pepper, cumin, coriander, and sea salt. Stir all together.
Cook on low for 8 to 10 hours or high for about 4 hours (see notes). Serve alone, with Naan bread (links to recipes above), or even a non-Indian bread like cornbread, popovers, or muffins--corn, cheese, or "bran."
Notes
I usually use V-8 juice versus plain tomato juice because Mr. GFE drinks that daily, so I always have it on hand. Feel free to add in one or two cups of cooked ground beef or roasted chicken about a half hour to an hour before the cooking time ends if you want to make this a dish for die-hard carnivores. I'd also check at the 2 to 3 hour point if cooking on High to ensure ingredients are not sticking or burning; stir if needed. Peeling the potatoes will probably ensure a faster cooking time and allow the potatoes to make more of a sauce. I definitely plan to try peeled potatoes next time, probably Russet potatoes. Roasting the chickpeas ahead of time in some of the spices (like cayenne pepper) may also work out well; roasted chickpeas just have so much flavor!
Courses Main Dish
This post is linked to Go Ahead Honey, Meatless Mondays, and Slightly Indulgent Tuesdays, and Friday Foodie Fix–Tomatoes.