For affiliate links and as an Amazon Associate I earn from qualifying purchases.
I'm ready. I'm ready for the transition. I'm ready to "cross over," if you will. Not Medium or Ghost Whisperer style, just seasonal. The school bell is ringing for some local students here already and sweaters are starting to appear in the clothing stores. I know it's still August and hot weather isn't completely over yet, but I'm ready for fall, which is definitely my favorite time of the year. And, a definite fall thing for me is soup, like this Easy Slow Cooker Potato-Zucchini Soup.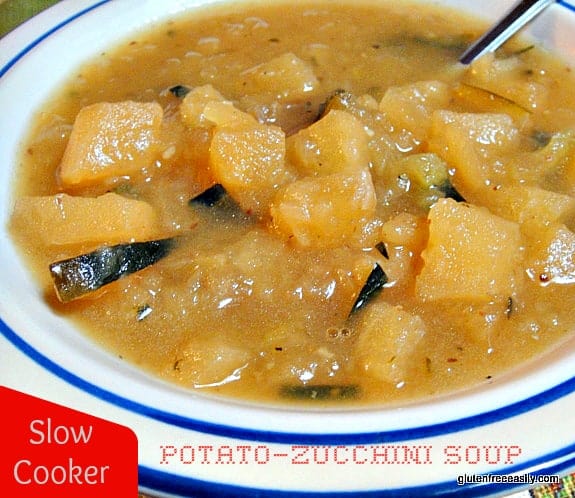 We had one day last week that was rainy and cool enough for me to make Tortilla Soup (with chicken, corn, and black-eyed peas this time—a little Southern touch with that latter ingredient) and the next few days are supposed to only be in the 70s. I'm headed to Seattle for the International Food Bloggers Conference where it's even cooler—mostly 60s during the day and 50s at night.
Oh, my, what an event the IFBC is going to be! Diane has outlined what we, the gluten-free bloggers, will be doing at IFBC and in Seattle, here. Just reading her post made me get more excited … and a little panicky realizing how much I need to do before I leave. So, yes, a little warming, soothing soup is in order.
A while back Dr. Rodney Ford, one of our world's gluten-free experts who I greatly admire for so many reasons (more on Dr. Ford in a moment), shared a link on his main Facebook page to a cookbook and website called 4 Ingredients. Well, remember the "easily" part of gfe … I really liked that concept!
Recipes with four ingredients would inherently be easy. I have a bunch of four-ingredient (or less) recipes here on gfe, but I'm always looking for new ideas. So, I immediately checked out the site and signed up for the newsletter to get a feel for what was being offered. Personally, I'm a bit reluctant to order a cookbook without knowing more about it.
The 4 Ingredients authors, Rachael Bermingham and Kim McCosker, live in Australia. Their cookbook is the number one bestselling cookbook there. The recipes aren't all gluten free, but many are and others are easily adapted.
Bermingham and McCosker have a few more cookbooks in development. I find that often recipes from another country are quite different from ones we've "grown up on" and can expand our horizons a bit. And, I have been intrigued by the very simple recipes these ladies share.
The latest newsletter featured a zucchini soup recipe that was actually submitted by a reader. It included zucchini, onion, chicken bouillon, and enough water (and seasonings) to cover all ingredients. I had a large zucchini on the counter and a tub of small potatoes that needed to be used. So I decided to use both to ensure a creamier soup that would be as tasty as the Baked Potato Soup here on gfe. However, this potato-based soup recipe would be dairy free as well.
I was headed to work, so after completing the initial steps, I decided to throw everything in the slow cooker and let this soup slowly "develop." The result is this savory Easy Slow Cooker Potato-Zucchini Soup that comforts me and makes my taste buds happy. I hope it does the same for you!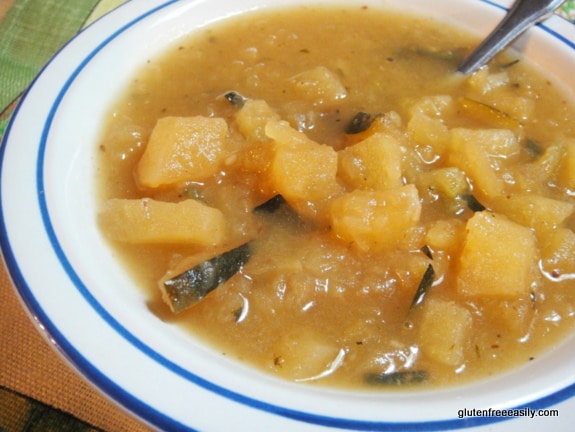 A Little More on Dr. Rodney Ford Before the Recipe
Dr. Ford hails from New Zealand. He traveled with his wife, Chris, to the U.S. to do a number of speaking engagements in November 2009. I was extremely fortunate to hear him speak twice during one week and even got to have dinner with him and his wife prior to these events. A huge group of us (some who belong to the Gluten Intolerance Group (GIG) of Richmond and others who are part of The Richmond Health Initiative) gathered at the local PF Chang's to welcome Dr. and Mrs. Ford. Some attendees had met Dr. Ford previously when had visited the U.S. for a conference.
I was already a fan of Dr. Ford before I met him—from his articles online and his numerous down-to-earth, and often humorous, YouTube videos. I was fortunate to sit sort of across from him during our dinner and we chatted a bit. Almost immediately, he asked for my Twitter name and "followed me" on the spot. That was unexpected … and pretty neat!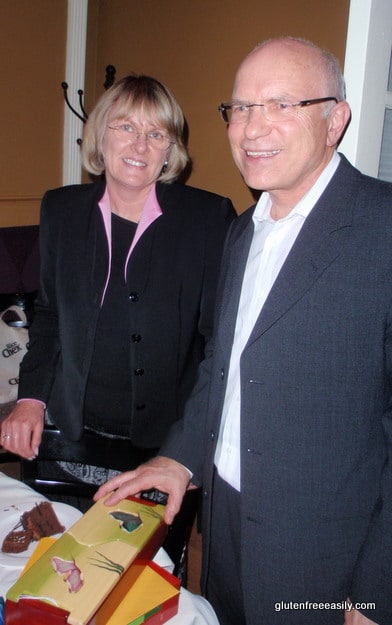 Over the next two days, his presentations (one to the medical professionals and the other to GIG members and guests) were superior—riveting, actually. I like seeing Dr. Ford get visibility because I think that he can make a "believer" out of just about anyone.
He has the medical chops for one thing—he's a pediatrician with a background in allergies, gastroenterology, and nutrition. Dr. Ford shared case studies—with "before" and "after" photos—of children he's treated who did not test positive for celiac using the gold standard diagnosis of positive blood testing and positive biopsy, but were transformed on a gluten-free diet. Those innocent faces make extremely compelling cases.
It's important to note that early in his practice, Dr. Ford followed the conventional wisdom and did not place his pediatric patients on a gluten-free diet when they tested negative for celiac. However, he found that many such patients did finally test positive for celiac over time, but, sadly, for some, the damage that had been done (e.g., short stature, developmental delays) could not always be undone with a gluten-free diet at that point in their lives.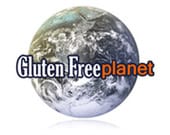 Currently, Dr. Ford's main push is for a gluten-free planet. That was his topic when he spoke at the GIG conference banquet in Minneapolis this summer. His presentation was very well received!
My good friend, Heidi (Adventures of a Gluten-Free Mom), just happened to share a post on Dr. Ford's mission yesterday. I told her we must have unknowingly done the Vulcan mind meld thing. She is not a Star Trek fan so she didn't get the reference, but being free-spirited and positive Heidi, she eagerly bought into the idea anyway!
Heidi shares her thoughts on Dr. Ford and his concept, as well as his Gluten-Free Planet YouTube videos. These videos include some of the photos showing the transformation of his patients after going gluten free. Pictures are worth a million words in these cases. Check it all out over at Heidi's.
Incidentally, I just learned about Dr. Ford's new blog. Check it out here. His current post asks what we want in our world. Hmmm, I think the answer for us gluten-free folks is obvious. Is it possible to have a Gluten-Free Planet? I'd like to think so, and as the saying goes, Dream Big! (Update: Dr. Ford now prefers the term "Gluten Zero.")
Easy Slow Cooker Potato-Zucchini Soup Recipe
Yield: 8 servings
Slow Cooker Potato-Zucchini Soup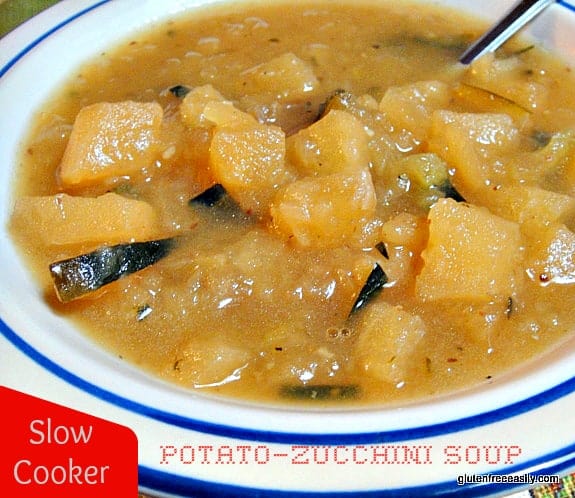 Although you can make this delicious Potato-Zucchini Soup any time of year, I especially like it during the transition from Summer to Fall. Using summer's bounty to make a warming soup as the leaves turn and drop just makes sense to me.

Prep Time 20 minutes

Cook Time 6 hours

Inactive Time 2 hours 6 seconds

Total Time 8 hours 20 minutes 6 seconds
Instructions
Add broth to large slow cooker. (I used my oval, 5-qt programmable slow cooker.)
Peel and dice potatoes and add to slow cooker.
Add olive oil to large skillet. Heat to medium-high temperature. While skillet is heating, chop onions and quarter and slice zucchini thinly. Add to skillet. Stir occasionally. Add garlic about halfway through cooking. When onions are translucent and zucchini is also showing some translucency, transfer mixture to the slow cooker.
Stir in curry powder, sea salt, and pepper.
Cook 6 – 8 hours on low. About 30 minutes before the end of the cooking time, use your immersion blender in one area for about 15 seconds. Stir. Check appearance and taste. If you want a thicker soup, use immersion blender again. Stir and cook an additional 30 minutes.
Serve. Enjoy alone or with a nice gluten-free "bread" treat on the side---like popovers, corn muffins, cheese muffins, garlic cheese biscuits, or my Paleo Bread.
Notes
If you have family members who are die-hard carnivores and must have meat, feel free to add some crumbled bacon or diced chicken towards the end of the cooking time. You could even add bacon, chicken, etc. to individual's bowls (per their personal preferences) and stir until heated through.

I don't recommend using low-sodium broth in this recipe.

This recipe makes a lot, so feel free to halve the ingredients, use a regular 4-qt slow cooker, and reduce the cooking time.

If you'd prefer to cook it on the stove, I'd still recommend slow cooking at a lower heat. I do love a pot of soup simmering on the stove!

Adapted from a reader-submitted recipe to the 4 Ingredients newsletter

Originally published August 24, 2010; updated September 23, 2022.