For affiliate links and as an Amazon Associate I earn from qualifying purchases.
Today I'm sharing my gluten-free corn muffins. They are the Best Gluten-Free Corn Muffins! Oh, yes, I'm biased. But friends and family truly love these muffins. But first, let me tell you why I decided to share this recipe with you today.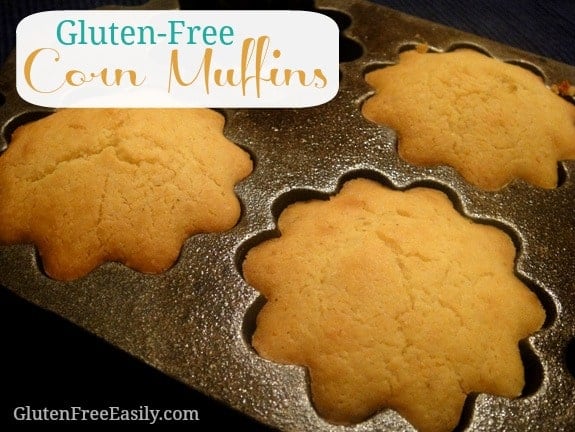 My friend, Diva, over at Beach Eats, recently shared her entry in a challenge called Eating Your Words. It's actually a competition where you create your blog name, URL, etc. using food so that it's edible—really cool idea, huh? You can read more over at the co-hosts' blogs–Jennifer at Savor the Thyme and Tracey at Tangled Noodle.
But, listen to this … Chef Andrew Zimmern (of Bizarre Foods fame) is the judge for this event! I actually didn't read Diva's post until Monday, but this was a challenge I couldn't resist. And since my post title is Best Gluten-Free Corn Muffins you already know which recipe I used to enter this contest.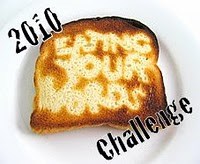 With today's post for the Best Gluten-Free Corn Muffins already planned for March Muffin Madness (MMM), I had to think of a way I could use my muffins to spell out gfe. With a little thinking, I came up with the solution below (a couple of versions/views shown).
It isn't perfect or by any means a winning entry. I really could have used more of the same-sized mini muffins, but I still think my submission is cute.
Most importantly, I had fun. Hope you can see "gfe"! If you can't, just pretend you can anyway (please … LOL).
Eating Your Words actually ends today at midnight. Like I said, I don't expect to win any prizes; there are some pretty amazing entries that have been shared so far. But, I thought I'd take part just to have some fun.
Playing with food in this way is not something we often do, but we should. You might want to check back at those sites to see just how creative the entries are. I know I will; I love seeing creativity in action.
Even if the edible "words" of others are not all gluten free, it still will be enjoyable to take a look at all the entries—after all, there's no risk of cross contamination from looking. (Oh, if only that were the case when eating out and sharing meals with others.) UPDATE: Part 1 is up here at Savor the Thyme and Part 2 is up here at Tangled Noodle. The entries are all amazing, but I have to say that the Scrabble Cookies are the prize winner in my book. Enjoy!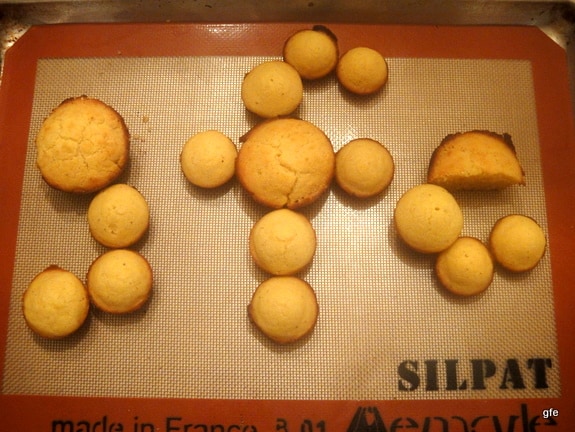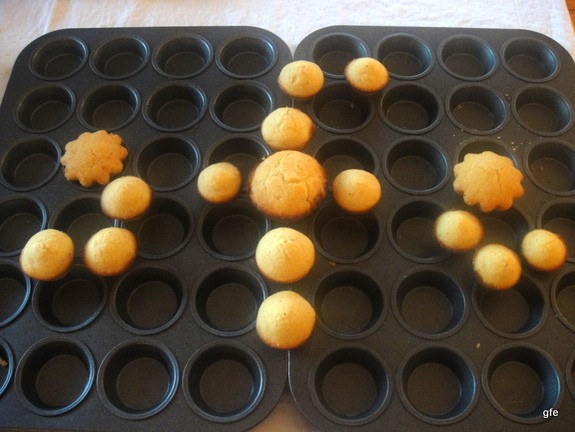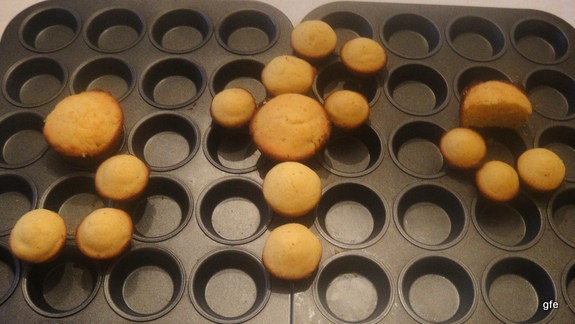 The Best Gluten-Free Corn Muffins
Let's get to the gfe recipe behind the food play—today's entry for the last day of MMM—shall we? Corn products like cornmeal and corn tortillas are something we can fall back on if we're gluten free. (Of course, always read labels, etc. to ensure products are gluten free.)
Cornbread and corn muffins tend to be great comfort food for most everyone. Case in point, the weather on the day of our last support group meeting was rainy and cold. When all the food was spread out on the table, we discovered that three of us had made corn muffins. How 'bout that?
There was one basket full of regular-sized muffins and two baskets of mini muffins (including my muffins made from this recipe). And guess what? I think every one of them got eaten! They tasted especially good that evening with a variety of dishes, including my black-eyed pea soup.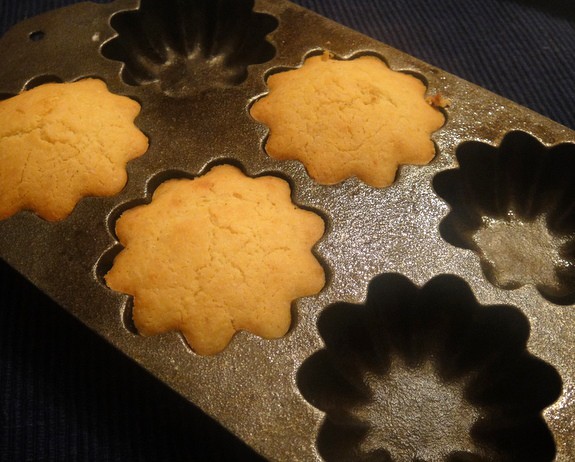 Depending upon how you make your corn muffins, they can be savory or sweet. Or a little of each, as is the case for these muffins—they are on the sweeter side of corny.
I discovered this evening that I have 8 muffin tins/pans. I know. I'm a little embarrassed to admit that. I have enough standard-sized tins to make 24 muffins, and I have five mini muffin pans … in all different sizes.
All mini muffin pans are not created equal, as you probably already know from your own experience and can see from my photos. The pan shown below is my "healthiest" and prettiest pan. It's made of cast iron and was a gift from a dear friend at my bridal shower.
Yes, that was decades ago, but cast iron pans rarely need to be replaced. Although they may need to be re-"seasoned" from time to time; and they can crack if not handled properly.
Cast iron pots and pans also add a tiny amount of iron to the foods baked in them, which is a great thing for most folks. (However, if you have hemachromatosis, you'll want to steer clear of using cast iron bakeware.)
Some More Gluten-Free Corn Muffin and Cornbread Recipes (Including Grain-Free Recipes)
~ Cornbread from Everyday Gluten-Free Gourmet
~ Flat and Firm Cornbread from gfe
~ Johnny Cake Muffins from The Mommy Bowl via gfe
~ No-Corn Jalapeno Cornbread Muffins from Allergy Free Alaska
~ Paleo Sweet "Cornbread" Muffins from Cassidy's Craveable Creations via gfe
~ Pumpkin Corn Muffins from gfe
~ Sweet Cornbread Muffins from My Gluten-Free Kitchen via gfe
The Best Gluten-Free Corn Muffins Recipe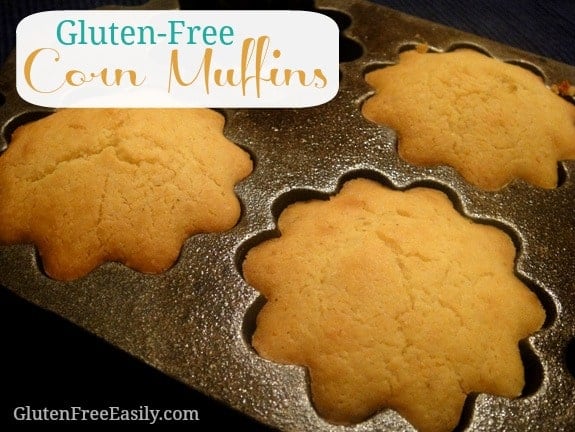 Yield: 12 regular-sized muffins
The Best Gluten-Free Corn Muffins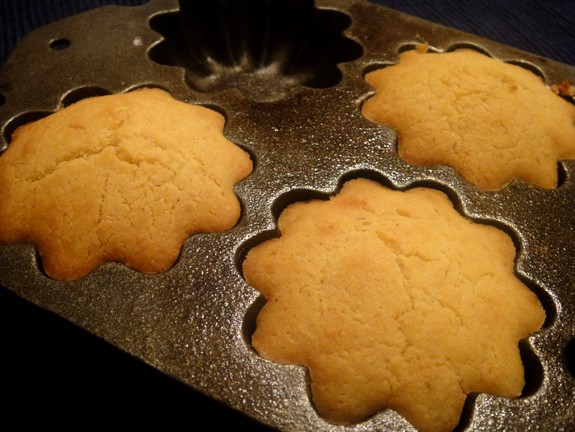 The secret to delicious rolls and bread options in many restaurants is honey. Honey is added to these corn muffins to give them not only that lovely bit of sweetness, but also to keep them from being dry. Nobody wants a dry corn muffin! 

Prep Time 10 minutes

Cook Time 20 minutes

Total Time 30 minutes
Ingredients
1 cup gluten-free flour mix (I used my Two-Ingredient Flour Mix)
1 tbsp baking powder
½ tsp salt (I use sea salt)
1 cup gluten-free cornmeal (I use certified gluten-free cornmeal)
½ cup butter (dairy] or [non-dairy), melted
1 large egg  (or extra large egg)
½ cup honey (or agave nectar or granulated sugar); with granulated sugar, the muffins may be a little more crumbly)
¾ cup milk (dairy or non-dairy)
Instructions
Preheat oven to 375 degrees Fahrenheit. Grease muffin cups.
Mix flour, baking powder, and salt. Stir in cornmeal.
Stir butter, egg, honey, and milk into cornmeal mixture. Stir until just moistened and any flour or cornmeal chunks are broken up.
Fill greased muffin tins and bake for 15 – 20 minutes.
Notes
Occasionally these muffins can be a tad crumbly, especially when made with granulated sugar (and, incidentally, adding xanthan gum does not change that), but we actually don't mind. For one thing, they are just so tasty, but more importantly, the fact is that Mr. GFE and I often crumble them right into our chili or soup. There's no need for gluten-free crackers!

Originally published March 31, 2010; updated December 28, 2021.