For affiliate links and as an Amazon Associate I earn from qualifying purchases.
Today I'm sharing my new gluten-free Pumpkin Corn Muffins recipe, but first I need to talk about stuffing.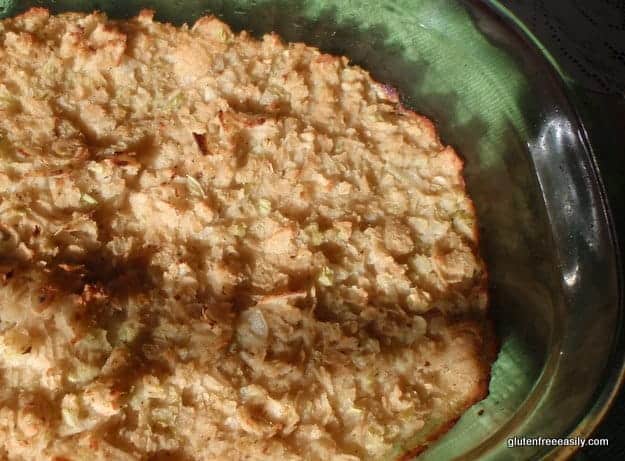 Yes, the Surprise Stuffing shared here at gfe—the one that is made from tortilla chips and is naturally gluten free—made the Top 10 Most Creative Stuffing Recipes in a listing, with slideshow, at Huffington Post! I'm unabashedly and absolutely thrilled!
If you are still looking for a terrific stuffing recipe for Thanksgiving, this is the one. Using bagged tortilla chips and chicken broth (make sure both are gluten free!), onions, celery, and seasonings of choice … what could be easier?) Let Huffington Post and Endless Simmer (who first shared the roundup here on their fun foodie site, which is unfortunately no longer operational) know that we are so pleased that they included a gluten-free recipe in their featured stuffing recipes! I want to extend my very humble thanks to both Huffington Post and the folks at Endless Simmer for adding a recipe from the gfe site to their Thanksgiving roundup—woohoo! Okay, I know that I am supposed to be more restrained and dignified, but I'm extremely excited … can you tell? Gosh, it's hard to type and do the happy dance at the same time! Oh, and here's the direct gfe link to the Tortilla Chip Stuffing recipe.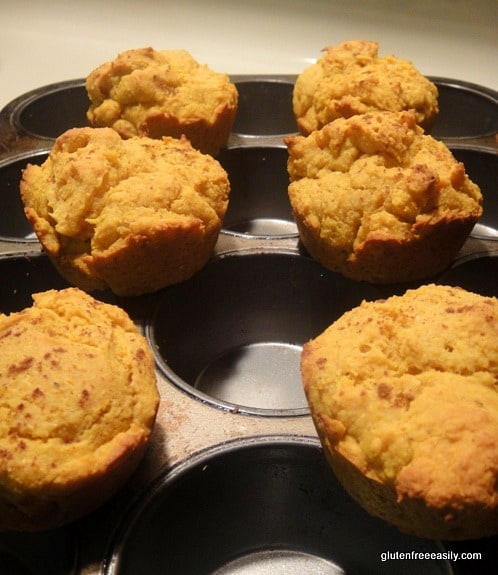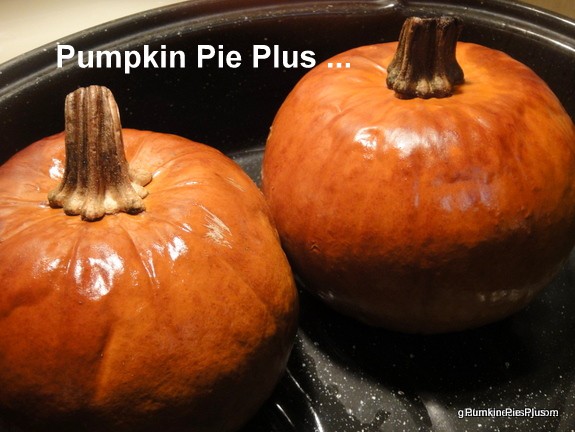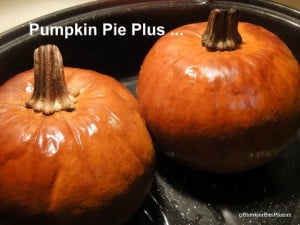 The rest of this post is another entry into the Pumpkin Pie Plus … series (and a little bit more). What? You thought that series was finished? Honestly, with my love of pumpkin, I don't think that series will ever completely wrap up. I baked two more "sugar pumpkins"—aka pie pumpkins—this past weekend.
Truthfully, like you, I thought the series was over for a while, but then I saw Alisa's (Go Dairy Free) Pamela's Sweet Pumpkin Cornbread Muffins. Beautiful golden muffins. I could just imagine how that combination of pumpkin and corn would taste; honestly, it seemed like such an obvious pairing, but yet so brilliant.
I was so inspired by Alisa's recipe, which used Pamela's Baking Mix, that I had to create my own gluten-free Pumpkin Corn Muffins using gluten-free flour mix, specifically, my Two-Ingredient Gluten-Free Flour Mix.
For her second photo in her post, Alisa showed a "cross-section" view of her muffin. Positively scrumptious. Dense, rich, flavorful goodness was her description. I was a goner. I mean really. The only thing that would be better than either pumpkin muffins or corn muffins would have to be these Pumpkin Corn Muffins.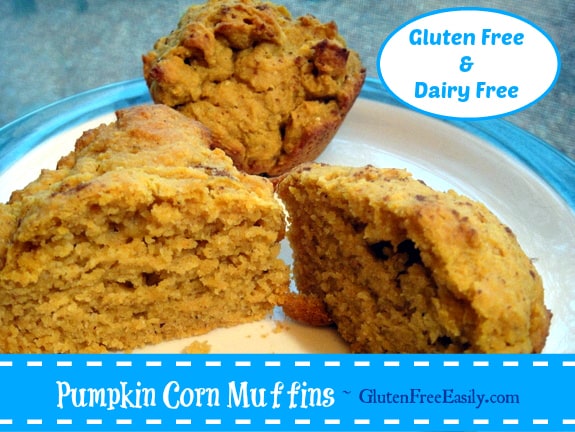 You need this recipe for Thanksgiving. I know it's a little late, but these muffins are terrific as either another bread option for the Thanksgiving meal or as part of your breakfast the following morning. I can visualize you the day after the big meal event, sitting in your favorite chair (perhaps with your feet up), reading the morning paper, and basking in the satisfaction of yet another successful Thanksgiving meal. A warm Pumpkin Corn Muffin and the hot beverage of your choice would complete that picture. Mine would be tea … probably a cup of Constant Comment, but I digress.
Before I share the recipe for these Pumpkin Corn Muffins, I must tell you that I've made three versions of these muffins since Friday. Repeated testing in general, and particularly in such a short period of time, is unusual for me. But I was determined to get these muffins right and share the recipe before Thanksgiving.
The first attempt produced fairly heavy, sort of day-glow orange muffins. They got eaten, but they weren't my—or my taste testers'—favorite. The next version was a gluten-free, dairy-free, and refined sugar-free version that I loved. We had some with our chili last evening, but Mr. GFE was not as impressed and said they were a bit dry. Still, I may return to that version in the future, and tweak it to both our tastes. I really liked the fact that I didn't even add honey to the mix; there was no sweetener other than the natural sweetness added by the pumpkin and some almond flour.
The third batch was the favorite of all. It's a dense, slightly middle-of-the-road pumpkiny version, and one that I'd happily and unworriedly (is that a word?) share with company, or friends like you.
Gluten-Free Pumpkin Corn Muffins Recipe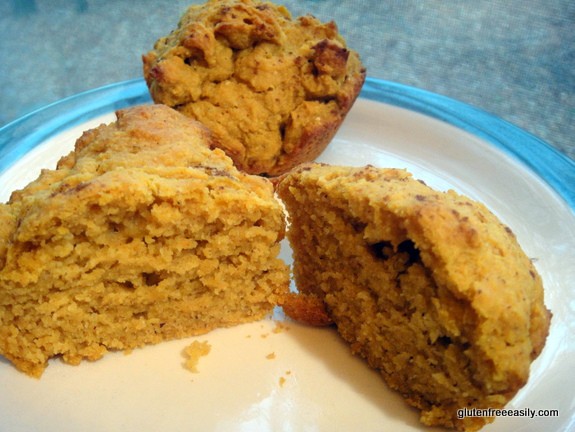 Yield: 12 muffins
Pumpkin Corn Muffins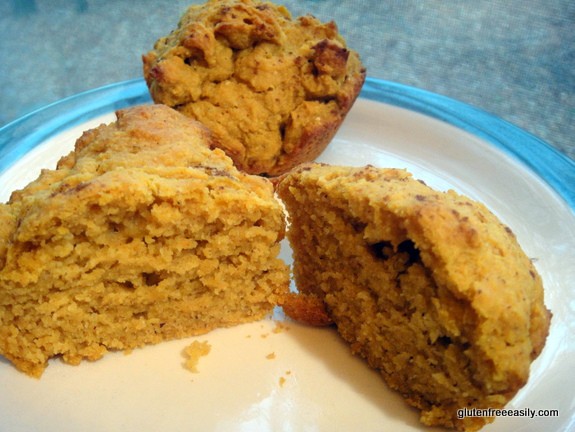 If you think that Pumpkin Corn Muffins are a "best of both worlds" kind of recipe, you're absolutely right!

Prep Time 5 minutes

Cook Time 15 minutes

Total Time 20 minutes
Ingredients
2/3 cup gluten-free all-purpose flour mix (I use my Two-Ingredient Flour Mix)
1/3 cup almond flour
1/2 tsp xanthan gum (optional)
1 tbsp baking powder
½ tsp salt
1 cup gluten-free cornmeal
1 large egg
1/3 cup extra virgin olive oil
1/3 cup honey (I used the wonderful honey from our bees)
3/4 cup pumpkin puree (not pumpkin pie mix)
1/3 cup water
2 tsp (or more) pumpkin pie spice, to taste (or a mix of similar spices; I used cinnamon, ginger, and nutmeg)
additional cinnamon for sprinkling
Instructions
Preheat oven to 375F degrees. Grease muffin cups.
Mix flours, xanthan gum, baking powder, and salt. Stir in cornmeal.
Stir egg, olive oil, honey, and pumpkin into cornmeal mixture. Stir until just moistened and any flour or cornmeal chunks are broken up.
Fill greased muffin tins, sprinkle with cinnamon, and bake for about 15 minutes.
Notes
Use whatever vegetable oil that you'd like. I prefer the taste and nutritional value of extra virgin olive oil. The pumpkin factor ensures that these muffins are not crumbly. (My other corn muffins---these Honey-Sweetened Corn Muffins---can sometimes be a bit crumbly.) These can be made without xanthan gum, but, per usual, xanthan gum does help the ingredients bind a tad better. These muffins are not large and they will sort of settle after the first day and be even more compact. I plan to make them as mini-muffins next time.

Even if this Thursday is not the day you celebrate Thanksgiving formally, every day is truly a day where we can give thanks. The following quote shared today by Kathleen Reale, Be Free for Me, demonstrates that and fits the occasion very nicely:
"Thanksgiving Day comes, by statute, once a year; to the honest man it comes as frequently as the heart of gratitude will allow."

from American writer, Edward Sandford Martin (1856-1939)
I try to honor that sentiment daily as I have so much for which to be grateful. I am blessed with a loving family and sensational friends, but I am also grateful for each and every one of you. Many of you I actually know well enough to consider part of my sensational friends group. Not a day goes by that I am not thankful for my gfe readers. You leave me thoughtful comments here at gfe, you send me emails with your personal stories that move and inspire me, you take the time to comment when I'm sharing our meals or getting on my soapbox over at my gfe Facebook page, you tweet with me late into the evening, and you even "follow me everywhere" by leaving lovely comments on guests posts and attending support group meetings and community events. I appreciate all of those more than I can ever fully express—thank you so much! Have a wonderful Thanksgiving all!
Originally published November 24, 2010; updated October 1, 2020.