For affiliate links and as an Amazon Associate I earn from qualifying purchases.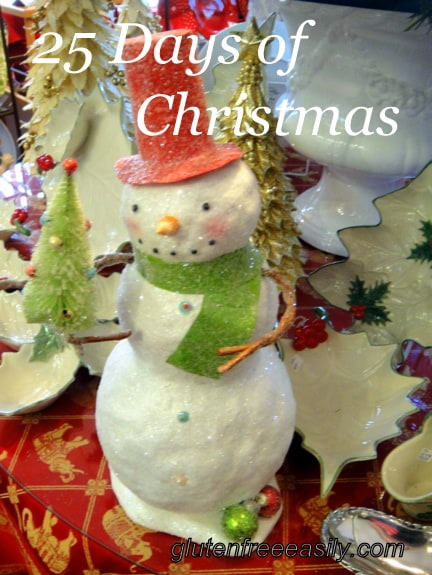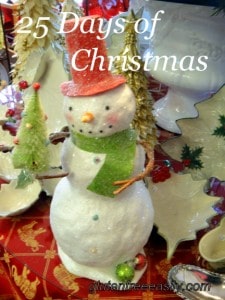 I'm kicking off a big holiday event here at gfe today—25 Days of Christmas! Every day from today through December 25, I'll be sharing a post. It might be a giveaway (like today's post on my Out and About page). It might be a review—product, restaurant, lodging, etc. It could be a review and a giveaway—say, a very desirable cookbook. It might be a recipe … holiday oriented or non-holiday oriented, the latter just to get you through the holidays or any busy time (that's every day, right?). It might be a guest post. As you know my favorite guest posts are the personal stories of those finding out they have a gluten issue (from gluten sensitivity to celiac disease) and finding new health and happiness by living gluten free easily. So look for a variety of gfe posts, and, hopefully, they'll all be ones you'll enjoy.
I'm also adding something else to most posts just for fun. I collect children's Christmas books and with no little ones at home, there's nobody to share them with these days. I still enjoy my books each year, but miss those days of cuddling with Son or young nieces and nephews to read heartwarming, and beloved Christmas stories. So some days (when there's no conflict with the post content), I'm also including a thumbnail and a link to one of the books in my collection. Even if I included one each day, I have more than 25, but I'll definitely share some of my favorites with you—from board books to "handle with care" pop-up books that are for the older children (that would include me!).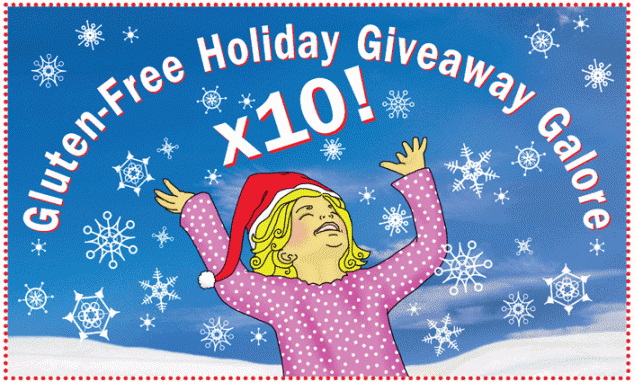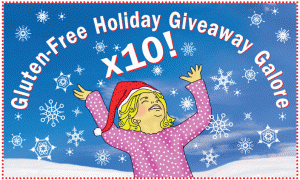 Why am I hosting 25 Days of Christmas? First and foremost, I thought it would be fun, but also because I have a backlog of some great stuff I want to share with you, my gfe readers. And, finally, this event is a celebration. You see, December 31, will be the 2-year anniversary of gfe!
Head over to my Out and About page for the Gluten-Free Holiday Giveaway Galore x 10 event—which features a brand new resource for children with celiac and a delightful array of goodies.
I'll keep a listing of all the posts for this event below.
Day 1 – Gluten-Free Holiday Giveaway Galore x 10—Giveaway of the new book, Mommy, What is Celiac Disease?, plus gluten-free treats and fun stuff. (Although giveaway has ended; you can still order Katie's new book here. )
Day 2 — Guest Post from Debi Smith (Hunter's Lyonesse)—My Journey Back to Healthy Living
Day 3 — Corn and Butter Bean (or Lima Bean) Casserole for A Gluten-Free Holiday 
Day 4 — Little Cayman Beach Resort Review
Day 5 — 20 (Plus) Thoughts on International Food Bloggers Conference
Day 6 — Nutiva Products (Coconut, Hemp x 2, & Chia) Review and Giveaway (Giveaway has ended.)
Day 7 — Reindeer Antlers Punch for Share Our Holiday Table (You can still give and feed a child.)
Day 8 – Flourless Pecan Sandies (Gluten Free, Grain Free, Dairy Free)
Day 9 — Volcano Pancake and Other Breakfast Fare Plus Allegro Marinade
Day 10 – The Palate Peacemaker's Pecan Butter & Pumpkin … Uh Oh … Cake!
Day 11 — Kitchen Table Bakers Crisps Review and Giveaway (Giveaway has ended.)
Day 12 — Guest Post: Linda Etherton (The Gluten-Free Homemaker)
Day 13 — The Spunky Coconut Grain-Free Baked Goods & Desserts Cookbook Review and Giveaway (Giveaway has ended.)
Day 14 — Sweet and Crunchy Snack Mix and Classic Spicy Snack Mix (Make Great Gifts … Even Last Minute)
Day 15 — Winners, Gluten-Free Holiday, and Super Short Roundup  
Day 16 — Review: Bakery on Main Granola and Granola Bars
Day 17 — Review and Giveaway of Ricki Heller's Desserts Without Compromise (Giveaway has ended.)
Day 18 — An Unexpected Christmas Blessing
Day 19 — Food for Christmas at My House This Year
Day 20 — Review: Oskri Organic Bars
Day 21 — Giveaway of Stephanie O'Dea's More Make It Fast, Cook It Slow Cookbook (Giveaway ends Saturday, January 1, at midnight.)
Day 22 — Quick and Easy New England Clam Chowder
Day 23 — Review:  Handy Gluten-Free Crab Cakes
Day 24 — Giveaway of Elana's Pantry Gluten-Free Almond Flour Cookbooks, Totes, and T-Shirt (Giveaway ends Friday, January 7, at midnight.) 
Day 25 — Pom-Bom-Spice-Tini Cocktails (Gluten-Free, Dairy-Free Recipe) Have More Than Teeny Effect