For affiliate links and as an Amazon Associate I earn from qualifying purchases.
This post is linked to Gluten-Free Wednesdays.
I purchased these Oskri bars for myself and the opinions expressed here are my own.
When we were making our way home from our anniversary trip to Little Cayman Beach Resort in June, we ended up in the Charlotte (North Carolina) airport at one of those gates sort of at the end of the line, so to speak. Translation: There weren't any good food spots nearby—gluten-free friendly or otherwise. Not having had any protein in hours, I was starting to get cranky. I set off to find something, specifically something substantial and safe, to get me through for a while. I ended up in one of the larger, all-purpose convenience shops common to airports and found two varieties of Oskri Organic Bars—the Coconut Bar with Organic Dark Chocolate  and their Quinoa Bar. I'd never heard of Oskri Bars before, but I was attracted by the "Gluten Free" on the label. The Oskri bars seemed to have a lot of other positives, too. As stated on the labels of the bars I purchased, these bars are gluten free, lactose free, vegan, USDA organic, ECO Cert (certified organic by Ecocert SA), and made in the USA. Oskri Organics states that it's "a supplier and manufacturer of natural food products, located in Lake Mills, Wisconsin."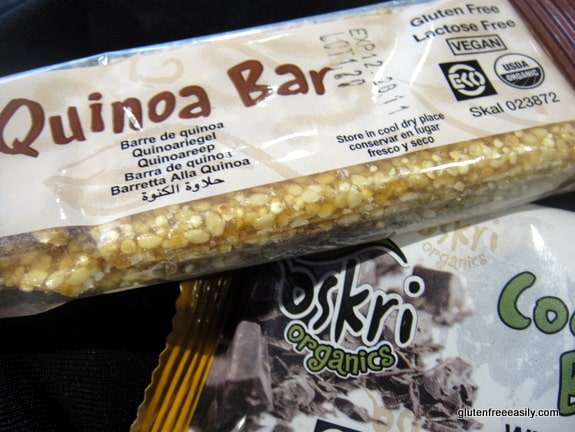 The Quinoa Bar didn't really taste like quinoa. My first impressions were sweeeet, and sesame seeds. The Quinoa Bars and other Oskri bars are sold on Amazon. On Amazon, the ingredients are shown as: Quinoa (Organic) (Seeds), Sesame Seeds (Organic), Rice Syrup. However—and it's a big however to me—the actual package for the Quinoa Bar I tasted shows: Rice Syrup, Quinoa 10%, Sesame Seeds, Date Syrup, and that's what is shown here on Oskri's site. Of course, Amazon always has the following caveat for any food products sold there: Actual product packaging and materials may contain more and different information than what is shown on our website. We recommend that you do not rely solely on the information presented and that you always read labels, warnings, and directions before using or consuming a product. To complicate things, Oskri shows the ingredients for all of its bars on this page, but they are not necessarily in the order that they appear on the package. The ingredients for the Quinoa Bars are shown as:  Sesame Seeds, Quinoa, Date Syrup, Rice Syrup. As I'm sure you know FDA labeling laws require that ingredients must be shown in ""descending order of predominance by weight" meaning that the ingredient that weighs the most is shown first, and so on. As I already stated, the ingredients for the Quinoa Bars are shown on the bar label as Rice Syrup, Quinoa 10%, Sesame Seeds, Date Syrup. However, if you click on the bars themselves and go to the separate page for each flavor, the information shown is the same as what is listed on the bars. Therefore, the information on Oskri's site and Amazon is both confusing and misleading. Bottom line: The primary ingredient in the Quinoa Bar is the Rice Syrup. Granted rice syrup is an unrefined sugar, but I think it's important to note that a sweetener is the primary ingredient. And, if the second ingredient is quinoa and it constitutes 10% of the bar by weight, then the rice syrup amount is pretty hefty. Not surprisingly, the Quinoa Bar didn't really satisfy my need for protein.
If you read gfe, you know that I love coconut, so I was excited to try the bar made of coconut and dark chocolate. The ingredients on the label are:  Coconut*, Rice Syrup*, Dark Chocolate*, (Sugar*, Cocoa Liquor*, Cocoa Butter*, Soy Lecithin* (an emulsifer), Vanilla*), with * indicating organic). First impression: Not a strong coconut or chocolate flavor. Sweet enough, but nothing exceptional.
Furthermore, even though the Coconut Bar is labeled "Coconut Bar" and "with Organic Dark Chocolate is shown as a subtitle, you won't find this bar under Oskri Bars on Oskri's website or its subcategory of Coconut Bars. Instead it's shown under Chocolate Bars, and is referred to as an Organic Dark Chocolate Bar. Similarly, there is no category for Quinoa Bars even though "Quinoa Bar" is shown on the label of the bar. Instead, these bars are shown under the Sesame Bars category. More confusion from Oskri.
A few more important things should be noted. First, I inquired about the Barley Coffee shown on Oskri's site, and the potential for cross contamination with the other products that were gluten free.
Shirley:  All of your bars are shown to be gluten-free on the packaging and on your site. However, you also produce barley coffee. Do you certify your products gluten free through a third-party inspection source like GFCO or via in-house Elisa testing to ensure that no barley makes its way into the bars? How do you ensure that your bars stay gluten free?

Oskri:  Oskri Barley Coffee is produced at a third party facility, away from the Oskri Bars. Oskri stores the Barley Coffee separate within the facility to ensure that our bars stay Gluten Free.
Note that Oskri did not respond to my question on their testing methods to ensure their products are gluten free. I also inquired about the ingredients conflict.
Shirley:  You list the ingredients of the bars on your site, but I don't believe they actually are in the order they appear on the labels with the main ingredient first, and so on.

Oskri:  The website lists the ingredients the same way that they are listed on the bars wrappers.
My sampling was a very small one, but I still thought I'd share my impressions on these two flavors of Oskri bars. I also wanted to share my findings on Oskri bars in a general sense … their ingredients, testing, etc. I admit that I'm a tough critic and not a fan of protein bars. Frankly, I still haven't found one that beats eating an apple and some nuts (or nut butter spread on the apple), but I had neither of those in the Charlotte airport that day. You can also read Amazon reviews for more insight on Oskri's products.