For affiliate links and as an Amazon Associate I earn from qualifying purchases.
This post is linked to Gluten-Free Wednesdays.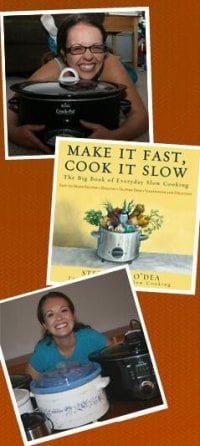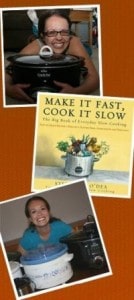 UPDATE: This giveaway is now closed. Congratulations to Joan ("I follow @Shirleygfe on Twitter as @southerncooker."), Tina Borchardt ("I would love to win."), and Robin ("I "like" gfe on Facebook."). Joan, Tina, and Robin were selected by random number generation using random.org. Carolyn Miller McGinniss also won a copy by responding to my status update on Facebook and submitting the 10,000th comment here on gfe—"Congrats on the 9,999 blog comments Shirley!" Carolyn didn't even know there was a prize to be had; she was just being nice. Woohoo and congrats to Carolyn, too! Thanks to all who entered and remember that if you didn't win, you can purchase Stephanie O'Dea's new cookbook, More Make It Fast, Cook It Slow, here at Amazon. $10 for 200 brand-new, budget-friendly recipes seems like a great bargain to me. Of course, there will be more giveaways of products/services that fit the gfe approach in the future. 🙂
Are you a Stephanie O'Dea fan? You know … the very adorable and very funny "crockpot lady." For years, Stephanie hid her cute little face behind horn-rimmed glasses and her crockpot/slow cooker. She declared that she was okay with her "unnatural obsession" with her crockpot/slow cooker, the latter in which she cooked everything … and I do mean everything. You're probably familiar with her first cookbook, the New York Times bestseller, Make It Fast, Cook It Slow, but did you know she has a new cookbook that just came out this very day? That's right. More Make It Fast, Cook It Slow was just released. Yippee for Stephanie and for all of us!
Stephanie's new cookbook has 200 brand new recipes that are budget friendly. As Stephanie states on her slow cooking blog: "There are over 200 brand-new recipes in this book that have not been shared in the first Make It Fast, Cook It Slow cookbook.  I have separated the book into three sections: $7 and under, $10 and under, and $15 and under dishes. Within each section, there are chapters for beverages, appetizers, soups and stews, side dishes, main courses, and desserts. The main-course selections are bountiful, because I believe this is the most beneficial." She talks more about her book launch here on A Year of Slow Cooking and here on her Totally Together Journal blog.) In order to make and test all the recipes for her latest cookbook, she had eight slow cookers going at one time! I can just imagine Steph doing that, and oh, how I wish I lived next door to her. That would be for many reasons (I love Stephanie!), but she and her family cannot possibly eat all the food that she makes when she's in "cookbook mode," so she shares with family and friends … those lucky folks! Note that Stephanie's cookbook is written for everyone, but the recipes are also gluten free, so if a recipe is a dessert recipe and calls for flour or a baking mix, Stephanie simply notes in parentheses that she used a gluten-free flour mix, like Pamela's. Similarly, she'll note any other ingredients that she had to use to ensure the recipe was gluten free; e.g., a specific brand of soy sauce.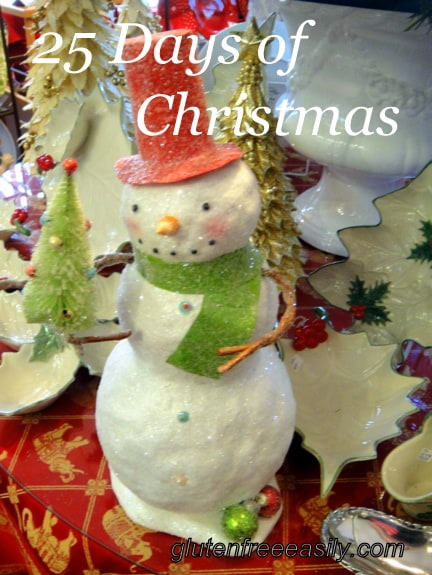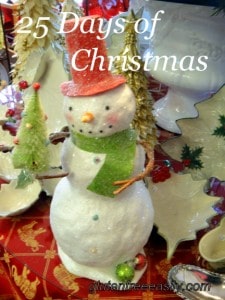 I've shared my success with Stephanie's recipes here at gfe before, but recently I shared the link to Steph's Wassail recipe with Sunny (And Love It, Too) via Twitter. Sunny made it and her family loved it. So much so that her daughter insisted that some of wassail be left for Santa instead of the usual beverage. She was certain that the delicious wassail would make Santa more generous. Well, Sunny's daughter thinks the proof is in the presents as Santa brought the whole family new bikes—seven of them! Well, Christmas has passed so there won't be another opportunity for many days to bribe Santa, but I know we'll all love Steph's new book right away. Like you, I can't wait to see it! So not only am I ordering one for myself, but I'm ordering three more for a giveaway for my beloved gfe readers as part of my 25 Days of Christmas event. See … the holidays are not completely over … you don't have to be let down.
This giveaway for three copies of More Make It Fast, Cook It Slow will end Saturday, January 1, at midnight Eastern. Here are the numerous ways you can enter below, but—IMPORTANT—be sure to leave a separate comment for each. If you leave one comment saying that you did all of these things below, it still only counts for one entry. Be sure to note if you already subscribe, "like," "follow," etc. ("I am already subscribed to gfe.")
~ Check out Stephanie's blog, A Year of Slow Cooking, and leave a comment telling one recipe that you'd like to make.
~ Subscribe to gfe in a reader or via email. Leave a comment.
~ Subscribe to A Year of Slow Cooking. Leave a comment.
~ "Like" gfe on Facebook. Leave a comment.
~ Follow @Shirleygfe on Twitter. Leave a comment.
~ Follow @StephanieODea on Twitter. Leave a comment.
~ Spread the word about the giveaway. Share on Twitter, Facebook, or your blog. Leave a comment for each.
Good luck to all!
Last, you can catch up with any of the other posts for the 25 Days of Christmas event here.