For affiliate links and as an Amazon Associate I earn from qualifying purchases.
Happy Clam Chowder Day (February 25)! Do you prefer Manhattan Clam Chowder or New England Clam Chowder? It's definitely the latter for me so here's my recipe for Quick and Easy Gluten-Free New England Clam Chowder.
It's delicious if I do say so myself. And gfe readers happen to agree. Yay!
Let me tell you how I created this comforting chowder recipe. On the spur of the moment, no less.
Having a well-stocked pantry is the key to making many meals on the spur of the moment. Have a craving for a certain dish, like the Quick and Easy Gluten-Free New England Clam Chowder shown? Or want to experiment?
A well-stocked pantry can allow you to satisfy both needs without a special trip to the grocery store or specialty store. So, not surprisingly, the well-stocked pantry can also save you money and time.
By pantry, I mean more than one's dry storage, but also the freezer and the refrigerator. I try to keep all well stocked with gfe staples. I'm going to address this topic more this coming year as I revisit the whole gfe approach, but I wanted to show you how my pantry served me well when I suddenly wanted clam chowder the other night.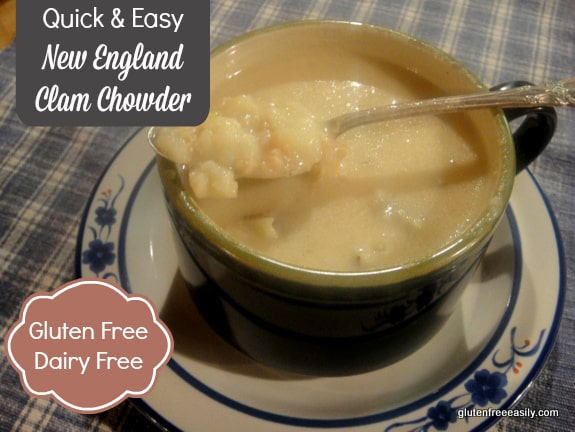 As all of you gluten-free readers know, clam chowder is not something we can enjoy out very often. Usually, a "gluten-full" flour is added to the recipe or a gluten-containing broth is used to make the chowder.
I love clam chowder, and really chowders of any kind, so that's always a disappointment to me. Because of the lack of training for servers and cross-contamination issues, one has to be very leery of establishments that serve even gluten-free chowder.
Here's one example of how gluten-free clam chowder can become gluten full. Wendy (Celiacs in the House), Diane (The W.H.O.L.E. Gang), and I watched servers touching the soup ladles to bread bowls as they served chowder at a restaurant at Pike Place Market in Seattle. It only took one such occurrence for the entire bowl of chowder to be contaminated and unsafe for those of us who eat gluten free.
So I decided to make my own New England Clam Chowder, and I came up with a wonderfully easy way to have thick, creamy version in just a few minutes! This gluten-free clam chowder didn't taste like a soup that had been made in only a few minutes though; it tasted like it had been cooking and thickening—and frankly, "becoming soup"— for hours.
That's important because I've actually made seafood chowder before using popular chef's recipes and even after cooking the soup for a much longer time, it still had that "new," "not soup yet" taste without the creamy, thick consistency I desired.
New England Clam Chowder is by definition a potato-based soup. The Baked Potato Soup here at gfe is a favorite of our family and our friends, so I decided to just adapt that recipe to be my gluten-free New England Clam Chowder. It was incredibly easy to do and the resulting chowder was a hit with us.
As I said, my pantry came through for me. In my dry goods pantry, I had canned clams, russet potatoes, yellow onions, canned coconut milk (full fat, not light), and my Two-Ingredient Gluten-Free Flour Mix. In my refrigerator, I had almond milk, butter, minced garlic, and bouillon (as well as broth base). In my spice cabinet, I had seasoning salt and Old Bay Seasoning.
These ingredients were exactly the ones needed to make a rich and hearty gluten-free New England Clam Chowder. Enjoy!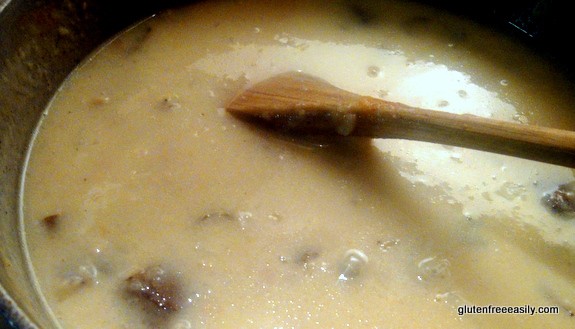 Quick and Easy Gluten-Free New England Clam Chowder Recipe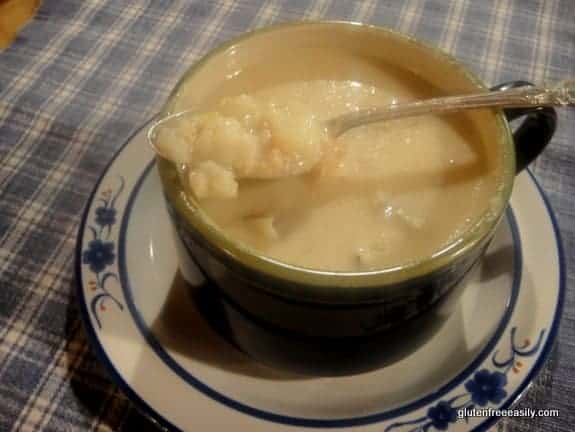 Yield:
Quick and Easy Gluten-Free New England Clam Chowder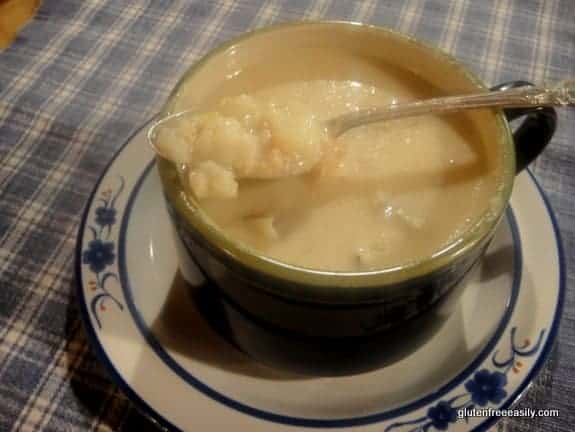 If you've been waiting for a good clam chowder recipe that you can make at home, here you go! Make this Quick and Easy Gluten-Free Clam Chowder either with dairy or dairy-free ingredients as you wish. It's delicious either way!

Prep Time 5 minutes

Cook Time 20 minutes

Total Time 20 minutes
Ingredients
3 to 4 large russet potatoes
2 6-ounce cans minced clams, drained with liquid reserved
¼ cup butter (dairy or non-dairy)
1 onion, chopped
2 cloves garlic
¼ cup gluten-free flour mix (like mine, or another gluten-free thickener of your choice)
2 cups of clam liquid and broth (made from gluten-free soup base/bouillon granules), combined (see directions)
1 ½ teaspoons gluten-free, dairy-free soup base or bouillon granules (added to water---see directions)
6 ounces full-fat coconut milk plus 6 ounces almond milk (or 12 ounces total of either by itself) or another non-dairy milk of your choice) or if you eat dairy, you can use one 12-ounce can evaporated milk
1 tsp seasoning salt (or more to taste)
¼ tsp Old Bay seasoning (optional)
Instructions
Microwave the potatoes about 8-9 minutes or until baked through.
While potatoes are baking, drain clams and reserve juice in a 2-cup measuring cup. Set clams aside.
Set aside cooked potatoes to cool slightly. (You can also use leftover baked potatoes in this recipe.)
In a large saucepan, melt butter and add onion over medium to medium-high heat, stirring occasionally until onions are translucent and cooked most of the way through. Cook about 7 to 8 minutes.
While onions are cooking, fill a teapot/saucepan halfway full with water and bring to a boil.
Add garlic to your soup pan. Cook for about 30 seconds, stirring while cooking.
Add flour. Stir to make a roux. (It doesn't take long at all.) Remove from heat so roux will not burn.
Add boiling water to the measuring cup that already contains reserved clam juice, filling to the 2-cup level. Stir in 1 ½ tsp soup base/bouillon granules. Stir well until soup base/bouillon granules are dissolved and mixture becomes clam broth.
Slowly add milk and broth to the soup pan and return to heat.
Scoop most of the pulp from one potato, mash it slightly and add to chowder.
Add clams to chowder.
Bring chowder to a boil. Add seasoning salt and Old Bay (if used).
Quickly dice the remaining two potatoes and completely empty the skin of the third potato. Discard potato skin and add the pulp to the chowder and heat through for a minute or two. Serve. Enjoy.
Notes
I recommend that you use chicken bouillon/granules, replacing the water in the recipe with clam juice and adding the gluten-free, dairy-free chicken bouillon/granules. Even with minced clams, I use my kitchen shears to cut all of the clam pieces very small. (I really don't care for chunks of super chewy clams.) More potatoes will make this chowder thicker, but note that if there is any chowder left over, it will thicken considerably upon cooling and additional liquid may need to be added before serving. I sometimes leave the skins on the potatoes for the extra nourishment they provide. They cook down most of the way and are pretty tender, so we enjoy them in our soups, but if you prefer, you can discard potato skins.

Adapt this recipe to your liking. For example, some clam chowder recipes call for crumbled bacon to be added at the end. A gluten-free bread on the side would make for a wonderful meal. I ate my chowder without accompaniment, but Mr. GFE enjoyed a breadstick (gluten-full) with his.

There are many gfe "bread" options that would go great with this chowder: Popovers, Garlic Cheese Biscuits, Corn Muffins, Marvelous Cheese Muffins, and Flat and Firm Cornbread, to name a few---all of which can be made dairy free when needed by using ingredients like non-dairy butter, non-dairy milk, and Daiya Cheddar Cheese. (Check out the gfe Recipes index for more ideas.)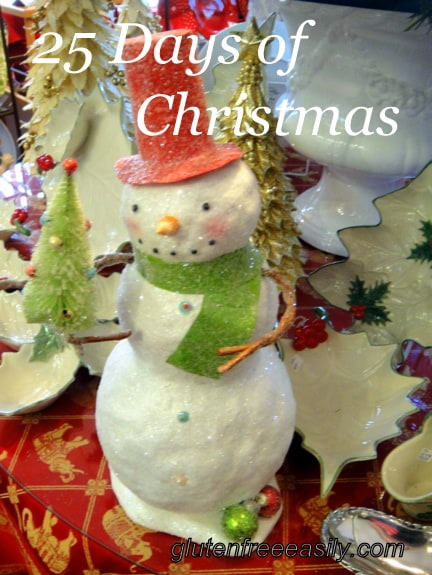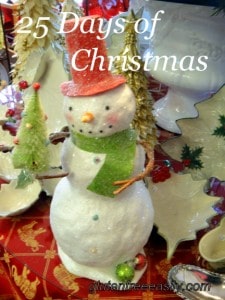 The 25 Days of Christmas event is winding down (and quickly!), be sure to check out previous posts to make sure you haven't missed any … especially the current cookbook giveaway!
Day 1 – Gluten-Free Holiday Giveaway Galore x 10
Day 2 — Guest Post from Debi Smith (Hunter's Lyonesse)—My Journey Back to Healthy Living
Day 3 — Corn and Butter Bean (or Lima Bean) Casserole
Day 4 — Little Cayman Beach Resort Review
Day 5 — 20 (Plus) Thoughts on International Food Bloggers Conference
Day 6 — Nutiva Products (Coconut, Hemp x 2, & Chia) Review
Day 7 — Reindeer Antlers Punch
Day 8 – Flourless Pecan Sandies
Day 9 — Volcano Pancake and Other Breakfast Fare Plus Allegro Marinade
Day 10 – The Palate Peacemaker's Pecan Butter & Pumpkin … Uh Oh … Cake!
Day 11 — Kitchen Table Bakers Crisps Review
Day 12 — Guest Post: Linda Etherton (Gluten-Free Homemaker)
Day 13 — The Spunky Coconut Grain-Free Baked Goods & Desserts Cookbook Review
Day 14 — Sweet and Crunchy Snack Mix and Classic Spicy Snack Mix (Make Great Gifts … Even Last Minute)
Day 15 — Winners, Gluten-Free Holiday, and Super Short Roundup
Day 16 — Review: Bakery on Main Granola and Granola Bars
Day 17 — Review of Ricki Heller's Desserts Without Compromise
Day 18 — An Unexpected Christmas Blessing
Day 19 — Food for Christmas At My House This Year
Day 20 — Review: Oskri Organic Bars
Day 21 – Giveaway of Stephanie O'Dea's More Make It Fast, Cook It Slow Cookbook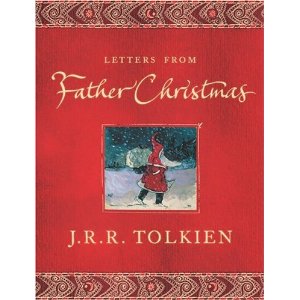 Originally published December 23, 2010; updated February 25, 2023.