For affiliate links and as an Amazon Associate I earn from qualifying purchases.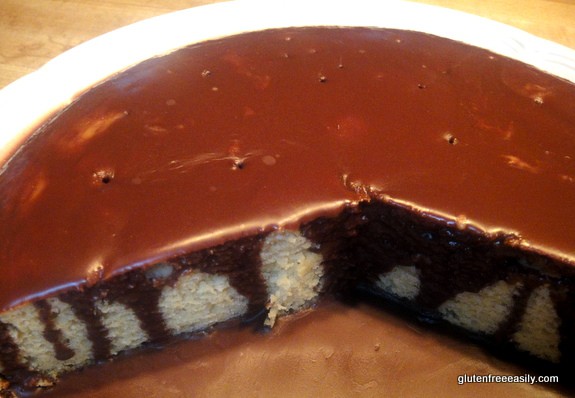 Update: This giveaway is now closed. The winner is Jenny B. Jenny was selected by random.org and her comment was: "I have never heard of Kelly's book or blog before, but she is on a similar healing journey to our family's and I am looking forward to learning more. I would be honored to have a copy of her book. Thanks for making this available!" Congrats to Jenny B. and thanks to all who entered! Special thanks to Kelly for graciously offering her book! Be sure to check out other reviews and giveaways on my Out and About page.
Kelly Brozyna (The Spunky Coconut) first shared her Vanilla Bean Cake back in June 2009. I loved how creative her recipe was and how delicious it looked from the moment she shared it. And, it didn't take long for Spunky Coconut reader reviews of this recipe to start pouring in. Now if you don't know Kelly, her blog, and this recipe, you may be wondering how a cake with a vanilla bean is unique. But you see … it's not a cake with a vanilla bean. It's a grain-free cake made from cooked white beans and some coconut flour. The vanilla factor comes from the liquid vanilla crème stevia. Vanilla + bean = Vanilla Bean Cake! I have long drooled over this cake, but never had all the ingredients until late last week. First, my copy of Kelly's new cookbook, The Spunky Coconut Grain-Free Baked Goods and Desserts, arrived—courtesy of Kelly. The following day, my Tropical Traditions coconut flour was delivered. The recipe for Vanilla Bean Cake is in this latest cookbook (and on Kelly's blog here). Finally, I was ready to make Kelly's Vanilla Bean Cake. It was easy to make and it did not disappoint! It's a lovely yellow cake full of all the good stuff—especially protein and fiber. Nobody would ever guess the main ingredient. This cake was so good "as is," that I didn't even frost it right away. As you can see in the photo by the time I did frost it, it was almost half gone. I used Kelly's frosting recipe using Scharffen Berger bittersweet chocolate as my choice of chocolate. Instead of waiting for the frosting to firm up in the refrigerator enough to be spreadable, I poured it over the cake after just a few minutes. I poked a few holes in the top of the cake so that my thin version of the frosting would permeate the cake in spots. Of course, the frosted version provided a completely different, but still delicious experience than eating the cake by itself, but I loved them both.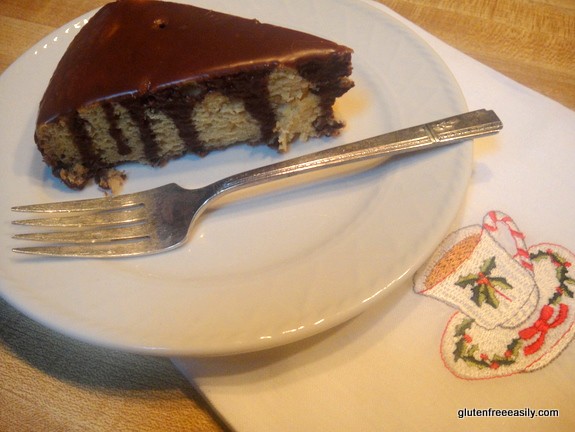 If you know Kelly and her blog, you already know that she's been healing her family of celiac, gluten intolerance, ADD, and autism through food and biomedical treatments the last several years. Kelly's recipes are gluten free, casein free, refined sugar free, and often egg free, but like the Vanilla Bean Cake, they are all amazingly delicious. So many who are living with intolerances have benefited from Kelly's blog and recipes. Now add to that two cookbooks!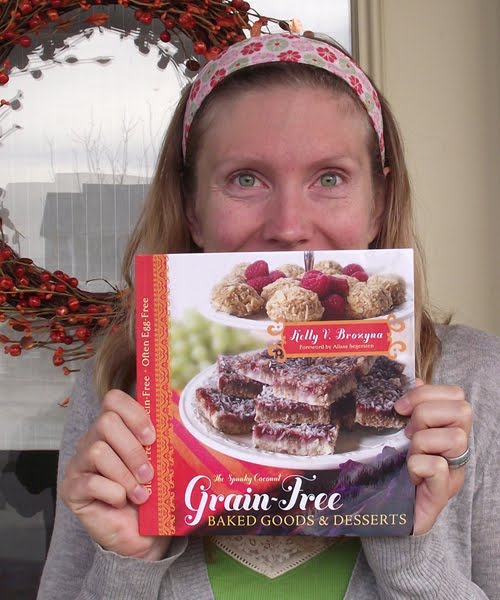 photo courtesy of Kelly Brozyna
Kelly's cookbooks are totally her own creation, including the photographs. That's rare in cookbook publishing from what I've seen, but Kelly and her husband, Andrew, self publish through their Apidae Press. The cookbooks are printed on demand within the U.S.  I loved Kelly's first cookbook, The Spunky Coconut Cookbook, and still do, but I have to say that I love this one even more. There are 80 recipes, including 50 that are egg free. And, this cookbook is just gorgeous! I read through it and loved it all—the Foreword by Ali (The Whole Life Nutrition Kitchen), Kelly's introduction and recommendations, and, of course, all the recipes (with ingredients I use) and those stunning photos. Then I put her cookbook down. A few minutes later, I picked it up again and looked through it. Then I set it aside. Then I picked it up and flipped through the pages once more. The cycle kept repeating itself. It's such a beautifully done cookbook that it's truly irresistible. I'm lucky to call Kelly a friend and especially honored and grateful that she mentions me and gfe twice in her new cookbook, but I'd highly recommend this cookbook even if I didn't know her.
So here's the really great news … Kelly has graciously donated a signed copy of The Spunky Coconut Grain-Free Baked Goods and Desserts to one lucky gfe reader! There are numerous ways you can enter the giveaway. One entry is all that's required, but feel free to do them all. (If you don't enter giveaways, you can purchase Kelly's new cookbook through her Spunky Coconut store here or via Amazon here.) This giveaway will end Sunday, December 19, at midnight Eastern.
~Leave  a comment telling about a recipe you'd like to make from The Spunky Coconut.
~Post about this giveaway on your blog and/or share it on Facebook. Leave a separate comment here saying that you did.
~Tweet about this roundup/giveaway using @Shirleygfe and @spunkycoconut. Leave a separate comment here saying that you did.
~Subscribe to gfe via reader or email. Leave a separate comment here saying that you did.
~"Like" gfe on Facebook. Leave a comment here saying that you did.
~"Like" The Spunky Coconut on Facebook. Leave a comment here saying that you did.
~Follow me on Twitter. Leave a separate comment here saying that you did.