For affiliate links and as an Amazon Associate I earn from qualifying purchases.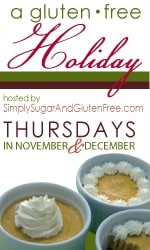 I'm suddenly off kilter on my posting. That's a nice way of saying that I'm behind. Blame it on several things … a snow day yesterday and preparing for a holiday party here this evening (with all that entails at Christmas time), but the largest problem is my internet service being down intermittently the last few days. I've worked out a temporary solution to get up this very quick roundup. Once the issues are resolved, I'll definitely catch up with my 25 Days of Christmas posts.
~ Head over to my Out and About page to see who won Katie Chalmer's wonderful Mommy, What is Celiac Disease? gift package here and Kitchen Table Bakers delightful cheese crisps here.
~ Our Gluten-Free Holiday continues. It's the last week and Amy (Simply Sugar & Gluten Free) is sharing one of her amazing desserts, Cranberry Swirl Cheesecake, and asking you to share your favorite holiday dessert, too. I'll be back sharing my experience with a new holiday dessert that uses white beans. (Hint: It's from one of my favorite, creative cooks.) Until then, you can click here for my Recipes and scroll down to Desserts. Crustless Coconut Pie, Mediterranean Chocolate Cake, and Brown Sugar Chocolate Chip Cookies are being served this evening!
Of course, for our Gluten-Free Holiday event, there's a cookbook giveaway, too. There's Stephanie's (A Year of Slow Cooking, Totally Together Journal) new cookbook, More Make It Fast, Cook It Slow, featuring 200 brand new, budget-friendly slow cooker recipes. Then there's Amy's new cookbook, Simply Sugar & Gluten Free: 120 Easy Recipes You Can Make In 20 Minutes or Less. These books have not yet been released, so if you win, you'll get yours before anyone else. Multiple copies of each are being given away! Check all out here. Oh, and just FYI, if you buy Stephanie's book before its release date on December 28, you can get the pre-sale price!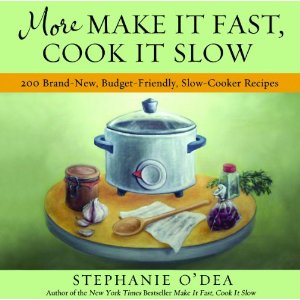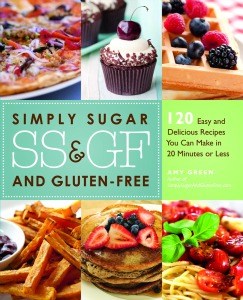 ~ I was one of 80 bloggers who participated in Share Our Strength's recent Share Our Holiday event, a virtual progressive dinner party that shared recipes, but also was designed to focus attention on how many children are hungry in our country. The numbers are staggering. One out of six children in our country is hungry. But the numbers can go the other way, too … meaning I'm amazed that a $25 donation will feed one child three meals a day for an entire month. This effort is truly such a worthy cause. Donate here. If you want to check out some of the recipes, you can check out my post, Reindeer Antlers Holiday Punch (I'm making this punch today for my holiday dinner party), which has links to all the beverage posts for the event. Or you can see all the links here. Lexie even did a beautiful roundup showing the meal she'd like to have, choosing an entry from each category. You can check that out here.
~ Do you have a great yam recipe? Share it over at Diane's (The W.H.O.L.E. Gang) Friday Foodie Fix event here.
You can catch up on all the 25 Days of Christmas posts (so far) via the links below. Be sure to read my review of Kelly Brozyna's new cookbook, The Spunky Coconut Grain-Free Baked Goods & Desserts, and enter the giveaway!
Day 1 – Gluten-Free Holiday Giveaway Galore x 10—Giveaway of the new book, Mommy, What is Celiac Disease?, plus gluten-free treats and fun stuff. (Although giveaway has ended; you can still order Katie's new book here. )
Day 2 — Guest Post from Debi Smith (Hunter's Lyonesse)—My Journey Back to Healthy Living
Day 3 — Corn and Butter Bean (or Lima Bean) Casserole for A Gluten-Free Holiday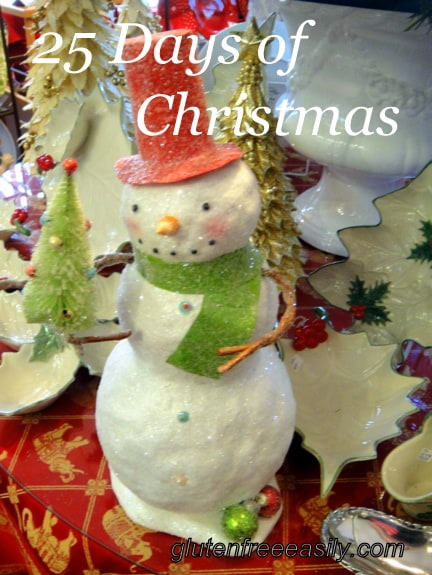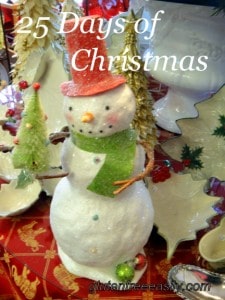 Day 4 — Little Cayman Beach Resort Review
Day 5 — 20 (Plus) Thoughts on International Food Bloggers Conference
Day 6 — Nutiva Products (Coconut, Hemp x 2, & Chia) Review and Giveaway (Giveaway has ended.)
Day 7 — Reindeer Antlers Punch for Share Our Holiday Table (You can still give and feed a child.)
Day 8 – Flourless Pecan Sandies (Gluten Free, Grain Free, Dairy Free)
Day 9 — Volcano Pancake and Other Breakfast Fare Plus Allegro Marinade
Day 10 – The Palate Peacemaker's Pecan Butter & Pumpkin … Uh Oh … Cake!
Day 11 — Kitchen Table Bakers Crisps Review and Giveaway (Giveaway has ended.)
Day 12 — Guest Post: Linda Etherton (The Gluten-Free Homemaker)
Day 13 — The Spunky Coconut Grain-Free Baked Goods & Desserts Cookbook Review and Giveaway (Giveaway ends Sunday, December 19.)
Day 14 — Sweet and Crunchy Snack Mix and Classic Spicy Snack Mix (Make Great Gifts … Even Last Minute)