For affiliate links and as an Amazon Associate I earn from qualifying purchases.
Today I'm sharing Crustless Gluten-Free Coconut Pie!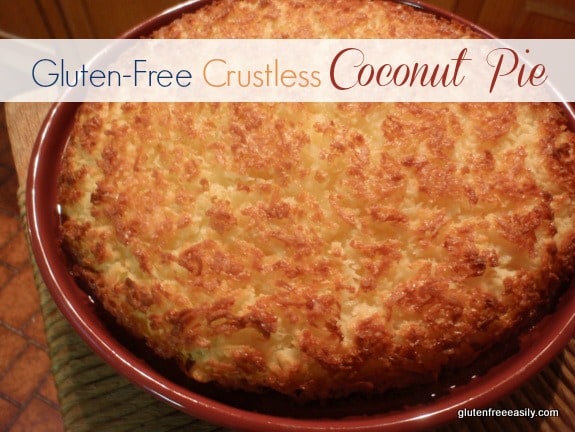 With Fall here and the holidays soon here, I'm thinking of pumpkin treats—like my Crustless Pumpkin Pie or Easy Pumpkin Squares. I am also thinking of apples and, therefore, my Crustless Apple Pie.
But, there are other desserts that while can be made year round, we tend to save for special occasions like holidays. My Crustless Gluten-Free Coconut Pie is definitely one of those.
The last time I made it was for Mother's Day for my mother-in-law. I baked the apple pie shown below for my mom. That was six months ago and because it was a gift, I didn't eat any. So, I'm looking forward to making it for Thanksgiving, Christmas, and maybe even New Year's Day!
We are a family that truly loves pies. When I hosted Thanksgiving dinner two years ago, I believe we had six pies to share. And, unbelievably, there were other desserts as well. Of course, there were four bakers among us, but that's some serious dessert love there; don't you think?

With Mr. GFE's family, the holiday tradition is for each family member to place his/her Christmas list on his parents' refrigerator at Thanksgiving. That gives everyone ample time for shopping, and more importantly, offers some helpful specifics on what the recipient would like as a gift.
Some items shared are too "pie in the sky," like a new video gaming system or an expensive tool. So, instead, we might select another item like a book, clothes, or a bird feeder.
However, last year, one of the items asked for was actually a pie—yes, a real pie. And, not just any pie, mind you, but MY pie!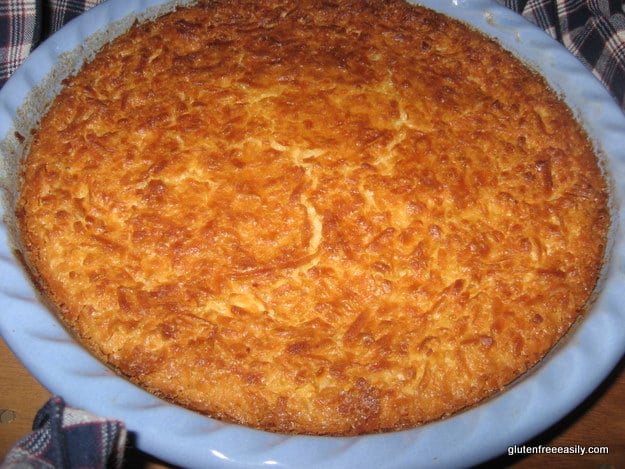 How tickled I was when I saw "Shirley's Coconut Pie" on my nephew's wish list! Of course, I obliged, and happily so. I wish all Christmas wishes were so easy to fulfill; don't you?
When I stopped by to visit his family several days after Christmas, my nephew still had half his pie left. Oh, how, he was making that pie last.
As I stated with my other crustless pies, nobody is going to miss the crust. I mean look at this pie again … does it look like it's lacking anything? I didn't think so. Here's the recipe.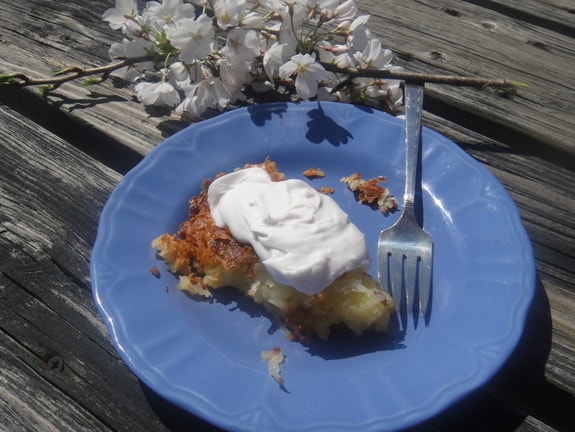 Whatever pie you are making for the holidays, consider making it gfe. I'm not saying you have to make one of my recipes. I'm just suggesting that you make your life a little easier and choose one you can make gluten free easily—i.e., gfe.
We don't need to add to holiday stress with a complicated dessert or one for which we have to acquire special gluten-free ingredients.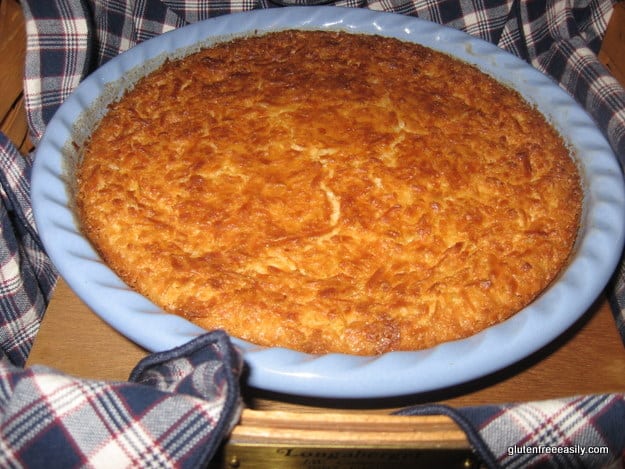 More Absolutely Delicious Gluten-Free Coconut Recipes
~ Coconut Bacon from In Johnna's Kitchen
~ Coconut Date Energy Balls from Everyday Gluten-Free Gourmet
~ Coconut Curry Hot Cocoa from In Johnna's Kitchen
~ Flourless Oatmeal Coconut Cookies from gfe
~ Gluten-Free Disappearing Mounds Cookies from gfe
~ Paleo Chocolate Chip Coconut Cookies from gfe
Crustless Gluten-Free Coconut Pie Recipe
Yield: 8 servings
Crustless Gluten-Free Coconut Pie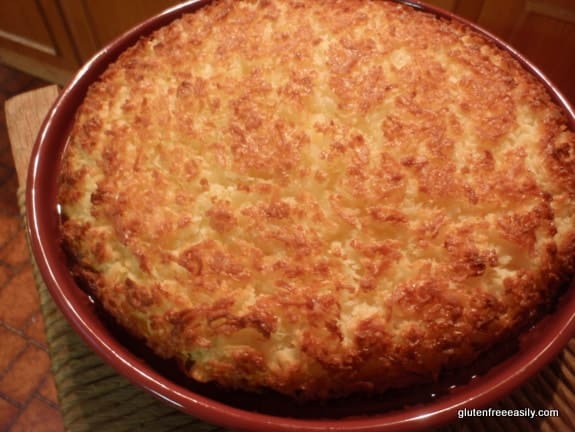 This Crustless Gluten-Free Coconut Pie is EVERY bit as good as it looks! I've never had a better coconut pie---of any kind!
Ingredients
3 large (or extra large) eggs
1 ½ cups granulated sugar
¼ cup plus 1 tbsp gluten-free all-purpose flour mix (I use my own Two-Ingredient Gluten-Free Flour Mix; see notes for other substitutions)
1 cup milk (dairy-free milk works fine; I like full-fat coconut milk)
½ cup butter, melted (or 1/3 cup coconut oil, liquefied)
1 tsp vanilla extract
1 tsp apple cider vinegar
1 ½ cup coconut flakes/shredded coconut
Instructions
Preheat oven to 350F degrees.
In a large bowl, beat eggs and sugar. Add gluten-free flour, milk, butter, vanilla, and vinegar; mix well. Stir in coconut and pour into greased pie pan.
Bake until the top is golden and the filling is set in the center, about 45 minutes.
Serve at room temperature. Store any leftovers in your refrigerator.
Notes
This is the pie recipe exactly as I make it. (I simply adapted a recipe I had used for years to be crustless and gluten free by replacing the flour in the recipe with gluten-free flour mix and adding an additional 1/4 cup gluten-free flour.) I use my gluten-free all-purpose flour mix, but you can use whichever flour you prefer for baked goods, even sifted coconut flour.
Many of my friends and support group members have adapted this recipe to fit their own dietary needs. I have made it several different ways as well. Some friends cut back on the butter. Another makes this pie dairy free by replacing the milk with rice milk and using Earth Balance instead of butter (again, in a lesser amount). She also cuts the sugar in half, increases the gf flour to 1/3 cup, and omits the vinegar. Another sprinkles a handful of chocolate chips on the bottom of the pie plate before adding the pie filling.
So please don't be shy about adjusting this recipe slightly. On occasion, I also like to make this pie dairy free by using an equal amount of Soy-Free Earth Balance (pink tub) and canned full-fat coconut milk instead of the cow's milk.
Adapted from meals.com
Originally published November 5, 2009; updated September 3, 2023.