For affiliate links and as an Amazon Associate I earn from qualifying purchases.
The name of these gluten-free Disappearing Mounds Cookies, which are also grain-free, paleo cookies, has a double meaning. About halfway through baking them, the cookie dough had risen and spread just enough so that the cookies literally looked like large mounds.
I know this because I swapped and rotated the baking sheets at that point. (I've been adding this step with a few of my cookie recipes lately, just to ensure even baking and no burning of any cookies.)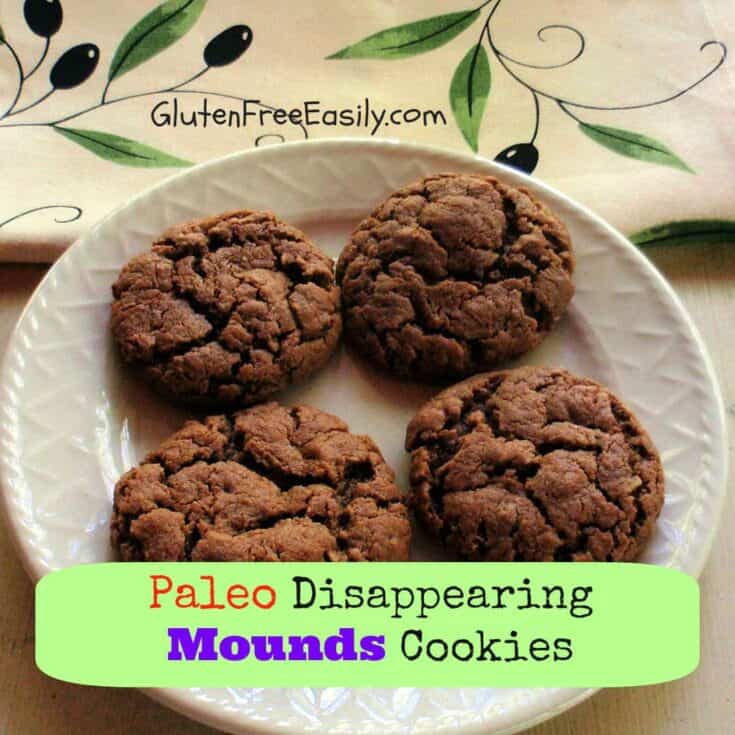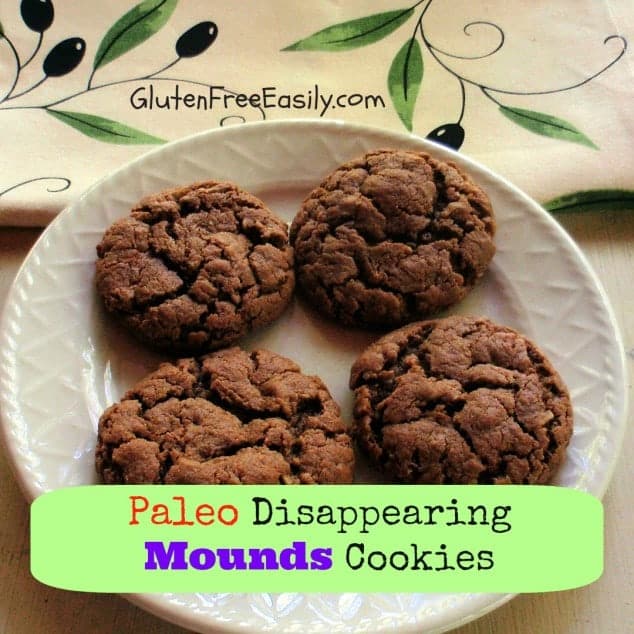 However, by the end of the baking time, the mounds almost entirely disappear as the cookies spread and flatten (as you can see in the photos).  As these cookies are chocolaty and coconut-y, Mounds cookies seem like an appropriate name.
And it probably won't surprise you that the cookies themselves also tend to disappear very quickly. Hence, the name Disappearing Mounds Cookies!
These cookies are my newest flourless recipe. If you're been around gfe a while, you know that I simply adore flourless recipes! They are such an easy way to create the most delicious gluten-free baked goods. There are no gluten-free specialty flours to deal with and they are full of flavor because you're focusing on the ingredients without flour.
This cookie is a simple variation of my Flourless Chocolate  (Cocoa) Cookies. When I came up half a cup short on the coconut sugar and was looking for more in the pantry, I saw the shredded coconut and decided to use shredded coconut for half of that measurement.
If you're a coconut lover like I am, the only way to improve some recipes is to add coconut … am I right? This spur-of-the-moment substitution resulted in some very delicious cookies. Soft chocolate goodness with chewy sweet coconut yumminess in every bite.
Finally, these cookies are paleo the way I made them, but note that not all of the substitutions shown for the recipe (in parentheses) are paleo. Any variation of these these Disappearing Mounds Cookies is a hit in our gfe household. Let me know how fast these cookies disappear at your house!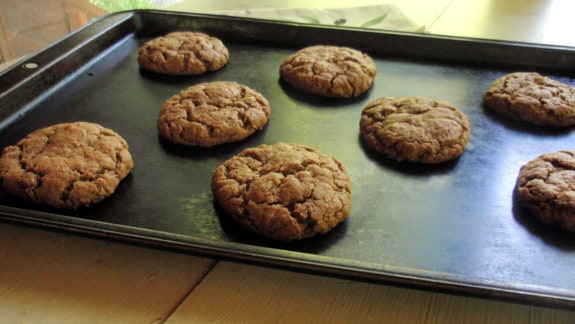 Gluten-Free Disappearing Mounds Cookies Recipe (Paleo, Flourless)
Yield:
Gluten-Free Disappearing Mounds Cookies (Paleo)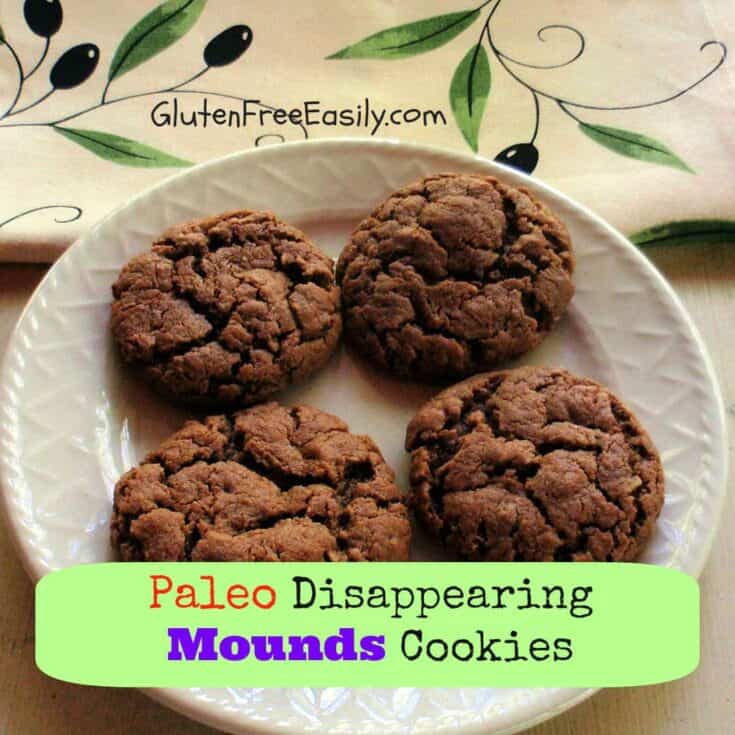 Instructions
Preheat oven to 350F.
In a large bowl, mix all ingredients together well. I use a wooden spoon to mix my cookies, breaking the yolk of the egg with the spoon right inside the mixing bowl and slightly beating it before stirring in the other ingredients.
Form dough into 1-inch balls.
Places balls on ungreased baking sheets about 1 ½ to 2 inches apart. (Do not press down as in some traditional recipes. See exception in Notes.)
Bake about 8 minutes. Cookies will look set, but not done.
Remove baking sheet from oven and allow cookies to sit for another 5 to 10 minutes. (This step is very important because cookies finish baking during this time and totally set up.) Remove cookies for cooling.
Notes
Makes about 16 to 18 cookies (2 ½ inches in diameter).
As I noted in my comments before the recipe, not all the substitutions that I've cited in parentheses in the recipe would be paleo.
I don't always measure my almond butter (sunbutter or peanut butter) if I'm at the bottom of the jar. If I "eyeball" and it looks like close to a cup, I just add it to the mixing bowl. If the ingredients don't come together and allow you to form balls, you'll know you need to add a little more.
The color/darkness of the cookies will be different if you use SunButter or peanut butter in this recipe.
If using natural peanut butter, sometimes it's best to press down a bit before baking—with a fork or the bottom of glass—so that the cookies will spread enough. However, I don't press down when I use almond butter or homemade nut butter, so you might want to experiment to see which method you prefer.
SunButter has a much stronger flavor than nut butter or peanut butter, so you might wish to add a bit more raw cacao powder or cocoa powder.
Using unsweetened shredded coconut makes for a mildly sweet cookie. Using sweetened shredded coconut makes for a much sweeter cookie.
For an ultra decadent version of this cookie, feel free to add some chocolate chips to your recipe.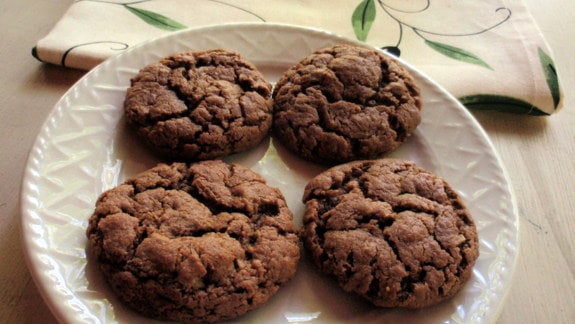 Originally published May 19, 2014; updated September 13, 2018.