For affiliate links and as an Amazon Associate I earn from qualifying purchases.
We continue Suite of Sweets for Sweethearts today with another amazing sweet recipe and cookbook review and giveaway! This Paleo No-Bake Chocolate Pie with a Raw Graham Cracker Crust from The Paleo Chocolate Lovers' Cookbook graced the cover of Paleo Magazine a few months ago.
I'm pretty certain that issue was a bestseller! I know how happy I was to see it hit my mailbox before we headed out on a camping trip last fall. This recipe is just one of 80 amazing recipes in Kelly Brozyna's (The Spunky Coconut) new cookbook.
Honestly, Kelly's cookbooks just keep getting better and better. This is her fourth cookbook and it is really exceptional in many ways.
First, it's incredibly beautiful. The cover, designed by Kelly's husband, Andrew, is dark and rich and conveys a sense of decadence and indulgence, which is exactly how one wants one's chocolate, right?
I remember when Kelly was working on this cookbook and she talked about borrowing bakeware, cutlery, dishes, and more, from friends and family to use in her photos. She even picked a certain color palette and it's just lovely.
Black and white photos are used as the chapter lead-ins. They add a sense of nostalgia as well as the perfect contrast to the colorful photos that follow.
Now don't get me wrong, you don't need to be looking at Kelly's photos and thinking about all these things, but the components work so well and contribute to a feeling of extreme happiness and comfort. Yes, while reading a cookbook.
I seriously didn't want to pull away from the pages on my first read through. Chocolate recipes can be difficult to photograph, but Kelly clearly had no problems. If you're one who likes to curl up on the sofa and savor beautiful cookbooks like I do, this cookbook is right for you!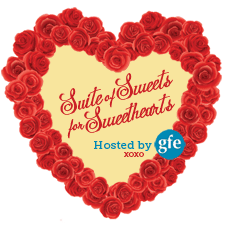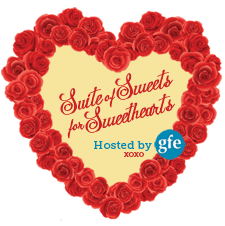 But what about the recipes you might ask. Julie of OMG. That's Paleo? and Julie Bauer's Paleo Cookbook described The Paleo Chocolate Lovers' Cookbook so well:  "Paleo cooks are becoming more and more creative by the minute and this book is an example of that. This cookbook is flat out an amazing treat cookbook."
Admittedly I've only made a few recipes to date. It's just Mr. GFE and me at home and neither of us has co-workers to share food with anymore, so I limit the recipes I make—sweet and otherwise.
That leads me to something else you need to know about this cookbook, it is not just sweet recipes, there's also a chapter on savory dishes. Small amounts of chocolate are used to deepen savory flavors and/or balance spiciness.
Chocolate is well known for its role in mole sauce (and there's a recipe for that in this book, too!), but did you know that chocolate can play a role in creating a robust barbecue sauce? Honestly, Kelly could bottle this sauce and sell it. I'd be sure to have it on hand at all times!
She calls it "crazy good," and she's right! But since I don't think Kelly has plans to do that, you should know that once you have the ingredients on hand, it's a breeze to make!
The Almond Banana Cacao Smoothie was the first recipe I made. It was so simple, yet so delicious and satisfying. Then I made the Toasted Coconut Chocolate Chunk Cookies.
If you like all those things—Coconut (Toasted Coconut!), Chocolate Chunks, and Cookies—you will LOVE these cookies. If I'd created this recipe, it would become my signature recipe because those are all favorite things of mine and these cookies are just perfect in their texture, taste, and chewiness. Plus, again, they're easy to make, but impressive. Folks will hang around the kitchen waiting for these cookies to cool enough to eat!
Kelly is another longtime friend of mine. (Yes, I'm blessed with some amazing people in my life!) We met through blogging and then "in real life" and became really good friends. We've laughed together, disagreed, and cried together—all those things that good friends and passionate people tend to do. I know I am a better person because of Kelly's friendship.
Kelly's family's journey has involved going gluten free to heal a number of health issues and then more recently going grain free and paleo to experience a new level of wellness. Blogging is an interesting thing in the level of transparency displayed; i.e., exactly how much the blogger shares of his/her own personal life. Most of us become bloggers to help others and in doing so we simply have to tell our stories.
At times, that's easy to do and even helpful as it can be cathartic, plus we can get much-needed support from our readers when we're facing challenges. However, at other times, it can be difficult to tell our stories.
They're our stories or our loved one's stories after all and they can often be complicated as well as extremely personal. They're stories that don't take the pretty, straight and narrow path so to speak. Those stories can be so very hard to share.
I really admire Kelly for being willing to tell the difficult stories and share the tough feelings. She did that in this recent post where she shares the latest with her middle daughter, Ashley. (It's one of her posts on Recovering Ashley.)
Kelly talks about the "blame monster" in this post and it's truly worth a read by everyone. To be clear, it's not a negative post; it's very positive as Kelly is talking about her beautiful daughter, but it is also a very honest and eye-opening post and many of you will be able to relate.
What does all this have to do with Kelly's cookbooks? Well, I don't believe you can separate the cookbooks from the motivation and drive behind them. Kelly's recipes and cookbooks come from her own family's history and her passion for helping other individuals and families heal while still enjoying delicious food.
We all know that healing is not a given when certain ingredients are removed and new dietary approaches are followed. But Kelly excels in this area. I mean who knew that 80 recipes that would make chocolate lovers deliriously happy could also be paleo—i.e., gluten free, grain free, dairy free, and refined sugar free?
Paleo No-Bake Chocolate Pie with the Raw Graham Cracker Crust
She's sharing the recipe with us for SSS! Swoon! And by the way, this divine pie is not just paleo, it's also vegan.
Yield:
Paleo No-Bake Chocolate Pie with Raw Graham Cracker Crust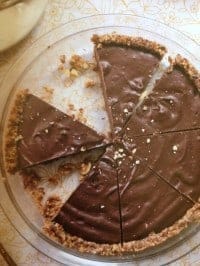 Ingredients
Crust Ingredients
1 cup (100 g) walnut halves and pieces
¼ cup (about 4) soft, pitted Medjool dates
1 teaspoon ground cinnamon
Pinch of sea salt
Filling Ingredients
1 cup coconut cream* (see notes)
½ cup (about 8) soft, pitted Medjool dates
3 ounces dark chocolate, melted
¼ cup melted coconut oil
2 teaspoons vanilla extract
Instructions
To make the crust, in a food processor with an "S" blade, purée the walnuts, dates, cinnamon, and salt for about 20 seconds or until very fine.
Transfer the crust mixture to a glass pie dish, and press it across the bottom and halfway up the sides.
Rinse the food processor.
In a small saucepan, heat the coconut cream just slightly.
Add the heated coconut cream, dates, chocolate, coconut oil, and vanilla extract to the food processor, and purée for 1 minute or until the filling is dark and completely smooth.
Pour the filling over the crust and chill to set.
When you're ready to serve the pie, top it with whipped coconut cream.
Store any uneaten pie in the refrigerator.
Notes
*For the filling, use the cream at the top of a can of separated full-fat coconut milk. To get it to separate, refrigerate a couple of cans overnight.
Originally published February 9, 2014; updated June 3, 2018.