For affiliate links and as an Amazon Associate I earn from qualifying purchases.
Elizabeth Nyland, author of the blog Guilty Kitchen and the new cookbook Cooking with Coconut Oil: Gluten-Free, Grain-Free Recipes for Good Living, talks about her Chocolate, Avocado, Coconut, and Lime Pie in her book. She says: "This pie is green. Some people don't like that. Let me tell you this: They haven't tasted this pie. Yes, the pie's main ingredient is avocado, but the lime, vanilla, and coconut oil cut the flavor quite beautifully. The chocolate layer is a bit of a bonus but makes for an interesting texture amongst the softer crust and pudding-like filling." Clearly, this is another great entry for our Suite of Sweets for Sweethearts event.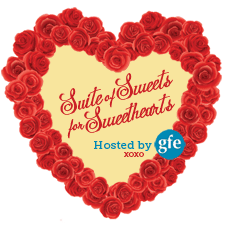 Elizabeth goes on to tell you that any leftovers might discolor slightly to a browner shade of green, but the taste will remain the same. Well, I've enjoyed avocado and lime pies before—usually in the form of raw key lime pie—and they were phenomenal.
If there were even a few folks on hand to help eat the pie, there were NO leftovers, believe me! So trust Elizabeth and don't worry about the green. Green can be good when it comes to food color and recipe color … often very, very good, and healthy, too! Plus, wouldn't this pie be great to make for St. Patrick's Day?
Obviously, Elizabeth's cookbook is one that sings the praises of coconut oil—figuratively and literally—and there are many things to love about coconut oil! Her cookbook also shares the benefits of coconut flour and that's the key ingredient in several of the baked good recipes.
That fact and the "grain-free" in this cookbook's title might lead you to the conclusion that this is a paleo cookbook and you would be right. However, if you're not paleo, please don't be put off by that "label" (and note that specific label is not on this cookbook per se) because this cookbook can be enjoyed by just about everyone.
I wouldn't necessarily recommend this cookbook for someone who is vegan because many dishes are not vegan (and couldn't be adapted), but this pie recipe IS vegan and there are a fair number of vegan recipes. All others, even vegetarians, will find many recipes to enjoy from Cooking with Coconut Oil.
Because paleo eating means that dishes will be naturally gluten free, grain free, dairy free, and refined sugar free, any of you who like leaving out those ingredients will especially appreciate this cookbook. These are healthy omissions for many and Elizabeth's recipes don't lack anything.
Elizabeth is a trained chef who started blogging as a way to expend her "creative energy" independently of her young children. Her cookbook was my first introduction to her blog, Guilty Kitchen, but she shares in her book that initially the recipes she shared there ran the gamut—from raw to vegetarian to totally indulgent. However, that was before her neighbors introduced her to paleo living. She tried the paleo lifestyle and found out that she felt "amazing" when she ate that way, which she describes as "eating the most nutritionally dense foods while avoiding those foods that promote inflammation, hormone imbalances, or chronic disease."
Elizabeth's cookbook is another one that's small and compact, which I love in a cookbook. (I shared the same comment on Everyday Classics: 68 Tasty & Essential Recipes Gluten Free, Dairy Free, Egg Free, and Soy Free from my friend, Alexa "Lexie" Croft, of Flo and Grace.) In fact, Cooking with Coconut Oil is only 7 inches square and just half an inch thick, so you can easily throw it in your purse for your visit to the grocery store. That way you'll be sure to pick up the whole food ingredients you need for the almost 90 recipes.
For those of us who already eat real, whole foods, you'll be happy to know that these are mostly basic ingredients that Elizabeth uses. In fact, her ingredients section only includes eight ingredients that she recommends and they're ones like Raw Apple Cider Vinegar, Coconut Oil, Aged Balsamic Vinegar, and Pastured Eggs. So they're not unusual at all. Likewise, the recipe categories are also basic ones—Breakfast, Salads and Dressings, Sides, Mains, Snacks and Starters, and Desserts and Baked Goods.
The recipes I tried and/or that are featured here were in that last category. There's that very photogenic, very appealing and delicious Chocolate, Avocado, Coconut, and Lime Pie (get the recipe at the bottom of this post), but I also gave Elizabeth's Sandwich Bread a try. The recipe calls for almond butter, which I didn't have on hand when it was time to make her bread. The truth is that I adore almond butter and as a result, it disappears quickly in my house. Sigh. I could have easily made my own almond butter using my food processor, but Mr. GFE had already turned in for the night so I opted to go a quieter route and make the bread with non-paleo peanut butter.
I figured that peanut butter would be close enough to almond butter in its characteristics to give me a good feel for the recipe. And it was, it did, and I was pleased. Shown below is a photo of Elizabeth's Sandwich Bread (again, only slightly adapted out of necessity) beside my own Paleo Bread. She directs you to line the loaf pan with parchment paper which holds the heat in a way that the top of the loaf cracks, but it does seem that step makes the bread rise a bit more and the look is very appealing, which is nice.
When made with peanut butter, the bread had a yummy peanut butter vibe (nice for a quick bread!), but most importantly it made a good, moist bread. When made with milder almond butter, it would definitely make terrific sandwich bread.
This bread stayed moist for days, which does mean that it needs to be used in 3 or 4 days (as Elizabeth directs) or kept in the refrigerator or freezer. This bread also slices beautifully and really has a great texture and flavor. I ate some for breakfast each day and used it to make a sandwich as well and, overall, I enjoyed it greatly. I will definitely be making it with almond butter or another nut butter next time!
Now for the Giveaway of Elizabeth Nyland's Cooking with Coconut Oil …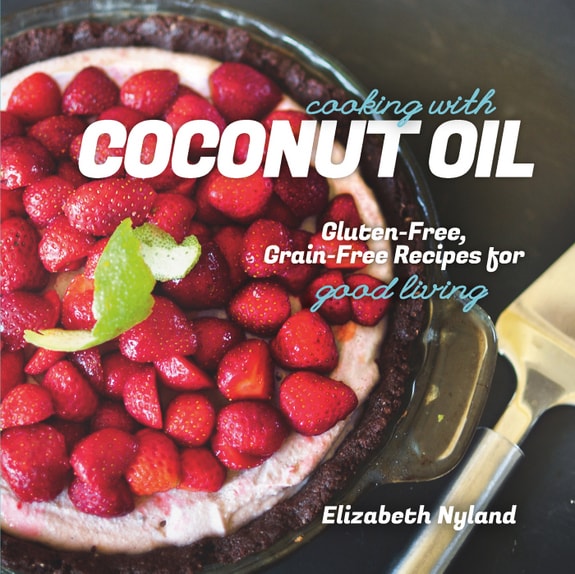 UPDATE: This giveaway is now closed. The winners have been notified.
Chocolate, Avocado, Coconut, and Lime Pie Recipe
Yield: 8 to 10 slices
Chocolate, Avocado, Coconut, and Lime Pie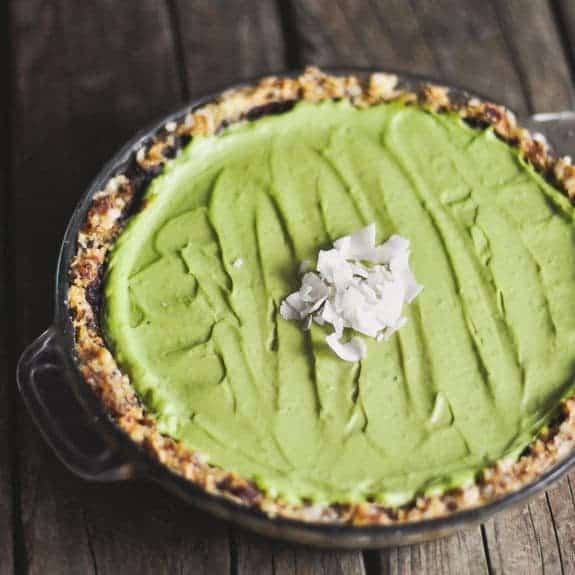 Elizabeth says: "This pie is green. Some people don't like that. Let me tell you this: They haven't tasted this pie. Yes, the pie's main ingredient is avocado, but the lime, vanilla, and coconut oil cut the flavor quite beautifully. The chocolate layer is a bit of a bonus but makes for an interesting texture amongst the softer crust and pudding-like filling." 
Ingredients
Crust
1 1/2 cups unsweetened coconut chips
1/2 cup blanched almond meal
Juice and zest of 1 lime
1/4 tsp sea salt
1 cup Medjool dates, pitted
2 tsp pure vanilla extract
1/4 cup coconut oil, melted
Chocolate Layer
3 oz unsweetened chocolate
2 tbsp coconut oil
1 tbsp maple syrup (optional)
Filling
3 large, ripe avocados (about 2 cups)
Juice and zest of 2 limes
1/3 cup maple syrup or honey
1/4 cup coconut oil, melted
1/4 tsp sea salt
1 tsp pure vanilla extract
Instructions
Prepare the crust: In a food processor or heavy duty blender, blend all crust ingredients until well blended but a little chunky. Pat into a greased 9-inch glass pie plate. Chill in freezer while moving to the next step.
Make the chocolate layer: In a double-boiler or a metal bowl resting over a pot of simmering water, melt the chocolate and coconut oil together. Add maple syrup if you think you might not like the deep, rich flavor of unsweetened chocolate.
Pour the chocolate over the cooled crust and swirl it around to cover all the surface area. Put it back in the freezer to cool completely.
Make the filling: In a blender, blend all filling ingredients until smooth. Pour over solidified chocolate layer and chill for 4 to 6 hours.
Notes
Yield: 1 (9-inch) pie
Elizabeth says: "Make sure to cover tightly and consume within two to three days."
Serve with whipped coconut cream if desired. (Shirley here: Here's my recipe for Honey Whipped Coconut Cream.)
Full disclosure: This giveaway is jointly sponsored by Elizabeth Nyland, The Countryman Press, and gfe. However, all opinions expressed herein are my own.
Originally published February 21, 2014; updated March 13, 2021.