For affiliate links and as an Amazon Associate I earn from qualifying purchases.
Oh, what a treat I have for you today! Danielle Walker, the author of the blog Against All Grain and the New York Times bestseller cookbook, Against All Grain: Delectable Paleo Recipes to Eat Well & Feel Great is sharing her Paleo Chocolate Chip Cookies that taste like the real deal with us all!
Danielle calls them Real Deal Chocolate Chip Cookies because they taste like real chocolate chip cookies, not gluten-free chocolate chip cookies, not grain-free chocolate chip cookies, but real chocolate chip cookies! Woohoo!
And, of course, if you've been following along with Suite of Sweets for Sweethearts, you know that means I'll also be doing a giveaway of her cookbook! Double woohoo!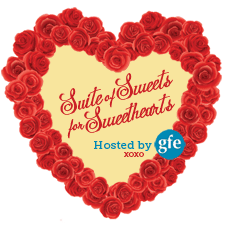 This post will be the last one for our SSS event. (Well, it better be, huh, as here we are closing out February!) Now if you recall, I had shared two photos showing a slew of amazing cookbooks, resource books, and DVDs at the beginning of this event. And if you've been paying attention to the posts here and on Facebook, you'll know that I have not given all of those away yet.
Frankly, I didn't get all the info that I needed to share them and I also ran out of time. But don't despair … I'll still be giving them away. I'll be sharing some info on how those giveaways will take place in my next post when I talk more about my upcoming event, March Muffin Madness (MMM). MMM will kick off here on Saturday. It's going to be really terrific!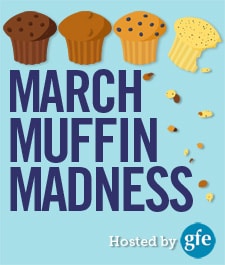 But let's get back to SSS, Danielle, and Danielle's Against All Grain: Delectable Paleo Recipes to Eat Well & Feel Great and those Paleo Real Deal Chocolate Chip Cookies.
I had been following Danielle's personal story and her blog long before I got to meet her in person. She was diagnosed with ulcerative colitis right out of college and after being hospitalized several times and having a very hard go of it following the traditional treatment protocol, she set out to heal herself with food. And she has succeeded.
Her doctor discounted dietary changes and refused to discuss them as a possible solution. So Danielle did her own research and reached out to others online, eventually figuring out which foods kept her symptom-free.
She's now healthy and thriving not only as an individual but also as a wife and a mom of a beautiful little boy. Thankfully, Danielle hasn't been hospitalized in a very long time. She's not only learned what foods work for her and help her heal but she's created many phenomenal recipes that you all will appreciate. Danielle's such a lovely person and genuinely committed to helping others.
You can see Danielle "in person" and hear her tell her own story in the video segments on The Doctors here and here. Please take a moment to watch these videos. Danielle's transformation is nothing less than amazing.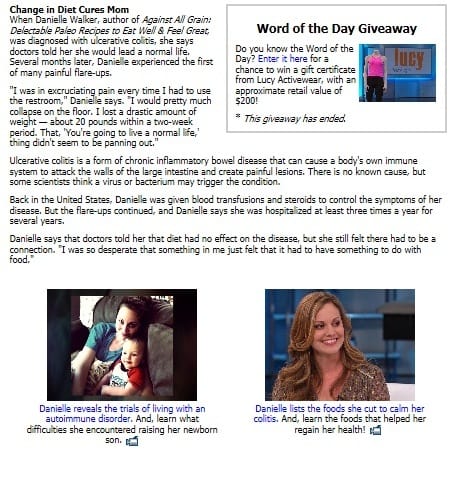 I was actually lucky enough to meet Danielle in person last year at one of her book signings, which was held at the home of Stacy Toth and Matt McCarry (Real Everything, formerly Paleo Parents) for their Northern Virginia Paleo Parents & Friends Meet-up. Several of my gluten-free support group members/friends and I made the trek north one evening and it was well worth it!
When we arrived, Danielle was actually in Matt and Stacy's kitchen making her "Peanut Butter" Cookies. They're actually made using SunButter so they're nut-free. We couldn't wait for everyone to arrive and all the food to be ready so we could sample them and, of course, they were just wonderful!
Danielle's cookbook actually features over 150 gluten-free, grain-free, and dairy-free recipes. Every recipe is showcased in a gorgeous photograph taken by Danielle herself. There are currently 600 reviews on Amazon and this book averages 4.8 stars. The rating is well earned!
I made Danielle's Rosemary Breadsticks from her book for the signing/meet-up potluck. They, too, were delicious … and so easy to make!
There are really so many recipes in this cookbook that are just wonderful: World Famous Sandwich Bread, Pumpkin Donuts with Maple Bacon Glaze (or Chocolate Frosting), N'Oatmeal Raisin Cookies, Seven-Layer Bars (voted #1 best treat recipe for last year by Paleo Magazine!), Caramel Sauce, Thai Pad See Ew, and Marinara Sauce, just to name a few.
After enjoying so many grain-free, paleo recipes at the potluck, on the final leg of the trip home, one of my friends kept raving about some fantastic grain-free chocolate chip cookies that she'd been making. Unfortunately, she'd lost the recipe.
She was seeking my help because she said that the recipe was grain free and that she'd found it via my previous desserts blog. And as it turned out, the recipe was Danielle's Paleo Real Deal Chocolate Chip Cookies recipe! Scroll down to the bottom of this post to get the recipe (including Freeze-and-Bake Instructions)—courtesy of Danielle and Victory Belt Publishing.
By the way, Danielle is currently working on her next cookbook, Meals Made Simple, so we can all look forward to that one as well! (Update: See all of Danielle's cookbooks on Amazon.)
The Giveaway of Danielle's Against All Grain Cookbook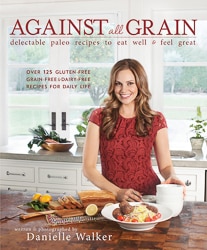 UPDATE: This giveaway is now closed.
More Gluten-Free Chocolate Chip Cookie Recipes on gfe
~ Almond Coffee Chocolate Chip Cookies
~ Banana Chocolate Chip Cookies
~ Banana Flour Chocolate Chip Cookies
~ Brown Sugar Chocolate Chip Cookies
~ Nutella Chocolate Chip Cookies
~ Paleo Chocolate Chip Cookies with Hemp Seeds
Paleo Chocolate Chip Cookies That Taste Like the Real Deal Recipe
Yield: 12 cookies
Paleo Chocolate Chip Cookies (aka Real Deal Chocolate Chip Cookies)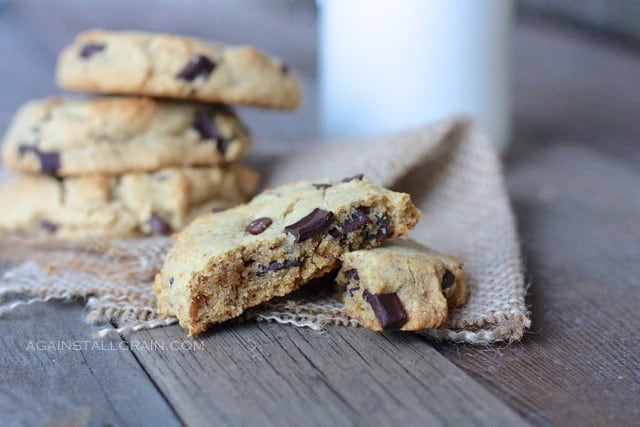 Danielle calls these Paleo Chocolate Chip Cookies the Real Deal Chocolate Chip Cookies for obvious reasons. That is, they don't taste like gluten-free chocolate chip cookies, they don't taste like grain-free chocolate chip cookies, they simply taste like real chocolate chip cookies!
Ingredients
¼ cup palm shortening or grassfed butter
¼ cup coconut palm sugar
2 tablespoons honey
1 large egg, room temperature
2 teaspoons vanilla
1½ cups blanched almond flour
2 tablespoons coconut flour
½ teaspoon baking soda
½ teaspoon sea salt
¼ cup dark chocolate pieces (just chop up a dark chocolate bar)
¼ cup Enjoy Life chocolate chips
Instructions
Preheat oven to 350 degrees F.
In a food processor, cream the palm shortening, coconut sugar, honey, egg, and vanilla for about 15 seconds until smooth and fluffy.
Add the almond flour, coconut flour, baking soda and sea salt and mix again until combined, about 30 seconds. Scrape down the sides of the bowl if needed in order to incorporate all of the flour. Pulse once or twice more.
Stir in the chocolate chips by hand.
Place golf-ball sized balls of dough on a cookie sheet lined with parchment or a SilPat. Using another sheet of parchment on top of the dough, flatten them slightly with the palm or your hand or a spatula. The cookies don't spread much so create the size and thickness you want prior to baking them.
Bake for 9-12 minutes, until slightly golden around the edges.
Notes
These keep best in an air-tight container in the fridge.
If you don't have a food processor, put a couple of cups of your almond flour in a blender or coffee grinder and give it a few pulses. Careful not to go too far or you will have almond butter. Then make the dough in a stand mixer or bowl with electric beaters.
Measure the 1½ cups almond flour after you've ground it (if you make your own).
If you plan to double this recipe, reduce the coconut flour by 1 teaspoon (so you would use 3 tbs + 2 tsp).I do not like these with coconut oil. Palm shortening makes them chewy. If you're going to sub it out, my first suggestion would be grass-fed butter.
I like the flavor complexity with using 2 different types of chocolate, but you're welcome to use whatever you'd like.
The palm sugar gives the cookies a "brown-sugar" like taste that the original chocolate chip cookie has. You can try using all honey, but because it is liquid, the texture and flavor will change slightly.
Freeze-and-Bake Instructions
1. Make the dough as described above
2. Gather it into a large ball and roll it into a log
3. Tightly wrap the log in parchment paper, then twist the ends to secure
4. Freeze for up to 6 months
5. Preheat oven to 325Fdegrees then slice off desired amount of cookies
6. Place dough on a cookie sheet and bake for 15 minutes*cookies will hold their small round shape when baked this way
Full disclosure: This giveaway is jointly sponsored by Danielle Walker, Victory Belt Publishing, and gfe, but the opinions expressed herein are my own.
Originally published February 27, 2014; updated Februady 12, 2022.