For affiliate links and as an Amazon Associate I earn from qualifying purchases.
I'm sharing my Gluten-Free Banana Flour Chocolate Chip Cookies recipe with you today. If that title sounds confusing and you think that I may have just thrown "Flour" in there accidentally, allow me to clarify.
These gluten-free chocolate chip cookies are made using banana flour. Only banana flour. No other flours or starches are needed.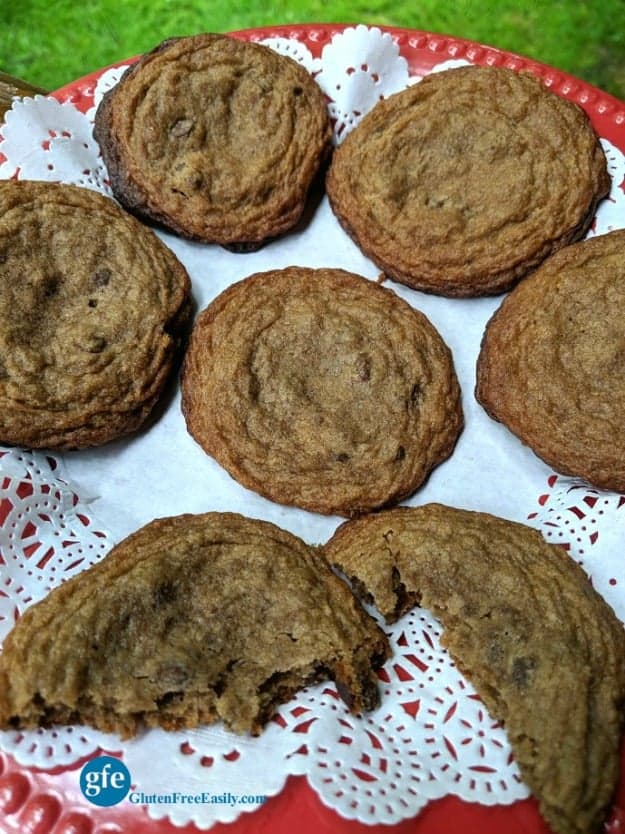 Are you familiar with banana flour? A few years ago, NuNaturals sent me a complimentary gift package of products to try out. A package of their banana flour was included.
I was intrigued by the idea of this grain-free flour, which is simply dried green bananas that have been finely ground. While it seems relatively new here in the U.S., apparently it's been used for centuries in some parts of the world (e.g., Caribbean, South America, Africa, parts of Asia). Places where bananas are in abundance.
When I received the banana flour, I was sure I would use it to make some gluten-free treats but then the package got pushed to the back of my pantry and I forgot about it. I'd see it occasionally when I was moving items around in my pantry and think "Hmm, I need to use that" but then I'd forget about it again.
The green banana flour sat in my pantry for a long time. I didn't think about it again until NuNaturals offered some as part of its prize package for March Muffin Madness.
Then I got busy with MMM and forgot about it again. When I remembered the banana flour again recently, I realized that its "best by date" had, in fact, long passed. LONG passed. (No, I am not going to tell you how out of date it was.)
I was not deterred though. The flour seemed just fine and thankfully, it was. In fact, it was better than fine. I loved it! Let me tell you why.
More About Naturally Gluten-Free Banana Flour
I'll start with the top two reasons that I love banana flour. First, it's not only gluten free, it's also grain free. There's no doubt that I do better with grain-free flour options.
Second, after eating treats made with banana flour, I didn't get that usual sugar "buzz" or, later, sugar crash. That's pretty remarkable, especially since there was no lack of other sugars in the recipe I used the banana flour in.
Banana flour is a light brown color. In that regard, it reminds me of cocoa powder.
Some describe banana flour as tasteless. Others describe it as slightly sweet with an earthy taste. I didn't pick up on the latter but I did think banana flour added a tiny bit of sweetness when I used it in baking.
It's also super fine. So be very careful when opening the package, measuring it out, and stirring it in with other ingredients. You really don't want to waste any of it! (It can be pricey. More on this factor in a moment.)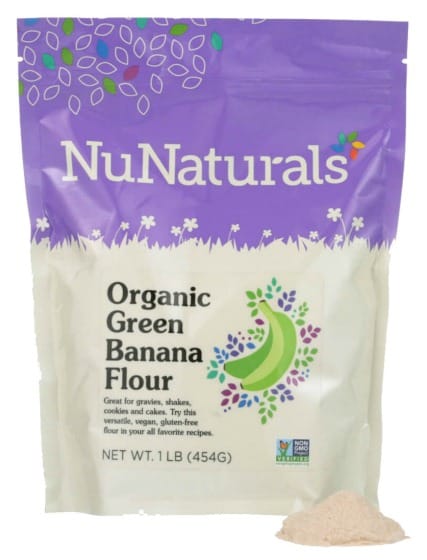 Because banana flour is grain free, it's obviously considered paleo friendly. It's also considered to be a resistant starch. From what I understand, it's called a resistance starch because it "resists" the process of being broken down into sugars, which is what most starches do. It's thought that banana flour helps lower blood sugar levels. Banana flour is not only paleo friendly but also keto friendly can also have a place in the diet of those who eat keto style (read more here). I've also seen it mentioned as acceptable for the paleo autoimmune protocol (AIP).
As you would expect, banana flour is a great source of potassium. But it's also a good source of other vitamins and minerals.
Some people like using banana flour raw—for adding to smoothies or other raw treats. I've read that it's the resistant starch aspect that they really want to include in their smoothies. (I'm not up on the benefits of resistant starch but if that fact interests you, do check it out further.)
When baking with banana flour, you can leave out the xanthan gum unless your recipe also includes a grain-based flour. This is a big plus for folks who can't tolerate xanthan gum. While I tolerate xanthan gum with no issues, I really like being able to make a recipe without adding it.
I was in the mood for my gluten-free Brown Sugar Chocolate Chip Cookies when I rediscovered my banana flour so I decided to make those using the banana flour. Per the instructions on the package, I simply substituted ¾ cup of banana flour for each cup of grain-based flour.
That substitution worked beautifully and I absolutely loved the resulting gluten-free Banana Flour Chocolate Chip Cookies. They were just a tad softer than the grain-based version of my recipe and had just the right amount of chewiness.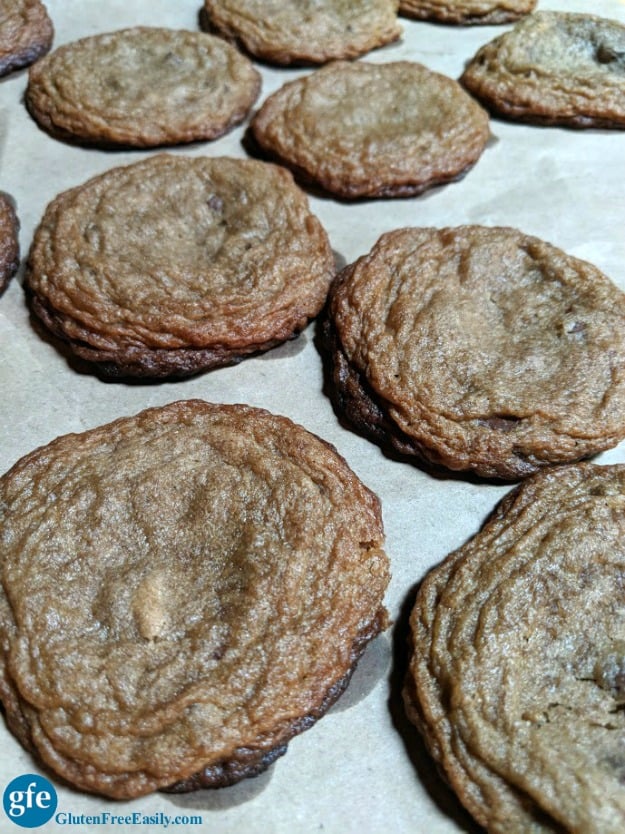 I thought the texture offered by the banana flour was terrific and then I read later that some folks like adding small amounts of banana flour to recipes that use almond flour and/or coconut flour to improve the overall texture. And I've read raves over pancakes made using banana flour only. So, I'm adding those to my "must-make-with-banana-flour" list!
But back to these totally delicious gluten-free Banana Flour Chocolate Chip Cookies … Both Mr. GFE and my mom also loved these cookies. I'll be making another batch tomorrow.
That will be my third batch in 2 weeks. That fact alone should show you just how good these cookies are! The inclusion of banana flour is a large part of why these cookies are so wonderful.
With my gfe approach, the focus is on whole foods and recipes made from them first and foremost, then some mainstream processed foods that are naturally gluten free, and last, a very few gluten-free specialty products. The gfe approach is healthier, simpler, and a less expensive way to live gluten free. In fact, if you're living gfe, your lifestyle related to food doesn't have to be any more expensive than anyone else's food lifestyle.
Initially, I thought that banana flour was more expensive than any other flour that I've used to date. However, I've found that the price between brands can vary greatly—from fairly reasonable for a high-quality gluten-free flour (and comparable to other gluten-free or grain-free flours) to a price point that is out of reach for most consumers. So please do some shopping before you buy and read the reviews on individual brands. Also, take into consideration that you use less banana flour than you would other gluten-free flours.
The bottom line is that I like banana flour so much, particularly in these gluten-free Banana Flour Chocolate Chip Cookies, that I will definitely be keeping it in my pantry and using it frequently in the future.
Gluten-Free Banana Flour Chocolate Chip Cookies Recipe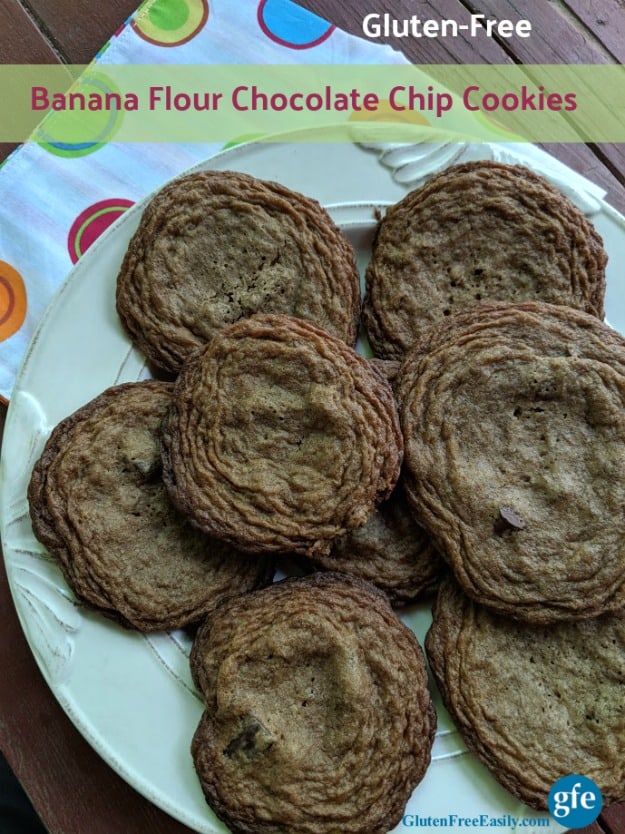 Yield: 40 cookies
Gluten-Free Banana Flour Chocolate Chip Cookies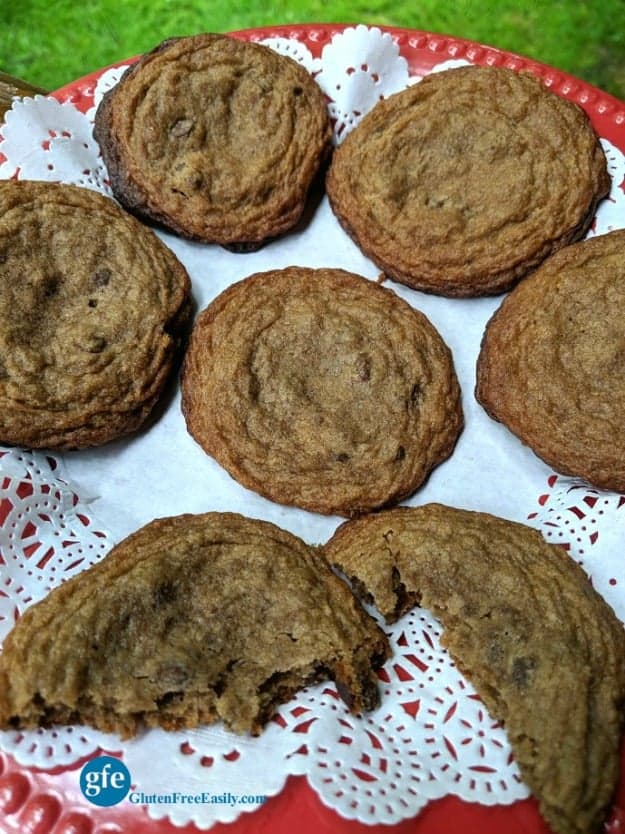 You're going to love this version of my Brown Sugar Chocolate Chip Cookies that's made with healthier grain-free banana flour!

Prep Time 5 minutes

Cook Time 9 minutes

Inactive Time 1 minute

Total Time 15 minutes
Ingredients
1 1/2 cups banana flour
1 tsp baking soda
¾ tsp salt
1 cup unsalted butter, softened (or Earth Balance Soy-Free Buttery Spread)
1 ½ cups firmly packed light brown sugar
½ cup granulated sugar
2 eggs (at room temperature, preferably)
1 tsp vanilla extract
¾ - 1 cup semi-sweet or dark chocolate chips (I use whatever I have on hand---these are my favorite lately)
Instructions
Preheat oven to 375F.
Lightly grease two baking sheets.
In a large mixing bowl, beat butter until smooth. Stir in brown sugar and granulated sugar until well combined and smooth.
Beat in eggs and vanilla until mixture is fluffy.
Stir in banana flour, baking soda, and salt until well combined.
Stir in chocolate chips.
Drop about 2 tbsp of batter for each cookie onto baking sheet about two inches apart.
Bake cookies for 2 minutes. Rotate baking sheets 180 degrees and reduce oven temperature to 350F.
Bake cookies for about 6 to 7 minutes more until they're set and evenly brown across the top. Let set further on baking sheet for maybe a minute or so after removing from oven to firm up before removing to cooling rack.
Notes
Makes about 40 cookies (3 to 3 ½ inches in diameter).

You can easily halve the recipe to make only about 20 cookies (3 to 3 1/2 inches in diameter) if you prefer.

Originally published May 29, 2018; updated November 28, 2021.