For affiliate links and as an Amazon Associate I earn from qualifying purchases.
There's a long list of things that make me happy (and knowing that makes me happy, too). Let's start with today's Chocolate Hazelnut Chocolate Chip Cookies.  A gluten-free Nutella Chocolate Chip Cookies recipe! It's another gfe flourless recipe and it's totally delicious!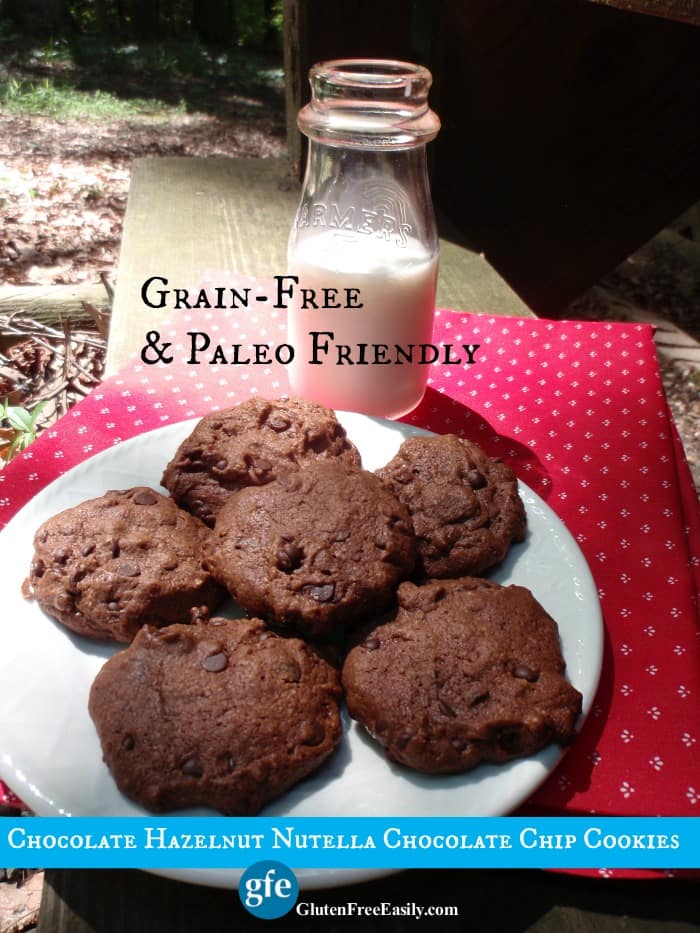 Outings with Mr. GFE.
Travel.
Art. (We thoroughly enjoyed the art at our local annual street art festival, Via Colori, this past weekend. Below are some of my favorites.)
Fine meals. (They don't have to be expensive meals or complicated meals. They just have to be meals that taste really good. Good company while eating such meals helps, too!)
Joyful people. (This young lady sang "Hey Soul Sister" while she let this 7-year old boy strum her ukulele. What a special moment to witness!)
New porch. Old dog. (Sonny insisted on being the model for the pics of our new porch. For scale, you know.)
Unique items that I've saved–ones that bring back very special memories. (The milk bottle in this photo was not purchased as a prop. It came with the farmhouse we rented at the beginning of our marriage. Farmers Creamery was a local dairy that served the better part of Virginia from the early 1900s through the 1960s I believe.)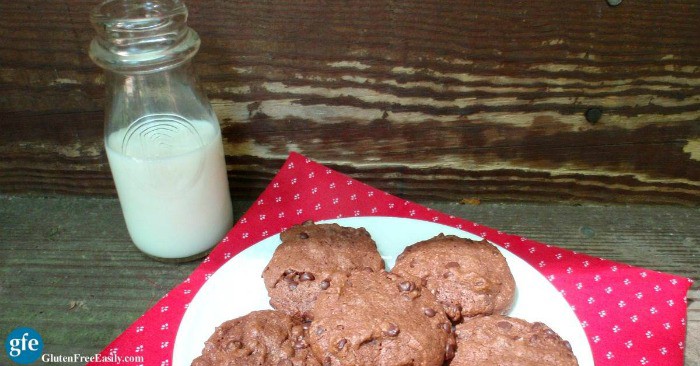 Flourless gfe recipes—both sweet and savory (like my Low-Carb Pizza (Gluten-Free, of course, and Unbelievably Good), but especially desserts.
What? You didn't expect a repeat of that one? You know the saying, "one more time with emphasis," right? Longtime gfe readers know that I love flourless recipes, like today's Flourless Chocolate Hazelnut Nutella Chocolate Chip Cookies.
I'm such a happy girl when I make flourless recipes. Flourless recipes rock in my opinion.
First, they're almost always naturally gluten free. Second, you get so much more of the flavor of the main ingredients when flour is not there to get in the way.
Last, the resulting texture is wonderful. Properly soft and firm at the same time, but never grainy because, again, flour doesn't get in the way.
So when I bought a jar of Justin's Chocolate Hazelnut Butter recently—which admittedly was a rare indulgence—it was only a matter of time before I knew I would use it to create a new flourless cookie recipe. Sure, I spread some of it on my toast or crackers here and there (and perhaps ate a dollop or two—wouldn't you?), but I didn't fully appreciate it until I used it to make these Flourless Gluten-Free Chocolate Hazelnut Nutella Chocolate Chip Cookies.
Flourless Gluten-Free Nutella Chocolate Chip Cookies
Well, flourless Chocolate Hazelnut Chocolate Chip Cookies to be exact. No actual Nutella was involved in the making of this recipe, but there's chocolate and hazelnut together so you know the chocolate hazelnut vibe is there!
Admittedly, I'm not sure how the actual Nutella would work in this recipe. This might shock you, but I have used Nutella as an ingredient in cookies and I've been fairly underwhelmed.
Nutella *might* work in this recipe. I share my thoughts on what changes I think you'd have to make if using Nutella in the recipe notes.
I prefer making this recipe using Justin's Chocolate Hazelnut Butter or my Homemade Double Nut-ella (you really won't believe how easy it is to make your own version of Nutella, especially the way I make it).
For those who always want to know when a recipe is endorsed by Mr. GFE, this recipe most definitely is! He had a stack on the coaster beside him for munching during his evening tv viewing. I was more dignified with my own short stack on a napkin beside me. Hehe.
Gluten-Free Nutella Chocolate Chip Cookies Recipe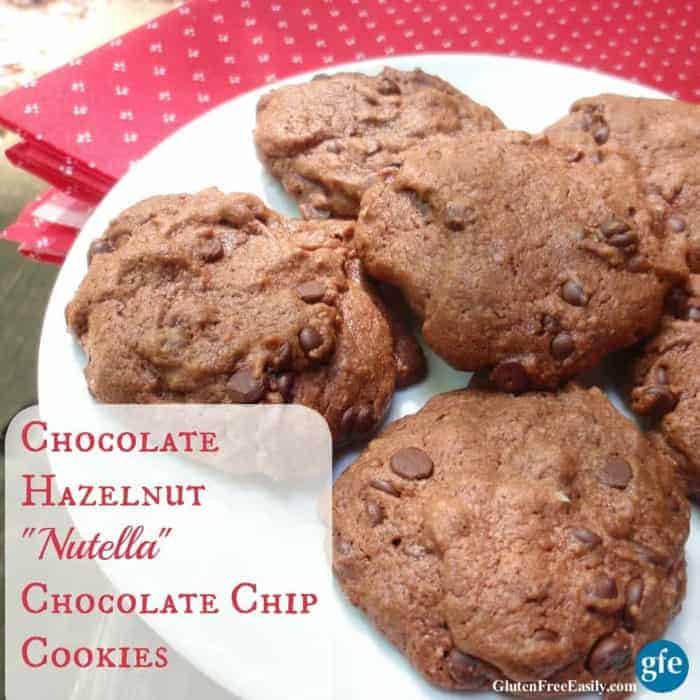 Yield:
Gluten-Free Nutella Chocolate Chip Cookies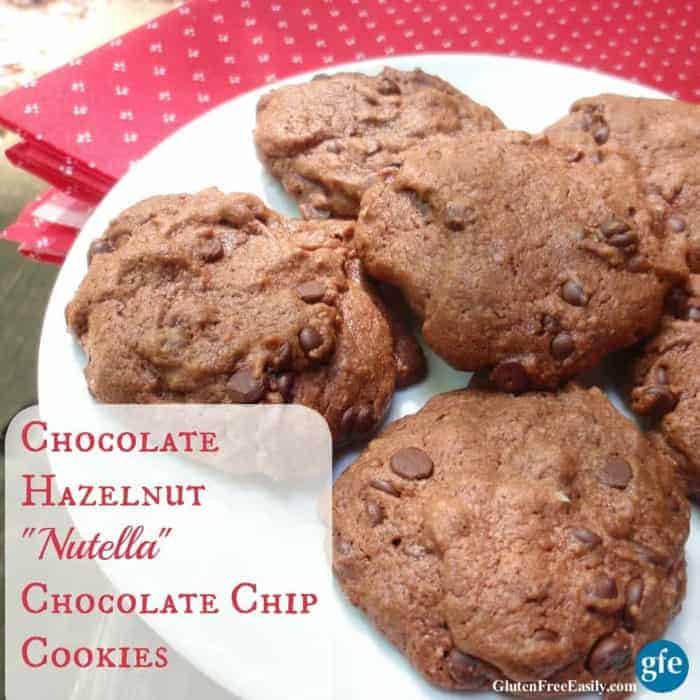 Another flourless cookie that will make everyone happy. Nobody will guess it's gluten free and everyone will love the chocolate hazelnut butter "Nutella" and chocolate chip combo!
Instructions
Preheat oven to 350F degrees.
Mix all ingredients together in a large bowl. Line baking sheets with parchment paper.
Drop by heaping teaspoonfuls on to baking sheets about an inch or so apart. (If you want larger cookies, use a tablespoon.)
Bake about 8 to 10 minutes. Do not overcook. Cookies should appear set, but not overly done as they will continue to bake a bit longer while cooling on the baking sheet.
Leave on baking sheet for 10 minutes before removing with a spatula to cool.
Makes about 18 cookies 2 ½ inches in diameter.
Notes
I recommend Justin's Chocolate Hazelnut Butter or my Homemade Nutella. If you decide to use Nutella, I believe you'll have to add slightly more almond flour to get the right consistency and have a firm enough cookie. You also might be able to use slightly less coconut sugar as Nutella is very sweet (the main ingredient is sugar).
Originally published June 2, 2015; updated September 22, 2018.