For affiliate links and as an Amazon Associate I earn from qualifying purchases.
I'd like to share several homemade gluten-free chocolate eclair recipes with you today for National Chocolate Éclair Day! Behold gluten-free Chocolate Eclairs in every form, and all are fantastic choices!
~ Chocolate Eclairs from Gluten-Free Alchemist ~ gluten free, vegetarian, with dairy-free options
Kate says: "In our house… Christmas NEEDS eclairs! These are my perfectly delicious Gluten-Free Eclairs with gluten-free Choux pastry.
They've even had the approval of professional pastry chefs!
Of course… you don't HAVE to make eclairs… the choux pastry is fabulous for profiteroles and cream puffs too."
Reader reviews: "I would like to say a big thank you for sharing your recipe for gluten-free chocolate eclairs. I made them yesterday following your recipe and your recipe for the gluten-free flour mix. I have to say both were amazing and so easy to follow your instructions. My wife tried the eclairs last night who is not gluten intolerant and she could not tell the difference between normal and gluten free. They were amazing thank you so much." and "I have to say I went into this recipe without much expectations. And they were perfect first time! No one could tell they were gluten free, they tasted like regular eclairs. The directions were flawlessly clear." and "I made cream puffs with this recipe, they were delicious!!!"
~ Classic Gluten-Free Chocolate Éclairs and Profiteroles (aka Cream Puffs) from Jenn Cuisine via The Wayback Machine ~ gluten free, vegetarian
You'll be re-living all the times you enjoyed decadent chocolate eclairs from the corner bakery when you bite into one of these pastries.
Reader reviews: "I just made these… You are a legend! I was literally gobsmacked when I opened the oven & saw what looked like REAL profiteroles… I cannot believe GF turned out so well, thank you so much, you just made me & my family very happy!!"
~ Cream Puffs from Faithfully Gluten Free ~ gluten free, sugar free, vegetarian
What is an éclair really but an elongated cream puff? So Jeanine's Cream Puffs—pretty in pink and chocolate—work for our Chocolate Éclair roundup as well.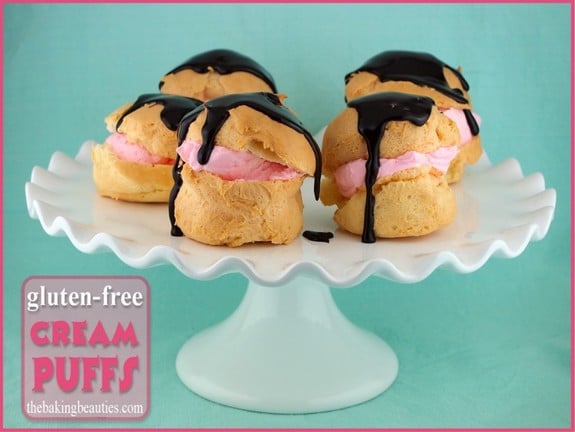 ~ Elegant and Easy Gluten-Free Party Puffs from gfe (that's me!) ~ gluten free, sugar free, vegetarian, with dairy-free option
Fill with whipped cream, pastry cream, or vanilla pudding (made with 1 1/2 cups milk instead of 2 cups of milk; French vanilla pudding filling is especially nice) and top with chocolate icing. It's that easy!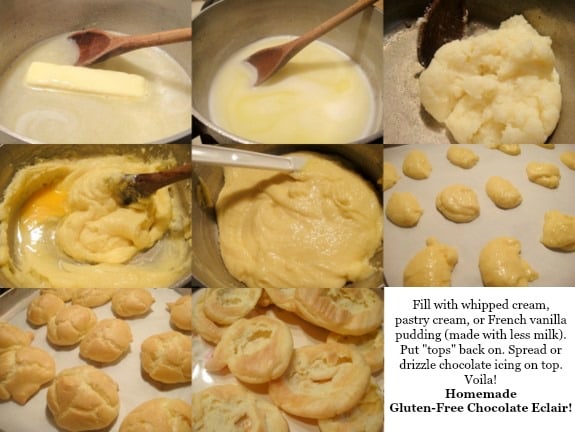 Reader Michelle made a dairy-free eclair version of my puffs. She even accidentally reduced the amount of butter (the dairy-free equivalent) and they still turned out lovely and delicious!
~ Gluten-Free Eclairs or Cream Puffs from Flippin' Delicious ~ gluten free, sugar free, vegetarian, with dairy-free options
Brianna gives you pro tips on successfully making both. Follow her advice!
Reader reviews: "I tried making these and OMG this is the best thing I've ever baked! They are amazing! Thank you so much. I went gluten free 5 years ago and I've craved eclairs and this is the first time I've satisfied that craving!" and "I've made these three times in the past month! I am not GF and am obsessed with GOOD eclairs, but haven't been able to find any good ones since I moved."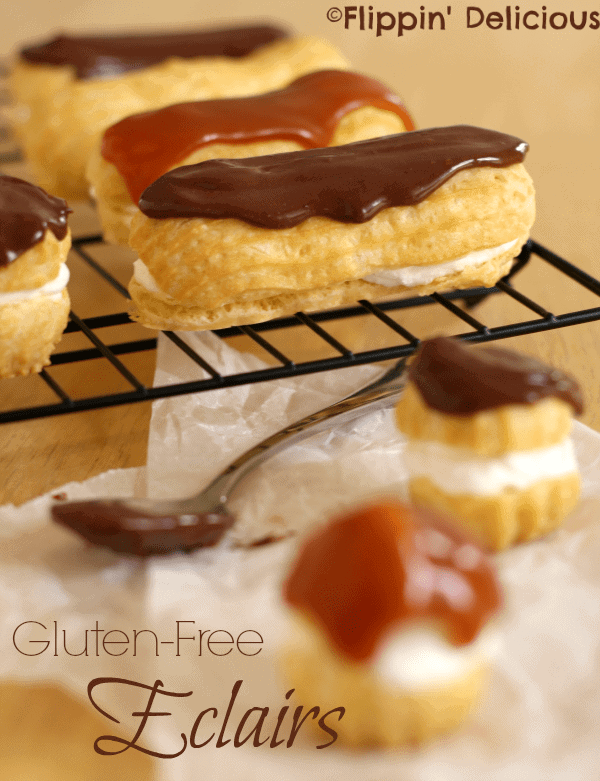 ~ Gluten-Free Vegan Mini Eclairs from Unconventional Baker ~ gluten free, dairy free, egg free, refined sugar free, vegan
Audrey shares "Light, delicate mini gluten-free vegan eclairs topped with chocolate and filled with creamy vegan custard. Perfect recipe for special occasions."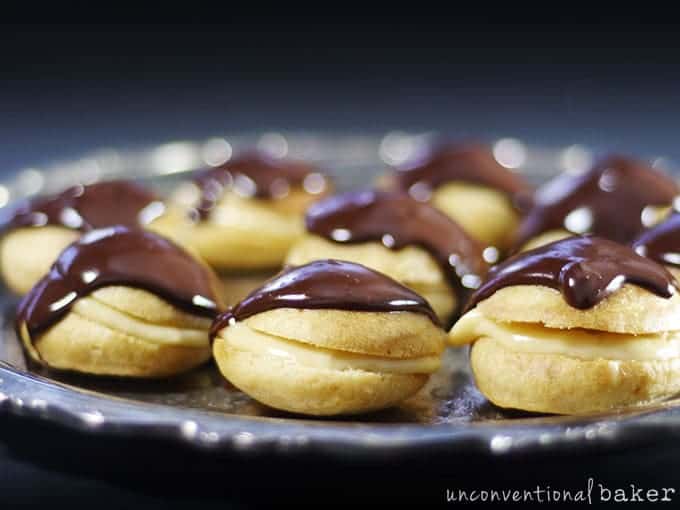 On the other end of the spectrum, so to speak, we have Paleo Chocolate Eclairs from The Paleo Mom. Gluten free, grain free, dairy free, refined sugar free, paleo, and primal.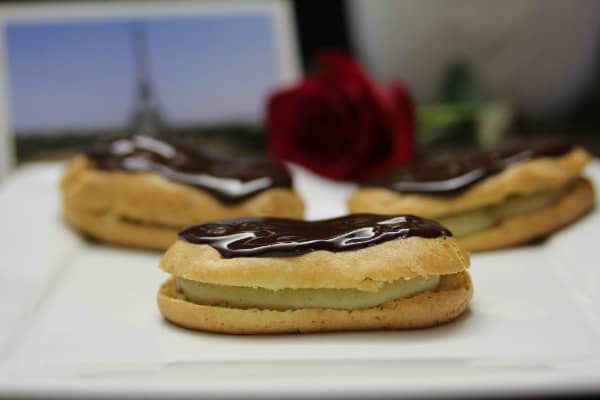 More Gluten-Free Chocolate Eclair Recipes ~ Gluten-Free Chocolate Eclair Cakes and Cream Puff/Eclair Pie
And finally, here are some more recipes in the eclair "family." Eclair cakes and Cream Puff Pie, which is also known as Eclair Pie.
~ Chocolate Éclair Cake from No Gluten, No Problem ~ gluten free, vegetarian
Although this cake form of Chocolate Eclairs still has multiple steps because of the four layers, all are easy to make and the results are clearly elegant and divine!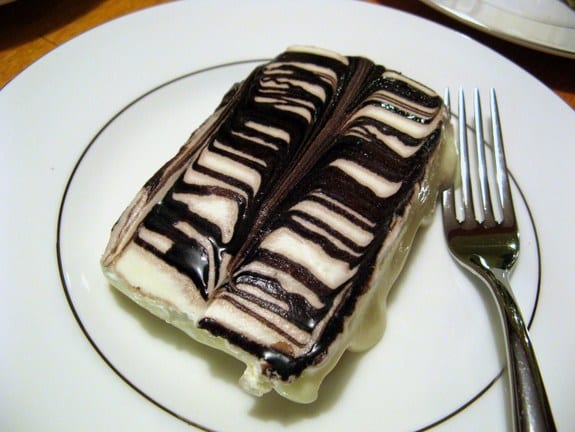 ~ Cream Puff Pie, aka Eclair Pie, from Faithfully Gluten Free ~ gluten free, vegetarian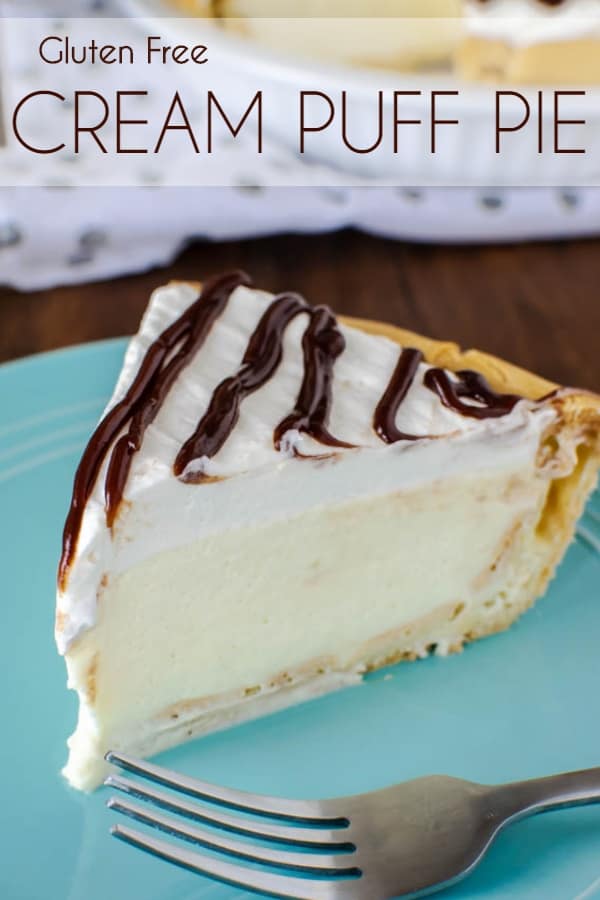 Jeanine says: "This Gluten Free Cream Puff Pie is a pie version of my popular cream puffs. If you love cream puffs, but find them to be too much work, this pie version is for you. This pie, also known as Eclair Pie, has a beautiful crust made from the same pâte à choux that I use to make my gluten-free cream puffs.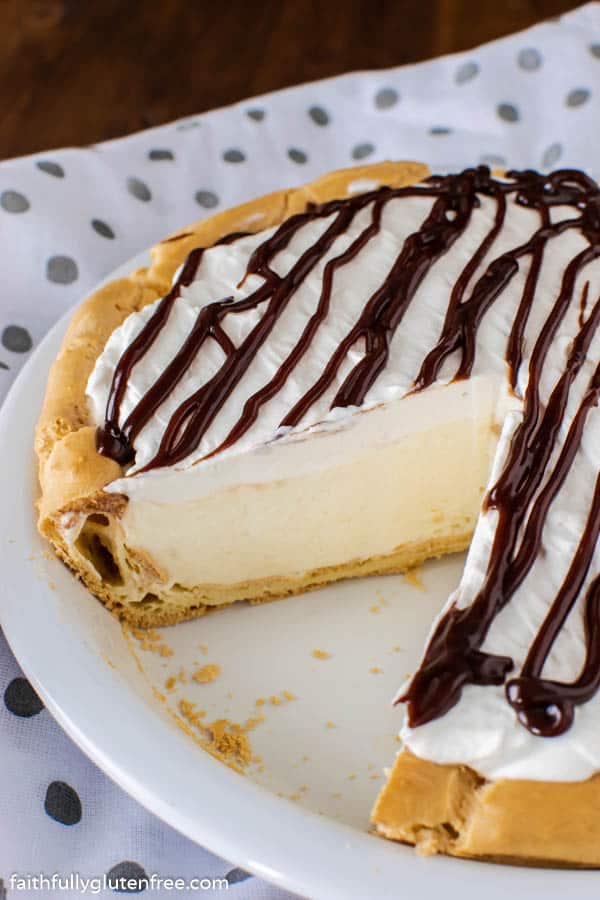 ~ Keto Chocolate Eclair Cake from All Day I Dream About Food ~ gluten free, vegetarian, low carb, keto
Carolyn always ensures that keto means not having to deprive yourself of your favorite recipes!
Reader reviews: "HOLY COW. This is a devastatingly good dessert. The meringue is almost like a crispy almond cookie. This, layered with an rich, glossy pastry cream, and top with a slightly bitter chocolate… It was a definitive moment in my life. It can't be possible for something to taste this good… or so I thought." and "This got 12 thumbs up at Thanksgiving. I'm the only diabetic in my fam, so I have something to prove when making dessert – and thanks, Carolyn for helping me prove it!" and "I made this cake for a party a few weeks ago and it was a huge hit!"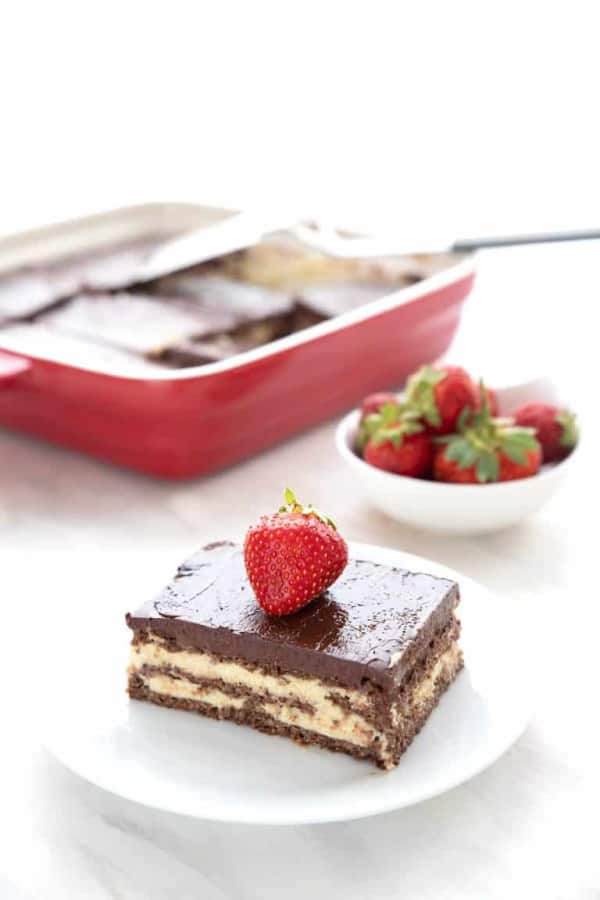 So there you have it! A number of fabulous homemade gluten-free chocolate eclair recipes (which can also be made as cream puffs or profiteroles), some gluten-free chocolate eclair cake recipes, and a cream puff pie (aka eclair pie) as well!
As is the case with most gfe recipe roundups, the most difficult part of all is deciding which recipe to try first! I love that there are choices that work for all of us who are gluten free—even if we need to eat dairy free, egg free, keto, vegan, or paleo!
Originally published June 22, 2013; updated March 3, 2023.