For affiliate links and as an Amazon Associate I earn from qualifying purchases.
So often those of us who live gluten free elicit sympathy because we have to eat less than stellar desserts. Or so others think anyway. There are many amazing gluten-free recipes that don't sell any individual short—whether those individuals live gluten free or not—and this gluten-free Angel Food Cake from Linda Etherton, who most of us have known as Gluten-Free Homemaker, is one of them.
Linda recently closed her site after providing so many years of friendship and outstanding support to the gluten-free community. She will be greatly missed!
Luckily for all of us, she is graciously allowing me to share some of her most beloved recipes here on gfe. Let's start with her famous gluten-free Angel Food Cake!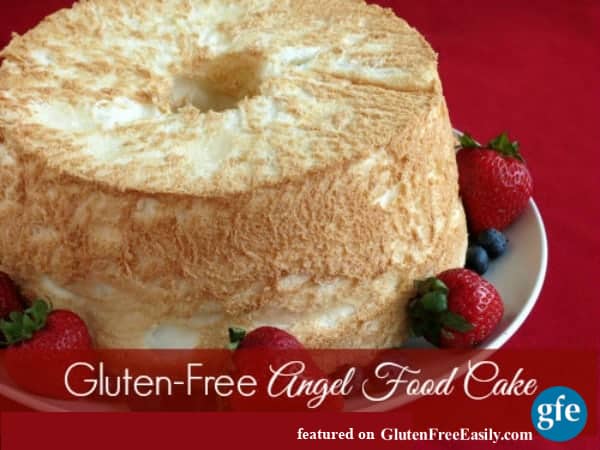 Linda says: "Angel food cake was always a favorite of mine when I was a kid. If you've always loved this dessert too, or even if you've never had it, this gluten-free angel food cake truly is heavenly. In fact, I think it's one of those recipes where the gluten-free version is better than the version with gluten!
It goes great with berries, and since the cake itself is so light, it's ideal for summer. If you serve it with strawberries and blueberries, you have a perfect red, white, and blue dessert for the 4th of July. It's also delicious with lemon curd, which my husband particularly loves.
You need a tube pan (not a bundt pan) to make angel food cake. One with "legs" sticking out the top of the pan is nice because the cake cools inverted in the pan. If it doesn't have legs, you can invert the pan onto a bottle. The pan should not be non-stick (and it should not be greased). If it is, the cake may fall out when you turn it over to cool. Mine looks like this one.
It's also nice to have a two-piece pan where the metal tube and pan bottom fit into the round part of the pan. Because the cake sticks to the pan, this allows you to loosen the sides after it cools and remove the tube."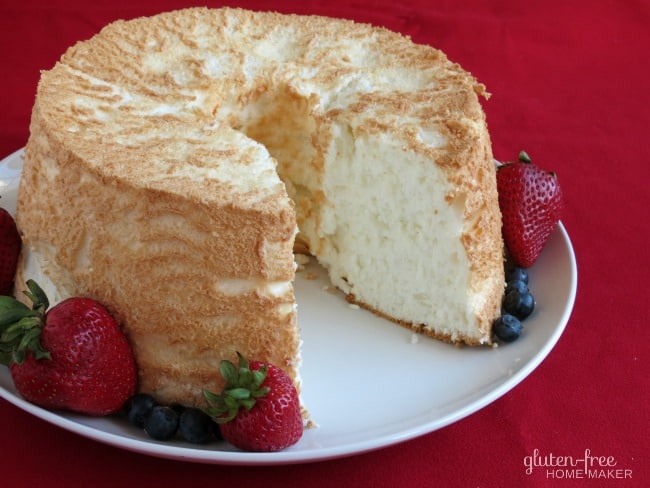 I also think of Angel Food Cake as a spring cake and I love Linda's simple presentation year-round. Perhaps you would like to try my very favorite way of eating this cake—a more indulgent and decadent way—sliced into chunks for dipping in this Chocolate Fondue.
I'm not just "waxing poetic" here; I'm speaking from personal experience on this cake and its heavenly fall into chocolate grace!
If you think Angel Food Cake is too much for any reason (e.g., need for a special pan, need for so many eggs), consider making Linda's Gluten-Free Angel Food Cupcakes instead! They taste exactly the same and you get individual portions. They're perfect for a celebration!
Last, if you need more angel food cake options—perhaps grain-free, refined sugar-free, and keto options or flavored angel food cake recipes—check out this collection of the best Gluten-Free Angel Food Cakes!
Gluten-Free Angel Food Cake Recipe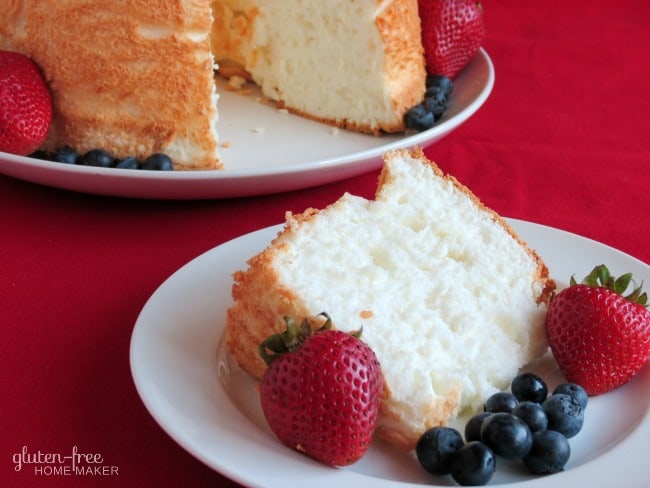 Yield: 12 slices
Gluten-Free Angel Food Cake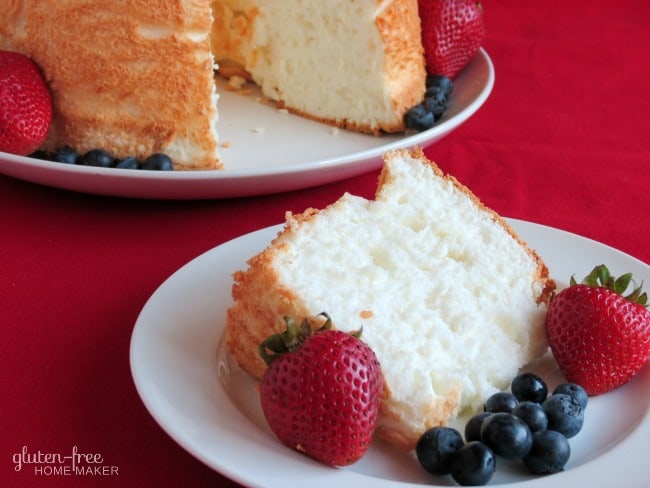 Angel Food Cake is considered the "Food of the Angels" because of its airy lightness, and I'm happy to tell you that this gluten-free Angel Food Cake is even better than the original, gluten-full version. Trust me; I'm not wrong on this!
Ingredients
1 1/3 cup powdered sugar
1/2 cup potato starch
1/4 cup tapioca starch or flour
1/4 cup millet flour or (very finely ground white rice flour)
1 teaspoon xanthan gum (see notes)
1/4 teaspoon salt
12 large egg whites (1 1/2 cups), room temperature
1 1/2 teaspoon cream of tartar
2 teaspoons vanilla extract (or 1 teaspoon vanilla and 1 teaspoon almond extract)
1 cup granulated sugar
Instructions
Separate the eggs and let the whites sit in your mixing bowl (glass or metal, not plastic) for about 30 minutes so they come to room temperature.
Be sure your bowl is very clean and there is absolutely no yolk in the whites. It is best to separate each egg into a small bowl, then add it to the rest of the whites. That way if a bit of yolk gets in with the white, you can save the egg for another purpose and not ruin the whole batch.
Preheat oven to 350F degrees.
In a medium bowl, whisk together the powdered sugar, potato starch, tapioca starch, millet flour, xanthan gum, and salt.
In a large mixing bowl, beat together the egg whites, cream of tartar, and vanilla extract until foamy. (I used my KitchenAid whisk attachment.)
Slowly add the granulated sugar, 2 tablespoons at a time, beating until stiff peaks form. Do not overbeat.
Fold in the flour mixture about one-fourth at a time, making sure you scrape the bottom of the bowl when you fold. Do not mix, just gently fold until all the flour mixture is moistened.
Spoon the mixture into an ungreased angel food cake pan (one without a non-stick coating) and smooth the top.
Remove air pockets by gently cutting through the center of the batter with a thin metal spatula (icing spreader) or knife.
Bake for 35 minutes, then check for doneness. A wooden skewer inserted in the center should come out dry. Also, the cracks in the top of the cake should be dry and the top should spring back when touched. Mine took 45 minutes.
Turn the cake upside down and cool for at least an hour in the pan. Most tube pans have legs to keep the top of the cake off the counter. If yours does not, invert onto a bottle inserted into the tube. (See notes.)
When cool, run your metal spatula or a knife around the sides to loosen. Remove the outer part of the pan. Run your spatula under the cake to loosen it from the bottom and remove cake to a cake plate.


Notes
Linda reported that she has made this cake successfully without the xanthan gum. She said the egg whites provide enough binding power for this cake.
Originally published January 11, 2103; updated May 13, 2023.