For affiliate links and as an Amazon Associate I earn from qualifying purchases.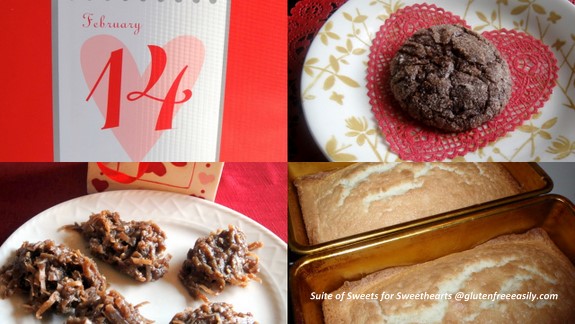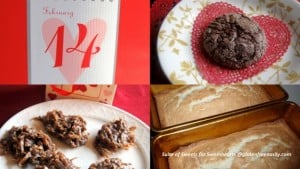 I'm back with the second day of Suite of Sweets for Sweethearts. Today I'm sharing Kim Maes of Cook IT Allergy Free—the app and the blog—and Kim's gluten-free Chocolate Fondue recipe. (Note that the products offered in this post have been provided by Kim.) Many of you already know Kim. She has a fantastic blog with simply amazing recipes that are easy to make, delicious, and good for you. Her recipe photos and invitingly written posts make you want to be in her kitchen with her chatting about romantic songs, making up silly poems, sharing some delightful girl talk, and, of course, cooking and eating.
Kim is a little bundle of sweetness; she's always fun to be around. I could tell all that from her posts, but meeting her at the International Food Bloggers Conference last year and again at BlogHer Food in San Francisco confirmed it. We have stayed in touch ever since and become good friends. So when I found out that Mr. GFE and I were embarking on the epic road trip to help friends move cross country and we would be near where Kim lives before we flew back, I let her know. Of course, she invited us to stay with her and her family.
When the trip became a somewhat grueling journey and there were some "white knuckle" moments for me (and I wasn't even at the wheel of the moving truck, aka "The Monster Truck"), I thought of Kim and her family's "oasis" waiting for us ahead in the midst of dessert. We weren't able to keep to the original schedule so a meet-up with another friend had to be canceled, but from the beginning, we vowed to get to visit with Kim and her guys.
In the end, visiting with them was such a relaxing and enjoyable ending to our trip. Kim was the best, of course, and all her boys—young and old—are as terrific and loveable as she is! My favorite times were when we were alone chatting in her kitchen or side by side, laptops in use, on her sofa.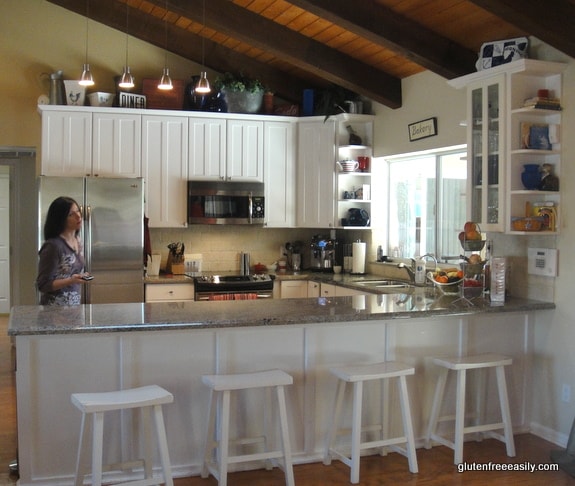 Kim's Beautiful Kitchen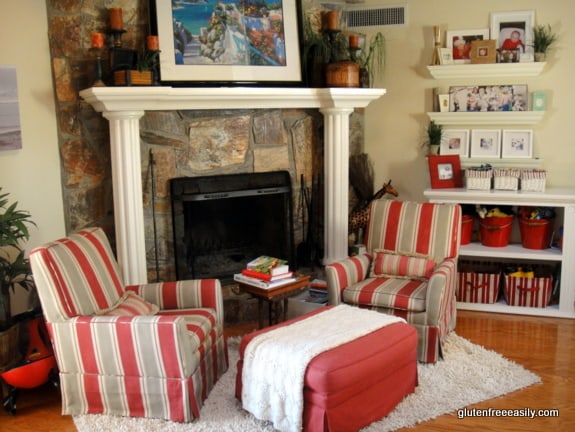 The Fireplace Area of Kim's Kitchen–My Fave
Kim spoke about our visit in this post on her blog where she also shared her succulent prime rib recipe. You'll note that she was being such an excellent hostess and having so much fun with us that she didn't get to take a photo of her prime rib. She used an iStock photo, but it didn't come close to accurately depicting her prime rib or to mimicking Kim's photo skills. I got a photo below, but it doesn't do Kim's prime rib justice either. (I happily took the end piece as I prefer prime rib at medium doneness.) Here are a few more photos before I turn to what you'll really be interested in—the giveaway and the recipe!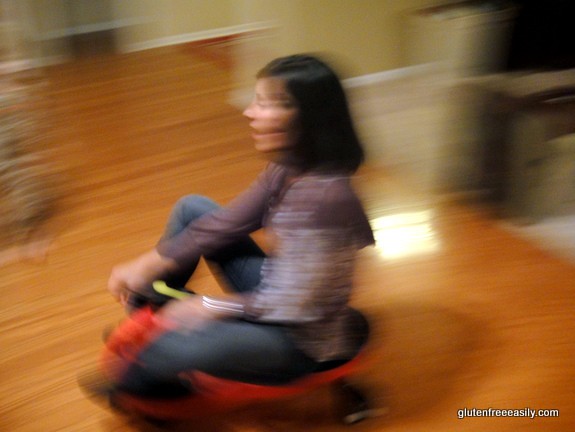 Kim Demonstrating Her Youngest Son's Riding Toy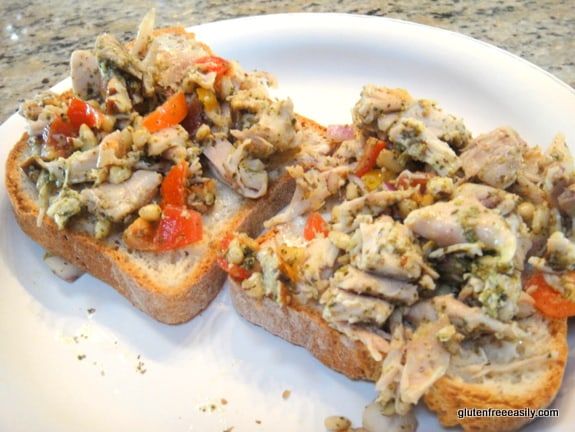 We Helped Kim Review a Fellow Blogger's Recipe–Two Thumbs Up from Everyone!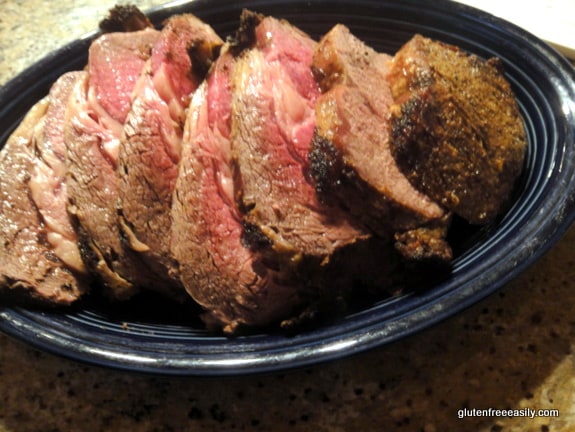 Kim's Prime Rib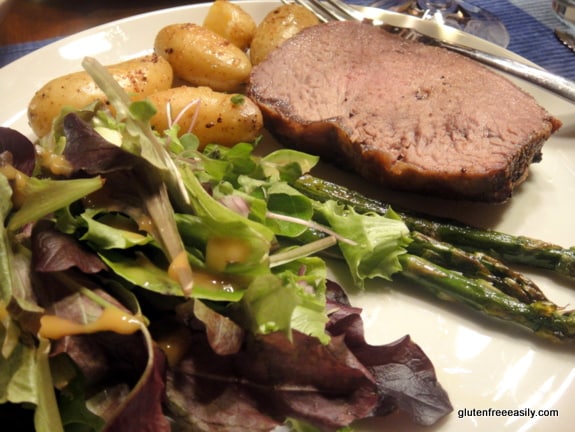 Our Meal at Kim's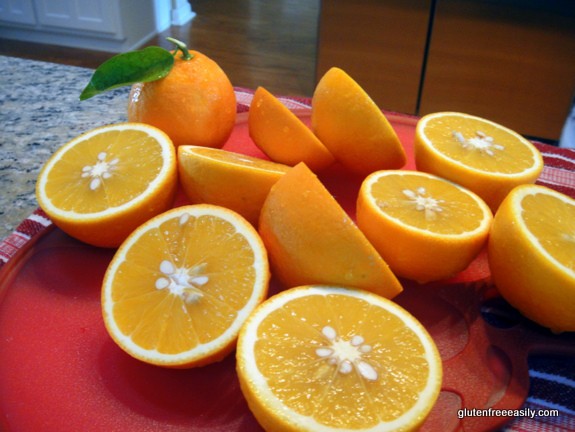 Soon to be Juice
Back to Kim's Cook IT Allergy Free app … I could tell you a little about the app that works on iPhones, iPod Touches, or iPads, but this video can do a far better job.
As the video shares, the app contains hundreds of recipes. I'm so proud to say that nine of them are gfe recipes: Elegant Easy Party Puffs (I'll be making those this week), Perfect Pound Cake (a Suite of Sweets entry from last year), Crustless Coconut Pie, Crustless Apple Pie, Mint Chocolate Chip Ice Cream, Honey Cinnamon Grand Marnier Ice Cream, Chocolate POMerdoodle Ice Cream, Peach Sorbet, and Honey-Dewed Sherbet. Admittedly I don't have any devices on which this app can run, but I've seen it in action on others' iPhones and iPads and it's impressive! When I do get an iPhone or an iPad, I'll be immediately purchasing the Cook IT Allergy Free app.
UPDATE: This giveaway is now closed. 
Kim is graciously offering five of her apps—four will come from those entering this giveaway. Please don't enter if you don't have app capability or have someone you can pass it on to. The fifth app will be added to the Suite of Sweets final giveaway package!
How can you enter this giveaway? Leave a comment here; that's all you have to do. If you want additional entries, you can tweet, share on Facebook, and/or share in a blog post so everyone knows about this giveaway. Leave a separate comment for each. This giveaway ends Friday, February 18, at midnight Eastern.
Now for the Suite of Sweets, here's Kim Chocolate Fondue recipe. Although February is the shortest month, it can also seem like the longest month. After the excitement of Groundhog Day (hey, stop laughing! Phil predicted an early spring; don't diss Phil!) and Valentine's Day, those last two weeks can seem like forever. How about a little bit of indulgence? I mean seriously. Don't think that you have to wait until next Valentine's Day or a special occasion to enjoy this fondue. Chocolate fondue means love to many people and gluten-free Chocolate Fondue for the gluten-free folks in your life s super special … don't you believe that's deserved any time?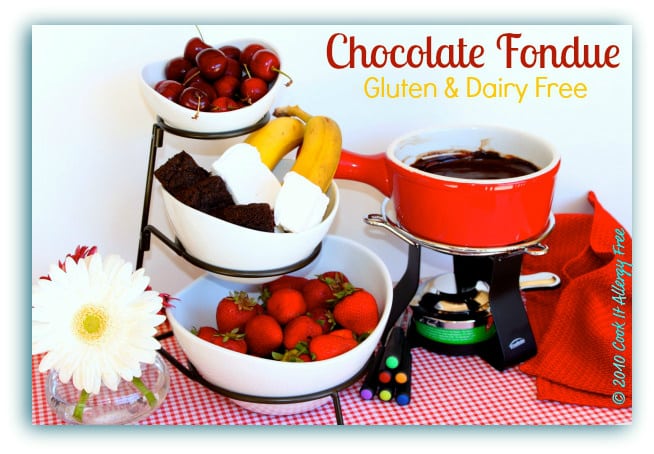 Gluten-Free Chocolate Fondue Recipe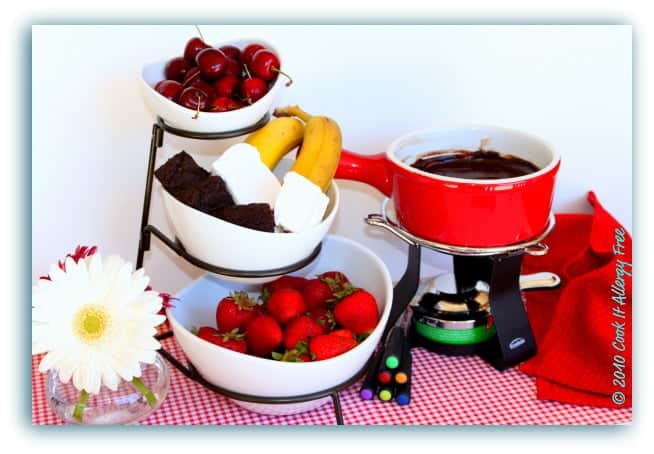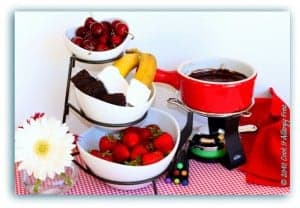 Print
Chocolate Fondue (Gluten Free and Dairy Free)
I can't think of any occasion that this gluten-free Chocolate Fondue wouldn't make special! Bridal shower, New Year's Eve, birthday party, Valentine's Day ... so many possibilities! Recipe and photo courtesy of Kim Wilson-Maes of Cook IT Allergy Free
Ingredients
6-8 oz of dark chocolate (dairy-free and gluten-free) – such as Trader Joe's Dark Chocolate 72% (see Trader Joe's list of vegan products) – chopped into small pieces
3/4 cup canned full-fat coconut milk (or if you are not dairy free, than you can, of course, use an equal amount of heavy cream)
a pinch of salt
A variety of dipping goodies (In the picture above, I used organic strawberries, organic cherries, bananas, gluten-free pretzel sticks, homemade gluten free brownies, and amazing homemade marshmallows.)
Instructions
Warm the coconut milk in a heavy bottomed pan until small bubbles begin to form and it comes to a very light boil. Then add the chocolate pieces and gently whisk until melted, smooth, and fully incorporated.
Immediately transfer to a fondue pot and keep it heated it with a low flame, or serve straight from the pot (but it will start to thicken and harden after a while this way).
Assemble all of your dipping goodies of choice and provide some utensils, such as fondue forks or bamboo skewers, to help you dip (or just use your fingers – especially among family)! Enjoy!
Courses Dessert
Yesterday's Suite of Sweets for Sweethearts post—Almond Chocolate Double Coconut No-Bake Cookies.