For affiliate links and as an Amazon Associate I earn from qualifying purchases.
Full disclosure: The copies of Go Dairy Free provided for my review and this giveaway were free. However, this is not a paid review and the opinions expressed are my own.
Update: This giveaway is now closed. The winner is Niv—congrats, Niv! Niv's comment was selected using random. org: "Shirley, thank you for the great review and now with the combination of your tasty GF recipes and Alisa's DF recipes I will have more choices to make GF/DF recipes for my 7 year old son." Please remember that another copy of Go Dairy Free will be given away as part of the final giveaway package for the Suite of Sweets for Sweethearts event, with all comments/entries for the entire event eligible!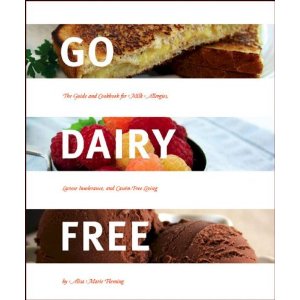 Alisa Fleming, founder and author of Go Dairy Free, the website and the book (complete title is Go Dairy Free: The Guide and Cookbook for Milk Allergies, Lactose Intolerance, and Casein-Free Living), is a no-nonsense, "get to the heart of the matter" kind of gal. That was my first impression a few years ago when we met online and Alisa sent me a copy of her book for my support group to use. Of course, me being me (i.e., always asking for more!), and also always being on the lookout for excellent speakers for my support group, I invited Alisa to speak to the group on going dairy free via teleconference. The fact is that many folks who eat gluten free, also eat dairy free. Sometimes that can be a temporary situation as some gluten-free folks are advised to also go dairy free initially until their gut heals and then dairy is slowly reintroduced into their diet. Some do find out they can eat dairy again; others may need to (or choose to) permanently refrain from eating dairy as well as gluten.
Alisa agreed to speak to my group even though she said she'd never given such a presentation before. I know that has changed dramatically as Alisa has become the voice for living dairy free. Hey, she was even quoted here with a Lola Lollipop cartoon. She's also speaking at the Fitness & Health Bloggers Conference in June. Even if it was her first presentation for our group, she did a wonderful job sharing the highlights of her book and the basics of going gluten free. Her presentation included the history of humans consuming dairy, the different types of dairy milk consumed throughout the world, product and recipe ideas, and she even fielded numerous questions at the end.
One of the factors that has always appealed to me about Alisa's approach to her site and her book is that she shares her own story and how going dairy free dramatically changed her life, but then she very objectively presents the data and resources for living gluten free. That is not to say that she's not passionate and fun … Alisa is an enthusiastic, ever present voice in the dairy-free world and for healthy eating in general. And, she's not against a treat now and then. Case in point, her dairy-free rendition of Girl Scout Thin Mint cookies shown here. Note that these cookies are not gluten free, but I'd love it if one you would adapt Alisa's recipe to be gluten free as well. Likewise, not all of the recipes in Go Dairy Free are gluten free, but they are easily adapted to be gluten free. I finally got to meet Alisa at BlogHer Food last fall and we've stayed in touch. I am happy to say that Alisa's now a good friend of mine, but that has not impacted my review … I was a fan of her book, Go Dairy Free, long before we met.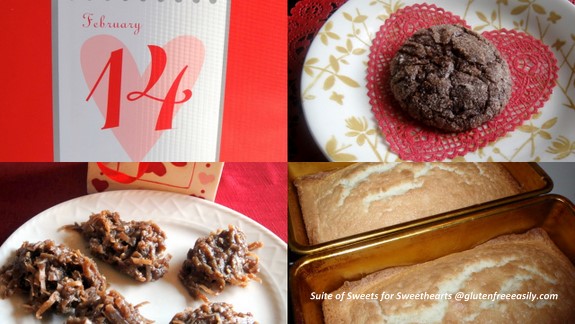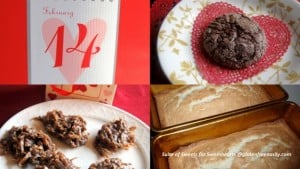 I've actually planned to review Alisa's book here for quite some time with her generous offer of a giveaway to one of my gfe readers. I decided to include it in our Suite of Sweets for Sweethearts, but when I went to refresh my memory by looking at Go Dairy Free again and making a recipe, it was nowhere to be found. It seems it's been "checked out" from our group's library for the moment. So let me give you some overall info and my general impression of Go Dairy Free, plus share this recipe from Alisa's blog, Alisa Cooks, with you.
Go Dairy Free, the book, is broken up into several chapters that fall under the following key sections:
* Understanding Dairy & Dairy-Free From a Health Perspective
* Eating Away From Home
* Grocery Shopping & Preparing Your Kitchen
* All You Ever Wanted to Know About Dairy Substitutes
* Time to Eat! – Recipes & Recommendations
* More Recommended Resources
Those are definitely the areas you'd want to know about when embarking on a dairy-free diet. I was very impressed at the comprehensiveness of this book and happy to add it as a reference for my group's library. Some information was so new to me that I read it more than once because I found it so surprising and fascinating. The bulk of Go Dairy Free walks one through actually transitioning to dairy free, even giving one recipe options for dairy-filled, common staples like sweetened condensed milk and cream soups. Incidentally, Go Dairy Free is self published, which I feel is an admirable feat, and it's a bestseller. Alisa is working on her next dairy-free book right now … a cookbook!
FYI—Go Dairy Free is currently $13.54 on Amazon. It has 58 reviews and a 5-star rating; those two together say a lot!
You may also want to check out other reviews of Go Dairy Free:
Linda (The Gluten-Free Homemaker)
Thomas (The GFCG Experience)
One lucky gfe reader will be getting Alisa's book, Go Dairy Free. To enter the Go Dairy Free giveaway, which will be open until Monday, February 21, midnight Eastern: simply leave a comment. You can get additional entries by tweeting the giveaway, sharing the giveaway on Facebook, or sharing the giveaway on your blog. For each additional entry, be sure to leave a comment on this post.

Just so you can plan ahead, I'm letting you know that I'll be offering another copy that I purchased as part of the final giveaway package for Suite of Sweets for Sweethearts. That package includes the Cook IT Allergy Free app as well. That giveaway is still open until Friday, February 18, at midnight; enter here. Remember ALL comments on the Suite of Sweets posts will be entered for the final giveaway, so leave those comments, tweet, share on Facebook, or blog about each of the Suite of Sweets posts and leave a comment saying that you did each time.
Now for Alisa's recipe. I hope you'll forgive me for sharing another chocolate recipe. I know you will … because it's a truffles recipe with four variations. Truffles always make an appearance at my house for our Valentine's Day party. Now I have this wonderful recipe from Alisa that's gluten free, dairy free, grain free, egg free, nut free, and soy protein free. And, look at her photos of these treats. Definitely sweetheart worthy … every one of them!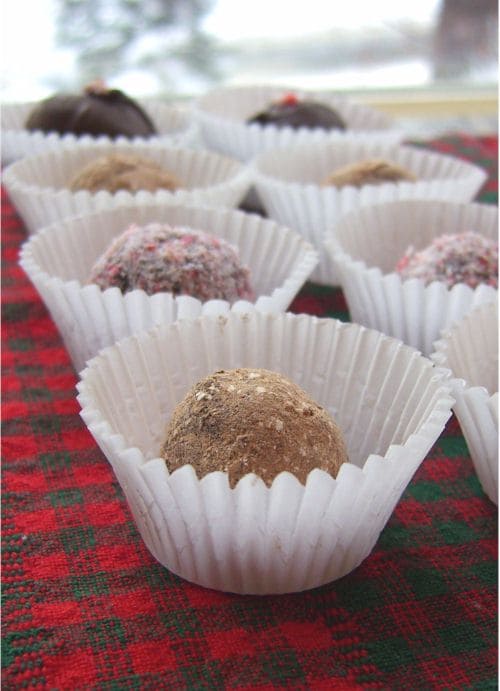 Yield: Makes a boatload of truffles … I don't know, maybe 4 or 5 dozen?
Semi-Sweet Mint Truffles 4 Ways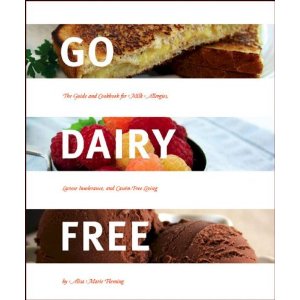 Recipe and photos (see more here) courtesy of Alisa Fleming of Go Dairy Free, Alisa Cooks, and Dairy-Free & Fit.
Ingredients
1/4 cup coconut cream (see directions)
8 ounces semi-sweet chocolate chips (or dark chocolate chips if you prefer), approximately 1 1/3 cups (as mentioned, I used those dairy-free Chocolate Dream Chips – blue bag)
3/4 to 1 teaspoon peppermint extract (to taste)
1/4 teaspoon vanilla extract
Optional Toppings
Crushed candy cane
Powdered sugar
Melted semi-sweet chips
Cocoa powder
Instructions
First things first, let's get some coconut cream. You can actually buy coconut cream in a can or aseptic package at many stores, or you can just skim the cream off the top of a regular (not light!) can of coconut milk. Grab a can of chilled full-fat coconut milk, and don't disturb it. Do not shake, stir, or otherwise emulsify the contents of the can.
When you open the can, there should be a nice thick cream on top which you can scoop out. I usually get about 1/2 cup of cream per can (just enough if you opt to double this recipe). Underneath is a watery coconut milk. You can reserve that for using in some other savory meal, a sweet baked goodie, or your next smoothie.
Okay, now that you have the cream, melt the chocolate. I'm lazy, I just fire the chips in the microwave in 30-second intervals (usually just two will do it), vigorously whisking in between cycles to get a smooth consistency. You can go the fancier way and melt it with a double broiler if you wish though. Once the chocolate is nice and smooth, stir in the coconut cream, mint extract, and vanilla extract. The cream may be a bit lumpy, just whisk until it all smooths out. Place it in the refrigerator to chill for several hours.
Once it has firmed up, scoop and roll into balls – whatever size you like. The chocolate will be firm, but it does soften a bit at room temp, so I like to roll each of the balls (to coat) in one of the following:
Options
Cocoa Sugar Combo – Sift together equal parts cocoa and powdered sugar.
Melted Chocolate – Melt some more chocolate chips with a touch of shortening or coconut oil. Dip the balls to coat, and place them in the freezer or fridge to set up.
Peppermint Crush – Place a little candy cane in your spice grinder and whiz until powdered / crushed (just takes a few seconds). Note that the Peppermint Crush exterior can get a bit sticky over time, so this version is best served fresh. For a similar idea that stores better, try the Peppermint Crunch …
Peppermint Crunch w/ Cocoa – This is another favorite; when you scoop out some of the chocolate, press it into some of the crushed candy cane, and then mush it together and roll into a ball so that you end up with wee crunchy peppermint bits throughout. If you don't want a super mint rush, you can just do the peppermint crunch and reduce or omit the mint extract. Roll in cocoa powder or cocoa/sugar to coat.