For affiliate links and as an Amazon Associate I earn from qualifying purchases.
On the menu today is this pretty amazing gluten-free Seafood Chowder! Tomorrow, October 19, is actually National Bisque Day but I don't have a bisque recipe for you. When people go on and on about their love of bisques, honestly, all I can think of is chowder.
While I know that many love bisques for their rich and creamy texture, I actually far prefer a thick and chunky chowder that's chock full of seafood, meat, and/or vegetables. Chowders can still be rich and creamy and today's recipe definitely is both!
As most of you know, my gfe approach for eating gluten free is to seek out naturally gluten-free foods and meals or ones where I can make a quick substitution or adaptation. When eating dairy free, my approach remains the same.
Today's dairy free and gluten-free Seafood Chowder recipe is a good example of both my gfe ways and my dairy free easily (dfe) approach. For either gfe or dfe, I'm not interested in stocking up on lots of specialty products. I like to rely on what's in my pantry all the time, which I consider to be my actual pantry plus my refrigerator and freezer.
I always have coconut milk or almond milk on hand to use as my dairy-free milk and usually, oil (olive, avocado, or grapeseed) to meet the fat/shortening requirement. Plus, I do typically use organic butter, but non-dairy butter and oils such as those listed above can work just fine when making this recipe and others.
So, when my friend Linda (formerly Gluten-Free Homemaker) set the theme of Seasonal Soups for this month's Go Ahead Honey It's Gluten Free Carnival, my thoughts went to chowder with those dfe ingredients in mind. Specifically, I thought of Chicken Corn Chowder and Tuna Chowder (a recipe from The Tightwad Gazette).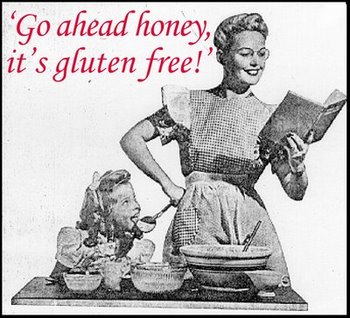 Again, I like chowders A LOT. I think they're perfect cold-weather fare.
I've already shared my Quick and Easy New England Clam Chowder, which is both gluten free and dairy free, here. That recipe was based on another favorite in the gfe household—Baked Potato Soup. And while we love Chicken Corn Chowder, that recipe is shared fairly often online. However, I've never seen Tuna Chowder shared, so I decided to share that seasonal soup—with a Seafood Chowder variation.
I found the original version of this Tuna Chowder recipe in The Tightwad Gazette newsletter of May 1994. Yes, long ago. FYI—The original recipe is also included in the overall compilation, The Complete Tightwad Gazette, of Amy Dacyczyn's great, but long-ceased newsletters.
I shared the recipe with my good friend, Lisa, and she made it before I had a chance to try it. The original called for a cup of cheese, but Lisa tasted it before and after adding the cheese and said that the cheese really didn't add much flavor or color appeal to the chowder (the carrots alone add a lovely golden orange hue).
Now how often does that happen that cheese is not needed? Not often per my experience, but score one for the dairy-free set!
Lisa also added potatoes, which just makes sense for any chowder recipe, plus, potatoes can often add extra thickness and creaminess to dishes—another plus for those who are dairy free. I often use your basic garden-variety Russet potatoes in this chowder (which as it turns out are actually full of antioxidants) but this recipe is also really lovely when made with Yukon Gold potatoes. Their creamy texture and golden color only serve to enhance this Seafood Chowder.
The original recipe made more of a soup and, again, I wanted a chowder so I reduced the milk amount.
We eat tuna, but not every day and sometimes not even once a week because of mercury concerns. However, if you don't eat tuna at all, you can substitute canned or fresh salmon (or another fish of your choice).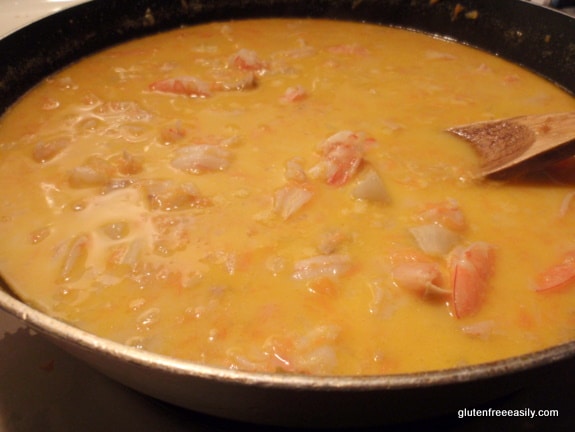 The rest of the ingredients in this soup are also ones that I always have on hand and, hopefully, you do, too. And you can leave it as tuna chowder or you can turn this recipe into Seafood Chowder. While I enjoy it as tuna chowder, Mr. GFE thinks the tuna flavor alone is too strong and he's a tuna fan, so please keep that in mind if you are not.
To make him happy, I often add in up to a pound of shrimp and two strips of bacon. Oh, the sacrifices a dutiful wife must make! Haha.
Mr. GFE's assessment of my latest gluten-free Seafood Chowder … "absolutely delicious … put this on the menu and that's all they'll order. How can you beat seafood soup?" Indeed.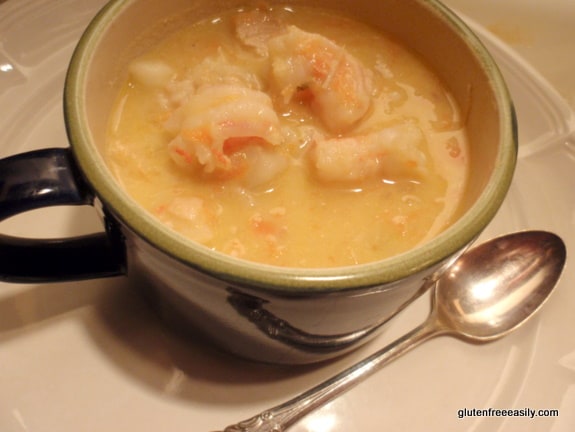 Gluten-Free Seafood Chowder Recipe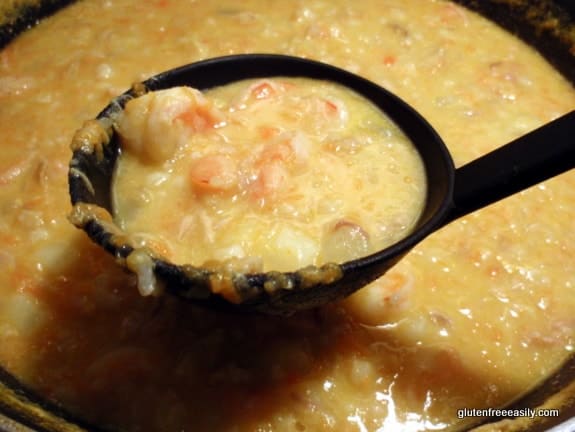 Yield: 4 to 6 servings
Gluten-Free Seafood Chowder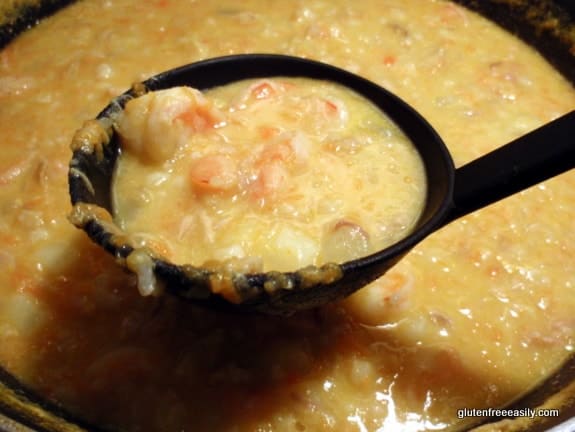 This homemade Seafood Chowder is a beautiful and delicious soup that makes an amazing meal.

Prep Time 10 minutes

Cook Time 25 minutes

Total Time 35 minutes
Ingredients
1 to 2 potatoes, peeled and finely diced
2 shredded carrots, about 1 cup or so
1 onion, diced finely
¼ cup butter (dairy or non-dairy)
2 cups gluten-free chicken broth
1 ½ cups milk (dairy or non-dairy)
Up to 1 lb shrimp (uncooked or cooked); optional; cut into halves or thirds if needed
1 can tuna (6 ½ ounce), drained and flaked or other fish, flaked
½ tsp gluten-free Worcestershire sauce (or more, to taste)
¼ tsp sea salt
Dash of other seasonings if desired, like chives and thyme
¼ cup gluten-free flour (or other thickener), if needed (I use my Two-Ingredient Gluten-Free Flour Mix
2 strips bacon, cooked and crumbled (optional)
Instructions
Sautee potatoes in butter in large saucepan or extra deep skillet for about 5 minutes. Add carrots and onion. Continue sautéing until onions are translucent (about 5 minutes more).
Add chicken broth and then gradually add in milk.
Heat over medium heat until mixture is thick and bubbling.
If adding uncooked shrimp, add now and cook for about 5 minutes.
Add tuna (or other fish), Worcestershire sauce, salt, and any other seasonings.
Add in gluten-free flour (or other thickener).
Cook over medium low heat until potatoes are adequately softened and chowder is thick and tastes like, well, chowder. Add bacon and if adding cooked shrimp, add now and continue cooking over medium low heat just until heated through.
Serve and enjoy.
Notes
I used tuna packed in olive oil, so I drained the olive oil from the can into the skillet and added 2 tablespoons of butter before sautéing carrots and onions.

One can use other thickeners like arrowroot, cornstarch, tapioca, potato flakes, or just "cook down" longer over low heat until sauce is reduced/chowder is thickened.

Finally, like any other soup I make, I'm always game to add in little bits of "this and that" from the refrigerator. This time it was one cup of brown rice. Potatoes and rice together might seem like too much, but the combination worked just fine and the instant thickness put this chowder on the table faster than usual.

If you are looking for a "bread" option to go with this gluten-free Seafood Chowder, there are several fantastic ones here at gfe. Some of the options that contain dairy have been made successfully by readers using their favorite non-dairy alternatives; so please be sure to read comments if you don't see a dairy-free option in the post itself.
Some of my favorites are the following, but this is not all-inclusive list:
~ Popovers,
~ Homemade "Red Lobster" Garlic Cheese Biscuits,
~ The Best Gluten-Free Corn Muffins
If none of those appeal to you, be sure to check out my Bountiful Bread Basket series (kickoff post with all the links here) for many more bread options. It includes gorgeous loaves of bread (some of which are made can be made in your bread machine), glorious dinner rolls and biscuits, irresistible focaccia and flatbread, and much more.
Originally published March 26, 2011; updated October 18, 2023.