For affiliate links and as an Amazon Associate I earn from qualifying purchases.
It's definitely soup time and while I enjoy soup as a start to a meal year-round, when I say it's soup time I mean it's the time of year when we often enjoy soup as a meal. This gluten-free Bacon Chicken Corn Chowder (or Bacon Turkey Corn Chowder if you prefer) makes for a very satisfying meal.
It's comfort food at its finest to me. We enjoyed it for dinner one night recently. Then I had it for breakfast and lunch the next day. I even fed it to hubby for one more lunch. And we loved every bite!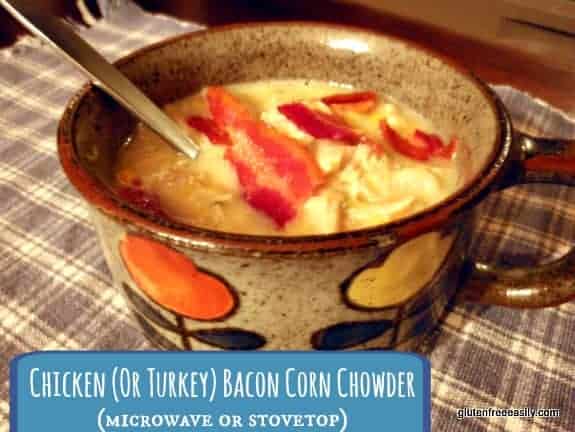 All of the ingredients, I pulled from "my pantry"—which to me includes my cabinet area (the traditional pantry) that houses ingredients like potatoes, canned beans, and such—plus, my refrigerator and my freezer. Potatoes, corn, bacon, and milk (in this case, almond milk) are staples in my house. Chicken is always in my freezer, but this time I defrosted the still somewhat meaty carcass of my Special Zesty Turkey Breast from my December support group meeting.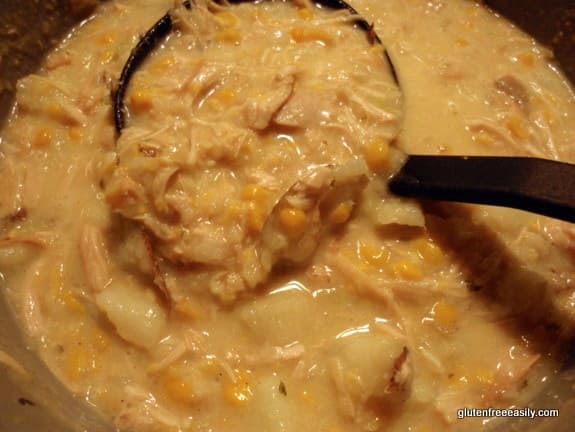 There was just enough meat for a big pot of chowder for us. Because that slow cooker turkey breast recipe yields such zesty, spicy turkey meat, I didn't even have to add any spices or seasonings to my "pot" of chowder.
I say "pot" because I made this chowder entirely in my microwave in a large microwaveable bowl. You are welcome to make yours on the stove top though. I have added note in the recipe about how you can do that, but this particular gfe recipe gets made most often in my mostly neglected microwave oven.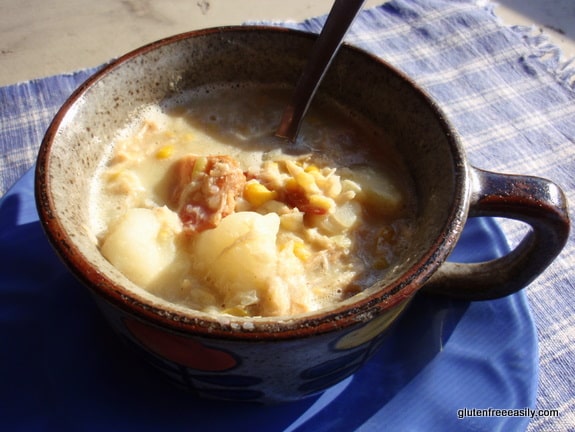 Incidentally, if you're a soup lover, you may want to join in on National Soup Swap Day. My friend Lydia of both Soup Chick and The Perfect Pantry has been doing this swap with a group of friends for three years now. This year she has 22 friends participating!


I had read about this event on her blogs and elsewhere online and thought that it was such a great idea. I even mentioned it to my support group last year. We all thought it sounded like a fun event, but then we forgot. Sigh.
The National Soup Swap Day is always held on the third Saturday of January. While I can't fit in Soup Swap this year, I'm putting National Soup Swap Day on my Google calendar and in my planner for next year right now!


Lydia tells you how Soup Swap works and has some great ideas for the Soup Swap in her latest Seven Soups post: Seven Slow Cooker Soups That Freeze Well. I bet you can think of several of your own soup recipes that would be worth sharing with friends.
I'd vote for some of mine here on gfe, like Baked Potato Soup, Quick and Easy Clam Chowder, Seafood Chowder, Everything Soup, Tasty Tortilla Soup, Potato Zucchini Soup, Velvety Pumpkin Soup, or the Black-Eyed Pea (with Ham and Chicken) Soup that I'll be serving my support group tonight.
Of course, this gluten-free Bacon Chicken Corn Chowder would be a good one for a Soup Swap, too. Hey, if you want to do a Soup Swap this year on a day other than the traditional date, I don't think anyone will protest. I may even end up doing that myself. Soup Swap is really a concept that I just love!
A few more quick notes … thanks for your input on The GFE Gluten-Free Virtual Support Group. I'll be sharing more on that event in just a day or two because as I said our actual January support group meeting, which the event will be modeled from, is tonight. I better sign off and go prepare our movie "theatre" and appropriate "movie food" to go along with our pot of soup for viewing The Future of Food!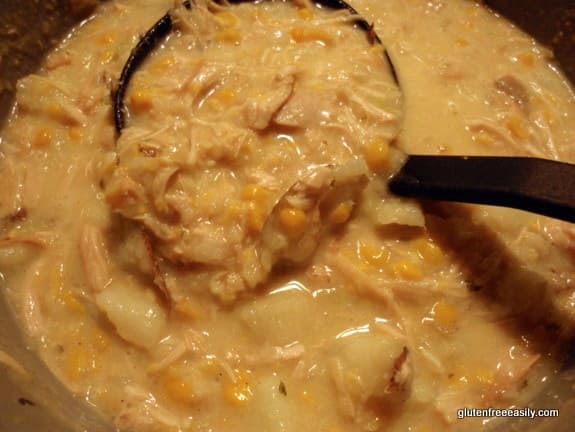 Bacon Chicken Corn Chowder Recipe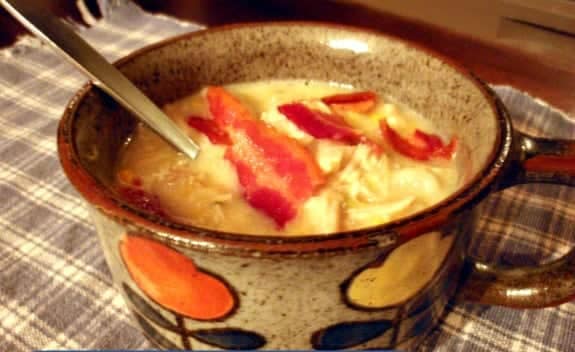 Yield: 4 to 6 servings
Bacon Chicken Corn Chowder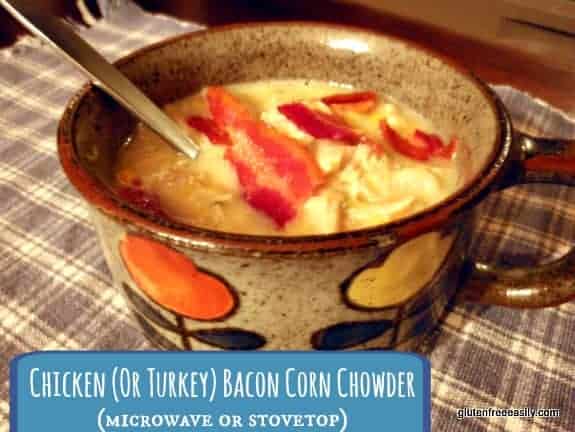 This quick and easy chowder will warm you up on a chilly day and it's delicious! It can be made with either chicken or turkey and you can use your microwave or stove top.
Ingredients
1 yellow or sweet onion, diced; or 3 green onions, sliced
About 1/3 cup celery, diced (about 4-inch section; mine had leaves, which add wonderful flavor and nutrition)
6 medium-sized potatoes, baked (I used Russett, each about 4 inches long)
½ cup gluten-free chicken broth/stock
1 ½ cups milk (dairy or non-dairy, I used unsweetened almond milk)
2 cups chicken (or turkey), diced
1 can cream-style corn or equivalent amount of regular canned corn, frozen corn, or roasted corn kernels (see notes)
2 tbsp gluten-free all-purpose flour (optional)
4 slices bacon, diced and cooked (see notes)
Instructions
Cook onion and celery in large microwaveable bowl for about 30 seconds on HIGH.
Remove the pulp from three of the potatoes, mashing with the back of a wooden spoon or potato masher as you add it to the bowl.
Dice remaining potatoes and add to the bowl.
Add chicken broth and milk. Cook 5 minutes on HIGH.
Stir. Add chicken and corn. Sprinkle flour over all; stir again. Cook 5 minutes on HIGH.
Season, if needed (e.g., salt, pepper, pinch of chipotle powder perhaps).
Top with bacon. Serve.
Notes
I clean my potatoes thoroughly but do not peel them. I bake them in my microwave using a baked potato bag. (These can easily be made using fabric and batting. My mother-in-law purchased mine at a craft show. You can also buy them on Etsy.)
You can also cook the bacon in the bowl and set aside, but leave bacon "drippings" in bowl before you add the onion and celery if you prefer.
The small amount of flour added near the end of the cooking time will help thicken the soup nicely, but another thickener may be used or the thickener may be left out. In the latter case, the soup may be cooked a bit longer to thicken, if needed.
I'm sure you could also create a lovely vegetarian or vegan version by using white beans or chickpeas in place of the turkey and skipping the bacon.
If making this soup on the stovetop, you'll want to add some additional broth to the recipe; add that in the beginning when you cook the onion and celery. From that point on, you'd add ingredients as directed above, but cook the amount of time needed for thickening on the stovetop. I'm guessing that this chowder could be prepared in about 30 to 45 minutes on the stovetop.
Originally published January 17, 2012; updated September 26, 2020.