For affiliate links and as an Amazon Associate I earn from qualifying purchases.
I have the honor of kicking off our Gluten Free Progressive Oscar Dinner Party with this naturally gluten-free Pumpkin Soup recipe. Specifically, Veronica's naturally gluten-free Velvety Pumpkin Soup. For the progressive dinner party, all the participants are selecting recipes and courses of our meals related to Oscar-nominated movies.
When it comes to the movies in the nominations this year, the one that speaks food the most is, of course, Julie and Julia. The Internet Movie Database (IMDB) describes Julie and Julia: "Julia Child's story of her start in the cooking profession is intertwined with blogger Julie Powell's 2002 challenge to cook all the recipes in Child's first book." I really enjoyed this movie, mostly because of my love of Julia Child and Meryl Streep's charming portrayal of Julia. Make no mistake about it … it's Meryl who brings Julia and, therefore, this movie to life. In my opinion, Streep's Best Actress nomination is well deserved. I've heard there are actually versions of this movie that leave out the Julie part. I confess I'd be all over that. I'm all about Julia!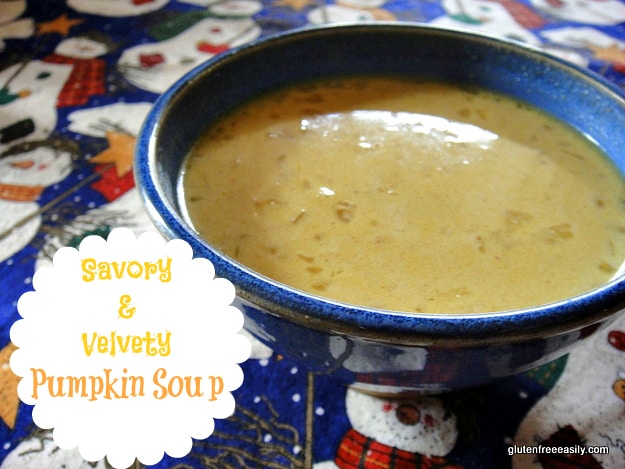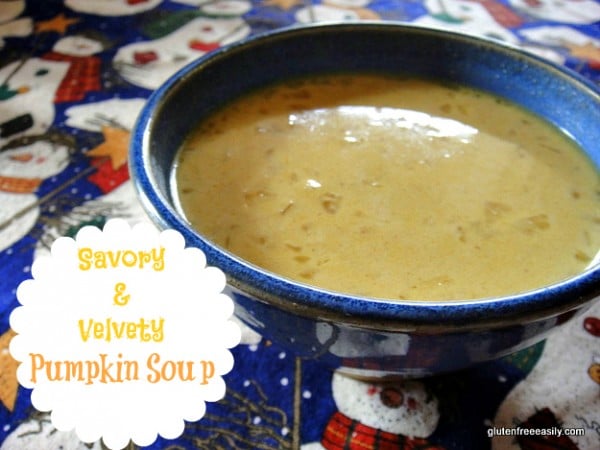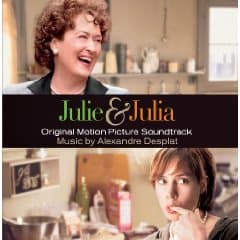 In Mastering the Art of French Cooking, Julia Child shared her pumpkin soup recipe. Hers was served in a pumpkin and included crème fraiche. While crème fraiche is very French and very delicious, if I'm the one making it, I want a simpler pumpkin soup. Sadly, there are no pumpkins available to use as serving dishes this time of year. This soup would make quite a presentation served in a cute sugar pumpkin though!
My friend, Veronica, had mentioned her pumpkin soup recipe back in the fall. I finally asked her for the recipe and she immediately emailed it to me. Even better, she graciously gave me permission to share it with you, my gfe readers.
Veronica told me that her inspiration was a pumpkin soup made by her Belgian cousin. Veronica created a quick and easy, mild-flavored, but hearty version, which works as a meal. However, she used evaporated skim milk versus traditional cream, half and half, or crème fraiche as was used in Julia Child's recipe. (You can read more of Veronica's notes below the recipe.)
This soup can be made with either canned pumpkin or fresh pumpkin puree. I had some puree in the freezer and the other ingredients on hand. This soup came together so quickly and I fell in love with its velvety texture and savory, yet slightly sweet flavor. Although you can certainly add a bit of cayenne pepper or curry powder to temper the sweetness if you like.
Veronica's naturally gluten-free Velvety Pumpkin Soup … it's now on my list of dishes that make me think comfort, warmth, and simple goodness. I think Julia would approve and I hope you do, too.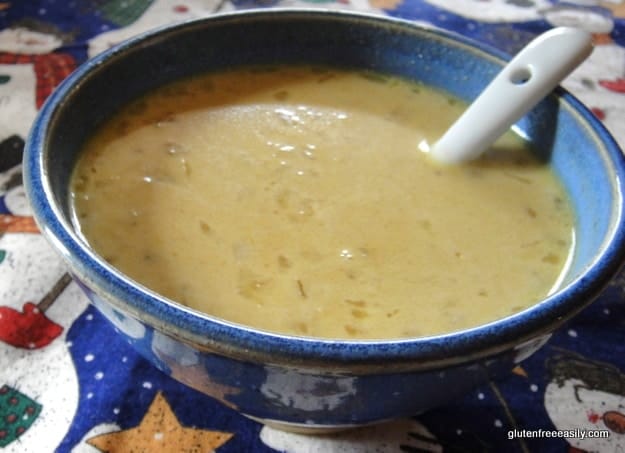 A little bit of history on my friendship with Veronica … Veronica and her family used to live at the end of our street. However, it was only after they moved to Belgium for a few years that she and I really got to know each other and became good friends. How is that possible you ask? Well, after her family was settled in Belgium, I found out she had a blog where she shared her writing, musings, art journal entries, photographs, and handmade cards. I started following her blog faithfully. We'd chat via comments on her blog and exchange emails from time to time, and soon we knew each other far better than we had when we'd only lived several doors apart.
Veronica stopped blogging a few years back but, thankfully, our blog-founded friendship remains. It seems crazy, but I maintain that the connections many of us make via blogs are very much like the communication of pen pals of years ago. Slow and steady, so to speak, with just the right amount of commitment to get to know someone—and maybe even share great recipes. Thanks so much for this very lovely naturally gluten-free velvety pumpkin soup recipe, Veronica!
Naturally Gluten-Free Velvety Pumpkin Soup Recipe
Yield: 4 servings
Veronica's Velvety Pumpkin Soup (Naturally Gluten Free)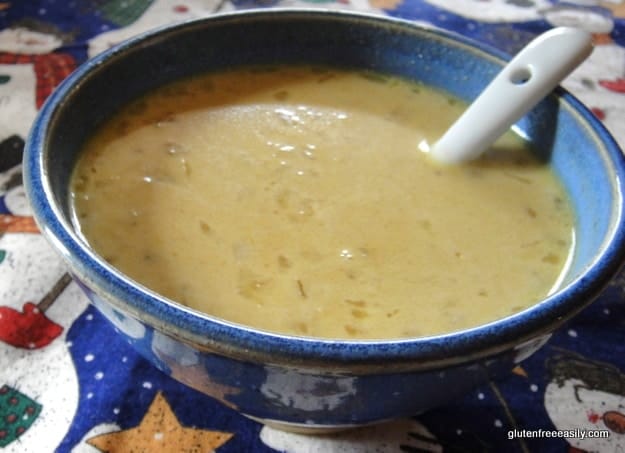 It wouldn't be pumpkin soup without some sweetness and spice but the chicken broth and onions serve to balance that nicely. And with the velvety texture, this pumpkin soup is a seasonal delight!

Prep Time 5 minutes

Cook Time 20 minutes

Total Time 20 minutes
Ingredients
1 onion, chopped fine
2 tablespoons butter (dairy or non-dairy)
1 large can (29 ounces) of pumpkin (or equal amount of fresh pumpkin puree)
4 cups gluten-free chicken broth
1 teaspoon ground ginger
1 teaspoon ground cinnamon
2 tablespoons brown sugar
1 12-oz can evaporated skim milk, regular evaporated milk, whole, or 2-percent milk (or dairy-free milk, such as coconut milk or almond milk)
Instructions
In a soup pot, sauté the onion in the butter until tender.
Add the pumpkin, broth, ginger, cinnamon, and brown sugar.
Simmer for about 20 minutes to blend flavors, then add the milk, heat through, and serve.
Notes
From Veronica: Because I normally use boxed broth, I don't add any salt. If you're using homemade broth, you may want to add salt to taste. Canned pumpkin may be denser and heavier than most home-prepared pumpkin, so you may want to adjust the amount of your liquids. If your pumpkin isn't pureed, you'll need to mash or puree it before adding it to the soup. This makes a thick soup with some texture as I serve it as an entree, not an appetizer. Those who want a lighter, smoother version may want to send it through the food processor and add a bit more milk at the end.

From Shirley: Because I'm usually the only one eating this pumpkin soup, I use a 16-ounce can of pumpkin (slightly more than half the original amount in Veronica's recipe) or 2 cups of fresh pumpkin puree. I also halve all the other ingredients. Using fresh pumpkin will result in a soup that's a bit lighter in color and taste and slightly thinner as well because of the water content in the fresh puree. I use regular evaporated milk or full-fat coconut milk because that's what I have on hand most often. If you'd like to serve a bread with this soup, my gfe cornbread, popovers, and paleo bread all make great accompaniments. They are simple and easy recipes that complement this soup nicely.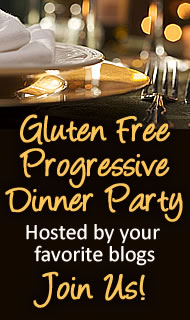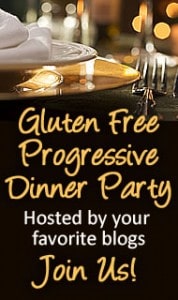 Okay, this year the Oscars can be more than fashion do's and don'ts and yea's and nay's on movies. This year it can be about the food! Please visit the rest of the Gluten Free Progressive Oscar Dinner Party folks for more award-winning ideas:
Tuesday, February 23 – Sea from Book of Yum with appetizers inspired from the movie Avatar—Millet Eggplant Croquettes and Fried Chips (Two Kinds) (unfortunately, this site is no longer active)
Wednesday, February 24 – Karen from Karen Schuppert with Kale Chips as Oscar celebration food (unfortunately, this site is no longer active). Diane from The WH.O.L.E. Gang also using inspiration from Julie and Julia—Gluten-Free and Dairy-Free Whipped Cream, and me again, this time with Southern Fried Oysters for Crazy Heart
Thursday, February 25- Alison from Sure Foods Living with Simple Salmon Spread for Oscar party fare
Friday, February 26- Ellen from I Am Gluten Free shared her Roasted Potato Slices with Smoky Aioli Dip as part of her celebration food ((unfortunately, this site is no longer active)).
Originally published February 22, 2010; updated September 28, 2022.