For affiliate links and as an Amazon Associate I earn from qualifying purchases.
There are only two occasions that I will cook fried oysters for Mr. GFE—Valentine's Day and his birthday. Because those two occasions are a week apart, I "meet in the middle" (or thereabouts) and only actually have to cook them once a year. Ha ha. I love that. Can you tell that I'm not a fan of oysters? And, to be clear, I don't have to fry up any oysters at all for him, but I do … as an act of love, pure love. Of course, I make them gluten-free Fried Oysters to keep gluten out of my kitchen and keep myself safe.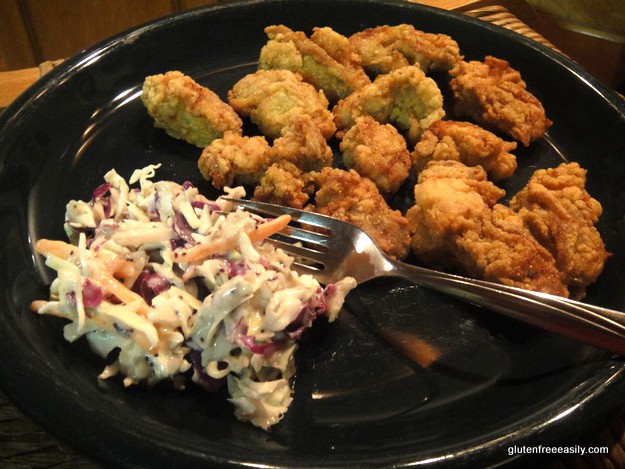 Fried oysters are often a winter favorite of "good ole country boys" (and "girls," but my unscientific research shows that there are far fewer girls who go for oysters … at least around here). I suspect "Bad" Blake, the character played by Jeff Bridges in Crazy Heart (and who might be called Southern-fried himself), has eaten his share of Southern-fried oysters.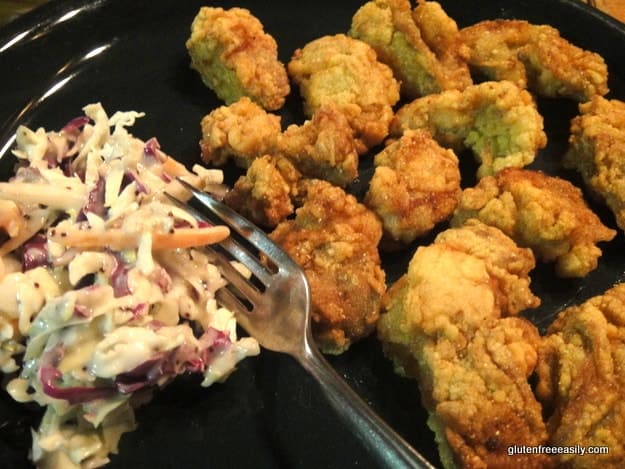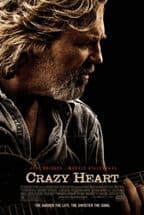 Heck, I'm sure he's also eaten them raw and roasted, too—either with a cold beer or chased by a shot of whiskey. Bad Blake seems like the kind of fellow who might even have made some light-hearted comments about oysters' aphrodisiac effects at the time. Just sayin'.
If you are not up on the Oscar details, Crazy Heart is up for Best Picture, and Bridges is nominated for Best Actor. (Maggie Gyllenhaal, who plays Bad Blake's love interest, is nominated for Best Supporting Actress and the movie also has a nomination for Original Song.) I have not seen this movie yet, but hope to see it before the Oscars.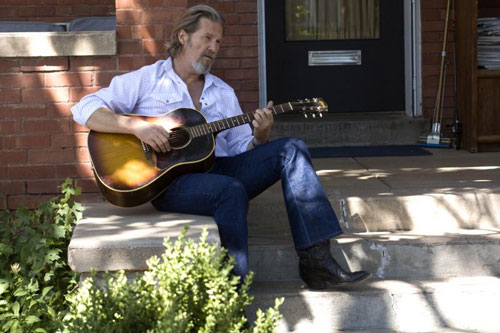 In all likelihood, this recipe will probably be the only gfe recipe that I will share, but never actually taste myself. That's okay though. "Bad" Mr. GFE has declared these the best oysters ever. He says they are light and delicious. (He has long complained about fried oysters that are heavily battered and then fried in equally heavy oil.) Anyway, you can trust his opinion. He hasn't steered you wrong yet, has he?
Incidentally, he's a little upset that no gfe readers have given the Cinnamon-Sugar-Crusted Almond Popovers a try yet. He asks me daily (no kidding) if anyone has made them. He wants me to remind you that those popovers were his recipe-of-the-month pick, after all. He says these oysters are a very close second. Hmmm, maybe I should make them one more time in March, so they could be his recipe of the month then.
Now to the critical, but easy details … remember the cornmeal breading recipe that I used for my chicken tenders recently? Well, for fried oysters, you use the same recipe, except this time you do an egg/milk wash thing first. That wasn't necessary for the chicken tenders, but for oysters, the egg/milk wash enhances the texture and flavor while helping the breading adhere properly.
By the way, don't feel too bad for Mr. GFE and his lack of oysters. This is one of those recipes that he can eat at others' homes or when we eat out. No, those oysters aren't all as good as mine, but he still enjoys them occasionally. We do have a local restaurant we frequent, TruLuv's, that does fried oysters really well. (They even have a special on Thursday evenings, 5 oysters for $5. Mr. GFE says their oysters are excellent and that the price is quite a bargain.)
If you or your loved ones enjoy fried oysters, pick up a pint or a quart and fry up some gluten-free fried oysters. Note that a pint can go a long way unless you are cooking for a crowd. Of course, if you end up buying a larger container than you need, you could use some of them to make another meal of oyster stew if you like. That's another recipe that's almost always naturally gluten free … just steer clear of the traditional oyster crackers.
Gluten-Free Fried Oysters Recipe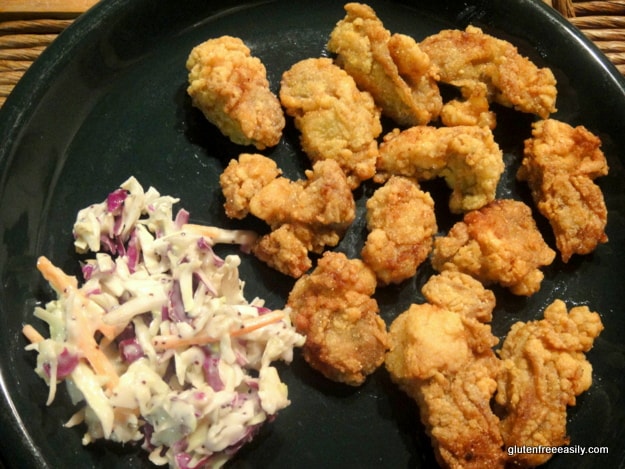 Yield:
Gluten-Free Fried Oysters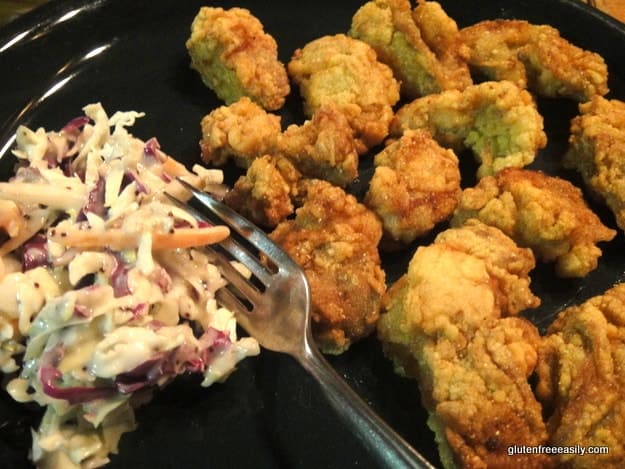 These gluten-free Fried Oysters, Southern Fried Oysters, require only a few ingredients but they sure make Mr. GFE and other oyster lovers in my family happy!

Prep Time 10 minutes

Cook Time 15 minutes

Total Time 25 minutes
Ingredients
1 cup cornmeal (I use certified gluten-free cornmeal)
1 cup gluten-free all-purpose flour mix (I use my Two-Ingredient Gluten-Free Flour Mix)
2 tsp baking powder
1 tsp salt
2 eggs
2 tbsp milk (dairy or non-dairy)
1 pint raw, shucked oysters
cooking oil (your preference; I used grapeseed oil, about 1/2 inch or so deep in pan)
Instructions
Mix cornmeal, gluten-free flour mix, baking powder, and salt. Leave mix in bowl for the oyster dredging method or pour into a paper/Ziploc bag if you prefer a shake method for breading.
Beat eggs and mix with milk in small bowl.
Dip oysters, one at a time, in egg/milk mixture.
Dredge oysters (again, one at a time) through cornmeal mix until thoroughly coated. (Or, add one at a time to bag and shake until adequately coated.)
Place breaded oysters on a plate until you are ready to fry them.
Fry oysters in skillet in oil at medium-high temperature (about 375 degrees if you are using an electric skillet). Cook until golden brown on each side. At this high temperature, you won't have to fry very long. Drain on paper towels. Enjoy!
Notes
Adapted from Southern Living.

If you are frying a lot of oysters at once, you will need more oil, of course ... maybe adding enough to be an inch or more deep in the skillet.

One gfe reader, Janie, said being a Southern girl, she added about 1/2 teaspoon Old Bay Seasoning to the breading and that was the perfect addition. If you're an Old Bay lover, you may wish to try that addition as well!

As you can see, I just made my "cheat" cole slaw (cole slaw veggies mixed with poppyseed dressing---ready-made Brianna's dressing or my homemade recipe) to go along with Mr. GFE's oysters. He was quite pleased with that combination!

Don't forget to check out all the other GFPDP posts and recipes. I hope we're getting you ready for the Oscars properly! Here's the parade of stars below … GFPDP stars, that is!
Monday ~ Moi—Veronica's Pumpkin Soup in a nod to Julie and Julia
Tuesday ~ Sea of Book of Yum with Avatar-inspired appetizers—Millet Polenta Croquettes and two types of fried chips (Plantain and Lotus Root) (because Sea's site is no longer active, I've linked to her recipe via the Wayback Machine)
Wednesday ~ Karen at Karen Schuppert who is making some Kale Chips for her viewing party (sadly, Karen's site is no longer active); Diane of The Whole Gang inspired by Julie and Julia—Gluten-Free and Dairy-Free Whipped Cream; and me with today's Southern Fried Oysters
Thursday ~ Alison at Sure Foods Living with Simple Salmon Spread for Oscar party fare
Friday ~ Ellen at I Am Gluten Free with a celebratory appetizer, Roasted Potatoes with Smoky Aioli Dip (sorry; Ellen's site is no longer active.)
Remember that submissions to Go Ahead Honey, It's Gluten Free! for your favorite Tropical Vacation Meal are due Saturday, February 27, to Bean at Without Adornment.
Originally published February 24, 2010; updated April 16, 2022.