For affiliate links and as an Amazon Associate I earn from qualifying purchases.
I didn't plan to share yet another cheesecake recipe but this Gluten-Free Creamy Vanilla Cheesecake is truly sensational, folks. Rich vanilla taste with a creaminess that is off the chart.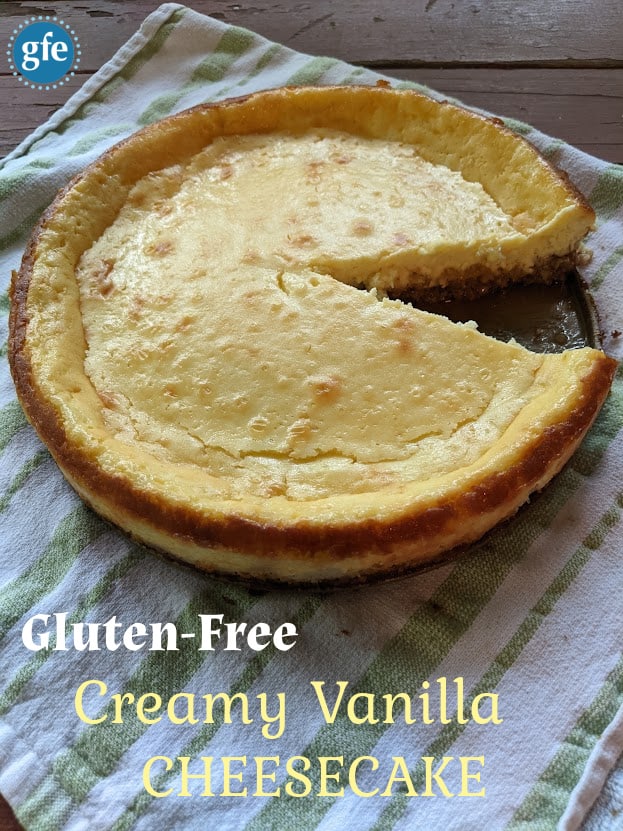 Do you need to know more? Probably not. Or not too much really. Other than the recipe that is but I will share a little bit of what I consider helpful info before we get to the recipe.
I don't always save recipes on product packages or even look at them sometimes but when I tore open an Organic Valley cream cheese package quite a while back, the recipe on the inside was for Creamy Vanilla Cheesecake and just by the title alone, that sounded really good!
At this point, I should mention that this recipe and post are not in any way associated with Organic Valley. Organic Valley is simply one of the brands featured in my Misfits Market deliveries, which I use and love.
The recipe also contained both whole eggs and egg yolks. That fact really piqued my interest as I know how egg yolks can add their own richness to a recipe.
I also loved that the recipe only required two "bricks" of cream cheese. As I mentioned when I shared my Gluten-Free Crustless Flourless Cheesecake, which also only uses two packages of cream cheese, that's not that common for a cheesecake recipe.
Although that recipe is a somewhat lighter cheesecake, today's cheesecake tastes like what you expect when you order cheesecake. Even a New York-style cheesecake.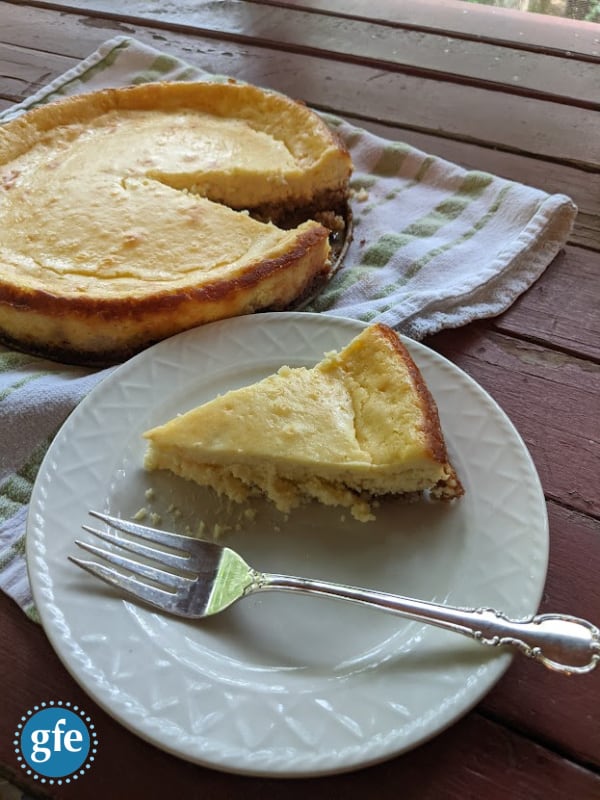 Of course, I had to make the Organic Valley recipe gluten free—which wasn't difficult at all—and put my own signature on it. Which was also was not difficult.
Changes I Made to the Original Creamy Vanilla Cheesecake Recipe
What did I do differently from the original recipe?
For the crust, I used a flourless nut crust. I'm still tweaking the particular recipe that I used but the Nut Crust in this Gluten-Free Cheesecake with Nut Crust and Optional Blueberry (or Huckleberry) Topping recipe will work very well.
The crust called for in Organic Valley's recipe is a classic—and very simple—graham cracker crust. Graham crackers (gluten-free graham crackers for us), granulated sugar, and butter (a dairy-free equivalent will work fine). I have added the how-to information in the recipe notes in case you prefer—or need—a gluten-free graham cracker crust over a nut crust.
I skipped the water bath (aka bain-marie) that was in the instructions. I have always felt that a cheesecake that's so fussy that it needs a water bath is too fussy for me. LOL
I actually don't mind cracks in the middle of my cheesecake and crusty edges. In fact, I love both!
The name of the cheesecake is Creamy Vanilla Cheesecake. However, it contained no more vanilla than any other cheesecake recipe I have made. It also contained two tablespoons of bourbon.
I am not against bourbon but I really wanted a vanilla taste so I substituted even more vanilla extract for the bourbon. With my version, there is no doubt that this is a Vanilla Cheesecake.
Heavy whipping cream is not something that I keep on hand so I used full-fat canned coconut milk instead. No, there is no coconut flavor in the cheesecake but feel free to use heavy whipping cream if you prefer.
This Gluten-Free Creamy Vanilla Cheesecake is an easy-to-make cheesecake but it will impress anyone as much as a more challenging cheesecake, even an award-winning cheesecake!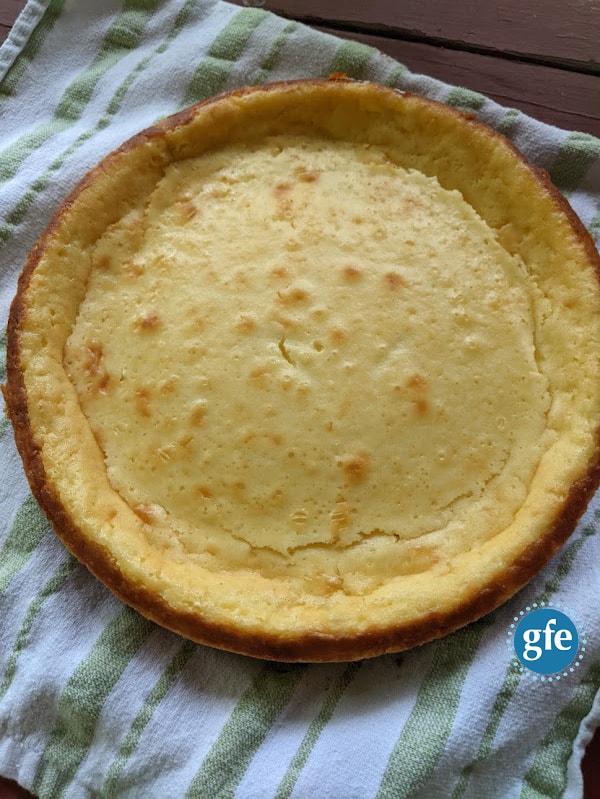 More Gluten-Free Recipes Made with Cream Cheese
~ Flourless Gluten-Free Pizza (Low Carb, Keto)
~ Gluten-Free Carrot Cake Muffins with Honey Cream Cheese Frosting
~ Gluten-Free Cream Cheese Cut-Out Cookies
~ Gluten-Free Cream Cheese Pie Crust
~ Gluten-Free Cream Cheese Pound Cake with Streusel Filling
~ Gluten-Free Ginger Cream Muffins
~ Gluten-Free Red Velvet Cupcakes with Cream Cheese Frosting
~ Strawberry Cheesecake Ice Cream
Gluten-Free Creamy Vanilla Cheesecake Recipe
Yield: 8 slices
Gluten-Free Creamy Vanilla Cheesecake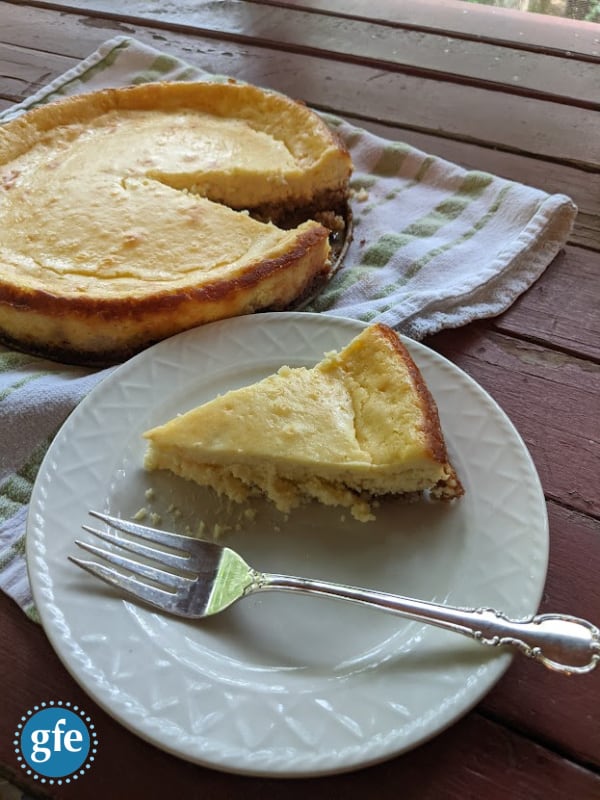 This gluten-free cheesecake lives up to its name! It has over-the-top creaminess and a rich, very vanilla flavor.

Prep Time 10 minutes

Cook Time 45 minutes

Additional Time 4 hours

Total Time 4 hours 55 minutes
Ingredients
Two 8-ounce packages/bricks of cream cheese, softened
1 cup granulated sugar
½ tsp salt
2 large whole eggs
2 large egg yolks
½ cup full-fat canned coconut milk (or heavy whipping cream)
3 tbsp plus 1 ½ tsp vanilla extract
Instructions
Preheat oven to 350F degrees.
Use gluten-free cooking spray (e.g. Pam) or butter to grease the bottom and sides of a 9-inch springform pan.
Use nut crust (or graham cracker crust—see Notes below). Press the mixture over the bottom of the pan. Refrigerate the crust while making the cheesecake filling.
In a large bowl, beat cream cheese using an electric mixer on medium speed until it is light and fluffy. (You can use a higher speed if you increase the speed slowly and carefully.)
Add sugar and salt to the cream cheese. Beat until smooth.
Add eggs and then egg yolks one at a time, mixing well after each addition.
Add vanilla extract and mix until incorporated.
Add coconut milk (or heavy whipping cream). Beat at low speed, using a spatula to scrape down the sides of the mixing bowl as needed.
Pour mixture into the chilled crust.
Bake for 45 minutes until cheesecake is golden brown and center is set.
Remove from oven and place on wire rack to cool. Cool until the cheesecake comes to room temperature, about one hour. (The cheesecake will continue baking for a short while after it is removed from the oven before it starts to cool.)
Cover and chill at least 4 hours before running a knife around the perimeter of the pan, releasing the springform pan catch, cutting slices, and serving. (I cheat on the cooling part. See notes.)


Notes
If you prefer a graham cracker crust, combine 2 cups of gluten-free graham cracker crumbs (I place graham crackers in a close Ziploc bag and roll over them with rolling pin until they are adequately crushed), ¼ cup granulated sugar, and 5 tablespoons of melted butter (dairy-free equivalent such as soy-free Earth Balance works fine as a substitute).

I have little patience for cooling (as some of you may remember from my Flourless Pizza recipe) so after letting the cheesecake cool for about 30 minutes on the wire rack on the counter, I pop it in the freezer for an hour or so. Afterward, I place it in the fridge until we are ready to eat it. Cheesecakes do freeze (Yay! Remember that if you want to make one and freeze one!) so I don't leave it in the freezer for a super long period. I simply expedite the cooling process a bit.

Adapted from the Creamy Vanilla Cheesecake recipe on the inside of an Organic Valley cream cheese box.

Originally published July 3, 2023.; updated July 4, 2023.