For affiliate links and as an Amazon Associate I earn from qualifying purchases.
For Day 11 of March Muffin Madness, we have Gluten-Free Carrot Cake Muffins with Cream Cheese Frosting (Honey Cream Cheese Frosting actually) from Ali of Nourishing Meals.
So many of us love carrot cake that this delicious "portable" muffin version is certain to become a hit!
Ali last participated in MMM with a recipe when she shared her yummy Gluten-Free Banana Almond Butter Muffins. However, her primary MMM role over the years has been graciously sharing all of her terrific cookbooks as daily giveaway prizes. Luckily for us, she's doing some of each today!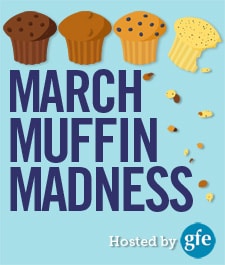 Ali and I met years ago—in 2008 to be exact—when we were both new to blogging. We were good sounding boards for each other and helped each other to learn the ropes so to speak.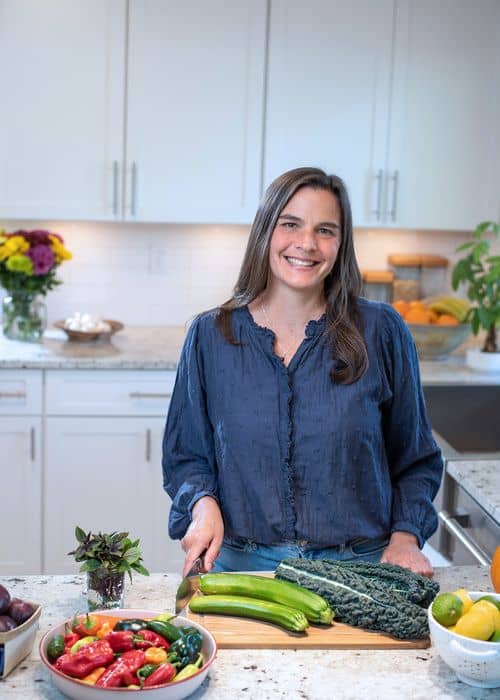 We even got to meet in person at blogging conferences and other get-togethers with mutual friends and do non-blogging fun activities like dining on the waterfront in Sausalito and walking through John Muir Woods (a magical place!). I'm so glad we've stayed in touch over the years!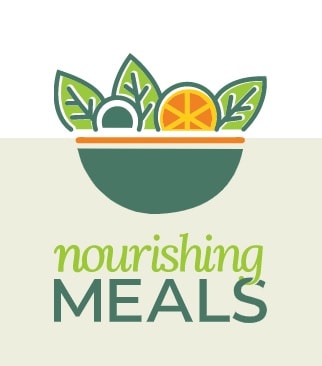 Ali has hundreds of wonderful allergy-free recipes on her Nourishing Meals site. Some are on regular rotation in my house and I've adapted others to create new favorites.
One example is her Zucchini Bake, a simple and wonderful gluten-free dairy-free zucchini dish that has a cheesy taste. First, I adapted her recipe to be my Cheesy Chicken Zucchini Bake and later my Zucchini Potato Bake. We enjoy both recipes often and even serve them to guests.
A number of Ali's bread recipes are included in my Bountiful Bread Basket series. Recipes like this artisan Farmhouse Seed Bread (gluten free, vegan, and more) and Dark Teff Sandwich Bread (gluten free and vegan).
I'm also a big fan of her quick bread (aka batter bread) recipes, such as this Chocolate Banana Bread (and another I mention later).
Some of Ali's recipes are part of her Nourishing Meals meal planning system—with a paid membership—that is designed for an individual's specific dietary needs and can handle every kind of special diet (e.g., low-histamine, low-FODMAP, peanut free, vegetarian).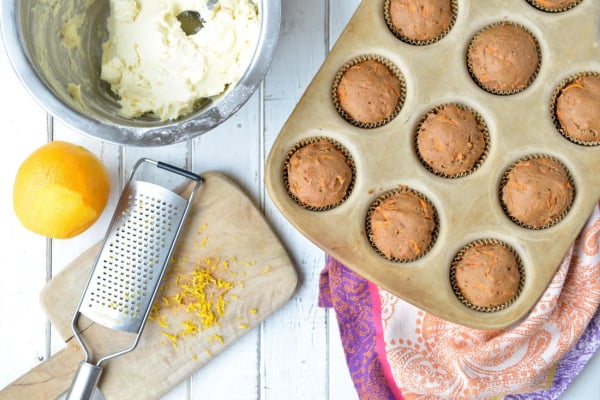 Stay up to date with Ali and Nourishing Meals on her blog, Facebook, Instagram, and Twitter.
Now back to Ali's Gluten-Free Carrot Cake Muffins with Honey Cream Cheese Frosting!
Gluten-Free Carrot Cake Muffins with Honey Cream Cheese Frosting Recipe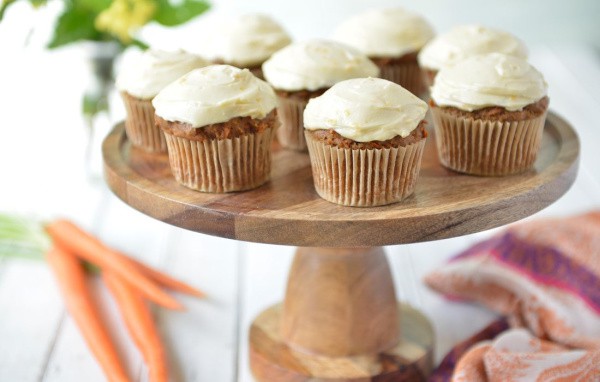 Yield: 12 muffins
Gluten-Free Carrot Cake Muffins with Honey Cream Cheese Frosting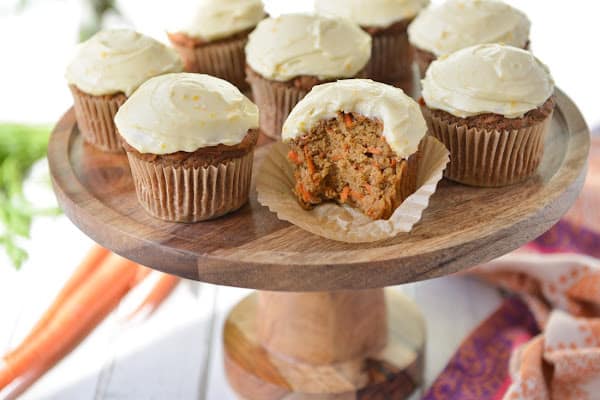 Serve these tender carrot cake muffins as cupcakes with honey cream cheese frosting or as "true" muffins without any frosting. Or maybe some of each.
Additional Time
20 minutes
Ingredients
Dry Ingredients
1½ cups sorghum flour
½ cup tapioca flour
1½ teaspoons baking powder
½ teaspoon sea salt
1½ teaspoons cinnamon
1 teaspoon ground ginger
¼ teaspoon ground nutmeg
3 teaspoons finely grated orange zest (see notes if you don't consume citrus)
1½ cups grated carrots (packed)
Wet Ingredients
½ cup pitted Medjool dates (about 6 to 8)
½ cup boiling water
2 tablespoons ground golden flaxseeds (see notes if you wish to grind your own)
1 tablespoon whole psyllium husks (not psyllium husk powder)
½ cup freshly squeezed orange juice (see notes for substitution option)
½ cup melted coconut oil (or avocado oil)
½ cup unsweetened applesauce
¼ cup coconut sugar (or more, to taste; see notes)
Frosting Ingredients
16 ounces cream cheese (2 packages)
6 tablespoons raw honey
2 teaspoons finely grated orange zest
3 tablespoons arrowroot powder
Instructions
Cupcake Instructions
Preheat your oven to 350F degrees. Line a 12-cup muffin pan with unbleached paper liners or grease the sides with coconut oil.
In a large mixing bowl, whisk together all of the dry ingredients except the carrots. Then add the grated carrots, but don't mix together until you add in the wet ingredients.
Place the dates into a small bowl and cover with the boiling water. Let rest for about 15 minutes. Then add to a blender (water and dates). Add the ground flax, psyllium husks, orange juice, oil, applesauce, and coconut sugar. Blend on high until super smooth and creamy. Pour wet mixture into dry and mix together.
Drop batter evenly into muffin cups. With wet hands, gently smooth the tops if desired. Bake for 25 to 30 minutes.
Remove muffins from pan and let cool on a wire rack before frosting. The muffins will be quite fragile when hot out of the oven but once cooled, are the perfect texture.
Frosting Instructions
Place all ingredients into a small mixing bowl and beat together using an electric mixer.
Add up to 2 extra tablespoons of raw honey for a sweeter flavor, if desired. You may also need to add an extra tablespoon of arrowroot powder if using extra honey.
Spread onto completely cooled muffins.
Notes
Ali says: "Serve these tender carrot cake muffins as cupcakes with the honey-cream cheese frosting or as muffins without any frosting. (If you are dairy-free or vegan, then you can use my Sweet Potato Buttercream Frosting recipe.)
If you don't have orange juice or are sensitive to citrus, then replace the ½ cup of orange juice with ½ cup of organic apple juice and omit the orange zest. I've made them both ways and they are delicious!
The frosting recipe makes enough to generously frost one dozen cupcakes or muffins, with a little extra leftover. For a delicious variation, try omitting the orange zest and replace it with ½ to 1 teaspoon raw vanilla powder for a lovely vanilla cream cheese frosting!"

Zest your orange using a microplane grater before you juice it.

You can grind your flax seeds in a coffee grinder that is not being used for coffee, or use the Dry Container of your Vitamix. If you use the latter, then you'll need to grind at least a ½ cup at once in order for the seeds to break down into a fine meal.

Be sure to use whole psyllium husks, not psyllium husk powder.

Use anywhere from ¼ to ½ cup coconut sugar, depending on how sweet you would like them. I've made them both ways."
Today's MMM Prizes
All giveaways are now closed. Thanks to all who participated!
~ Cookbook
~ Nourishing Meals: 365 Whole Foods, Allergy-Free Recipes for Healing Your Family One Meal at a Time: A Cookbook (one winner; sponsored by Ali Segersten)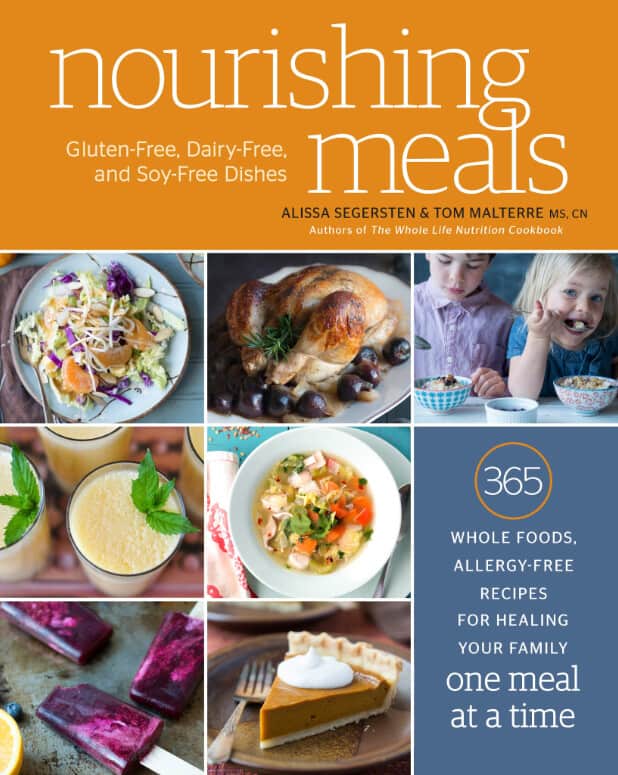 You can read my earlier review of this terrific 500-page book, which is so much more than just a cookbook, and grab one of the 365 recipes (delicious gluten-free and paleo Chocolate Chip Zucchini Almond Bread) on gfe here. But here's an excerpt:
"This cookbook features 365 gluten-free whole-food recipes which are intended to nourish children and families. There are functional medicine basics plus information on protecting your child's microbiome (think gut health), tips for quick and nutritious breakfasts, tips for getting your kids to eat more veggies, tips for creating balanced family meals, and much more.

If you're not one for labels or have no other dietary restrictions than gluten, don't be put off by what I often call "more-free" recipes. In the end, even though we're talking about healthier recipes that work for more people, we're still simply talking about recipes for good food."
~ Ingredients
~ Raw Honey (two winners; sponsored by gfe)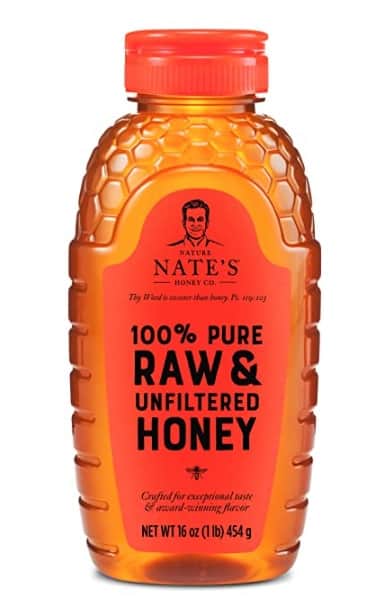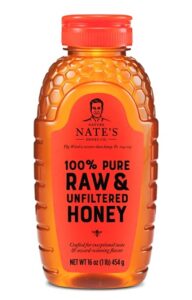 One of my favorite ingredients. Always grateful to our honey bees!
Grand Prize Giveaway
All giveaways are now closed. Thanks to all who participated!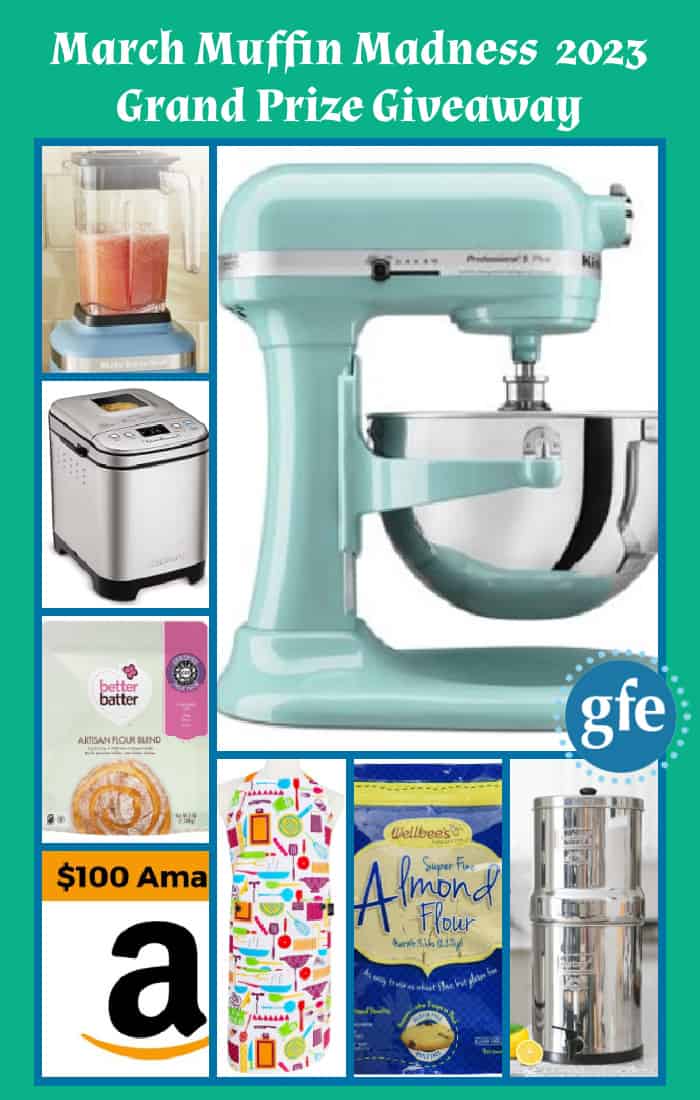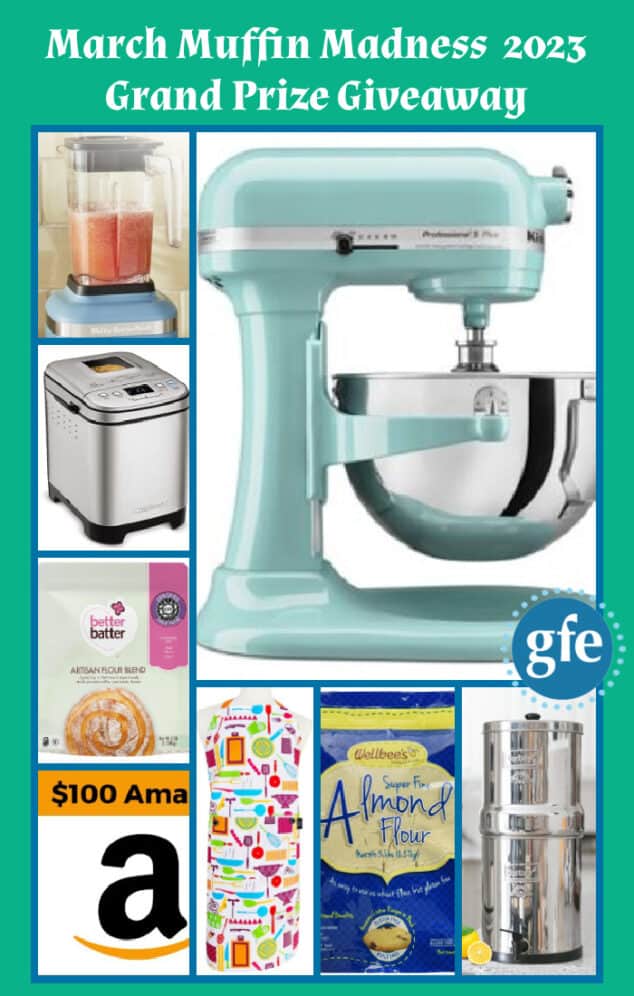 Do any of these prizes interest you? If so, you'll want to enter the giveaway via the Rafflecopter widget below. Note that once you enter, you'll be good to go! You can earn additional entries to the grand prize giveaway by simply commenting on the daily posts to enter the daily giveaways. (One comment per person per post, please.)
a Rafflecopter giveaway
Originally published March 24, 2023.