For affiliate links and as an Amazon Associate I earn from qualifying purchases.
Day 10 of March Muffin Madness brings us Gluten-Free Taste of the Tropics Muffins from Johnna Perry of In Johnna's Kitchen.
Did you hear that? Taste of the tropics? I'm all in!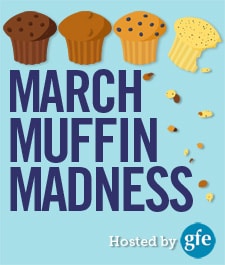 Johnna has participated in MMM since I first started inviting blogging friends to participate in 2014. The first recipe Johnna shared, Gluten-Free Cinnamon Sugar Donut Muffins, is in the Top 10 MMM recipes of all time! Take one look at them and you will understand why of course.
But all of us would just as eagerly reach for either of her other earlier MMM entries—Carrot Ginger Muffins or Hummingbird Muffins in the Instant Pot (your muffin comes in a Mason jar!).

And now Gluten-Free Taste of the Tropics Muffins?! I think we're all ready to be transported to the tropics with a bite of an amazing muffin, aren't we?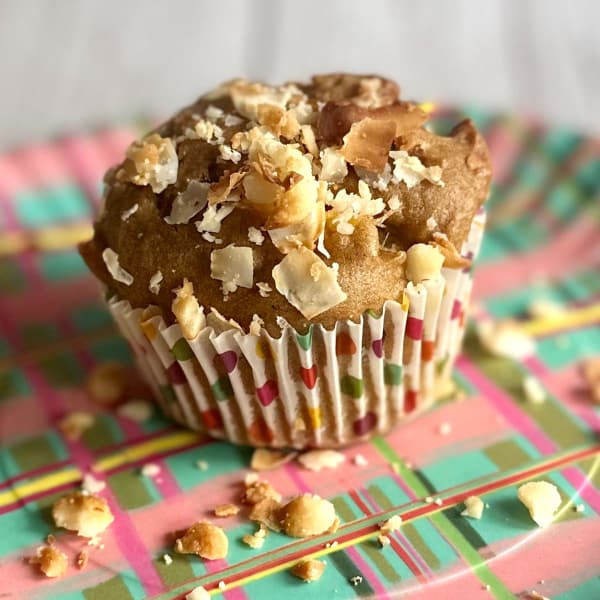 Especially as Spring is slow in coming here. Don't let those early (seemingly) daffodils fool you. LOL
But before we get to Johnna's recipe, I want to point out some more things about Johnna and her site.
Johnna can eat dairy and eggs but she often creates gluten-free recipes without these ingredients—just as she did with the muffin recipe she is sharing today, which is gluten free, dairy free, egg free, and vegan—because she is looking out for her gluten-free, dairy-free, egg-free, and vegan friends and readers.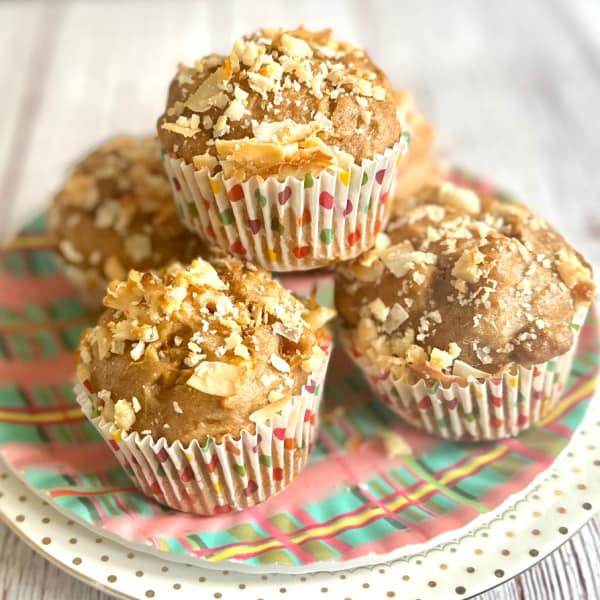 Johnna has an everyone-is-welcome-at-the-table philosophy. Isn't that wonderful?!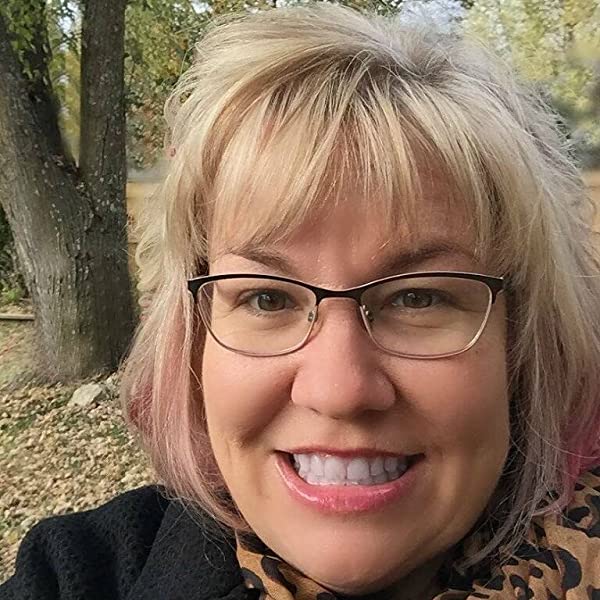 Imagine how much improved all our lives would be if all of our friends and family members had that same policy, welcoming us and feeding us safely!
Baked good recipes on Johnna's site that I love include Ricotta Donut Holes, Bourbon Bacon Chocolate Chip Cookies, No-Bake Chocolate Chip Cheesecake, Pumpkin Streusel Cream Cheese Muffins, and Recon (Almost Scout) Cookies.
And in case you didn't already know, Johnna also has her own cookbook that is full of gluten-free baked goods! Be sure to check that out in today's giveaway.
Some of my other favorite, savory recipes from In Johnna's Kitchen are Sweet Ginger Sriracha Roasted Cashews, Johnna's Japchae, Egg Flower Soup (aka Egg Drop Soup) for One, Tot-Tada—A Waffled Tat Tot Tostada, Zucchini Ravioli, and Mexican Street Corn Salad. I could go on!
In addition, to being one of our best gluten-free recipe creators, Johnna is also one of our most caring advocates.
I often see issues arise that need airing to the gluten-free community. As I'm thinking to myself, oh, boy, I really need to discuss this with my gfe readers, almost instantly I will see a new blog post or social media post pop up from Johnna giving everyone a heads up.
She always alerts readers to concerns to keep them safe even when it's not popular (e.g., not everyone wants to know that there may be gluten concerns with a product or menu item they enjoy, some don't see why foods labeled "gluten-friendly" and "gluten-sensitive" are a problem). Plus, I also know that Johnna does a lot of behind-the-scenes work for our gluten-free community.
You can follow Johnna on her blog, Facebook, Instagram, Pinterest, and Twitter. She also founded and leads the Gluten-Free Kansas City Facebook group.
The other world that Johnna lives and thrives in with her husband is the special events world, via their custom balloon artistry company, Up, Up & Away! "Unique, whimsical, extraordinary artistry created with balloons by John and Johnna."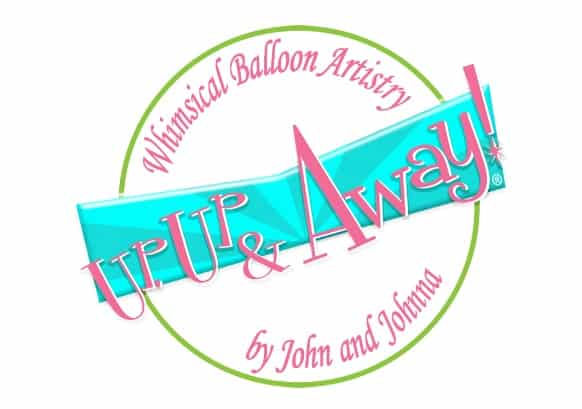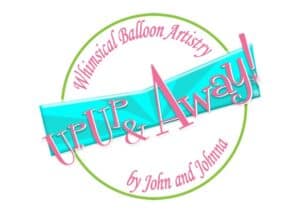 I follow all of the Up, Up & Away! social media accounts (Facebook and Instagram) because I need show-stopping beauty, fun, and whimsy in my life on a daily basis, and following their posts gives me that.
Note that if you're in the greater Kansas City area, you're really lucky because you are likely to actually see Up, Up, and Away!'s work in person on occasion but Johnna, John, and their team do travel all over the world to create balloon sculptures so you really might see their work anywhere.
My "problem" with writing about Johnna is that I am one of her biggest fans! She has in fact become one of my dearest friends over the years since I first met her through a mutual friend in the gluten-free community.
I could sing her accolades and tell you about all her superb work and recipes nonstop. But I'll take a pause for the cause of MMM and let her whisk us away with her divine Gluten-Free Taste of the Tropics Muffins recipe. And then we will get to today's prizes, which she also plays a major role in!
Gluten-Free Taste of the Tropics Muffins Recipe
Johnna says: "Packed full of the flavors of a warm, tropical vacation, these muffins have a bit of crunch on top thanks to coconut and macadamias lightly caramelized in coconut sugar. The muffins are moist on the inside with my favorite tropical trio: banana, mango, and pineapple. I hope you enjoy!"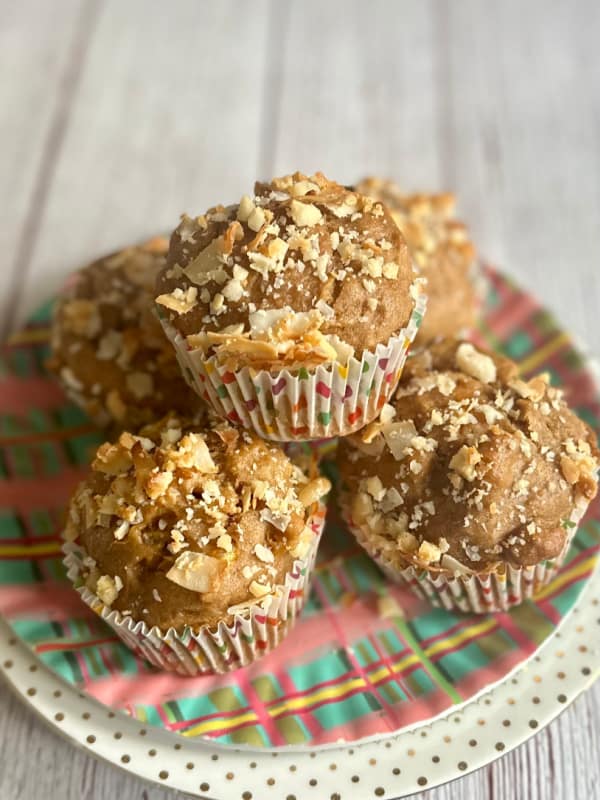 Yield: 12 muffins
Gluten-Free Taste of the Tropics Muffins (Dairy Free, Egg Free, Vegan)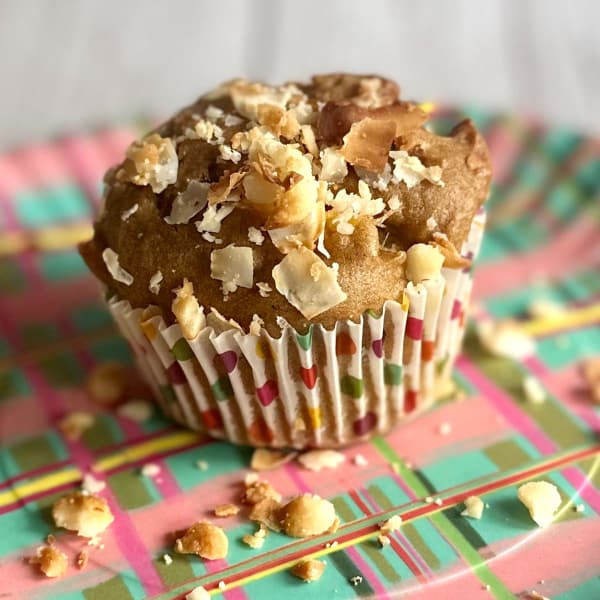 Johnna says: "Packed full of the flavors of a warm, tropical vacation, these muffins have a bit of crunch on top thanks to coconut and macadamias lightly caramelized in coconut sugar. The muffins are moist on the inside with my favorite tropical trio: banana, mango, and pineapple. I hope you enjoy!
Additional Time
15 minutes
Ingredients
1 1/2 cups coconut sugar
4 teaspoons baking powder
2 teaspoons xanthan gum
1/2 teaspoon fine sea salt
1 cup unsweetened almond milk
2/3 cup vegetable oil
1/2 cup smashed banana
1 1/2 teaspoon vanilla bean paste or vanilla extract
1/2 cup chopped dried mango
1 cup fresh pineapple chunks, well-drained
Macadamia nut topping:
1/3 cup chopped macadamia nuts
2 Tablespoons coconut sugar
Instructions
Preheat oven to 400°. Spray muffin pan with non-stick spray or line with cupcake papers.
In a large bowl, combine dry ingredients, stirring to combine. In a second bowl, combine milk, oil, banana, and vanilla. Stir to combine and then fold into dry ingredients in large bowl. Once combined, fold in mango and pineapple, just until combined.
Using a ¼ cup measuring cup, scoop a generous cup of batter and place in each of the 12 cavities of your muffin pan.
In a small bowl, combine macadamia nuts, coconut and coconut sugar. Stir to combine. Sprinkle evenly on top of muffin batter.
Bake for 22-24 mins at 400° until a toothpick inserted comes out clean. Allow to cool before enjoying.
~ Today's MMM Prizes
All giveaways are now closed. Thanks to all who participated!
~ Cookbook
~ Gluten-Free Baking for Beginners: The Essential Guide to Sweet and Savory Baking (2 winners; sponsored by author Johnna Perry)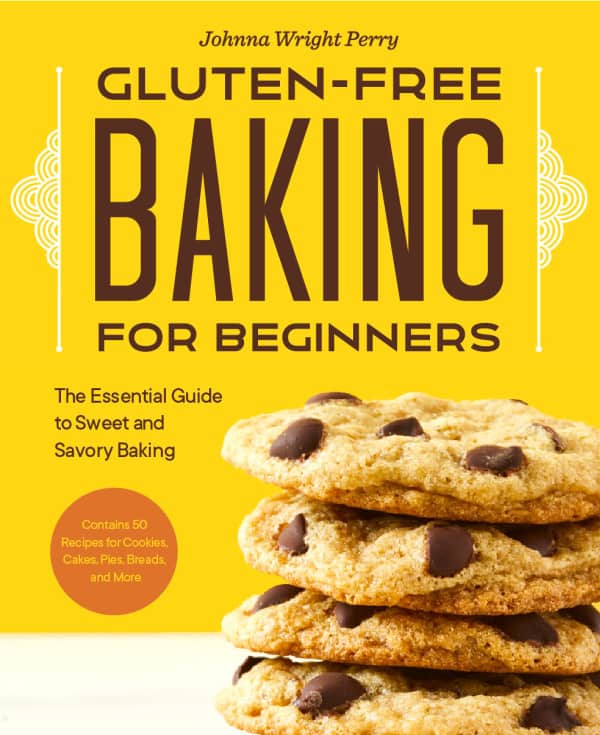 Johnna is offering signed copies of her beloved cookbook to two lucky winners. Here's my editorial review that you can see on Amazon.
"If you need a warm and helpful friend in the kitchen to walk you through the essentials of delicious gluten-free baking with recipes that you not only want to make but that also truly work, this gem of a cookbook from Johnna of In Johnna's Kitchen is for you! After reviewing and using many gluten-free cookbooks since going gluten-free two decades ago, I have to say this cookbook is exceptional. A must-have for both those new to gluten-free baking and gluten-free 'veterans' who have set aside one gluten-free cookbook after another in their quest for successful baked goods. Your search is over, folks!"
You can read my full, detailed review here on gfe, including learning about some of the terrific recipes I've made from Johnna's cookbook.
p.s. If you have to eat "more" than gluten free, know that 90% of the recipes are either dairy-free as written or have a dairy-free option. A third of the recipes are egg free or have an egg-free option. Plus, Johnna gives you some great tips for egg-free baking.
~ Kitchen Supplies
~ Gluten-Free Potholders/Hot Pads and Dish Towels (1 winner; sponsored by creator Donna Wendt)
One of my kindest and most loyal gfe readers Donna Wendt created these products. Her goal was to remind folks that gluten-free food items are gluten free and need to be kept free of gluten cross-contact.
Donna sent these gorgeous sets shown below to me a few years ago as a Christmas gift. I remain grateful.
The quality of these products is off the charts. The pot holders/hot pads are incredibly thick and all are well-made and durable. And most importantly, they do stand out and get people's attention, which will help keep us safe when we're enjoying a shared meal.
Note that the winner will get to choose the color of their set.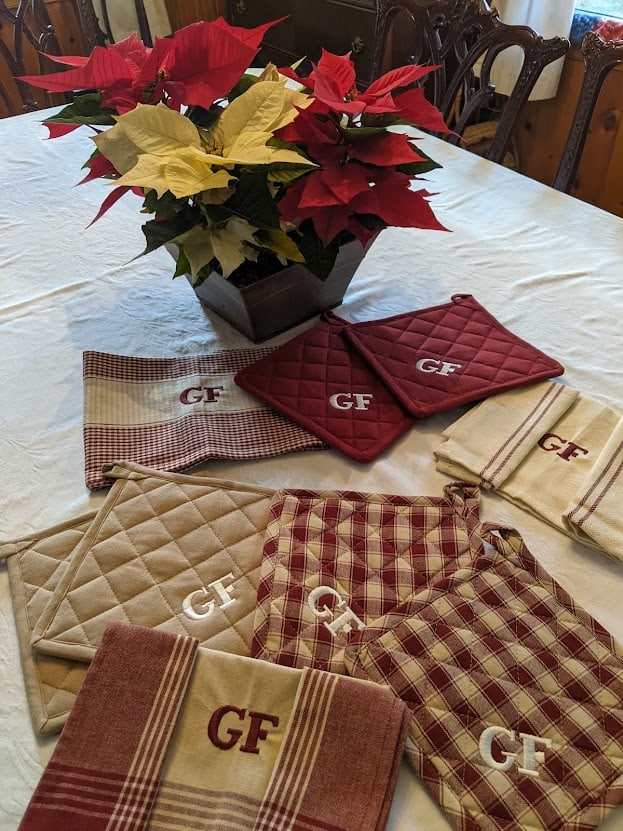 ~ Ingredients
~ Coconut Sugar (one winner; sponsored by gfe)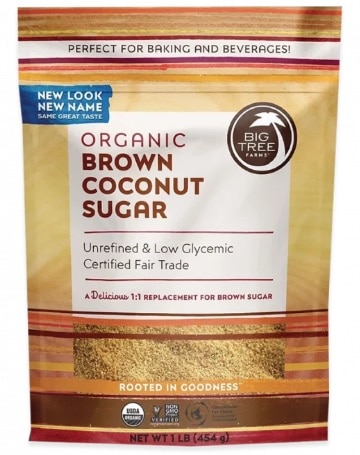 Coconut sugar is a delicious way to enjoy sweetness without refined sugar. It can be used instead of granulated white sugar or light brown sugar in recipes—with great results. (Johnna uses coconut sugar as the sweetener in today's muffin recipe.)
Grand Prize Giveaway
All giveaways are now closed. Thanks to all who participated!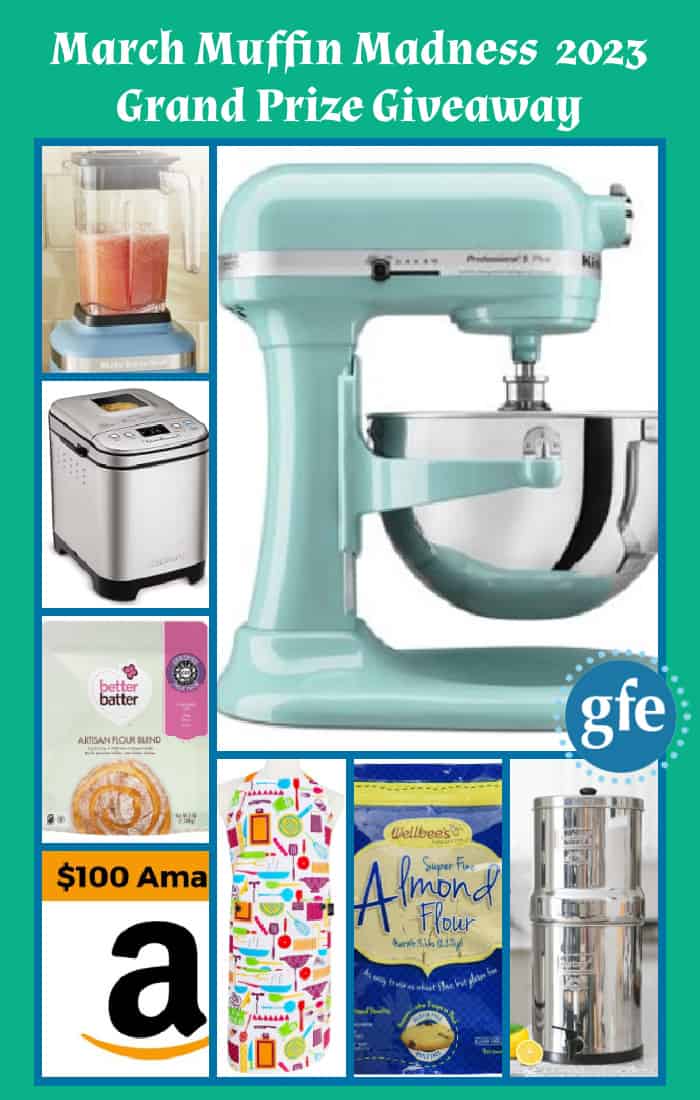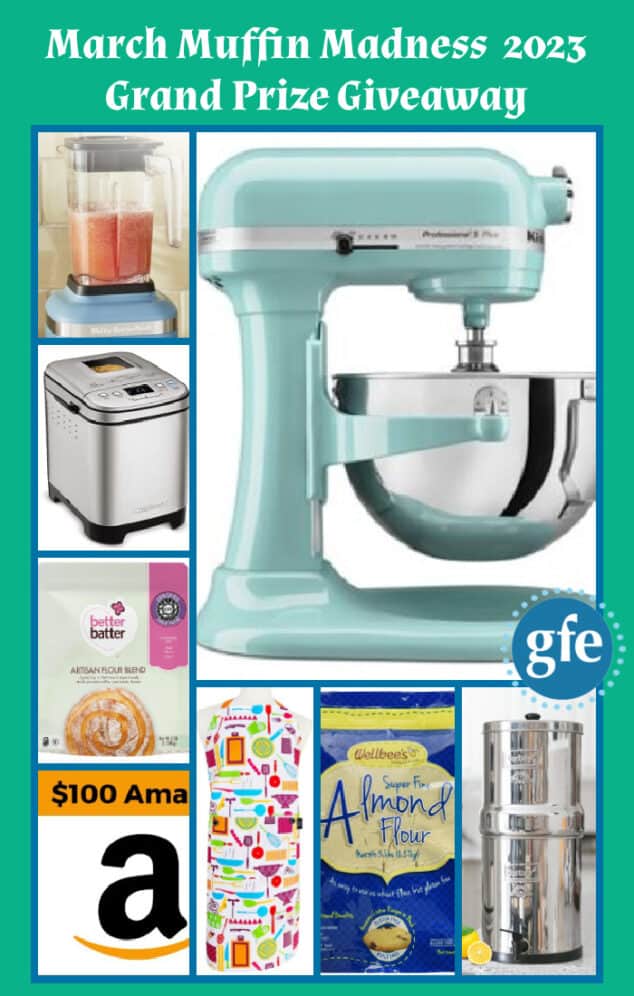 a Rafflecopter giveaway
Originally published March 23, 2023; updated April 8, 2023.