For affiliate links and as an Amazon Associate I earn from qualifying purchases.
For Day 9 of March Muffin Madness, we get to enjoy Paleo Caramel Apple Muffins from Stacey Crawford of Beauty & the Foodie. They come with an easy low-carb option as well.
Stacey participated in MMM a few years back. Her Glazed Lemon Berry Muffins and her Easy Low-Carb Snack Recipes cookbook were both featured and appreciated!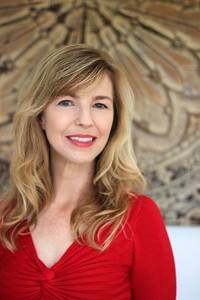 Stacey is "a licensed cosmetologist, certified colorist, and color correction specialist" and someone who likes to create DIY beauty solutions. That explains the "Beauty" part of her blog name.
The "Foodie" part is pretty evident. Stacey is a prolific recipe creator and a brilliant one in my opinion.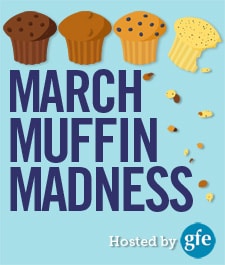 As most of you know, I like minimalist recipes that use very few ingredients. Often such recipes are naturally gluten free (and often grain free—and more—as well).
Stacey takes this kind of thinking to a new level in how she creates incredible recipes. While these types of recipes from Stacey are low carb and/or keto, you don't have to "be" either to enjoy them.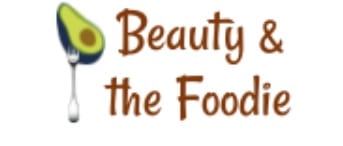 In many cases, these recipes don't even really require special ingredients, or you can sub in an everyday ingredient (e.g., regular powdered sugar for low-carb, keto-friendly powdered sugar) if you do not eat keto.
To see what I mean, check out these recipes from Stacey: Easy Keto Potstickers with Asian Dipping Sauce, Low-Carb Pizza Chips, Easy Keto Pizza Turnovers, Keto Blackberry Cheese Danish Turnovers, Easy Low-Carb Peaches and Cream Turnovers, Easy Keto Chocolate Nutella Ravioli, and Spanakopita-Stuffed Chicken.
I love that she almost always gives her readers options. Super easy options.
For example, today's recipe for Caramel Apple Muffins is paleo when made using coconut sugar or low carb when made with Swerve granular (or this alternative). An easy one-for-one swap that depends totally on which ingredients and which category of muffin works best for you.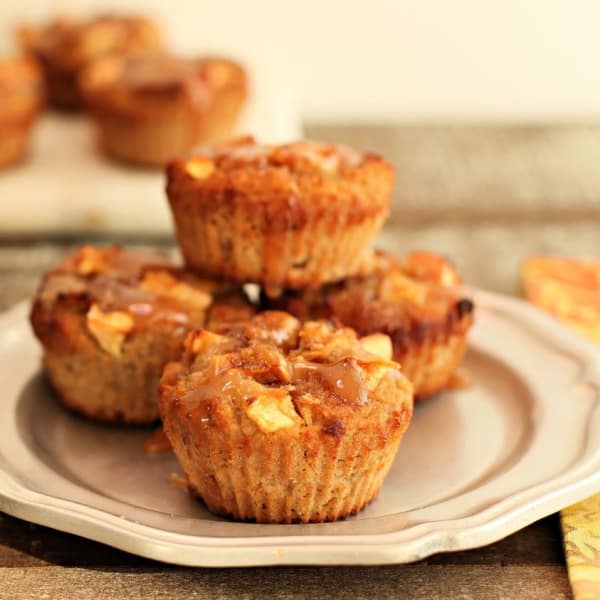 Stacey says: "I love caramel apples, but they are not low carb and not great for the teeth. These muffins have the taste of caramel apple but without the extra carbs and the wrecked dental work.
These will make your mouth very happy and keep you away from the dental office."
None of us needs an extra trip to the dentist (or even thinking about going to the dentist if I'm being honest here) but many of us do love the caramel apple combination. Thanks to Stacey, we can indulge!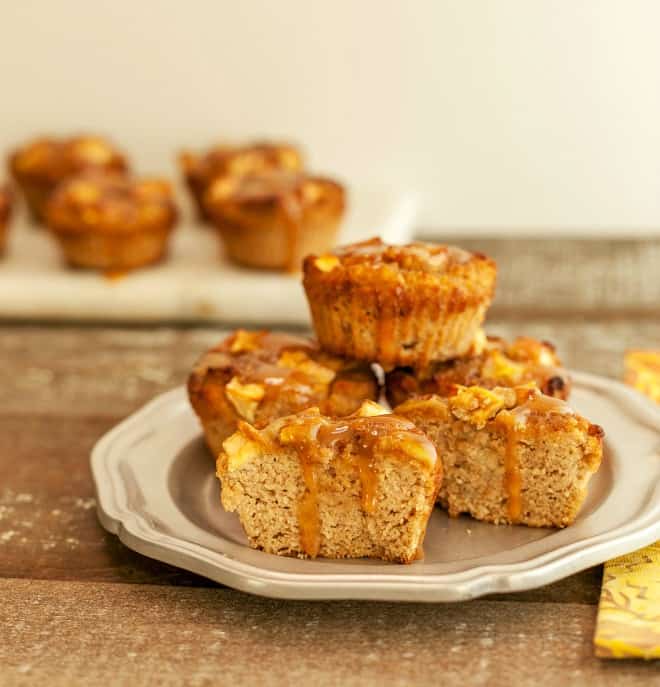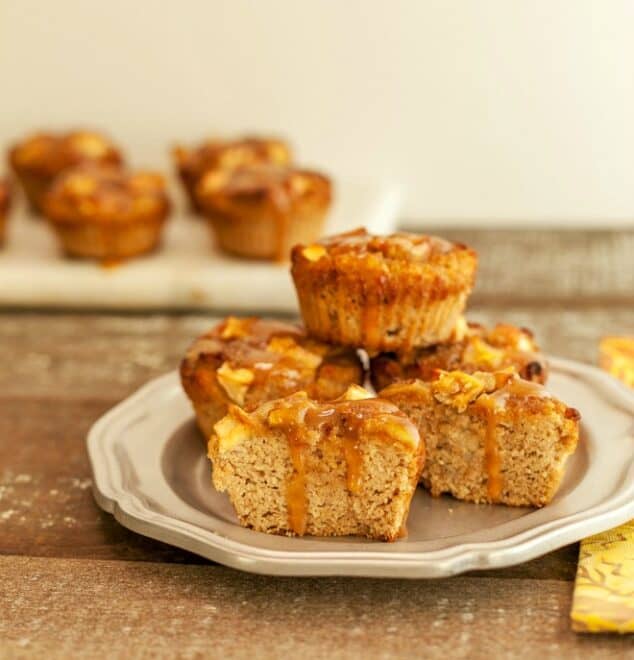 Be sure to follow Stacey on her blog, Facebook (in addition to recipes, she shares some great "funnies" there!), Instagram, and Pinterest.
Paleo Caramel Apple Muffins Recipe (Low-Carb Option)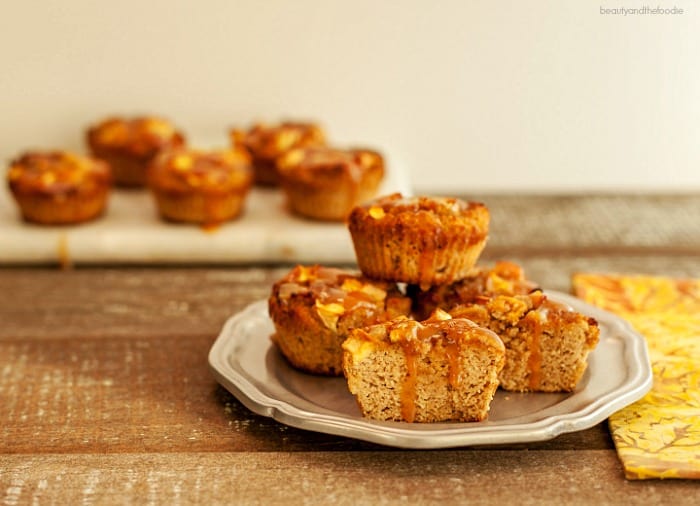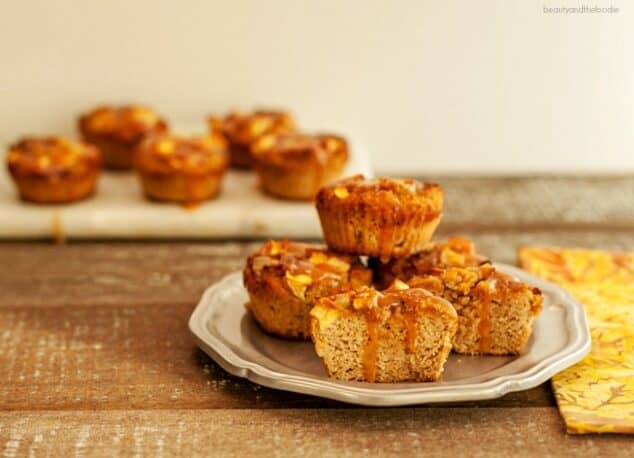 Yield: 12 muffins
Paleo Caramel Apple Muffins (Low-Carb Option)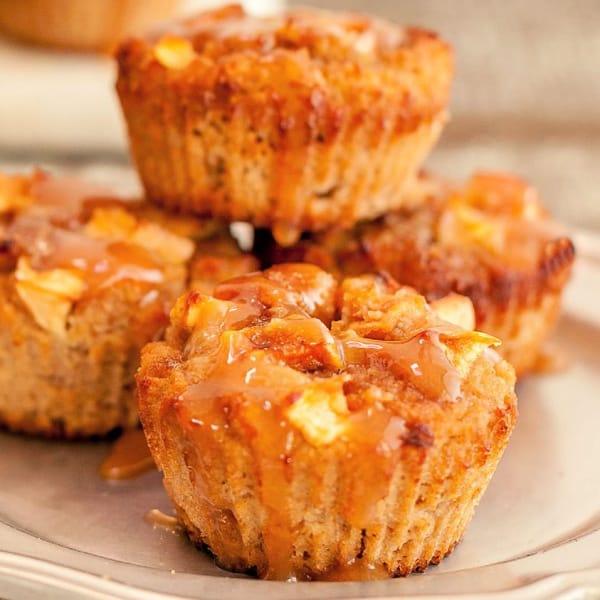 These Caramel Apple Muffins are tasty grain-free apple cinnamon muffins with a gooey caramel topping! Made with coconut sugar for a paleo version or a low-carb granular sweetener (from Swerve or Wholesome Yum) if you prefer.
Ingredients
Batter Ingredients
½ cup coconut flour
⅓ cup blanched finely ground almond flour
6 tablespoons sweetener of choice: coconut sugar for paleo version or low-carb granular sweetener such as Swerve for low-carb version
1 teaspoon cinnamon
1 teaspoon baking powder
½ teaspoon baking soda
3 eggs
½ cup unsweetened almond milk or coconut milk
⅓ cup unsweetened applesauce
2 tablespoon butter melted
1 teaspoon vanilla extract (or apple extract)
½ medium-sized apple, chopped
1 tablespoon sweetener of choice: coconut sugar for paleo version or Swerve granular for low-carb option
¼ teaspoon cinnamon
Caramel Sauce Ingredients
1 ½ tablespoon butter
1 tablespoon heavy cream or canned full-fat coconut milk
1 tablespoon sweetener of choice: coconut sugar for paleo or low-carb brown sweetener for low carb (or Swerve granular for another low-carb option)
Instructions
Preheat oven to 375 F (190 C) and line or grease a muffin pan.
In a large mixing bowl, combine coconut flour, almond flour, 6 tablespoons of sweetener of choice, cinnamon, baking powder, and baking soda. Mix together thoroughly and be sure to break up any clumps. Set aside.
In a medium mixing bowl, combine eggs, almond milk, applesauce, 2 tablespoons melted butter, and apple extract or vanilla extract. Mix together thoroughly.
Add wet ingredients to the dry ingredients and mix together thoroughly.
Spoon batter into the muffin pan.
Chop half of the apple into small pieces, and divide and place apple pieces on top of each muffin.
In a small bowl, combine 1 tablespoon sweetener of choice and ¼ teaspoon cinnamon.
Sprinkle on top of muffins. Bake muffins for 25 to 35 minutes, or until muffins are done in the center.
In a small saucepan over medium heat, combine all the caramel sauce ingredients and stir while the ingredients melt and mix together until bubbling. Remove from heat to cool a little and thicken.
Drizzle the caramel sauce over the muffins.

~ Today's MMM Prizes
All giveaways are now closed. Thanks to all who participated!
~ Cookbooks
~ Keto in An Instant: 100 Ketogenic Recipes for Your Instant Pot (2 winners; sponsored by Stacey Crawford)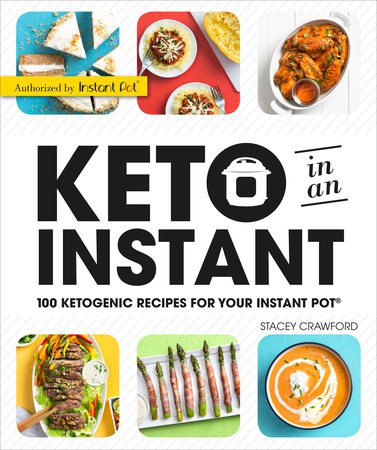 Stacey Crawford's Instant Pot (IP) cookbook is the perfect cookbook for folks who eat keto and love to use their IP—or want to love using their IP but don't yet know how. You'll find 100 easy-to-make recipes for breakfasts, mains, soups and stews, sides, desserts, and more, each with clear, detailed instructions. Plus, Stacey shares essential nutrition information and macros for every recipe, with tips for simple substitutions and for making many of the recipes dairy-free. There are also simple tips and tricks for getting the most out of your IP as well as guidance on stocking your kitchen for cooking keto.
~ 30-Minute Paleo: 60 Low-Prep, Big-Flavor Meals for Every Day of the Week (1 winner; sponsored by Page Street Publishing)
This new cookbook from Jessie Bitner gets raves! I took a quick flip through it and found a bunch of recipes that I wanted to make immediately. And I mean immediately. Crispy Battered Fish and Oven Fries (this one might get made tonight!), Philly Cheesesteak Skillet with Paleo Cheese Sauce, Thai Green Coconut Curry with Shrimp, Chocolate Chip Sheet Pan Pancakes, and Pumpkin Spice Baked N'Oatmeal Bites, are just some of the recipes on my list.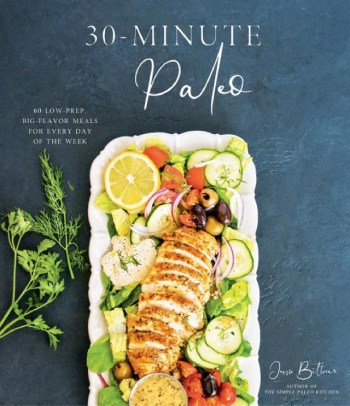 It's always inspiring when cookbooks and the recipes in them make you want to cook, especially to make a meal! Plus, Jessi says that "thirty minutes" (in the title) means from the time you start chopping until the meal is plated. She adds that most of her recipes in this cookbook are on the table in less time than that. Love that!
~ Baking Supplies
~ Mini Cake Pan – Silicone Fluted Tube Cake Pans Non-Stick Fancy Molds, 3-pan set (1 winner; sponsored by gfe)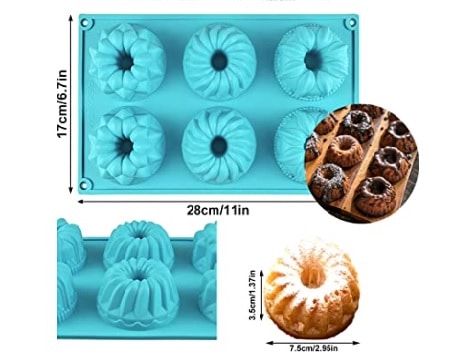 These non-stick pans/molds are ideal for mini Bundt cakes, muffins, cupcakes, donuts, cornbread, brownies, and more! You can have some fun with these. I mean everyone loves mini treats—finger-sized food—right? Minis can also be a wonderful way to get children to try a new recipe.
Grand Prize Giveaway
All giveaways are now closed. Thanks to all who participated!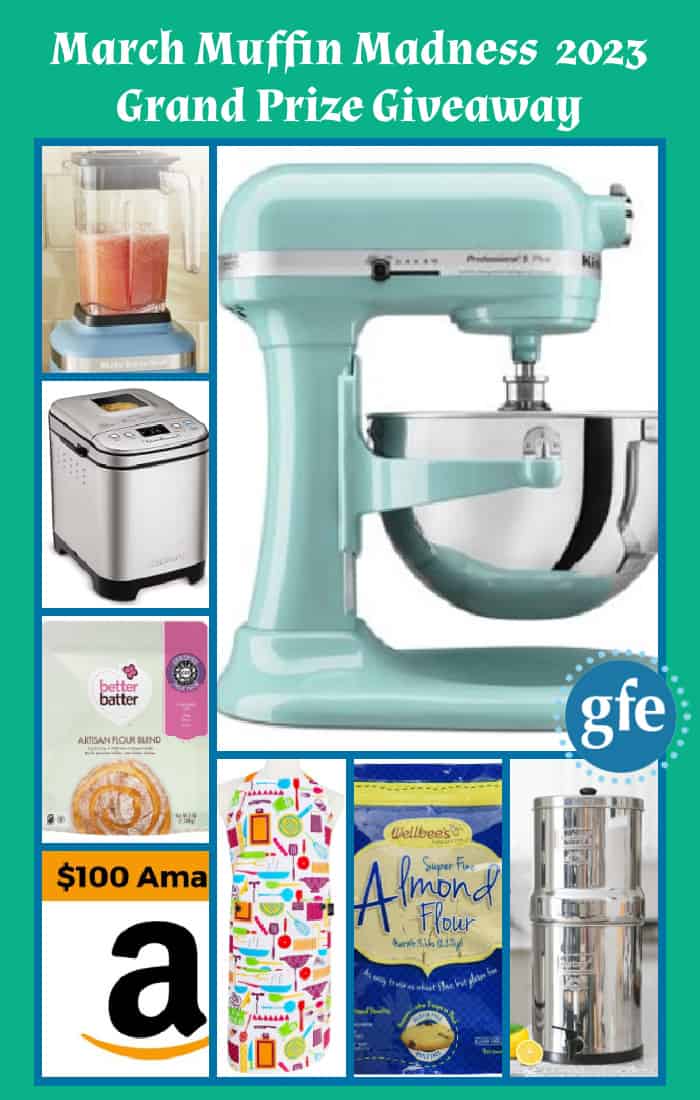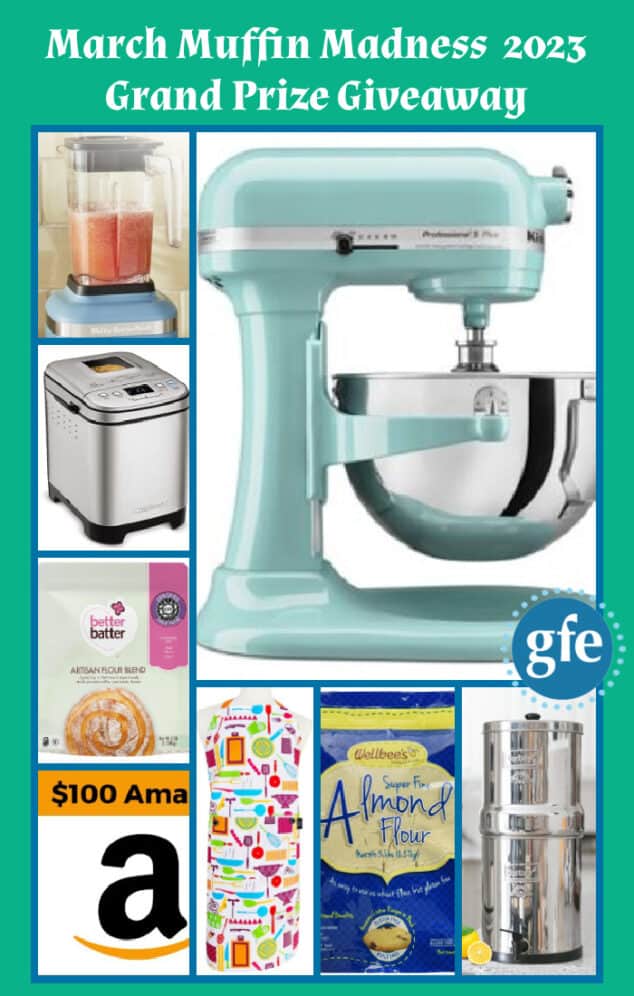 a Rafflecopter giveaway
Originally published March 22, 2023; updated April 8, 2023.