For affiliate links and as an Amazon Associate I earn from qualifying purchases.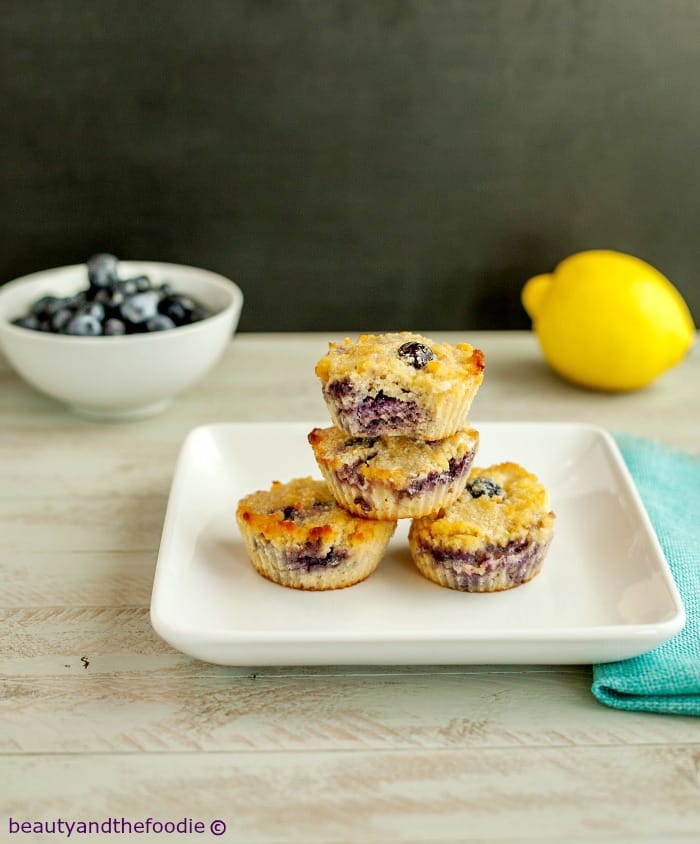 We are in the final days of March Muffin Madness (MMM)! Of course, if you're following that other March Madness, you no doubt know that already. Are you caught up on all the amazing gluten-free muffin recipes, fantastic daily prizes, and the incredible overall/grand prize offering? If not, I'll tell you how to catch up in today's post but, first, we have some Grain-Free Glazed Lemon Berry Muffins to talk about!
Grain-Free Glazed Lemon Berry Muffins from Beauty and the Foodie
I'm happy to have sweet Stacey of Beauty and the Foodie sharing her Grain-Free Glazed Lemon Berry Muffins recipe with us all today. Stacey describes these as a "light, lemony muffin with blueberries and a sweet citrus glaze on top." Now how good do these muffins look and sound?
I love that these muffins are easy to make and are grain-free with several other special diet options (e.g., refined sugar free, low carb) depending upon one's personal preferences. I'd like to give them a try substituting Earth Balance buttery sticks or coconut oil for the small amount of butter in the recipe. Stacey says these muffins are perfect for breakfast and between meal snacking. Yep, that's another reason why muffins rule and why I host MMM!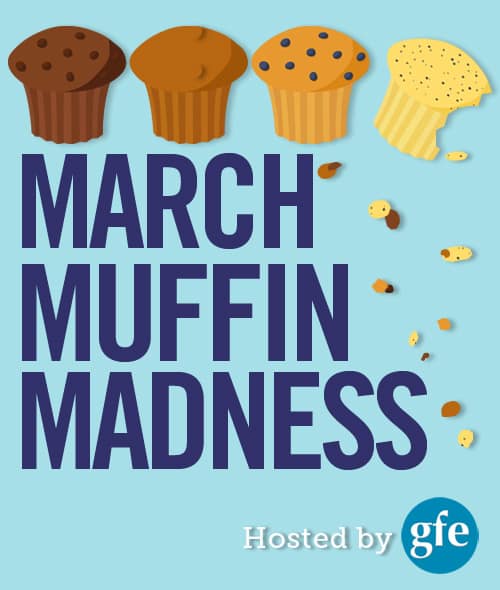 You'll want to check out Stacey's other grain-free muffin recipes, of course:
~ Carrot Cake Zucchini Muffins,
~ Sour Cream Pumpkin Butter Muffins,
~ Chocolate Chip Berry Fiber Muffins,
~ Paleo Strawberry Banana Chocolate Chip Muffins.
I have several other favorite recipes at Beauty and the Foodie … Paleo Pumpkin Pie Dessert Nachos, Paleo French Apple Pie Bread, Paleo Peach Mini Pies, Turkish Cardamom Coffee, and last, but not least, Quick Paleo Cinna Bun Muffins.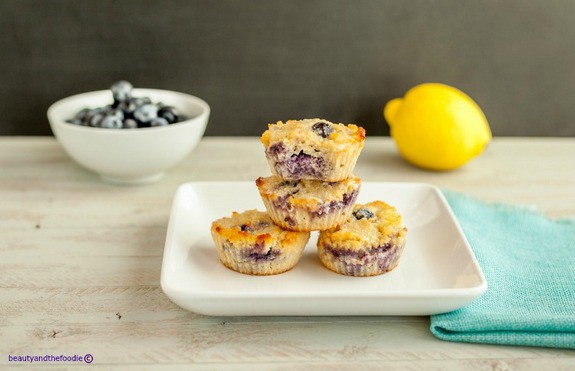 I know you're anxious to check out Stacey's Grain-Free Glazed Lemon Berry Muffins, but please be sure to check out and enter the giveaways below. Stacey's great Easy Low-Carb Snack Recipes ebook is even included and since we're near the end of MMM, I don't want you to miss any entry opportunities! Remember that every comment on every post in MMM is an entry in the grand prize drawing!
Today's Daily Giveaway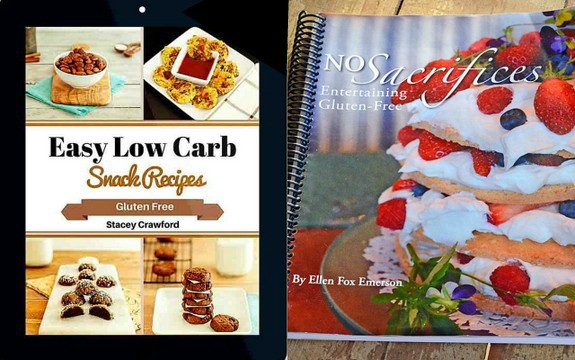 ~ Easy Low-Carb Snack Recipes: Gluten Free Ebook from Stacey Crawford (3 winners)
If you need more gluten-free, low-carb snacks in your life, you're going to love this book from Stacey of Beauty and the Foodie! Stacy's recipes allow you to "get all the crunchy, salty, and sweet snack recipes without all the carbs." Complete nutritional data is provided with each recipe. If you're like me, you can get into a rut even with snacks, so this cookbook from Stacey will be ideal for making between meal times more enjoyable and healthy! Thanks to Stacey for sponsoring this giveaway!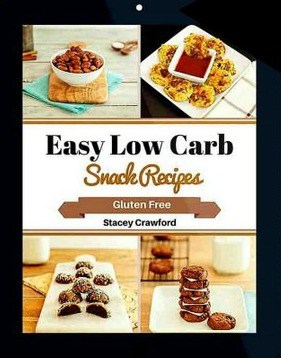 ~ No Sacrifices: Entertaining Gluten-Free from Ellen Fox Emerson (2 winners)
A dear and mutual gluten-free friend introduced me to Ellen and her new cookbook, and I'm so glad she did! This is a delightful cookbook with over 100 recipes and over 150 beautiful glossy photos. It has a wonderful Southern Living magazine vibe to it, but unlike Southern Living, all the recipes in this publication are gluten free. As is true for all good gluten-free cookbooks (in my humble opinion), Ellen starts out by sharing her personal story on living gluten free. Then she moves on to "The Basics." I was delighted to find that section included a short tribute to my good friend Jeanne Sauvage and her blog, Art of Gluten-Free Baking, there as Ellen uses a gluten-free flour mix that is a variation of Jeanne's original mix using substitutes that Jeanne recommended. (By the way, you can enter to win Jeanne's cookbooks here and here.)
Once "The Basics" are out of the way, Ellen gives you 13 special occasion menus: New Year's Day Dinner or Six, Valentine's Day Dinner for Two, Mardi Gras Buffet for Twelve, Pizza Extravaganza Buffet for Twenty, Easter Dinner for Eight, Princess Birthday Party for Twelve, Southern Picnic for Twelve, Crab Cake Dinner for Two, Bridal Brunch for Twenty, Tailgate Picnic for Eight, Spaghetti Dinner for Eight, Thanksgiving Dinner for Eight, and Traditional Christmas Dinner for Six. Within each special occasion section, she gives you all the recipes you'll need to host these events.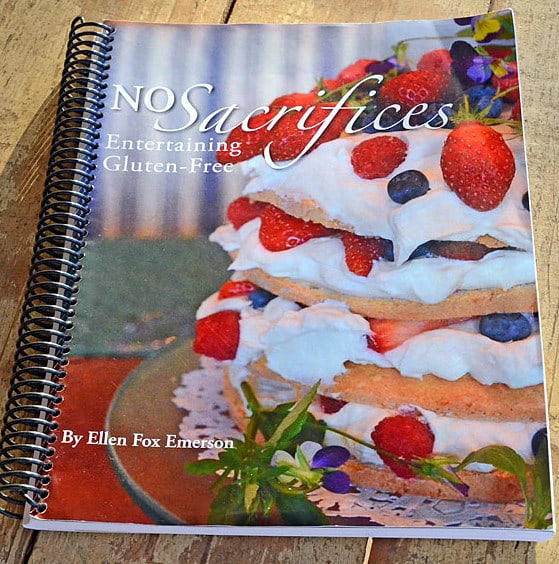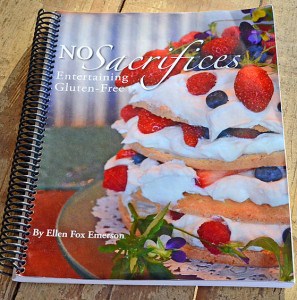 There's no need to get overwhelmed by entertaining when you have Ellen's guidance and, of course, as the title says there are "no sacrifices" at all. Your special occasions will be just as fun and delicious as they ever were before going gluten free. Ellen proves that by sharing photos of her "in-real-life" family and friends enjoying her recipes at these actual events that she hosted! No publication "smoke and mirrors" here. You can even see a 26-page excerpt of Ellen's cookbook, which includes her New Year's Day Dinner for Six menu and recipes here. I so appreciate Ellen sponsoring this giveaway! This cookbook is a $40 value.
a Rafflecopter giveaway
Grand Prize Giveaway (1 winner for each)
Be sure to enter the overall/grand prize giveaway at the bottom of this post and come back tomorrow for another terrific gluten-free muffin recipe and another daily giveaway. Again, remember that commenting on every post during the MMM event gives you additional entries into the grand prize drawing, which includes the following, so be sure to spread the comment love here and on participating posts! Time is running out!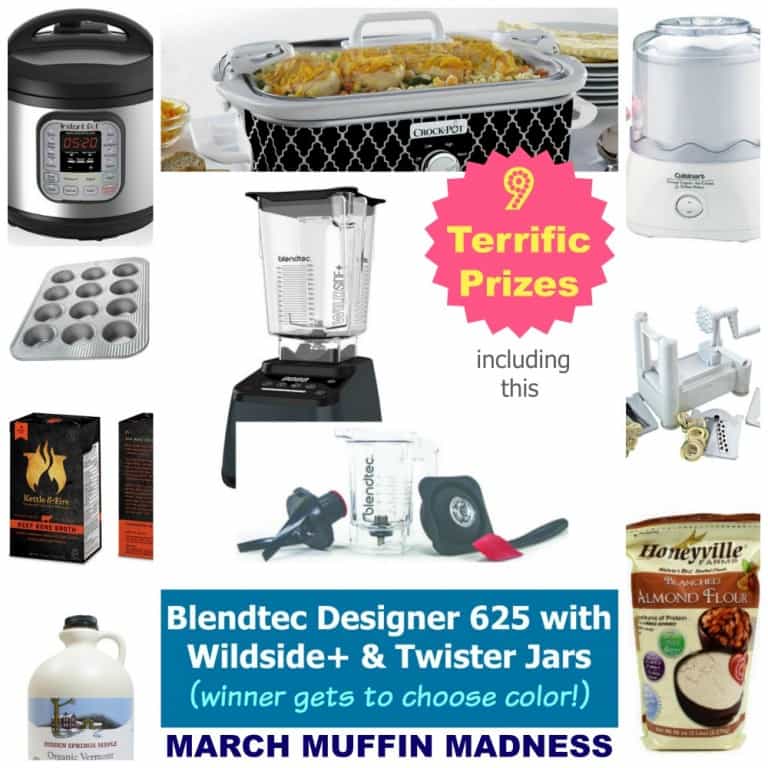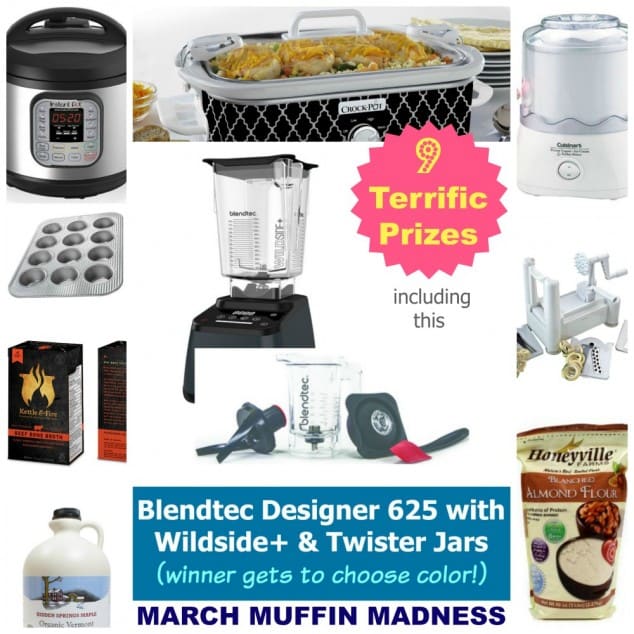 1/2 gallon Hidden Springs Vermont organic maple syrup,
USA Bakeware 12-cup muffin pan,
Kettle & Fire bone broth (thanks to the folks at Kettle & Fire!),
5-lb bag of Honeyville almond flour, 
Paderno World Cuisine vegetable slicer/spiralizer,
Crockpot casserole slow cooker,
Instant Pot pressure cooker, and
Blendtec Designer 625 with Wildside+ jar and Twister jar—this is our grand prize! It's sponsored by the generous folks at Blendtec. The winner even gets to choose the color of their high-speed blender/all-in-one appliance. You can see the up-to-date listing of daily prizes and the complete lineup of bloggers and recipes in the kickoff post here.
a Rafflecopter giveaway