For affiliate links and as an Amazon Associate I earn from qualifying purchases.
Welcome back to March Muffin Madness (MMM)! I love seeing how excited you all are about these gluten-free muffin recipes, terrific daily prizes, and the amazing overall/grand prize offering—with the Blendtec, Instant Pot, Cuisinart Ice Cream Maker, and so much more! (See complete listing at the bottom of this post.) We've got some gluten-free Maple Bacon Buckwheat Carrot Muffins on our pastry rack right now!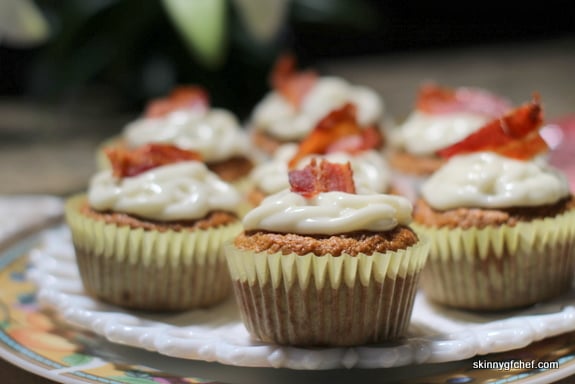 Gluten-Free Maple Bacon Buckwheat Carrot Muffins from Skinny GF Chef
Today we welcome my friend Ali of Gluten-Free Home Bakery to MMM. She's sharing her Maple Bacon Buckwheat Carrot Muffins! Don't they look fantastic? These muffins are not only gluten free, but also dairy free, refined sugar free, and xanthan gum free.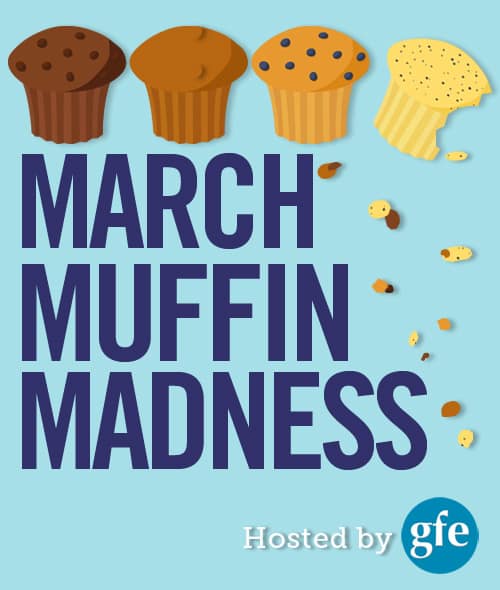 Of course, if you use the Cream Cheese Frosting, which is shown on these muffins, they will contain both dairy and refined sugar. If you're vegetarian, no worries … you can simply omit the bacon "flourish" if you choose to frost your muffins.
Using Truly Gluten-Free, Purity Protocol Oats
Ali's muffins use a combination of buckwheat flour and oat flour. When you make these muffins, be sure that the flours you use are gluten free. If you eat strictly gluten free for medical reasons, I urge you to use oat flour made from purity protocol oats versus mainstream oats that have been mechanically separated and tested via an "averaging" of test results. The averaging of test results is currently allowed by the FDA, but this averaging "dilutes" results so that while testing results will indicate that the oats are less than 20 ppm, you can still end up with gluten-full oats in your bowl (or recipe). Therefore, it is no longer sufficient to buy oats that have "gluten free" on the label or even ones that say "certified gluten free." Here's the current listing of companies that use purity protocol oats.
Of course because we're in MMM, I do want to share some of Ali's other muffin recipes with you!
~ Grain-Free Blueberry Coconut Chia Muffins,
~ Low Carb Peanut Butter Muffins, and
But, I'd be remiss if I didn't mention a few of her so many wonderful bread recipes to you, like Buckwheat Artisan Bread Boule, Best Chia Grain-Free Bread in the Bread Machine, Paleo French Bread, and Grain-Free Sesame Chia Bread in the Bread Machine.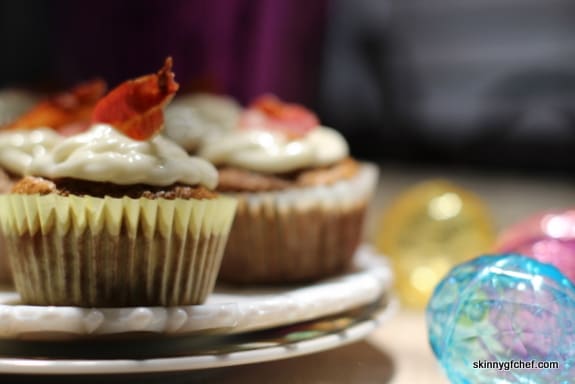 Before you click over for Ali's Maple Bacon Buckwheat Carrot Muffins recipe, be sure to enter the giveaways below!
Today's Daily Giveaway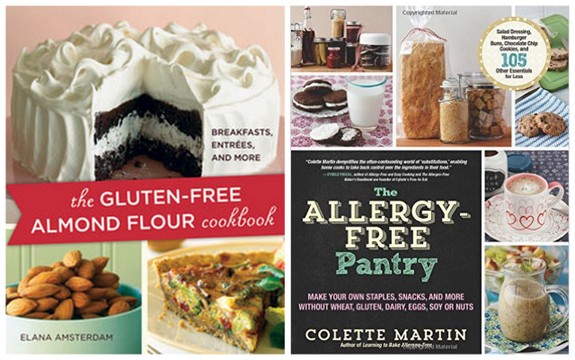 ~ The Gluten-Free Almond Flour Cookbook from Elana Amsterdam (3 winners)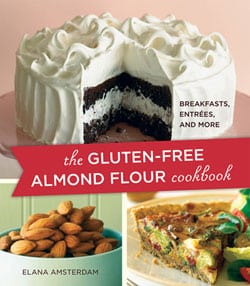 My friend Elana of Elana's Pantry is really the one who put almond flour on the map, so to speak. After all, her almond flour-based chocolate chip cookie is on the bag of Honeyville Almond Flour! Honeyville brand is the flour of choice for the recipes in this cookbook, which are healthy and delicious choices for anyone who is gluten free and anyone in general. There are plenty of treats like muffins, scones, cookies, and cakes, but there are also savory choices like crackers, Eggplant Parmesan, quiche, pot pie, and, of course, pizza! Thanks to Elana for sponsoring this giveaway! You'll also want to be sure that you're entered in the giveaways for her other cookbooks in MMM, too—Paleo Cooking from Elana's Pantry and Gluten-Free Cupcakes: 50 Irresistible Recipes Made with Almond and Coconut Flour.
~ The Allergy-Free Pantry: Make Your Own Staples, Snacks, and More without Wheat, Gluten, Dairy, Eggs, Soy, or Nuts from Colette Martin (1 signed copy, 1 winner)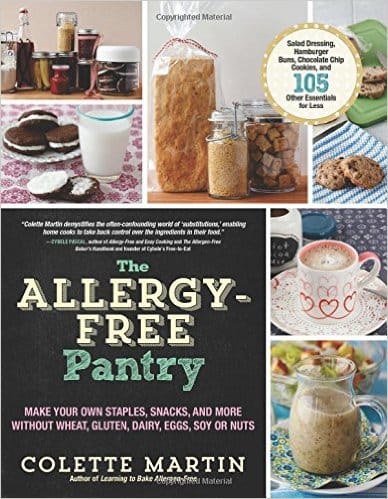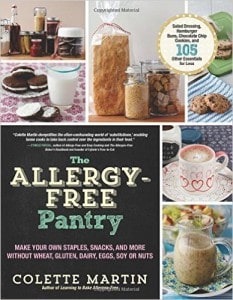 I urge you to click on the link above and use the "look inside" feature on Amazon to get a good idea of all that is in the book, because I really can't do it justice in this short write-up. This cookbook is over 300 pages, folks, and it shows you how to do and make everything you need for your allergy-free pantry. Let's face it … the need for the allergy-free pantry can be a shock when celiac/NCGS and other food intolerances/allergies enter the picture. You start reading labels and pitching stuff and soon your pantry is bare. No kidding. Step by step, Colette shows you how to replace those items with your own safe and delicious versions. By the way, this is Colette's second cookbook. Be sure to enter to win her first cookbook in MMM here: Learning to Bake Allergen-Free: A Crash Course for Busy Parents on Baking without Wheat, Gluten, Dairy, Eggs, Soy, or Nuts. Thanks to Colette for sponsoring this giveaway!
a Rafflecopter giveaway
Grand Prize Giveaway (1 winner for each)
Be sure to enter the overall/grand prize giveaway at the bottom of this post and come back tomorrow for another terrific gluten-free muffin recipe and another daily giveaway. Again, remember that commenting on every post during the MMM event gives you additional entries into the grand prize drawing, which includes the following, so be sure to spread the comment love here and on participating posts!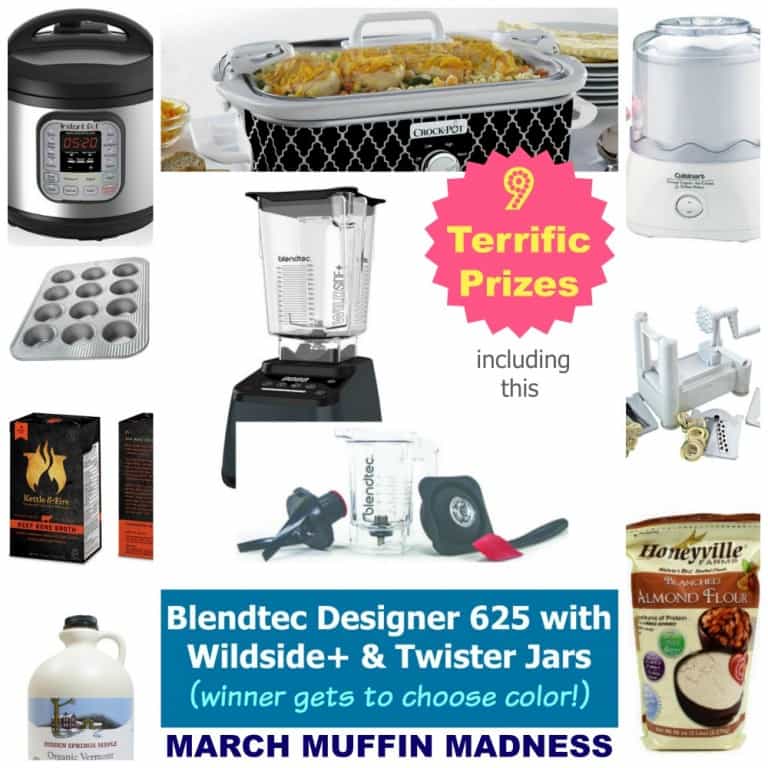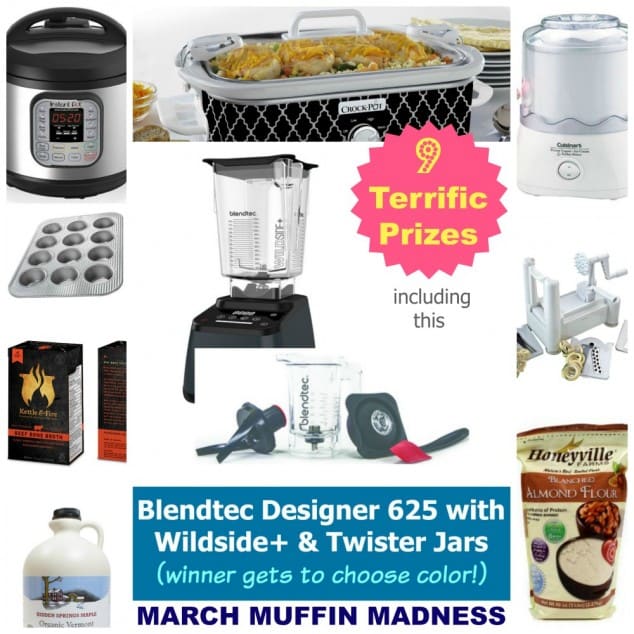 1/2 gallon Hidden Springs Vermont organic maple syrup,
USA Bakeware 12-cup muffin pan,
Kettle & Fire bone broth (thanks to the folks at Kettle & Fire!),
5-lb bag of Honeyville almond flour,
Paderno World Cuisine vegetable slicer/spiralizer,
Crockpot casserole slow cooker,
Instant Pot pressure cooker, and
Blendtec Designer 625 with Wildside+ jar and Twister jar—this is our grand prize! It's sponsored by the generous folks at Blendtec. The winner even gets to choose the color of their high-speed blender/all-in-one appliance. You can see the up-to-date listing of daily prizes and the complete lineup of bloggers and recipes in the kickoff post here.
a Rafflecopter giveaway
Originally published April 1, 2016; updated January 30, 2023.