For affiliate links and as an Amazon Associate I earn from qualifying purchases.
You might remember that I had polled my Facebook readers on which of my recent recipes to share first—Chocolate Chip Coconut Cookies or Homemade Banana Ice Cream—and the cookies had garnered quite a few more votes and, therefore, were featured earlier this week, but I promised to share the Banana Ice Cream as well this week. So I'm fulfilling that promise today.
I've made
all kinds of ice cream
since buying
a "newfangled," super easy-to-use ice cream maker
several years back, but I realized recently that I hadn't yet made banana ice cream. That was surprising because that had always been Mr. GFE's and my favorite flavor to make in our old-fashioned ice cream maker. (You know the kind …
those big behemoths that required ice and salt and lots of attention and were best used outside
.)
Sure I'd made Caramel Coconut Chunky Monkey Ice Cream and Super Mini Chunky Monkey Ice Cream Sundaes, and in both recipes, bananas shine, but I hadn't made "just" banana ice cream. So the other day I decided to change that.
It turned out not only was this ice cream super easy to make, but it was also super good. The natural sweetness and creaminess of very ripe bananas is hard to beat!
This Homemade Banana Ice Cream is made using just a few pantry ingredients and is easily made dairy free and refined sugar free, if you wish. I made both versions and thoroughly enjoyed each! (Mr. GFE only helped out a little bit, but he approved of each!)
Shown in the pictures below is the dairy version, which gets its coloring from the evaporated milk used. I do offer one note of caution for the dairy version … if you don't care for the taste of evaporated milk, you probably won't like that version.
The evaporated milk taste does come through a bit. I found that it worked with the bananas and other ingredients, but some might not care for it.
FYI, the dairy-free version has more of a mocha coloring—which is also very nice—due to the combination of the golden brown coconut palm sugar and the white coconut milk.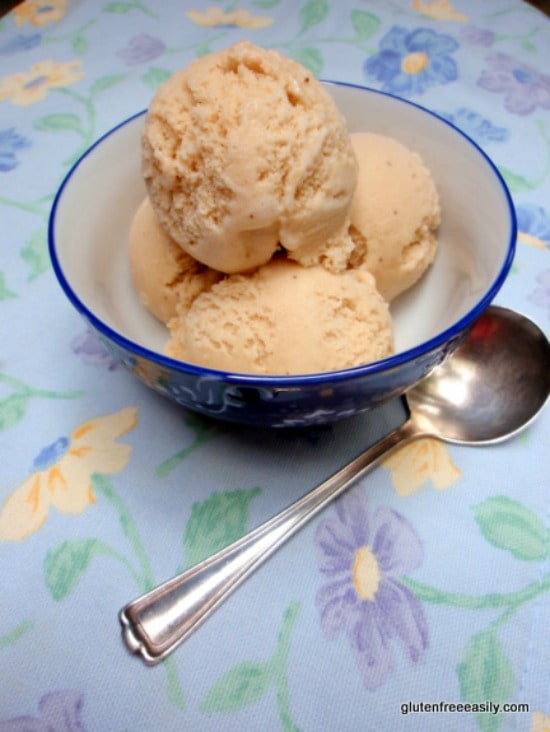 When I was "tired" of simply eating banana ice cream from taste testing these recipes, I suddenly had the idea to make a Root Beer Float using the dairy-free, refined sugar-free version of this ice cream. No doubt my recent Root Beer Float roundup, was working on my subconscious.
Making a root beer float using homemade banana ice cream was a very, very good decision! It was heavenly!
Final note … several of you had suggested that I really needed to share both recipes at the same time, ideally making Chocolate Chip Coconut Cookie Banana Ice Cream Sandwiches. I did, in fact, make two such ice cream sandwiches with four of the soft-baked versions of the Chocolate Chip Coconut Cookies.
The resulting ice cream sandwiches were not very photogenic as I was not very neat in my application of the ice cream to the cookies. And while they were fun, they were much more than a mouthful and a bit messy to say the least.
The flavor combination would seem to be another way to get one's Chunky Monkey fix, but personally I found it all to be a bit much for me. But if you want some terrific ideas for gluten-free (and "more free") ice cream sandwich recipes that do work, check out The Ultimate Gluten-Free Ice Cream Sandwich Roundup!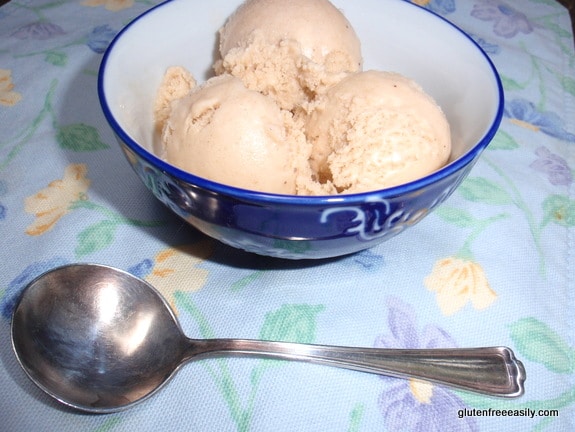 Homemade Banana Ice Cream Recipe (with Dairy-Free Option)
Yield:
Banana Ice Cream (with Dairy-Free, Refined Sugar-Free Options)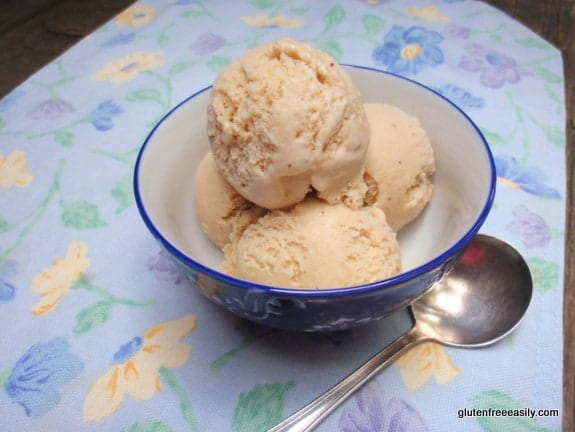 Banana ice cream has always been our very favorite flavor of homemade ice cream. I hope this recipe puts it at the top of your list, too!
Ingredients
3 ½ large bananas, preferably frozen
1 can evaporated milk (12 ounces, 1 1/2 cups) or 1 can full-fat coconut milk (13.5 ounces, about 1 3/4 cup)
½ cup brown sugar or coconut sugar
1 tbsp liqueur, rum, or other alcohol of choice that would be nice when combined when bananas (optional, but preferred; I used American Honey---see notes OR use more vanilla extract instead)
1 tsp vanilla extract (optional, but preferred)
Instructions
Add all ingredients to the blender (I used my Vitamix). Slowly increase speed from low to high and blend until smooth, about a minute or two.
Add mixture to already frozen tub of your ice cream maker. Churn about 20 minutes.
Serve immediately as soft serve ice cream or transfer to freezer containers and freeze longer for firmer ice cream.
Notes
The alcohol helps minimize the ice crystals in ice cream. The dairy version tends to stay nice and soft, like frozen custard, even after freezing a good while. However, the dairy-free version does get quite a bit firmer after freezing. Just let it sit about 5 to 10 minutes before scooping and serving.
Originally published September 6, 2013; updated July 4, 2023.