For affiliate links and as an Amazon Associate I earn from qualifying purchases.
Have you ever been given a very fine pair of shoes and then had to purchase a complete ensemble to go with them? But in the end you didn't mind. In fact, you were totally delighted because you absolutely loved the free shoes and the end results were more than worth any expense on your part!  Today's giveaway is sort of like that.
The Back Story
Victoria Edlinger is the owner of GF Patisserie. Originally a very popular, well-loved gluten-free bakery in Calgary, Alberta, GF Patisserie has now evolved into a business which, in the simplest of terms, helps others set up their own successful gluten-free bakeries. Currently, there are four gluten-free bakeries licensed through GF Patisserie: Beau Monde Bakery in Las Vegas (which supplies gluten-free baked goods to Four Seasons there), Nevada; Big Star Bakehouse in Calgary, Alberta;  Kneaded Bakeshop in Regina, Saskatchewan; and Nourish in Newfoundland and Labrador.
I have been online friends with the Edlingers, primarily Peter, since I discovered Peter's blog, The Celiac Husband, several years ago. Peter is a very outgoing and engaging sort and while Victoria and their daughter Lauren were working away at GF Patisserie, he would showcase their amazing gluten-free baked goods (and other gluten-free delights made in their home) on his blog. He shared much else that was of interest, too—and still does!—such as his business adventures, their travels, etc.
The Edlingers relocated to Jarnac, France in the spring of 2012. (Jarnac is a town of about 5,000 people located in the Cognac region of France. It's 2 ½ hours southwest of Paris by train.) They purchased the historic building shown below (which was built in 1848) and, in relatively short order, lovingly transformed it into their residence, business space, and also a studio apartment, part of their new City Gites business. A "gite" (pronounced "zheet") is a holiday rental that has the owners nearby to provide any needed assistance. In the U.S., we say vacation rental of course, although I much prefer the more festive term of holiday!
What You Really Want to Know
The Edlingers are very graciously sponsoring a giveaway of two nights at their studio apartment in Jarnac. The giveaway is for up to two individuals and it is not only for two nights' accommodations, but it also includes gluten-free breakfast each morning and gluten-free dinner each evening! Your travel to and from France is NOT included in the giveaway. Only your accommodations at the Edlingers' studio apartment and your breakfast and dinners while there are included in the giveaway. But wow, huh?
The gluten-free meals are made in the Edlingers' 100% dedicated gluten-free kitchen. You should know that Victoria is known for creating fantastic gluten-free food that brings the type of satisfaction and smiles of happiness that are not often experienced by those who are gluten free.
Peter says that heading to Paris for a few days before your arrival in Jarnac would be a splendid idea. No, that's not included in the giveaway either, but if you're going to "cross the pond," you should definitely make it a worthwhile trip and flying into Paris is one way to get to Jarnac. Although Bordeaux is actually the airport that is closest to Jarnac, per Peter. He is full of helpful information and can point you in the right direction for maximizing your stay at this City Gite.
Shown below are some photos from the village of Jarnac and nearby, as well as photos of just a few of the fabulous gluten-free food that Victoria creates. (Note that all photos are courtesy of the Edlingers and GF Patisserie.)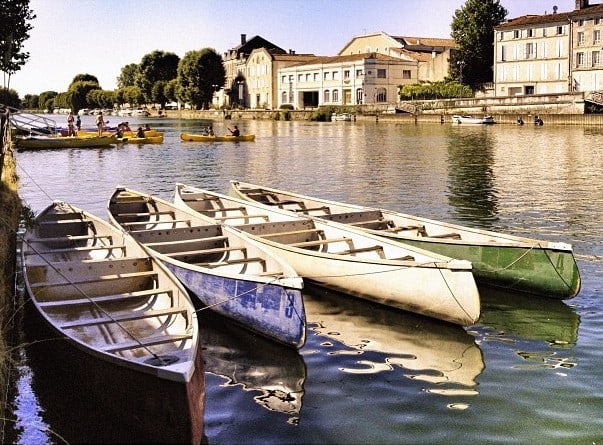 A Few More Important Details
Here are some more details on the studio apartment and what will be available to you during your stay:
~ It's a 350-square foot self-contained space with a separate entrance, which includes a kitchenette
~ It's located right in the village of Jarnac, which means that it's near those charming European bars and cafes, as well as a twice weekly market
~ There's a Bio Store with lots of gluten-free groceries located right across the street
~ Accommodations at the gite always include gluten-free breakfast, and there are lunch and dinner options with the family (again, the latter is included for this giveaway)
~ There's free WiFi (you don't have to be "unplugged" here)
~ Basically, this City Gite is perfect for the single traveler or for couples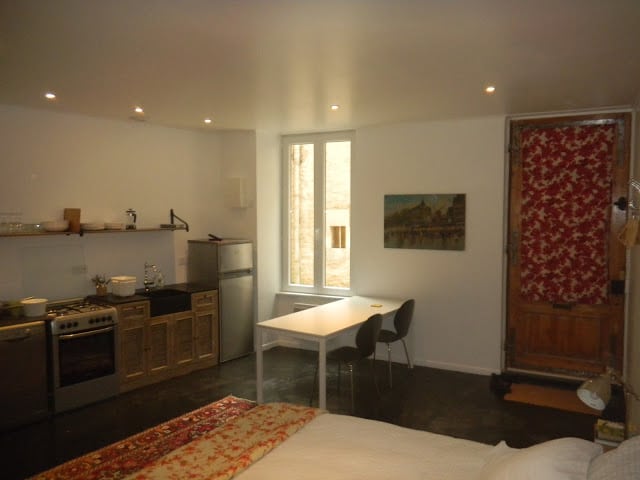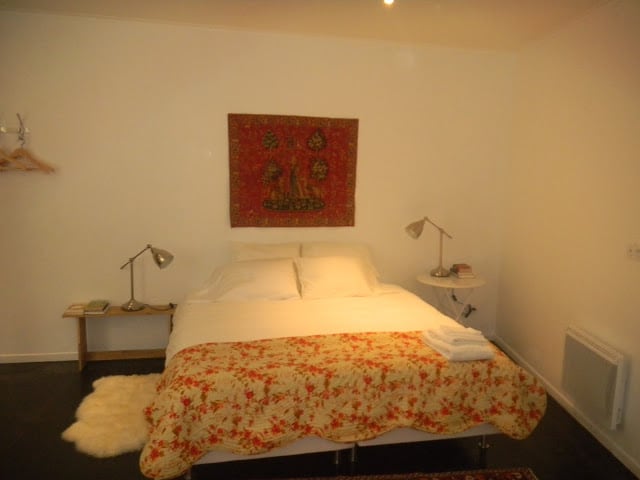 You can find some examples of  GF Patisserie's recipes here (including one for Perogies!), and see more photos of the home and studio apartment here and here.
To learn more about the Jarnac region, you'll want to check out sites like this one and, of course, talk to Peter more when you make your reservations.
THIS GIVEAWAY IS NOW CLOSED. Congratulations to  India Baldwin!  India's comment, which was selected by random using the Pick A Giveaway Winner tool, was:

"Hello,

When I was 17 I was given the opportunity to live in France for 6 months while my stepfather moon lighted as a chef at a bed and breakfast. However, I said "no" since I had a boyfriend. I don't regret many things in my life, but that is something I have regretted ever since! That is also one of the reasons I have recently taken a job in London and have just moved to the UK. Life is to short to sacrifice great opportunities! I would love the chance to come to France to fully enjoy the sights, history and delicious gluten free food! I've been Facebook friends with gf patisserie for some years now. It would be lovely to meet everyone in person.

Thank you! India
To enter the giveaway, there is one required entry and three (+) optional entries:
~ Leave a comment on this post telling what you think you would like most about the Jarnac City Gite experience. (required)
~ "Friend" GF Patisserie on Facebook (their page is still set up as an old-fashioned personal Facebook page versus a business page). Leave a comment here saying that you did. (This entry is optional.)
~ Leave a comment about the giveaway on GF  Patisserie's Facebook page, mentioning/tagging gfe. (e.g., "I really want to win @gfeglutenfreeeasily's contest and stay at your studio apartment! I have always wanted to travel to France."). Leave a comment here saying that you did; otherwise, your Facebook comment won't be an official entry into the giveaway. (This entry is optional.)
~ Share the giveaway on social media (Facebook, Twitter, and/or Google+) and leave a comment saying you did. Each platform you share on will earn you an additional entry. (This entry is optional.)
This giveaway, which is valued at approximately $300 (US), ends Friday, September 27, at midnight Eastern. There will be one winner. The winner will be selected via Pick a Giveaway Winner. There is no expiration date for the winner to use their giveaway prize, but reservation dates must be arranged with and approved by the Edlingers.
Truthfully, I will be very jealous of the winner of this giveaway! I always like to personally check out any "items" I give away here on gfe, so you can be sure I'll be making up for that oversight as soon as I can. 😉 Many, many thanks to Victoria and Peter for sponsoring this giveaway! And, of course, if you're not into giveaways and/or like doing your own thing, then by all means feel free to contact the Edlingers via their City Gites site and make your own reservations!
This post is linked to Gluten-Free Tuesdays, Gluten-Free Wednesdays, Allergy-Free Wednesdays, and Gluten-Free Fridays.