For affiliate links and as an Amazon Associate I earn from qualifying purchases.
We actually made our Mother's Day visits a day early. I made this Easy Gluten-Free Apple Pie recipe—which is crustless and fantastic–for both my mother and my mother-in-law.
I wanted to deliver the pies while they were still warm. Neither complained about me doing that, of course! They were happy to start celebrating a little early and receive an apple pie while it was still warm. Plus, both will still get plenty of attention today.
My sister and her family will be visiting my mom this afternoon. And, my mother-in-law is being taken out to lunch and visited later by my husband's siblings and their families.
I'll get to have my own day doing whatever I decide. My son won't be home today, but we spent several hours together last weekend, so I'm okay with that. For the most part, we, moms, are an understanding, reasonable bunch. 🙂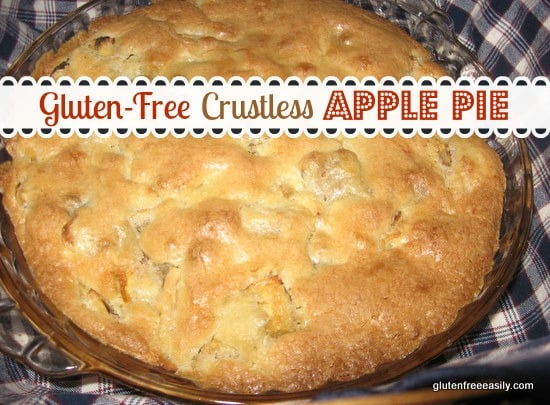 When I think of paying tribute to my mom on this day, I have to pause. No matter what I write about her, the words will fall way short of the wonderful mom she is.
I think about all the special things she's done for me through the years, how she's always been there for me and I am extremely humbled. I try to be the same kind of mom for my own son, but I'm pretty sure I'm not as patient or as understanding as mom has been for me throughout my life.
Thinking back on all mom has done for me, seemingly random things pop into my head. There was the time she surprised me with a new dress for a dance when I was in the 8th grade.
Picture multicolored large flowers and a very big bow—I can still see that dress so clearly in my mind! Oh, my goodness, it seems garish now, but it was right for the day and I loved it!
There was the time when I was a teenager in misery from an infection on Christmas Eve. She raced to the pharmacy a half hour away to get my prescription. She got her one and only speeding ticket that evening, but we didn't find out about it until years later.
There were the letters she sent me when I was homesick my first semester of college. Written on notebook paper and sharing what was going on back home, they meant the world to me. I eagerly traipsed across campus to the post office each day hoping to find one of those letters.
Often there were also packages of Mom-made goodies—the best (I get my baking gene honestly). It was not that long ago that my sister told me that my mom suffered greatly during that time, too. Her words were "I didn't know if she was going to make it." The mom-child bond runs deep.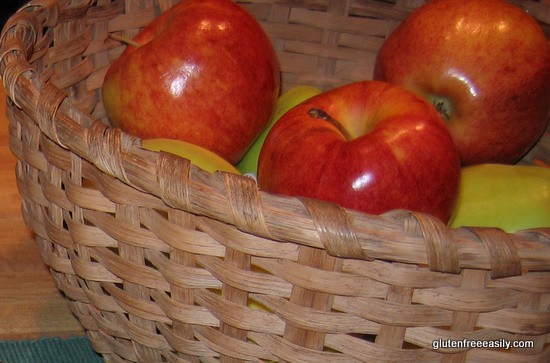 Mom continues mothering me even as an adult. If I get sick, she calls to check on me and offers to run errands or bring over a meal. I'm lucky she and dad live only 8 miles away and we call whenever the mood strikes either of us. It's okay if our conversation lasts 5 or 40 minutes. Mom makes life easy that way.
As a grandmother, she's top notch, too. She's genuinely interested in her three grandchildren, and more recently her new granddaughter-in-law.
When my son was upset with my decisions as a youngster, he'd go to my mom and vent. She was always willing to just listen, but when he wanted advice, she'd offer it. Sometime he wrote letters to me at her urging and they helped us have discussions that would not have been as productive if we'd tried to barge into them without contemplation.
Mom remembers her grandchildren throughout the year and always makes them feel special. That is what everyone wants in a grandmother and she's beloved by all her grandchildren.
So how can you adequately thank a mom like that on Mother's Day? The answer is you can't, really. So, you do something that you think will make them smile or provide a little happiness, and, of course, that's all moms really want or need. Good moms are usually very easy to please.
My mom has pretty much everything she needs and wants. Still I picked up a few small things I knew she'd enjoy and decided to bake this Easy Gluten-Free Apple pie for her.
I've been making this apple pie for a long time, but hadn't shared it with mom yet and she's an apple pie fan. My sweet friend, Claudia, had passed on the recipe to me.
It's another "regular" recipe that I easily adapted to be gluten free. The crust is not made in the traditional sense, so I usually refer to it as my crustless apple pie.
That label tends to confuse people a bit though because as you are eating it, you realize that it actually does have a crust—and a really good crust at that! But the fact is that the batter for the crust is poured over the apple mixture and oozes down between the apple slices to make a pie that has a bottom and a top crust, without all the work.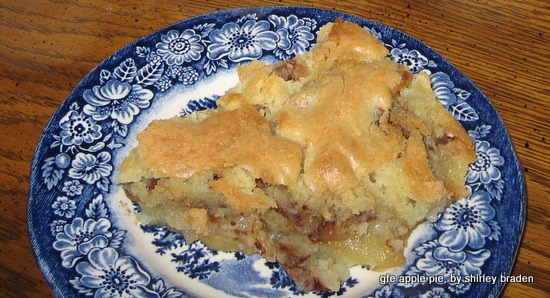 I make this apple pie with whatever type of apples I have on hand. Yesterday, I used half Pink Lady and half Golden Delicious. Previously, I've used all Golden Delicious apples, some Golden Delicious with Gala, some Rome, some Red Delicious, some Jonathan, some Ginger Gold, and so on. Others have used Granny Smith and various combinations.
When I posted this recipe on the celiac listserve, folks told me about all the different apple combinations they had used for best flavor and juiciness. Most importantly, they all gave the recipe glowing reviews.
One of our gfe friends/readers, Brenda, stated that she didn't even like apple pie before she made this recipe, but now she's a convert! By the way, I hope Brenda will weigh in because she also makes her version dairy free and reduces the sugar a bit. Oh, she also leaves the skins on her apples for extra fiber and nutrition. UPDATE: Brenda stopped by and graciously shared her version—gluten free, dairy free, lower sugar, and more fiber. Check it out in her comment below! You can also check out my "new and improved" grain-free, dairy-free, refined sugar-free Crustless Apple Pie. Caramel lover? You'll want to try my Crustless Caramel Apple Pie!
Mom and Dad really enjoyed their pieces of pie yesterday evening. I had taken pictures of the whole pie before we left, but wanted a picture of a slice, so I was snapping photos left and right. It was a little challenging to get a perfectly cut piece because the pie was still very warm.
Mom was puzzled at all my picture taking. She asked if I was entering the pie in a contest or something. I reminded her about my website.
Mom doesn't have a computer and has no interest in getting one, but when I explained that I had to try different settings to get the best picture, she joined in the fun. The photo of the partial whole pie and the piece in the pie stand was actually mom's idea. She also had me placing the pie near her collection of teapots, on different dishes, etc.
I told mom she was a natural food stylist. Mr. GFE agreed and piped in that I should hire her. Mom laughed, but beamed. When we finally got to the eating part, Mom absolutely loved the pie. It was a really nice Mother's Day visit. Happy Mother's Day, Mom—I love you!
Happy Mother's Day to all of the mothers reading who do their best day in and day out! I hope someone makes your day special and thanks you for all you do.
Maybe you'll even get a special homemade treat like this Easy Gluten-Free Apple Pie … if not, make your own. You'll be so happy if you do Here's a step-by-step pictorial with the recipe below.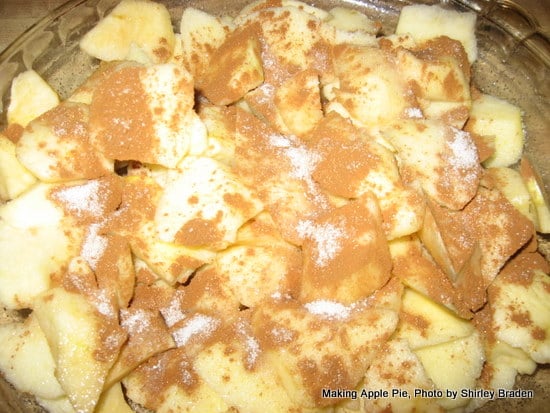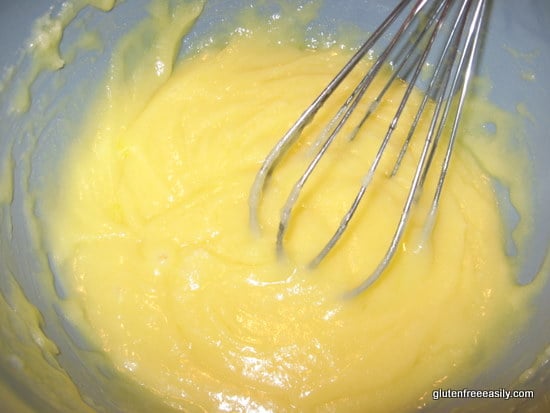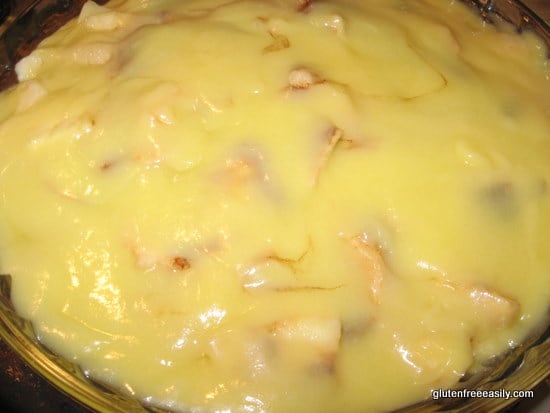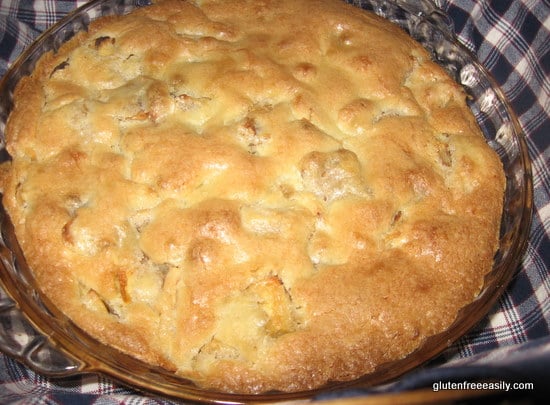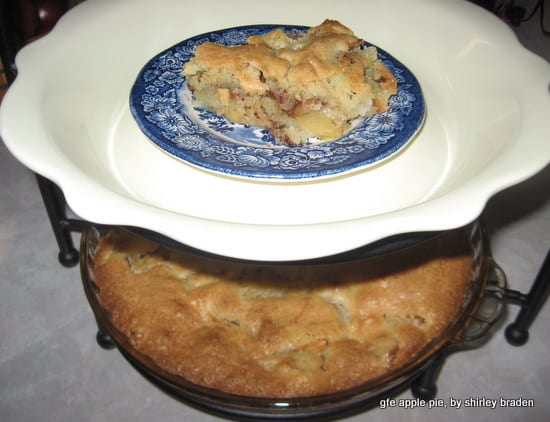 Easy Gluten-Free Apple Pie Recipe
Yield: 8 servings
Easy Gluten-Free Apple Pie ("Crustless")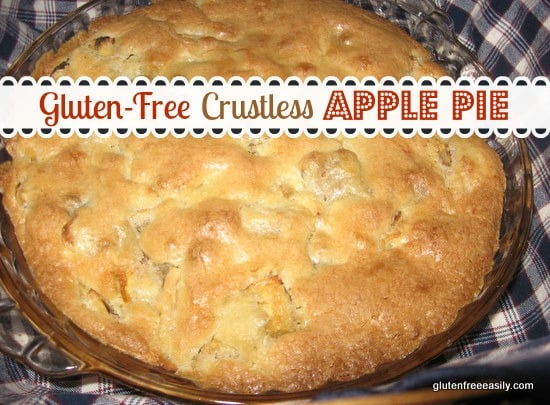 I call this Gluten-Free Apple Pie a Crustless Apple Pie because you don't actually make or use a crust. In this recipe, you create a batter and pour the batter over the apples. When baked, the batter becomes both a top and bottom crust. The crust tastes like a cookie and the whole pie is simply delicious!

Prep Time 15 minutes

Cook Time 45 minutes

Total Time 1 hour
Ingredients
5 to 6 apples, peeled and cut up (4 ½ to 5 cups)
1 tsp cinnamon
1 tbsp sugar
¾ cup butter, melted (dairy or non-dairy substitute, like Earth Balance--please see notes)
1 cup sugar
1 cup gluten-free flour mix (I use my Two-Ingredient Flour Mix)
½ tsp xanthan gum (optional, and omit if using a flour mix that already contains xanthan gum)
1 egg (I used a jumbo brown egg)
pinch of salt
Instructions
Preheat oven to 350F degrees.
Put apples in greased, deep-dish pie plate and sprinkle with cinnamon and one tablespoon of sugar.
In a bowl, mix melted butter, one cup of sugar, flour, and xanthan gum (if used). Blend in unbeaten egg and pinch of salt. Mix well and pour over apples. (This mixture will be thick, so you might have to spread it with a spatula to cover all the apples.)
Sprinkle more cinnamon over top. (I confess … I forget this final step often---the pie still turns out great.)
Bake for 45 minutes.
Notes
I'm sure you could make this in an 8-inch square casserole dish or something similar if you don't have a deep-dish pie plate.

I used 4 1/2 apples yesterday--that's all that was needed to fill my pie plate, yet leave enough room to pour over the crust.

If you're using Earth Balance instead of butter, I recommend the soy-free version in the pink/red tub. Spoon into glass measuring cup and melt, adding more if needed to get to the 3/4 cup measurement. If you're using Earth Balance sticks, measure the same way. Disregard the cup measurements on the sticks.

Also, for you folks who don't use gums, I've made it without xanthan gum successfully as well.

Originally published May 10, 2009; updated October 8, 2022.